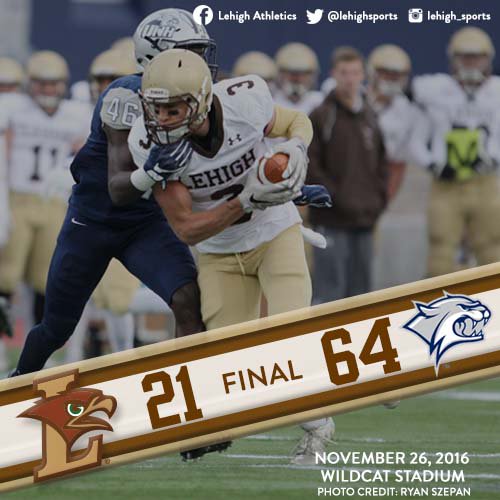 Right from the opening drive it didn't feel like it was going to be Lehigh's day.
With
sophomore QB Brad Mayes
in for
senior QB Nick Shafnisky
, who was unable to start due to an undisclosed illness, a pass that bounced off the hands of
senior WR Derek Knott
instead bounced into the hands of New Hampshire's first team all-CAA
CB Casey DeAndrade
.
Six plays later, the New Hampshire offense converted that turnover into the very first touchdown of the day for the Wildcats, the first of many on a defense that clearly missed
senior LB Colton Caslow
, who got hurt in the second half against Lafayette last weekend.
Four different New Hampshire players scored a grand total of six rushing touchdowns, two coming from
RB Dalton Crossan
, two coming from his backup,
RB Trevon Bryant
, one from the third-string, RB Evan Gray, and one on a scramble from
QB Adam Riese
.
All in all, the Wildcats racked up 364 yards rushing on the Brown and White, rushing to a 36-7 lead on the Mountain Hawks and coasting to a 64-21 victory. In the ultimate twist of irony, Lehigh got beat in the way they had beaten so many opponents in their nine game regular-season winning streak - with UNH jumping to a big lead and never really taking their foot off the gas.
The stat sheet of this game is as ugly as you think, and probably should be burned and forgotten after reading it.
But it shouldn't take away from the tremendous season of the Mountain Hawks and the tremendous performance of
senior QB Nick Shafnisky
,
senior LB Colton Caslow, senior LB Evan Harvey,
and
senior LB Laquan Lambert
and their guidance towards the return of Lehigh to the pinnacle of the Patriot League.
Although it stings now, over the course of December it will be forgotten to be replaced with the memory of the wins, and the glory.
Lehigh are still Patriot League champions and there is no co-. Proud of these seniors that built the program back to the top.

— LehighFootballNation (@LFN) November 26, 2016