The parties raged on in the parking garage next to Fisher Field, which were packed with Lafayette fans eager to enjoy a party with plenty of great food and copious drinks.
The tiny businesses below Fisher Field, the small bits of capitalism next to the concrete husks of factory jobs that have left ages ago, had plenty of visiting Lehigh fans, enjoying the tailgates and ready to invade the stadium that they hadn't seen in four years.
In the line coming into the stadium, a silent protest of hundreds of Lafayette students clad in black, handing out a political statement on a piece of paper and showing some signs that were up seemingly to simply show that these people exist, and are not happy.
Somewhere in this mix of people escaping, people expressing and people denying, a football game was played, one that matched an 8-2 team that was headed to the national stage and the FCS playoffs, the other a 2-8 squad that had their fans questioning the tenure of their head coach.
It was one of the strangest disconnect of emotions that I've ever seen in a Rivalry game, one where the outcome, a 45-21 victory by the Brown and White, was almost expected by everyone going through the crowded gates at Fisher Field.
There was plenty to celebrate - for one side, anyway.
Though people seem to desperately wish to fall into the normalcy and the regularity of an annual football Rivalry, sometimes the anxieties and tensions of society spill over into the confines of a football game. Regular rituals seem a bit less meaningful. Conversation, usually something that flows freely, feels forced into safe areas, never to accidentally fall into the realm of Donald Trump or Hillary Clinton because of what it might reveal.
In most season, that safe conversation might have been forced into the records of both teams. The underdog might feel like they have a shot; the favorites might wonder if they're somehow vulnerable. But even that conversational safe space didn't seem that safe - how much drama can 2-8 vs. 8-2 really engender?
Lehigh fans couldn't have been more bullish on their team. Winners of eight straight, it felt extremely unlikely that this group was going to underachieve on the biggest of college football days. With loads of senior leadership on this team, like
senior QB Nick Shafnisky
,
senior LB Colton Caslow
and many others, it was difficult to look at the statistics and see how Lehigh was going to lose this game.
On the other side, Lafayette fans had a gloom and despair over them that I don't think I've ever seen before. Sure, the fans in the parking lot seemed happy enough - at least on the outside. But they didn't seem very engaged in the football aspect of the entire afternoon, at least to me. There wasn't a feeling in the air that the Leopards were going to put it all together and shock the world. There wasn't the usual reckless abandon of the party. The emotion remained bottled up.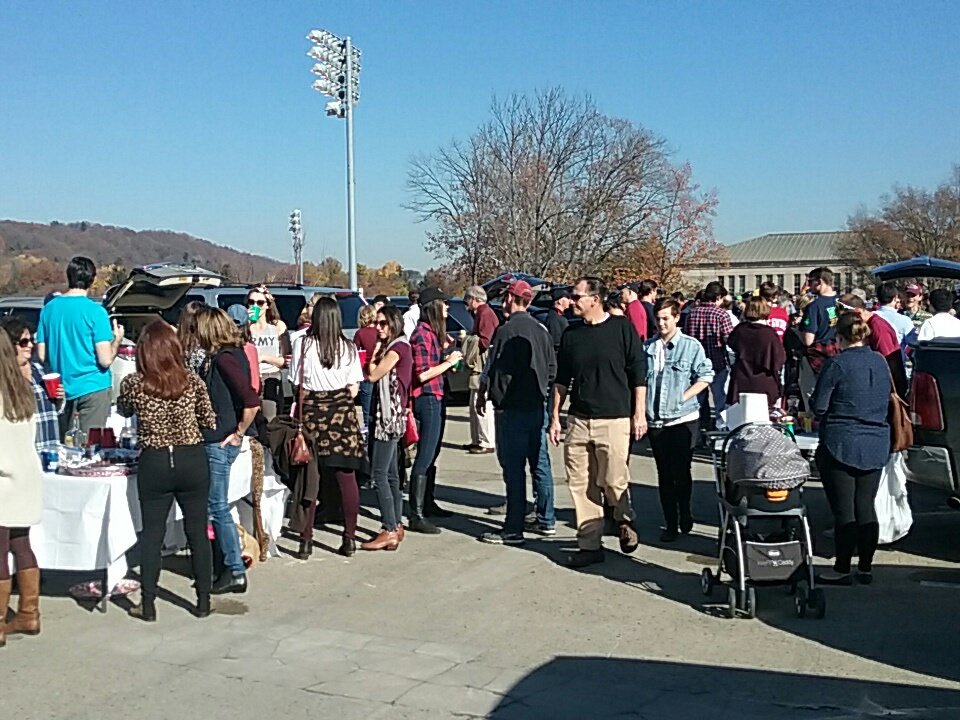 But maybe it was that Lafayette fans really didn't want to say anything to anybody. Perhaps they, like many people, just shut down. Perhaps they didn't want to talk about their underachieving football team, or the results of the election, or the dark forces that feel like they've been unleashed in the world. Perhaps conversation had no outlet, so it went towards the topics of food and drink and weather.
Lehigh fans at least had the benefit of something to point to, something beyond even the unseasonably beautiful day on which to focus.
We are going dancing, and nothing Lafayette can do will stop that fact.
Mountain Hawk fans could at least converse among themselves about how
senior ROV Laquan Lambert, senior LB Pierce Ripanti
and
senior LB Evan Harvey
had turned around and made a defense that is built for a playoff run, or about how
junior WR Gatlin Casey
and
junior WR Troy Pelletier
were topping the FCS in receiving yardage.
Yet the Lehigh fans, too, clutched their conversation close to their chests. Saying these things too loud could be bitter taunts to a wounded nation of Lafayette fans. You never know; one bad word about Lafayette, and the whole thing could be dry timber waiting to ignite. One misplaced word about politics, and the whole thing could burn. It was impossible to know, so nobody was going to try.
In that way, the silent protest outside the stadium fit the combustible mood perfectly. They were silent. And nobody, at least nobody I saw, engaged. They didn't raise their fists in solidarity, nor did they yell at the protesters trying to incite a riot. Instead, everyone seemed to either look straight ahead, stoic, or looked to the ground, scared. Nobody coming to this game wanted to burn this place down. They wanted to get away from reality, not face it.
Eventually, the Rivalry game kicked off, and got started, under this strange Rivalry vibe.
*****
It unfolded pretty much exactly as Lehigh fans had secretly expected, and Lafayette fans probably knew, from the deepest part of their hearts, was likely to happen - the Mountain Hawks jumped to an early three-score lead, and never trailed.
Lafayette got the ball first, but fumbled the ball deep in Lehigh territory and an alert Laquan Lambert dove saw the play unfold and reached his arms out, almost as if in a sort-of dream, and recovered the loose ball.
"It's special," Lambert
said after the game
. "God makes no mistakes, so I just trusted in the process. I have the best teammates in the world, so I'm very thankful. ... It's amazing. I'm surrounded by a bunch of great guys, great teammates and we all have the same common goal."
The Lehigh offense took over, and would end up turning the ball over on downs, but three plays later,
freshman FS Riley O'Neil
alertly saw the ball flutter past a Lafayette receiver and came down with it, setting up Lehigh's powerful offense in Lafayette territory.
(Tim Wynkoop/Lehigh Valley Live)
("First two possessions, you're doing something with it in scoring position," Lafayette head coach
Frank Tavani
said afterwards, "and you turn the ball over... you can't do that against a good football team, or any football team, for that matter.)
From there, Lehigh's offense performed as perfectly as one might have expected, Shafnisky completing three different passes to three different receivers, including a 16 yard strike to Pelletier for the first of his two touchdowns on the day.
Lafayette's next two drives would go a grand total of -3 yards, thanks to a sack and tackle for loss by Pierce Ripanti. The next two Lehigh offensive drives would end with a 15 yard touchdown grab by Gatlin Casey and a 30 yard field goal by
sophomore PK Ed Mish
, essentially squeezing out much of the potential game drama of the afternoon.
Ripanti and the defense came into the game with a very business-like attitude, something that seemed to filter down to the rest of the team, including the freshman and sophomores.
"We've been trying to come out with a lot of energy all year," Ripanti said afterwards. "Even with a bye, we got healthy, we still lift, we still practice. We have a certain mindset we bring to our lifts, our practices, even our team meetings that we've had all spring and all summer. We create that mindset, we create that atmosphere in everything we do, and when it comes to the game, it translates right over, and it's easy to bring that energy, bring that juice, to the game."
"We just took the reins," Lambert also said. "Our preparation is key, working extremely hard as a team, and we did everything we possibly could just to get that championship culture back to Lehigh. We have pretty good leaders on this team, and we let the underclassmen know that this is just another game, the preparation doesn't change. There might be a few more fans, but at the end of the day, it's another football game."
(Craig Shipley/The Morning Call)
That business like approach to defense made for a lot of resigned-looking Lafayette fans in the stands, squeezing the regular Rivalry energy out of the stadium and leaving a lot of people unable to express much of anything. For one side of the Rivalry, the hope of a plucky underdog was crushed underfoot.
For the Lehigh fans, a big play touchdown by Lafayette provided a small measure of worry, cutting the deficit to 17-7, but the Mountain Hawks quickly reasserted themselves with a 6 play, 42 yard drive that would be a fitting reminder to the wondrous regular season that the Brown and White enjoyed in 2016.
A pass from Shafnisky to
senior WR Trevor Soccaras
for a 1st down set up another quick 18 yards completion to Pelletier, Shaf's confidence brimming with every completed pass. Eventually, they would get to the 4 yard line of Lafayette, and set up the quintessential Shafnisky touchdown run.
"That play was messed up," Shaf said after the game, smiling. "I looked up at the clock, and saw 4 seconds [before the play had to be called], the blocking scheme was messed up, quick change,
senior RB Kenny Crawford
is comin' in, got the play a little messed up. I ran right, saw a guy there, and said, 'Oh.' Then I ran left, started to make a play, and it worked out."
(Craig Shipley/The Morning Call)
As Shaf described, a play broken from the start, he managed to run right, find a defender, got away from him to try to make a play, saw a hole on the
left
side open up for a fraction of a second, and then he lunged for the opening, diving across the plane of the end zone for the touchdown.
And for a second, the rest of the world stopped. For a very brief moment, there were no politics, no acrimony in the world, no walking on eggshells. Lehigh fans were treated one more time to the magic of Shafnisky's tremendous play on what amounted to a home field advantage. Lehigh fans rejoiced. And though Lafayette fans were in agony, even they, at the bottom of their hearts, had to have recognized that they had witnessed a great play out of something that was headed for disaster. There was nothing fake about it.
It was that play that pretty much cemented the fact that Shaf would be winning the Lehigh/Lafayette MVP trophy for the second straight year. And though there was (and is) no way to know whether it's the final time the residents of the Lehigh Valley will be able to enjoy the exploits of Nick Shafnisky on a Lehigh Valley football field, it felt like it could very well be.
"At Whitehall, we saw already that he was a dynamic guy who even played defense and he was all over the field," Coen
told Keith Groller of The Morning Call after the game
. "He got thrown in there as a freshman and the stage was probably a little too big for him and it probably wasn't fair. But I've thought all along that he would develop. [He and offensive coordinator
Drew Folmar]
, their personalities fit well. Drew, having played the quarterback position himself, understands a lot of what Nick goes through. But we were hard on him. I mean really hard. But he's confident now and he's confident for the right reasons. Early on, he was a little bit of a 'me guy.' And what I mean is that in high school, he would say 'Ok, I'm just going to go out and do this.' But now, his confidence comes from the people around him and the coaching staff putting him in the right position. He's had tremendous development."
(Roshan Giyanani/Brown and White)
"I trust the heck out of my guys out there, the five guys in front of me every game," Shafnisky also added. "And then you have our dangerous weapons like Troy (Pelletier), Gatlin (Casey), Trevor (Socarras),
senior WR Derek Knott
,
sophomore RB Dom Bragalone
, and
junior RB Nana Amankwah-Ayeh
showed you what he can do today. When you have all those guys, I guess it's easy to be confident."
The train was rolling now behind Shaf's brimming confidence.
Lafayette would get stopped on a 4th and 2 run in Lehigh territory, and the Mountain Hawk offense, unstoppable, drove 49 yards to another score, this time on the back of and exhausted-looking Bragalone, who grounded and pounded his way to a 3 yard touchdown run to make the score 31-7.
Lafayette would make one final gasp at making this a game, driving down to the Lehigh 2 yard line under a minute to play. With 1st and goal at the 2, however, QB Drew Reed could not make the same type of play Shaf made earlier in the game. An incompletion led to a half-ending 13 yard sack by Laquan Lambert, keeping the Leopards from scoring, and essentially making the second half a formality.
*****
The energy of The Rivalry, usually played out with the fans in the stands and on the field of play, manifested itself in a strange, unusual way - during halftime.
Perhaps it was just the strange atmosphere in the world, or perhaps it was the lack of drama in the game, or perhaps it was a combination of both. But Rivalry emotions had a lid on them until the halftime band performances.
Marching bands are an important part of the pageantry of college football. It's not a coincidence that big-time FBS games focus a lot on crowd shots of the bands. The soundtrack they provide and the exuberance of their members are a critical piece of the whole puzzle that is a college football game.
(Roshan Giyanani/Brown and White)
At smaller level FCS schools, though, band trips are frequently the first things to go when the financial folks say
you need to cut costs
. Lehigh's Marching 97 made a lot of trips to away games this year, sometimes not as a full group, sometimes with money out of their own pockets, but that is generally unusual in a world where games are getting further and further afield. A lot of times, there is no band, and if there is, there's generally only one halftime show for the home team.
Lehigh/Lafayette, in that way, is different. Since the schools are only separated by 18 miles, it gives the opportunity for both bands to have halftime shows. Lafayette's smaller band would go first, and Lehigh's larger, uniformed Marching 97 would go next.
The halftime show started innocuously enough. Lafayette's tiny band came on the field, and did a simple march towards the Lafayette side of the crowd. They played a few songs, standing in place.
After some time, though, it became clear they were going over. And through the Lehigh fans standing in the stands, a strange thing happened - they started to notice.
As the clock wound down, Lafayette's band clearly trying to stall at this point, the Rivalry emotion poured out, egged on a bit by the frustrated Marching 97 members. A dull roar became a big roar, actually
shaking
the camera used by the Marching 97 to tape their performance.
Maybe it was because the Rivalry energy had nowhere to go. Maybe it was because everyone was walking on eggshells. But suddenly, that didn't matter.
All
the energy game forth from the stands. Lehigh fans had had enough of the gamesmanship. The Marching 97 would march them off the field, and there's nothing that Lafayette's band was going to be able to do about it.
(Craig Shipley/The Morning Call)
I am not a band connoisseur; I don't only go to college football games for the bands.
I have gone to college football games, however, with some great bands. Historically Black Colleges and Universities are known for their bands and halftime shows, and I have seen some great ones. Some folks go to these games just for the bands, but I'm at heart a football person. I see it all, the Xs and Os, the plays, the crowd, the whole thing.
The best band I've seen, at least before this weekend, was a home game at Bethune-Cookman University down in Daytona Beach, whose massive band and beautiful-sounding horn section filled up their Municipal Stadium in a way that seemed surreal. I don't always notice bands, but I noticed them that day.
As beautiful as that was, the power and the energy harnessed by this abbreviated set - that had to be concluded with the Lehigh players on the sidelines ready to kick off in about a minute - was like nothing I had ever seen before. It was a rare thing to see two bands share a halftime routine, and to see one get marched off the field with that sort of energy. Maybe in a high school game. But not in a big college football Rivalry.
On a day with such strange energy, Lehigh's marching band got
noticed
. They got the attention of everyone in the stadium. They filled Fisher Field. And in the process, they wrote their way into Rivalry legend. They didn't ask for the drama, but they delivered.
*****
By the end of the game, many of Lafayette contingent of the non-sellout crowd of 12,587 had left for the tailgates early. The Leopards had fallen behind 45-7 before scoring a couple of late touchdowns to make the score look a bit more respectable, but the second half had the feeling of a coronation. The only bit of drama was how Lehigh was going to celebrate their second straight win over Lafayette, with scoreboard selfies, storming the field, or something else.
(Craig Shipley/The Morning Call)
The students indeed stormed the field, where an impromptu circle formed with students singing the alma mater.
Senior CB Brandon Leaks
and some of his friends brought the house down with some high-stepping that makes my hamstrings wince just looking at it.
— Brandon Leaks (@brandon_leaks) November 20, 2016
Somewhere, the Marching 97 regathered to play the Lehigh Alma Mater that was denied them during halftime. The Lehigh fans that were still mostly in the stadium were breathing it in, savoring, shutting out the tension and acrimony in the world. For about an hour, nothing else mattered. Lehigh did what they had to do. They would beat Lafayette, and get to 69 wins against the Leopards.
(Brent Hugo/Lehigh Athletics)
In a fitting post-note to one of the stranger Rivalries I've witnessed, the post-game press conference seemed less preoccupied with the game than with other external issues.
The big news coming out of the Lafayette side of the press conference was the job status of
Frank Tavani
, who, at 2-9, has drawn the ire of a set of fans calling for his firing.
"Vultures may be circling, but there's no dead meat here, and that includes me," he
told the assembled media.
"I am comfortable in my own skin as a coach with what we do here and how we handle ourselves on and off the field. I intend to coach until somebody tells me no or I die."
As for coach Andy Coen, unsurprisingly it was all smiles, with a touch of speculation about the playoffs that would consume Thanksgiving week.
Shafnisky, though, took a moment to talk about what this Rivalry game really is all about. Getting a but emotional, he didn't probably intend it this way, but he summed it up all the same.
"My mom tells me all the time, 'Don't let it be too late.' That's her message," he said. "Every day, no matter what you're doing, whether it's going to class or just having a meeting, cherish it. Because one day, you're not going to go to class. As much as you don't want to go sometimes, you love it still because you're in college, you're with your boys, you're still doing things."
At Fisher Field this weekend, Lehigh people cherished the play of this team one more time, playing close to home. There would be other days for playoffs, for the agonies of the next day, the churn of daily life for the rest of people's lives. Today, they didn't let it be too late to miss their chance at marching on the field, at recovering that fumble, at making that sack, at making that improbable touchdown. They weren't going to let anyone deny them the honor of marching on that field, to deny them the outright Patriot League Championship. It was their day, and they did it.
(Brent Hugo/Lehigh Athletics)