We break down the Central Connecticut State game - and we give our fearless prediction, below the flip.
Thinking of openers and CCSU this week made me think of Lehigh's 2013 season.
That was an epic overtime game, where Lehigh overcame a 20 point 4th quarter deficit
to overcome the Blue Devils in double overtime 51-44
.
While most probably remember the record-breaking receiving day from
WR Lee Kurfis
, I dug deeper.
Down 35-17, Central Connecticut had a 1st and goal. Two players who will be starting this Friday,
senior NG Greg Palma
and
senior LB Noah Robb
, made huge goal-line stand stops to force the Blue Devils to kick a field goal.
Lehigh would force the field goal and come all the way back, but had that goal line stand gone wrong, the game - and maybe the season - might have gone a different direction.
"Yes I remember that day," Palma told me. "It was both of our first starts and it was an emotional day. Even though we were at the time losing, we had no doubt we weren't going to win that game. I was on a gap move and Noah set the edge, and when he cut back I was luckily there to make the play. That game is one of my favorite memories coming back to win in double overtime!"
To me, that goal-line stand in 2013 could be the theme of the game this Friday. A mix of seniors who remember the little things it took to beat Central Connecticut State last time, the underclassmen getting their first significant action, and the unveil of the new team for the first time. It's a moment which I hope people remember for the game tomorrow.
Breaking Down Central Connecticut State
Offense
One of the very interesting aspects of the Blue Devils is that their offense is set up very similar to Lehigh's new system under offensive coordinator
Drew Folmar
, without a listed fullback, three wideouts, and one listed tight end. Even their run/pass ratio is almost identical, rushing about 4 times to every 3 pass plays. Number of plays per game is close to the same number, too.
What is different between the Blue Devils and Mountain Hawks is that CCSU has even less experience on offense returning than Lehigh.
Lots has been said about Lehigh's new-look youth at a lot of key positions, but looking at the Blue Devils' game notes, and their two-deep, head coach
Pete Rossomando
's group has the Mountain Hawks beat when it comes to youth.
Ten freshmen and redshirt freshmen litter the two-deep, including at the most critical position on offense.
Dual-threat
freshman QB Tavion Pauldo
saw action in three games last season before using his redshirt, going 7-of-8 for 64 yards and adding 64 yards and a rushing touchdown before being put on the shelf for the season. He'll be the starter against Lehigh and the 6' 2, 200 lb player out of Cleveland Heights, Ohio seems like he could be a good one for the Blue Devils.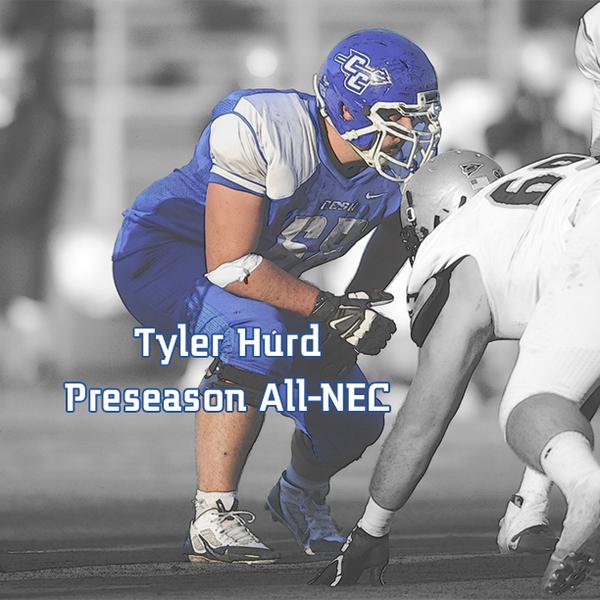 At running back, their best player on offense,
RB Rob Holloman,
graduated, leaving a host of inexperienced players to fill his shoes. Listed on the depth chart is 6'1
junior RB Mike Petersen
and 5'9
sophomore RB Devon Lofton
. Like Lehigh, it seems like Central Connecticut will be using a rotation of a lot of different backs to get rushing yardage, so it wouldn't be a surprise to see other names rushing the ball here as well if one of them gets a roll going.
CCSU also saw their leading receiver from a year ago,
WR Tyrell Holmes
, graduate as well, leaving 5'9
junior WR Dan Hebert
as the go-to receiver for the Blue Devils.
Sophomore WR Xavier Jenkins
and
senior WR Randy Quarles
round out this unit.
Senior TE Eric McGlone
is the lead of the depth chart at that position.
One thing that Central Connecticut State has that Lehigh hasn't is a lot of experience on their offensive line.
Senior OL Tyler Hurd
spotlights a unit with 4 seniors with lots of experience, though 315 lb redshirt
freshman OL Nathan Chrzanowski
is also a starter on the line.
Overall there seems to be a lot of raw talent on the field for Central Connecticut - just not a lot of game-day experience. How they gel during the course of the game will be a part of the outcome.
Defense
Another very interesting aspect of this Friday's game is that Central Connecticut also engages in a sort-of 3-3-5 stack defense that Lehigh is adopting for this season. Listed as a 3-2-6 on their depth chart (with two roving safeties), like Lehigh's unit there is an immense amount of youth on the roster, with only one senior listed in the two-deep - and that senior didn't even play on defense last year.
Two juniors and a sophomore highlight the defensive line, with 315 lb
sophomore NG Justin Douglas
the linchpin of that unit (24 tackles, 1 1/2 tackles for loss).
Junior DE Asia Bolling
(6 sacks) also returns on this talented unit.
CCSU LB C.J. Morrison
Counting the second safety as a linebacker, the most experienced member of the "second defensive tier" on CCSU is 5'8
senior LB C.J. Morrison
(65 tackles, 1 INT), who is also the Blue Devils' leading returning tackler.
Sophomore LB Shacor Privett
(55 tackles, 4 tackles for loss) looks a lot like the Blue Devils' version of
junior LB Colton Caslow
.
Like Lehigh, CCSU needs to do a better job stopping the run in 2015. They gave up 2,176 yards rushing last season.
At defensive back there is one senior,
senior CB Brandon Holloman
, but last year he played on offense as a wideout, perhaps so be could have played on the same side of the ball as his record-breaking brother. However
junior CB Jevon Elmore
(3 INTs) returns from last year's team/ Junior S Keir Minor (30 tackles) is the next-most experienced player returning in the secondary.
Like Lehigh, the Blue Devils need to do more forcing of turnovers to improve on last year's record. Their turnover ratio of -8 played a big part in the games that they lost.
Special Teams
Junior P/K Ed Groth
handles the kicking duties for the Blue Devils, where he averaged about 35 yards per punt and went 10/12 on field goals, with none going beyonf 39 yards. Rossomando is known as a bit of an aggressive head coach when it comes to 4th down, so it's not surprising that he might not give Groth an opportunity on a 4th-and-3 deep in opponent territory.
Rob Holloman and Tyler Holmes handled basically all the return duties last year, so all three guys in to return kicks are essentially new.
Junior WR Dan Hebert, junior CB Jevon Elmore
and
freshman WR Courtney Rush
are the return men.
LFN's Keys to the Game
1. Nostalgia for Fridays.
As
Keith Groller
mentioned in his
preview for this Friday's game
, the concept of a night game on Friday under the lights might make the idea of Division I football a bit easier for those freshmen playing for Lehigh for the first time on Friday. The Mountain Hawks need to grow up fast, but playing under the Friday Night lights might ease the transition. Lehigh needs them to be ready.
2. Nostalgia for Goal Line Stands.
The Mountain Hawks defense went through a transformation from last season, but setting the tone for a better 2015 starts with Friday's game. A good goal line stand or two might be a positive springboard to the 2015 season - just as the one in 2013 spurred Lehigh's early season success.
3. Nostalgia for a Team That Gels.
Both teams have a lot of talent, but it's the team whose talent gels the fastest that will win the game. It's on the coaching staff to make sure that it's the Mountain Hawks that are that team, though minimizing turnovers, keeping mistakes down, and working together.
Fearless Prediction
Picking this game in a way seems like a near-impossible task, because not everything is know about either side.
Neither group seems to have a decided talent advantage, motivation advantage, or experience advantage. Heck, even the
schemes
seem the same.
But I think Lehigh will win out in this game mostly due to the experience at quarterback.
Junior QB Nick Shafnisky
's experience leading the offense - and a full year at starting quarterback under his belt - will be the difference.
Lehigh 38, Central Connecticut 28