Lehigh QB Nick Shafnisky (Morning Call)
Junior QB Nick Shafnisky
spent Patriot League media day telling the gathered media about haters drinking the haterade.
Well, he didn't exactly say it like
that
. But he did talk about proving the haters wrong.
"I love having people either be there for me or count me out," he said. "Personally, I love it all. I love haters. I was just saying to my dad - the more people are talking bad about you, the more people you have to prove wrong. I love proving people wrong, and making my coaches from high school proud."
Now finally healthy, Shafnisky finally has the chance to prove a lot of people wrong - those that doubted his ability to recover from a Rivalry game
he'd rather forget
, those that thought he might not get over the injury that severely limited him last season, those that picked Lehigh to finish
fifth
,
sixth
, or even
seventh
in the Patriot League.
Despite an infections optimism that carried all the way through the preseason, you could see the chip forming on Shafnisky's shoulder that day, as well as
junior LB Colton Caslow
's.
How Shaf and Caslow perform with that chip on their shoulder is going to play a big part in the 2015 season.
"We want to show that the 3-8 team you guys saw last year is not what Lehigh's about, and it's not what Lehigh football is about," Shaf said. "When they announced that we were picked fifth, Colton and I just looked at each other, and said, 'We'll see.' Everyone has a different chip on their shoulder to prove everyone wrong."
Lehigh offensive coordinator
Drew Folmar
enters his second year orchestrating Lehigh' s 2015 offense with a new rapport with his quarterback.
Lehigh QB Nick Shafnisky (Morning Call)
"We always have energy and we're always talking," he said during media day. "I'm not one who likes to relax. He's the same way. There's other similarities. We both played baseball and we both love baseball. Last year, we had pretty much the same offense, but we had a whole different voice and a different guy explaining things. He learned things from me, I learned things from him. There's a comfort level now. We're both excited."
Now healthy, Shaf is ready to jump into the season.
"I'm excited for Nick because he's finally healthy," Coen said at media day. "I don't want to put undue pressure on him, but he has matured, without a doubt."
Sitting behind Shafnisky
on the depth chart for Central Connecticut
is
freshman QB Brad Mayes
, emblematic of the youth that will be surrounding the Whitehall, PA native.
In fact, there are a lot of new starters on the offense that were not starters at Yankee Stadium last November.
At running back two freshmen,
freshman RB Dominick Bragalone
and
freshman RB Micco Brisker
, join Shaf on offense.
Senior WR Derek Knott
, slotted in as a starter, was injured during the second half of the season and did not play, while
senior TE Chris Ruhl
, who emerged victorious after a tough position battle this August and was also voted a team captain, now moves into the starting role.
Senior WR Stefan Sansone (Morning Call)
Only preseason all Patriot League receiver
sophomore WR Troy Pelletier
and team captain
senior WR Stefan Sansone
return as starters at the skill positions on offense for Lehigh.
Additionally,
junior WR Trevor Soccaras
and
sophomore WR Gatlin Casey
spent plenty of time on offense and may certainly get shots during the course of the regular season.
Freshman WR Connor Bianchini
and
sophomore TE Drew Paulsen
join them on the two deep heading to New Britain this Friday.
The return of Knott, a former sprinter, is especially welcome for the Lehigh offense in terms of the energy he brings to the entire squad. His speed can have a way of sparking the entire offense, and the Mountain Hawks will be looking for him to do an awful lot of that in his senior season.
Last season, perhaps a result of the nagging shoulder injury that dogged him all year, Shafnisky did a lot more running than the coaching staff liked last season. The hope is the Swiss army knife of skill weapons - some old, some new - will be able to generate a lot of fast-paced, dynamic offense.
The offensive line, somewhat surprisingly, doesn't see a senior in the one-deep for the first time in recent memory, though it returns three starters from last season.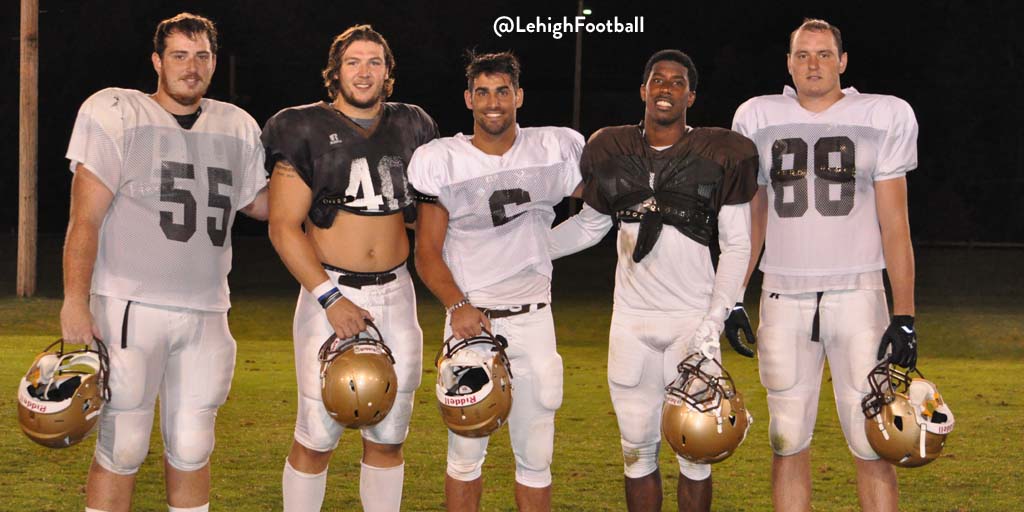 Captains: Matt Ford, Noah Robb, Stefan Sansone, Olivier Rigaud, Chris Ruhl
Junior OL Evan Sweeney,
team captain
junior OL Matt Ford, junior OL Brandon Short, junior OL Micah Tennant
and
junior OL Zach Duffy
boast what could be Lehigh's biggest offensive line ever, averaging a shade under 300 lbs across.
Short, the center who was injured after a chop-block versus Yale, is an especially welcomed player to return on the offensive line. Lehigh missed his consistency on all sorts of snaps when he was out, and it is great to see him reclaim his starting position.
*****
Defensively Lehigh is switching to a brand-new 3-3-5 stack defense that had everyone in camp excited. It's going to be an aggressive defense that sees a lot of different looks and pressure from a lot of different directions.
Senior DE Matt Laub (Lehigh Valley Live)
The foundation of a great 3-3-5 defense is a great defensive line, and
sophomore DE Tyler Cavenas
,
senior NG Greg Palma
and
junior DE T.J. Stubbs
form that foundation, with vastly improved
junior NG Jimmy Mitchell
,
senior DE D.J. Bourgeois
and team captain
senior DE Matt Laub
also getting lots of time as well.
"When you get here, they tell you that it goes by so fast and they were right," the hard-working Laub
told Keith Groller of The Morning Call.
"I'm trying my best to cherish every minute of this season. There's definitely a real good feeling about this team. We had a great preseason camp and now it's a matter of transitioning it into game prep for CCSU and the coming weeks. We've got to keep the competition up and keep getting better every single day."
The linebacking unit sees
junior LB Noah Robb, junior LB Colton Caslow
and
junior LB Pierce Ripanti
, part of the first "scholarship" class, listed as starters for Central Connecticut. Caslow and Ripanti were No. 1 and No. 2 in tackles a year ago, and they'll be asked to expand on their roles jumping from their sophomore seasons, while Robb saw lots of time last season and will easily slide into a familiar outside linebacker role.
Senior LB Cody Kondas, junior LB Evan Harvey
and an underclassman,
freshman LB Jake Buskirk
, rounds out the unit and will undoubtedly see plenty of time on the field as well.
Critical to Lehigh's success will be how the pass rush develops. Last season Lehigh only amassed 15 sacks and 43 tackles for loss - numbers that will need to improve if the Mountain Hawks are to improve on last season's 3-8 record.
Senior LB Laquan Lambert
New to Lehigh's defense is the "rover" safety role, a critical piece to the defense now inhabited by
senior LB Laquan Lambert
, a perfect match for the skill set of the 6'1, 210 lb safety.
Backed up by
junior LB Joe Barrett
, it will be interesting to see how the "rover" is used.
The secondary also features plenty of experience in terms of team captain s
enior CB Olivier Rigaud, junior CB Brandon Leaks, junior FS Brian Githens
, and impressive underclassman
sophomore SS Quentin Jones
, who earned his way onto the playing field last season in the secondary and never really left it.
The Mountain Hawks' aggressive defense is hoping to generate more turnovers than last season. In 2014 they bagged 8 interceptions - 3 from Leaks, and 2 from Lambert. Fans are hoping for even more momentum-shifting forced turnovers from this secondary this season.
****
Senior P/K Austin Devine (Lehigh Valley Live)
Some were surprised to see
sophomore WR Troy Pelletier
tagged to return punts this season - one of only two upperclassmen on the one-deep.
Preseason all-Patriot League s
enior P/K Austin Devine
takes over punting duties again. Last year he averaged 42.2 yards per boot and had eight kicks longer than 50 yards.
Freshman K/P Ed Mish
will be the starter at kicker.
Freshman WR Mike Gies
and
freshman WR Donavon Harris
will be the two freshmen who will be on the field returning kickoffs, while
junior LB Mark Walker
will be the starting long-snapper, playing in their first-ever Division I college action.
After a feisty, infectious preseason, this week it's time to find out who can knock the chips off these guys' shoulders.