It's what we do every week: copiously go over the opposing game notes and analyze the upcoming game matchup.
Thanks to St. Francis (PA)'s
game notes
, which is the source of all of this research (and a very, very long offseason of obsessing over this game).
Let's not wait any longer, and let's get right to this thing!
Breaking Down St. Francis (PA)
Offense
If you look at the Red Flash's team stats on offense, you'd think that head coach
Chris Villareal
's team had an average offense at the FCS level, averaging 21 points per game in 2017.
Take a deeper dive into the numbers, though, and you notice something.
In the first two games of the year, St. Francis (PA) scored 100 points in their first two games: 69 against D-II Lock Haven, and 31 against Wagner (whom Lehigh lost to last year).
After those two games, the Red Flash really struggled on offense, scoring 141 points
combined
over the last nine games. For those of you without a calculator, that's only a little bit under 16 points a game.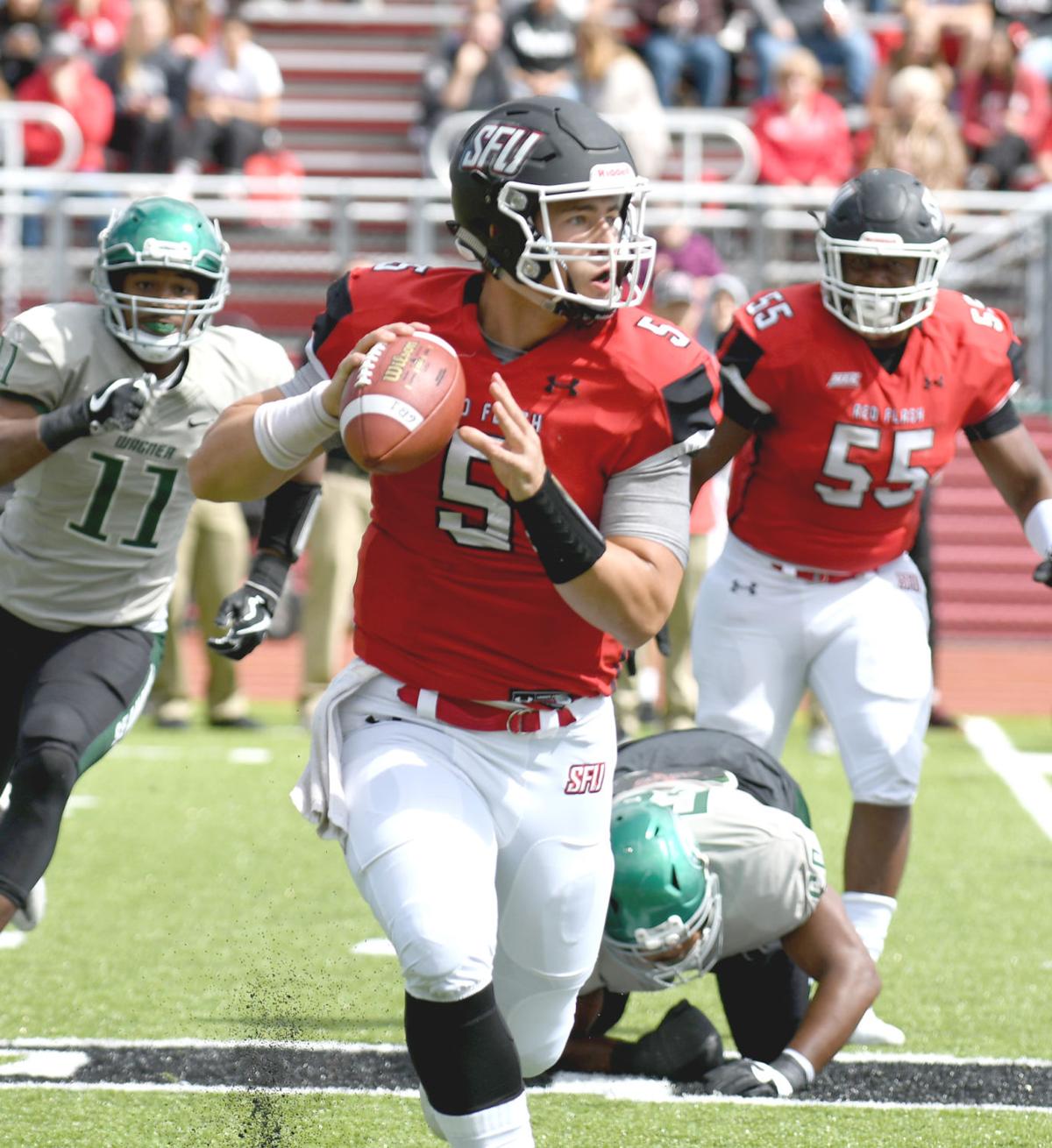 QB Bear Fenimore (Tribune-Democrat)
Certainly injuries had something to do with it. It didn't seem like
QB Bear Fenimore
was 100 percent healthy, and it didn't help that his offensive line was giving up 3 sacks per game on average.
The quarterback they call Bear, a transfer from the University of Houston, is back for a graduate year and his final year of eligibility at St. Francis. When healthy, he's mostly been a pocket passer as a member of the Red Flash, but in high school he was more of a dual-threat QB, so it remains to be seen how Villareal will deploy him. Best that Lehigh be ready for anything.
Top rusher
RB Jymere Jordan-Toney
returns (561 rushing yards) as well on the ground for the Red Flash as the top back, but in 2017 Villareal rotated a bunch of backs to form the St. Francis running game. Speedy
RB Joel Denley
(225 yards) should also get plenty of touches as well, along with
FB/TE Zach Rohland,
who missed all of 2017 with an injury, playing as an H back.
WR Kamron Lewis
St. Francis' big star on offense might be
junior WR Kamron Lewis
, who was the Red Flash's leading receiver last season with 909 yards and 6 TDs. At 6'4, he is a potential matchup problem with any FCS secondary.
The only question with him is how he will do without former Fordham transfer
WR Jorge Solano
on the other side.
WR Cyrus Holder
(283 yards, 2 TDs) played in a lot of games last season on offense and he is starting on the other side of Lewis. Like Lewis, he is 6'4 and another potential matchup problem. 6'7
TE Terrell Johnson
(7 catches, 97 yards, 2 TDs) is another.
St. Francis' offensive line is loaded with 300 lb players, and boasts two returning starters at the tackles,
OL Medrick Flavius
and
OL Evan Ferguson
. They will try to physically beat up Lehigh's defensive front in order to get the offense rolling. It's a mistake to assume that since they struggled last year on offense, they'll struggle again.
Defense
Not many football teams play a 3-4 defense anymore, but St. Francis (PA) not only fielded one successfully, they also had one of the better defensive units in FCS, a unit that kept them in games. The 3-4 defense is my personal favorite, mostly because of the flexibility it gives a defense to either blitz or drop back in the short passing game.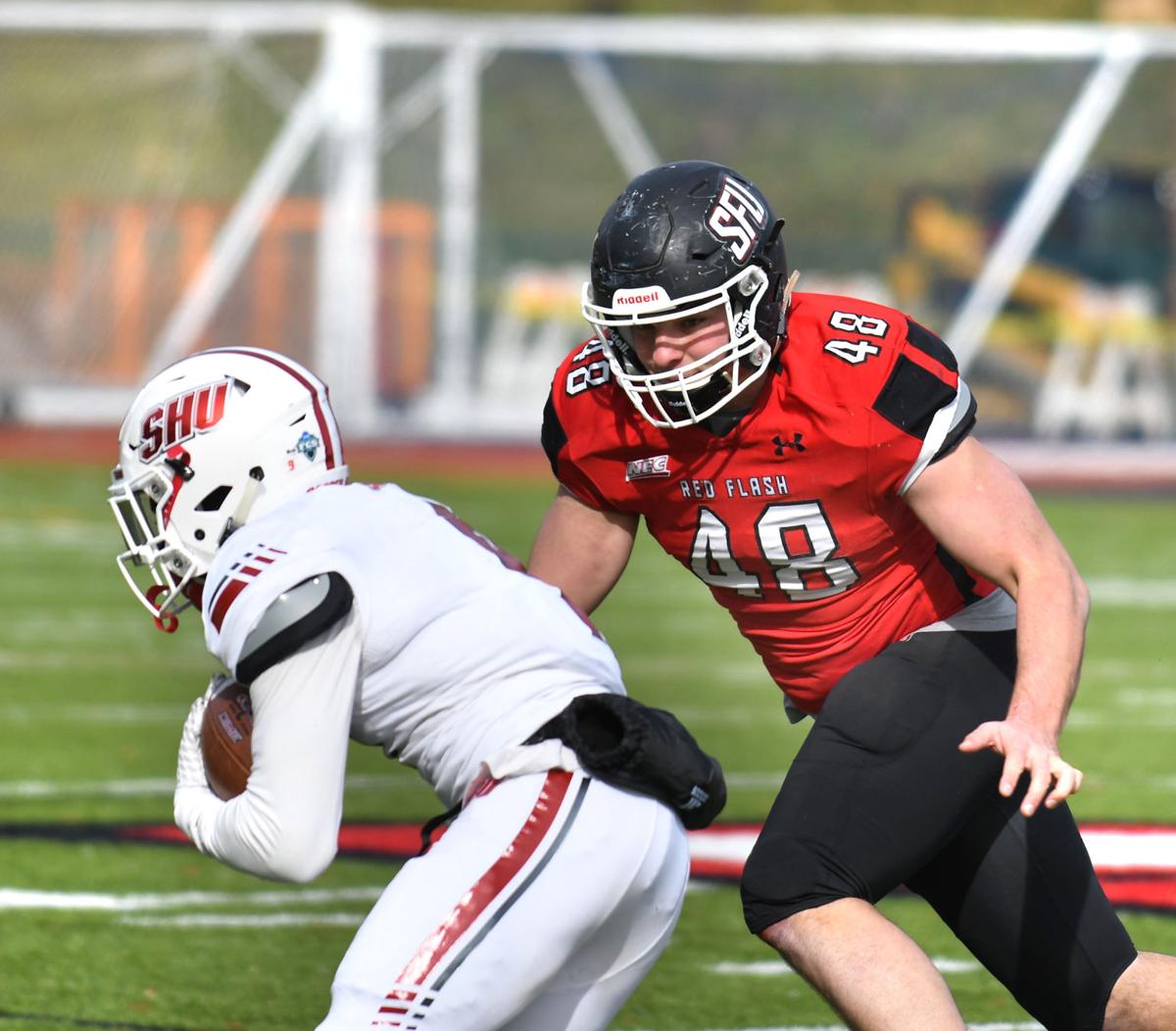 LB Sean Orsini (Tribune-Deomcrat)
Even worse news for Lehigh is that much of the central core of the team returns in 2018 for the Red Flash. They do lose
DL Zane Lewis
, who led the Red Flash in tackles for loss, but a huge hunk of the rest of the defense returns.
It's St. Francis' defensive line where there is a lot of inexperience, with
DE Todd Burger
and
NT James Watkins
getting their first significant game action of their careers. Senior
DE Louie Gartner
(2 1/2 tackles for loss) rounds out the unit.
But at linebacker,
LB Da'Juan Lee, LB Gibbs Tinne, LB Ben Bruni
and
LB Sean Orsini
all return, and all of them are an exceptional unit. Orsini (84 tackles, 6 tackles for loss, 1 INT) is probably the marquee name in this group, but they are all fast and are very solid tacklers. The Red Flash only allowed 137.6 yards per game on the ground last season.
SS Hakeem Kinard
(73 tackles, 2 INTs) and
FS Nick Rinella
(51 tackles, 3 INTs) are very good ball hawks for the Red Flash. However the starting corners,
CB Jermaine Ponder
and
CB Jarren Williams
, weren't starters last year.
Special Teams
Senior
PK Eric Bofenkamp
showed a strong leg in the kicking game, booting a 44 yard FG while going 10/19 of field goal attempts. Junior
P Andrew Zecca
was also a pretty good weapon in the punting game, with a net of nearly 40 yards and downing 20 punts inside the 20.
S Nick Rinella
is listed as the Red Flash's punt and kickoff return specialist and he definitely is a weapon that Lehigh will have to keep an eye on. Last season he had 353 yards in returns and a touchdown.
LFN's Keys to the Game
1. Preventing Big Plays.
Last season, Lehigh's defense simply gave up way too many big plays, where a receiver got a step and found open space, or a running back made it through the initial wave of defense and broke it for a huge gain or touchdown. Preventing those types of big plays again is the best way to ensure that St. Francis' huge offensive line doesn't simply beat up the defensive line and run out the clock on a lead.
2. Getting Mayes a Rhythm Early.
St. Francis (PA) has a terrific defense, but a balanced approach, where they don't know what to expect from down to down, is Lehigh's best chance at breaking them down.
Senior RB Dominick Bragalone
certainly will help wear them down, but
senior QB Brad Mayes
getting in an early passing rhythm with his receivers should really have the Red Flash defense guessing.
3. Return Game.
Don't sleep on Rinella returning kicks. There's a reason why he's their primary return guy and he could end up being the type of weapon Lorenzo Jerome was a few years ago for St. Francis. Lehigh's return unit, with plenty of freshmen, need to be completely ready to shut him down.
Fearless Prediction
We are finally here. It's been a very long offseason and I can't wait to get out there tomorrow and see the 2018 Mountain Hawks. It's been a strange offseason, one of happiness of winning the Patriot League and beating Lafayette, but also one of frustration, that of the 5-7 record and winless record out-of-conference.
With Villanova, Navy, Penn and Princeton on the upcoming schedule, it has never felt so imperative that Lehigh come out and really establish themselves with a win. Nova and Navy are huge challenges, and Penn and Princeton we also know are going to be very tough opponents, both of them picked in the upper half of the Ivy League this year.
But season openers are always scary. St. Francis (PA) can unveil anything, and Lehigh needs to be prepared for anything, which is a very scary place to be sometimes.
Like many, I have a lot of faith that the Lehigh defense has improved a lot, while being a little be cautious about the offense, which, despite the steady presence of Mayes and Bragalone, has a lot of new parts that are being asked to carry a heavy load.
But in the end I think what propels Lehigh to victory here is the fact that they went 0-5 last season in out-of-conference play. I think they are ready to erase that memory and get off to a good start to the 2018 season.
Lehigh 31, St. Francis (PA) 27