For whatever reason, you didn't make the trip to Stony Brook, New York. You've popped your popcorn, iced your Yuenglings, and put the meatballs in the crockpot - and then you panic.
How do I watch the game? What is ESPN3? Can I watch it on my TV? Do I need to subscribe to something? WHAT DO I DO???
Never fear. LFN's here to help.
This week's FCS playoff game, and all the FCS playoff games for that matter,
are available on ESPN3, ESPN's streaming service
and on certain sports cable packages if you have a premium sports package.
Certain sports packages, such as Dish and Verizon FiOS, have premium channels in the Pay-Per-View area called "
ESPN College Sports Extra
". This is where you can watch the game if you have a subscription. (It's also where your local sports bar will have the broadcast.)
If you just have a subscription to ESPN, you can still stream the game via ESPN's online streaming service, ESPN3.
ESPN3 is available with anyone with a subscription to a some sort of service that has ESPN. This can come in a variety of ways: through Service Electric, Comcast Xfinity, Verizon FiOS, etc. If you're a cord-cutter, it's also available through a Sling TV subscription to ESPN.
If you are watching ESPN3 on a phone or tablet, you can download the ESPN app and click on the "Watch Now" button to catch the game. You might need to plug in login credentials to authorize it, but once that's done, you're good to go. (And if you're like me, and you have Google Chromecast, you can cast your ESPN3 broadcast right to your big-screen TV.)
If you are watching it on a laptop or computer, you can click on
http://www.espn3.com
and find the "Lehigh at Stony Brook" link on the list. Click, and it will play in a web browser.
If you have a Roku stick, Playstation 4 (with Vue), or Amazon Fire TV or other App-enabled TV devices, you may have the ability to start the "WatchESPN" app directly on your TV already. Fire it up, choose "Lehigh at Stony Brook", and go.
The ESPN3 broadcast won't simply be a webcam and a person with an Eisenhower era microphone: it's full-blown coverage, with
Mike Watts
and
Dustin Fox
calling the game.
If want to listen to the game on the radio (as I will be), you can catch
the Lehigh game feed online here
, or you can listen on AM at three spots around the Lehigh Valley on the AM Dial: 1160, 1230 and 1320.
Matt Kerr, Mike Yadush
and
Steve Lomangino
are going to be the radio crew.
There is a full buffet of terrific college football today at both the FBS and FCS levels, and the first round of the FCS playoffs unfortunately fall smack-dab in the middle of it, with six of the eight playoff games going on simultaneously in the middle of a slew of terrific Rivalry games. (Well, for Lehigh and Lafayette fans, they are still baby Rivalries; none of these teams have played each other 153 times, like the Leopards and Mountain Hawks have.)
FCS playoff games (all are available on ESPN3/WatchESPN):
1:00 PM Furman at Elon
2:00 PM Central Connecticut State at New Hampshire
2:00 PM Samford at Kennesaw State
4:00 PM Western Illinois at Weber State
4:00 PM South Dakota at Nicholls
5:00 PM Monmouth at Northern Iowa
8:00 PM San Diego at Northern Arizona
Of the other FCS Playoff games, there are several with Lehigh ties that may be of interest:
* Elon hosts their first playoff game in a while, and their current offensive coordinator,
Drew Folmar
, was Lehigh's offensive coordinator last year.
* New Hampshire, Lehigh's host last year in the first round, take on Central Connecticut State, whom Lehigh beat a couple of years ago at Arute Field in their season opener, 20-14.
* Monmouth, whom Lehigh lost to in Week 2 this year, takes on Northern Iowa in the same stadium where Lehigh
beat the Panthers 14-7
in the first round of the FCS Playoffs in 2010.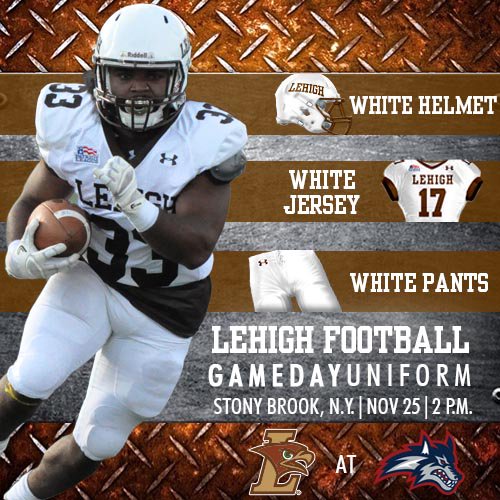 The Experts Predict The Game:
Stony Brook 34, Lehigh 28:
Lehigh Football Nation
Stony Brook 42, Lehigh 24:
Keith Groller, The Morning Call
Stony Brook 42, Lehigh 31:
The FCS Wedge
Stony Brook:
Craig Haley, FCS STATS
Stony Brook:
HERO Sports Panel
Stony Brook:
Emory Hunt, Football Gameplan
And LFN's Picks Of The Other FCS Playoff Games:
Furman 42, Elon 20
- Great run for the Phoenix, but their magical season ends against an underrated Paladin team.
UNH 56, CCSU 10
- CCSU loses their starting QB due to a violation of team rules before the biggest college football game in their history. I don't think this ends well.
Samford 35, Kennesaw State 21
- It's hard to beat a team twice during a football season, but in this case I think the familiarity will work to the Bulldogs' advantage.
Weber State 29, Western Illinois 28
- This matchup between two teams with semifinal potential feels like a crime, but it should be a whale of a game. Worth sparing a screen in your home to keep an eye on this game.
Nicholls 31, South Dakota 28
- Should be one of the prettier games on the playoff schedule at picturesque Thibodeaux, Louisiana, and South Dakota's late-season turmoil might be a real disadvantage.

Northern Iowa 34, Monmouth 20 - The Panthers could be a dark horse to make the FCS National Championship game, and while Monmouth's run to the playoffs was inspiring (and good for Lehigh's strength of schedule), I think it ends here.

Northern Arizona 49, San Diego 0 - Head coach Jerome Souers, who was scheduled to retire after this season, got "un-retired" in a weird twist. The Lumberjacks will likely celebrate by taking the Toreros to the woodshed.