For the first time all season, it was a dark, wet day for a Lehigh football game.
It was not at all ideal for the more than 15,000 fans, and countless tailgaters that made it to the tailgates but not in the stadium, partying and tailgating outside the gates of Murray Goodman.
It was also not at all ideal for Lehigh's high-powered passing game, and during a disastrous second quarter with three turnovers, it felt like the wheels were coming off the Mountain Hawks' chances at successfully defending their Patriot League title.
It seemed like everything that could go wrong, was actually going wrong. Three fumbles resulted in three Lafayette recoveries. A third down conversion incompletion by Lafayette
QB Sean O'Malley
became an unexpected first down, thanks to an unsportsmanlike conduct penalty that kept their drive alive. A 14-7 first quarter lead became 17 unanswered points, leading to a 24-14 deficit against the best defensive team in the Patriot League.
In this most important of football games for many of the Lehigh faithful, it seemed like they were losing it by shooting themselves in the foot.
Then halftime happened, and everything changed. More rain, and worse weather, did not deter Lehigh from their goal. And a couple of Rivalry legends were made in the process.
The Lehigh-Lafayette Rivalry is the most-played college football rivalry there is. The two schools separated by about eighteen miles had faced off against each other 152 times before this Saturday.
Most associated with the Rivalry, including Lehigh head coach
Andy Coen,
put the matchup in it's own box. In the past he's called it its own championship, separate and distinct from the others.
And, strangely for the Mountain Hawks, the Patriot League Championship hadn't often been on the line when Lehigh has played Lafayette - and when it had, the results had not been good.
In 2006, a 6-4 Lehigh team had a chance to beat Lafayette to avoid a co-championship with their Rivals. The Leopards blew Lehigh off the field in a 49-27 win, and snatched the Patriot League's autobid to the I-AA playoffs in the process.
And in 2013, all an 8-2 Mountain Hawk team had to do was beat their 4-6 Rival, at home, and they would have not only been practicing on Thanksgiving, there was a decent possibility of Lehigh hosting an FCS Playoff game.
Instead,
in the most sucky, hurting way possible
, Lehigh would be defeated - and the Patriot League title, and autobid, would be Lafayette's.
It was in that context that fifth year
senior OL Zach Duffy
entered into this year's Rivalry context,
with a piece he wrote in The Brown and White
.
LB Nigel Muhammad in 2013 loss (Morning Call file)
"I'd never experienced such a gut-wrenching loss,"
he wrote.
"I remember immediately looking for my dad after coach Coen broke down the huddle for the 2013 Mountain Hawks one final time. I turned around to a crowd of parents embodied with sadness while we all watched Lafayette celebrate on our 50-yard line.
"I sorted through the madness to find my dad. He looked at me and said, 'I can't believe it.'
"None of us could. It's difficult to explain, you know? We had come into that game 8-2 with some momentum. We knew Lafayette was a tough team, but we didn't respect them because we thought they couldn't be tougher than us. At no point in the 149th meeting with the Leopards did we have control of the game. They dominated us in every facet.
"After saying bye to my dad, I began the walk back to the locker room. It felt like an eternity.
"I had no option but to stagger through the families consoling our seniors because they would never play football again. I watched grown men cry because they'd never again make a game-changing play, score a touchdown or deliver those big hits we love on defense. We saw their faces, and we felt their pain. Not only were their careers over, but we also lost the Patriot League Championship to our archrivals."
Perhaps more than some of the other players, Zach seemed to understand best what was at stake on Saturday. The other 5th year seniors on the field that day in 2013 certainly did too, co-captain
senior OL Brandon Short
and co-captain
senior DL Jim Mitchell
, and many of the seniors that took the field this Saturday had an inkling of what was to come. But it was Zach that put those moments into words for the world to read - almost as much a warning as a story.
It is different playing in The Rivalry with the Patriot League championship at stake. It takes the emotion, and the intensity of The Rivalry, and jacks up the stakes even higher. And many Lehigh teams did not react well to the added pressure.
Lehigh had won plenty of Patriot League championships and qualified for the FCS Playoffs a bunch of times over the last decade, but none of them came against Lafayette. In 2010 and 2011, Lehigh beat Georgetown to wrap up the title before The Rivalry. Last year, beating Bucknell at home had basically wrapped things up before the Mountain Hawks had to contest their other, distinct, Championship game versus Lafayette.
In fact, Zach may not have known this, but Lehigh's "win the Patriot League title and get to the FCS playoffs drought" actually predated head coach Andy Coen's tenure.
In head coach
Pete Lembo
's final two seasons at Lehigh, in 2004 and 2005, the Mountain Hawks lost against Lafayette the final week of the season, and in the process lost the autobid to the playoffs. (In 2004, Lehigh received an at-large bid to the playoffs, and faced off against James Madison, losing a thrilling 14-13 game where one the Dukes' margin of victory came down to needing to punch the ball in after seven different cracks at the 1 yard line of Lehigh. JMU would win their first-ever I-AA National Championship that season.)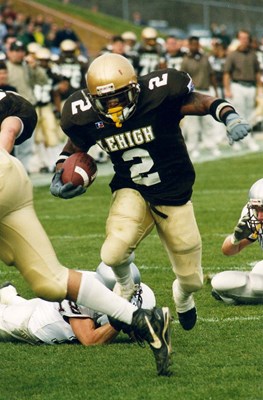 RB Ron Jean, in the 1999 Rivalry
In fact, you have to go all the way back to 1999 to find a game with something similar at stake for the Mountain Hawks that ended in a victory.
That year, Lehigh, coached by
Kevin Higgins
, entered the 136th meeting between the two Rivals needing a win and some help from Holy Cross against Colgate to have a chance to win the Patriot League's I-AA Playoff autobid, or hope the FCS Playoff committee would offer a 10-1 Patriot League co-champion with Colgate a precious at-large bid. With Lafayette head coach
Bill Russo
announcing his retirement before the game, Lafayette left it all out there, very nearly keeping Lehigh from the championship and a playoff berth before finally succumbing 14-12 to the Mountain Hawks.
So Lehigh had not made their task easy by
losing a game in the Bronx a few weeks prior, 45-35
. That turnover-marred game, including two that led to two short-field touchdowns for Fordham, set up the extra stakes for this weekend's Rivalry game.
I went to the Bronx to watch that loss to the Rams, and afterwards, I was pretty bitter.
"I suppose this Lehigh team could find a way to win the rest of their games and win the Patriot League,"
I wrote.
"It is true; technically, if the Mountain Hawks find a way to win the rest of their games, they would become the second Patriot League representative to qualify for the FCS Playoffs with a losing record at 5-6. They would be Patriot League champs; and they would be under .500, barring the most unlikely FCS playoff run in college football history.
"But will the 153rd edition of The Rivalry have any championship implications? Will Lehigh be able to summon enough pride to beat Bucknell? Will the gameday experience at Holy Cross come anywhere close to the nearly 8,000 fans that came to Fordham to watch their 2-6 team play football? To this reporter, these are very open questions."
As it turned out, it would - and Lehigh would have to buck that history against their ancient Rivals to do what no Mountain Hawk team was able to do since 1999.
Zach, Brandon, Jim and Lehigh football's senior class may not have known the exact dates of the last win over Lafayette that directly resulted in a playoff appearance, but they knew enough to know that it wasn't going to come easy.
* * *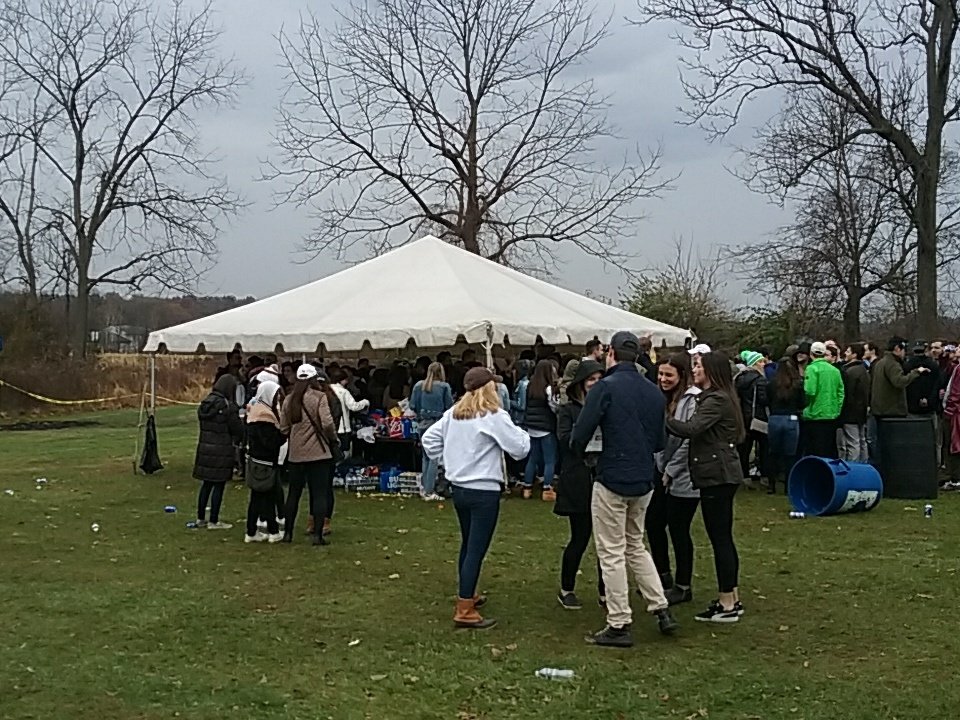 The prelude to The Rivalry, despite the rain on gameday, remained undefeated.
Tens of thousands of Lehigh and Lafayette fans descended on Murray Goodman, braving the possibility of rain and cold, to browse the tailgates and watch the game.
The tailgating, as always, came after a week filled with Rivalry activities, sanctioned and unsanctioned.
They included, on the Lehigh side, bed races, the traditional bonfire, and the Marching 97 invading the campus to let people know that is was Rivalry Week.
— Lehigh Alumni (@LehighAlumni) November 17, 2017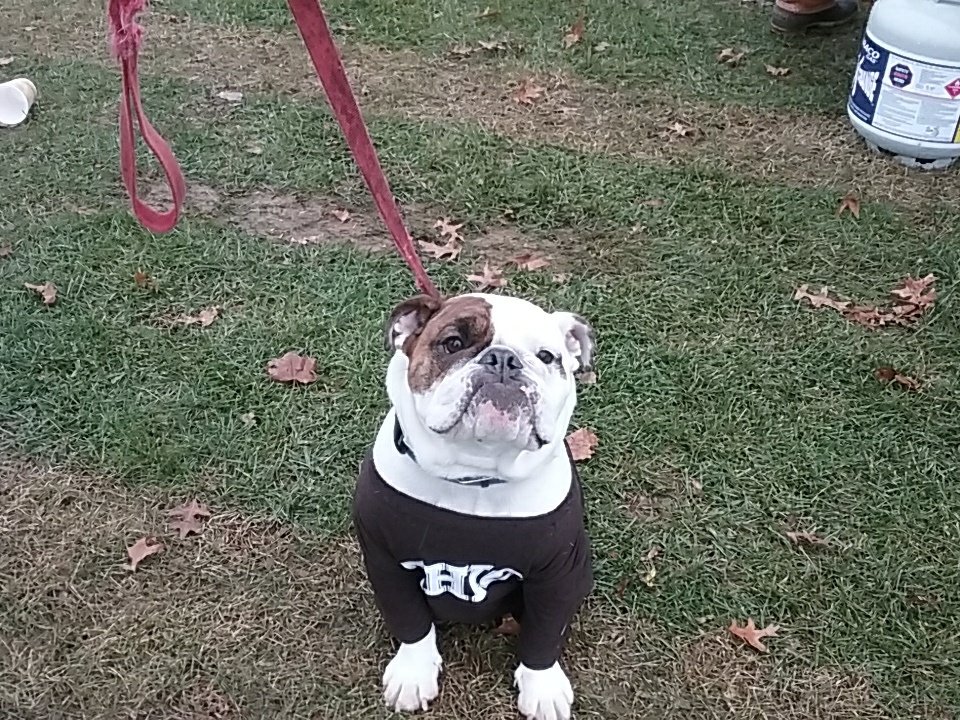 On the day of the game music, food, and beer flowed through the tailgates, and not everyone in there was human. Folks brought their dogs to the tailgates as well, enjoying the party, good dogs all.
It's not clear whether most of the crowd was aware of the stakes of the game; they would have been there, rain or shine, winless or undefeated. In a way, that level of dedication is awesome; yet in another way, it has this way of emphasizing how difficult this was going to be for the Mountain Hawks to pull off.
Lehigh always beats Lafayette
, they seemed to say, oblivious to the stakes (but not the steaks).
I stopped at the tailgate of my best pals from Lehigh, the group of friends I had at school and have maintained through more than a quarter century (did I just admit that?) of Rivalry games. We caught up on our lives, the college visits, the kids - and the Lehigh football season, as many other Lehigh alumni often do in a family-reunion sort-of feel, amidst the cigar smoke and smell of charred meats.
Lehigh Marching 97 (Saed Hindash/Lehighvalleylive.com)
Going into the stadium, dodging raindrops, the Marching 97 put on a show, as they always do. Not everyone knows or appreciates the value of music to The Rivalry, first provided by the Bethlehem Steel Brass Band at the turn of the century and eventually, this weekend, Lehigh's Marching 97 and Lafayette's pep band. But the sound of "Fat Bottomed Girls" by Queen filled Murray Goodman as people started filing in with their umbrellas.
Then, the game, where Lafayette proved that they were not going to go quietly on this day.
From the very first drive, proved they meant business.
On their very first drive, Lafayette marched down the field and scored only their second rushing touchdown of the year to that point, a 1 yard jet sweep to
WR Nick Pearson
that helped give the Leopards a 7-0 lead.
Lehigh would quickly fire back on back-to-back drives, with a 6 play, 72 yard drive ending with a 5 yard touchdown run by
junior RB Dominick Bragalone
, and a 7 play, 57 yard drive finished off with an 8 yard strike from
junior QB Brad Mayes
to
senior WR Troy Pelletier
.
But a disastrous course of events on three straight second-quarter drives - two special-teams turnovers - would see Lafayette calmly convert those giveaways into points to give the Leopards a 17-14 lead.
Riding a tidal wave of momentum, Lafayette's defense stuffed Lehigh on 3 downs - punishing Mayes on a 3rd down hit, having him come up limping a bit - and then the Leopards continued to surge on offense, with Pearson getting the Leopards' longest run from scrimmage on the season, a 45 yarder, to set up a touchdown run for
RB C.J. Amil
, giving Lafayette a 24-14 lead.
Driving for a score to cut the deficit before half, Bragalone seemed to slip on the slick turf, and had the ball alertly forced out by
DB Yasir Thomas
, pounced on by Lafayette.
With the clock winding down at the half, it seemed like all of Lehigh's dreams of the Patriot League and any sort of postseason football was going down the drains at Murray Goodman.
DE Harrison Johnson (Saed Hindash/Lehighvalleylive.com)
Lafayette slowly drive down the field,
senior DE Harrison Johnson
dragging down Lafayette
RB Selwyn Johnson
at the Lehigh 9 yard line to stop a possible touchdown, not seeming like a momentum-turning play at the time. Johnson, who would end his day with 3 tackles, perhaps made the play of his career on that drive.
On 1st and goal,
sophomore CB Marquis Wilson
and
sophomore WR Keith Woetzel
would stop Lafayette on two straight running plays, while
senior DL Tyler Cavenas
would bull rush O'Malley on 3rd down, pushing his lineman back into him and forcing an incomplete pass.
On 4th down, Lafayette's long snapper hiked the ball too high, and the wet ball, after hitting the ground, was wrapped up by Cavenas to keep the deficit at 10 going into the half.
"I was proud of our effort and the way we battled through adversity against a good team," first-year Leopard head coach
John Garrett
said. "We came up one score short. In the first half we were able to drive the ball in a variety of ways (Lafayette's 172 rushing yards at the half were the most the Leopards had had all season in any full game). I was proud of our offense."
"There was never any panic," head coach Andy Coen said, after heaving an enormous "whew" as he entered the post-game press conference. "Our coaching staff did a great job making the tweaks they needed to make on both sides of the ball. I really credit the guys I work with and am blessed to work with the people that I have. That's why we win, because we have great people around us. I'm really thrilled for this group of young men."
As satisfying as the half-ending stop was, Lehigh was still down by double digits at halftime, but they had that sliver of momentum going into the locker room. And that is when, according to
sophomore FS Riley O'Neil, junior QB Brad Mayes
, and
senior WR Gatlin Casey
all said that Zach Duffy took things over.
McCloskey (hurt), Short, Duffy, Mitchell (hurt), 2017 team captains
"Personally, I think the biggest spark for me and the rest of the team came from the speech Duffy gave at halftime about the seniors - about how this could be their last game, and how we need to go out there, and do it for them," Riley said. "With that in the back of our minds, that gave us a spark."
"The first half really didn't go as we planned,"
senior OL Brandon Short
said. "We went back in the locker room, and said we just needed to control what we can control, and take it one play at a time. We weren't going to score 10 points on one play, so, we did that, and we did our job."
"I told Duff [at halftime], 'I'm hurt,'" Mayes said. "And [after that], I don't think there was a single Lafayette player near me the rest of the game. That's a credit to those guys, the coaches did a great job of keeping me in the pocket and a great credit to my offensive line, doing an outstanding job up front."
"We were kind of shooting ourselves in the foot," Zach said. "I told Brad at halftime, you're the best quarterback in this league, and you're going to have the half of your lifetime."
When pressed on what he said at halftime, Zach went into some detail.
"I really just called on the seniors," Duffy said. "I said this weeks ago, a team only goes as far as the senior class. Those guys really stepped up today, taking ownership of it. I really just couldn't be more proud of the team, the resiliency that we've had. Starting off 0-5, a lot of people gave up on us. So this position we were in [at halftime], it was fitting. We were used to being down. It's kind of the story of our season. We really turned it on and I couldn't be more proud of this team."
QB Brad Mayes (Saed Hindash/Lehighvalleylive.com)
In the second half, with the exception of a kickoff return for touchdown and a personal foul that negated a huge pass play, Lehigh played a nearly flawless half in all three phases to come back from two 10 point deficits, one at halftime, 24-14, and again at 31-21.
Mayes' first half stat line read 9 completions, 12 attempts, 1 touchdown, 1 sack.
In the second half, with his offensive line giving him the time he needed to throw, he would be 17 for 20 passing, for 344 yards and throw for 2 touchdowns.
Sacks: 0.
Behind a revitalized defense, led by O'Neil's big hits, Lafayette would only gain 24 yards in the entire second half, allowing Mayes, Pelletier, Casey and Bragalone the time to methodically, and effectively, break down the Lafayette defense.
The glory would be spread around the entire Lehigh receiving corps in the second half.
Lehigh's first touchdown of the second half would be set up by a 49 yard strike from Mayes to
freshman WR Jorge Portorreal
, setting up Bragalone's 1 yard touchdown run.
Down 31-21, and a critical 4th down and 4 upcoming, Mayes pump faked to his first option, then threw a perfect pass to leaping
senior WR Sasha Kelsey
, keeping possession.
WR Troy Pelletier (LehighSports.com)
And Pelletier, who would end the day with 9 catches, 107 yards and 2 touchdowns, would keep racking up important catch after important catch. Up against Lafayette's star defensive back most of the afternoon,
CB Phillip Parham
, who had seven interceptions on the season, Pelletier had his number most of the day, putting on a receiving clinic. His second touchdown grab, coming after the Kelsey 4th down conversion, was a quick slant that cut the deficit to 31-28 and in the process set the all-time receiving touchdown record for the Patriot League with 36 catches.
What was remarkable was that all of this was happening as conditions got worse - Mayes was zipping in passes in a cold, wet environment that was dark enough to have people wonder if the game went to overtime whether the game would be completed or not.
RB Dom Bragalone (Morning Call)
"I'm from Florida, so I've played my fair share of wet football games, so it wasn't new to me," Mayes said. "I've never played in a wet, cold game before, but I didn't think anything of it. I just went out there and did what I've been doing since I was six, playing football."
Lehigh's defense would then force a 3 down, 0 net yard drive by the Lafayette offense to set up an 11 play, 65 yard drive that would end on 4th and 2 at the Lafayette 15 yard line. Coach Coen didn't hesitate to bring out
junior PK Ed Mish
in the wet, cold conditions, where he would split the uprights perfectly with a 32 yard field goal.
The defense would then force a 3 down, 1 net yard drive by the Lafayette offense to set up the play of the game.
On 1st and 10 from the Lafayette 41, Mayes looked to his left on a fake screen, and saw
senior WR Gatlin Casey
slip behind the safety. It would take a perfect pass to get the score, as Casey got under it, came down with the ball - get some turf lodged in his helmet - and came down with an iconic touchdown catch.
— Lehigh Football (@LehighFootball) November 18, 2017
Lehigh's defense would be called upon for one more stop. Four plays, a holding penalty and -2 net offensive yards later, Lehigh would get the ball back - and then grind down the clock on Lehigh's third-straight win over Lafayette, and the only one that would clinch back-to-back Patriot League championships and allow, for the first time since 1999, a win over Lafayette to clinch a playoff berth for the Mountain Hawks.
The MVP went to Brad Mayes for his amazing second-half performance, and it was a worthy choice, given his amazing statistics and especially his perfect throw to Gatlin for the game-winner. Yet in many ways, it felt like an entire team effort, something that Duffy brought home.
"You've got to credit everyone on this team," Zach said, "for rallying together the last six weeks and stringing together some wins to put us in this position to control our own destiny this weekend, with the championship right in front of us. It means the world. We are peaking at the right time, getting hot at the right time, and we're really starting to play together, complementing each other.
"I couldn't thank Coach Coen enough for the opportunity to come here and play football for Lehigh. I love this place. I love being a representative of this institution."
Photo Albums of this game courtesy of: