Lehigh and Colgate is always a big game, whether both teams are going in undefeated or, as in this case, an 0-5 team is squaring off against a 2-3 team.
In a testimony to how evenly matched both of these teams have been over the years, Colgate and Lehigh have split their last 10 meetings, and no team has won more than 3 straight against the other since the inception of the Patriot League.
Colgate and Lehigh have faced off 54 times, and the overall record has been, fittingly, close, with Colgate holding a slender 29-23-2 advantage. The last tie came in 1980, a 17-17 tie at Taylor Stadium in which Lehigh's
John Whitehead
and Colgate's
Fred Dunlap
faced off as head coach. In a way, that hotly-contested tie sort-of epitomizes the competitiveness of this rivalry today.
Thanks to
Colgate's game notes
and
The Colgate Maroon-News
for providing key parts of this content.
Breaking Down Colgate
Offense
Writing a Colgate game breakdown and fearless prediction is personally my absolute favorite to write. Why? Because their offensive strategy hasn't changed that much over the last decade, from former head coach
Dick Biddle
to head coach
Dan Hunt
.
Having said that, although they execute the read option often, frequently with a tight end wide and a blocking fullback to lead the charge, and extremely athletic quarterbacks and running backs to gain yardage, they have also gained an impressive precision passing attack that means opposing defenses can't simply put nine in the box in order to give their running backs nowhere to run.
One thing that really sticks out about this season's Colgate Raiders is how young they are on offense, thanks to an overload of injuries and a decision to start a freshman quarterback.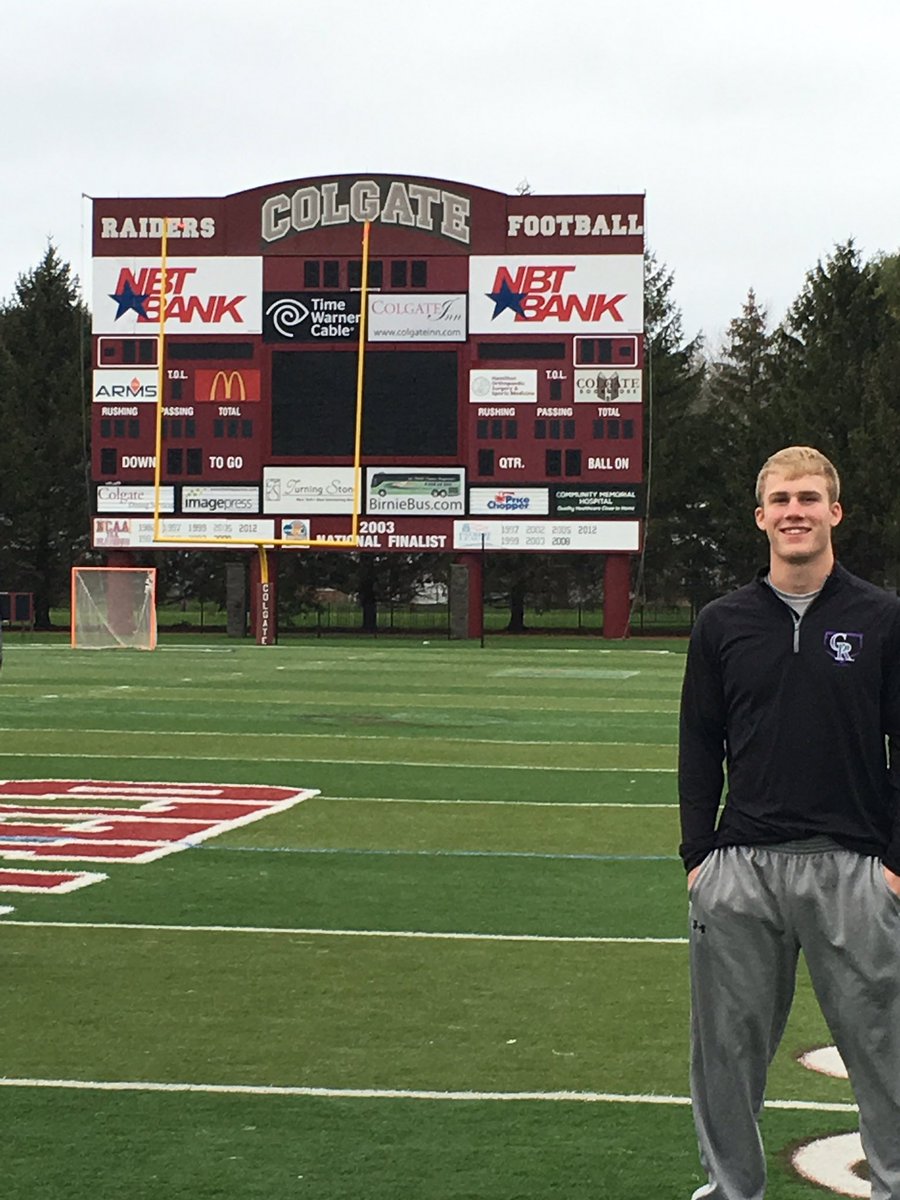 QB Grant Breneman
Colgate fans love the potential of
freshman QB Grant Breneman
, a prototypical athletic, running, mistake-minimizing quarterback who bears an uncanny resemblance to former Lehigh
PF Tim Kempton
. So far this season, he has 152 net rushing yards, 491 passing yards, and a grand total of 6 touchdowns scored.
One of the things Breneman has done fairly well is hang onto the football. Against five tough opponents (Cal Poly, Furman, Richmond, Buffalo, and Cornell), he only has one interception, and as a team Colgate only has 3 lost fumbles. But when Breneman has been forced to pass, especially on 3rd down, he hasn't been able to move the sticks consistently.
Like last season, Colgate's running back situation is interesting in the fact that there's some uncertainty as to whom is available at running back.
Last week,
senior RB James Holland
didn't play vs. Cornell, and there is speculation as to whether he'll be available for the game vs. Lehigh this weekend. This was the exact same situation as last season, when Holland was banged up and ended up not going against the Mountain Hawks, much to the Raiders' detriment, in my opinion.
For the last few weeks Colgate's 1-2 rushing punch has consisted of
sophomore RB Alex Matthews
(303 yards on the season, and 1 TD) and
freshman RB Malik Twyman
(97 yards, 1 TD). To me, they are very similar to Washington in terms of the style of back that they are, small but tough runners, but in my mind, they are not Holland.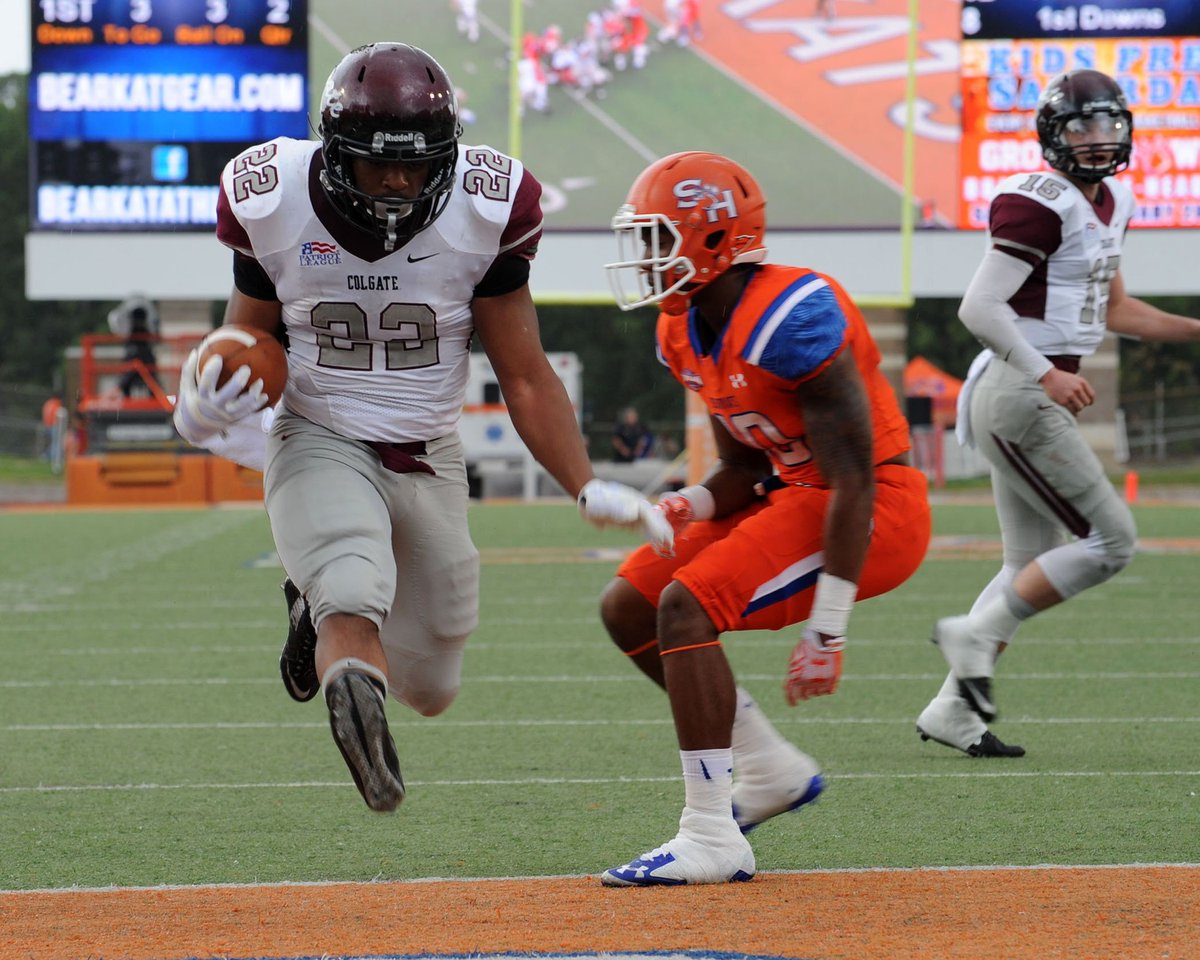 Colgate RB James Holland
It's fair to say that with Holland in there, Colgate is a different team when it comes to getting physical, grind-it-out yards to keep the sticks moving. Interestingly, there's also injury concerns with the back that played in his place last year,
junior RB Keyon Washington
, who seems like he's definitely out.
The key to preparing for the Raiders in this ares is clearly to assume that Holland is playing and will be 100% healthy for such a critical league game, despite the fact that Colgate's game notes list Matthews 1, and Twyman 2 . Regardless of who's back there, gap discipline will be crucial against Colgate's spread-option attack.
One interesting wrinkle about Colgate's offense these days is that the don't have a fullback listed on the two-deep, and indeed only have one fullback on the roster. That's a departure from prior seasons where the Raiders have had some greats, but it also shows a shift to a more spread-style running attack this year.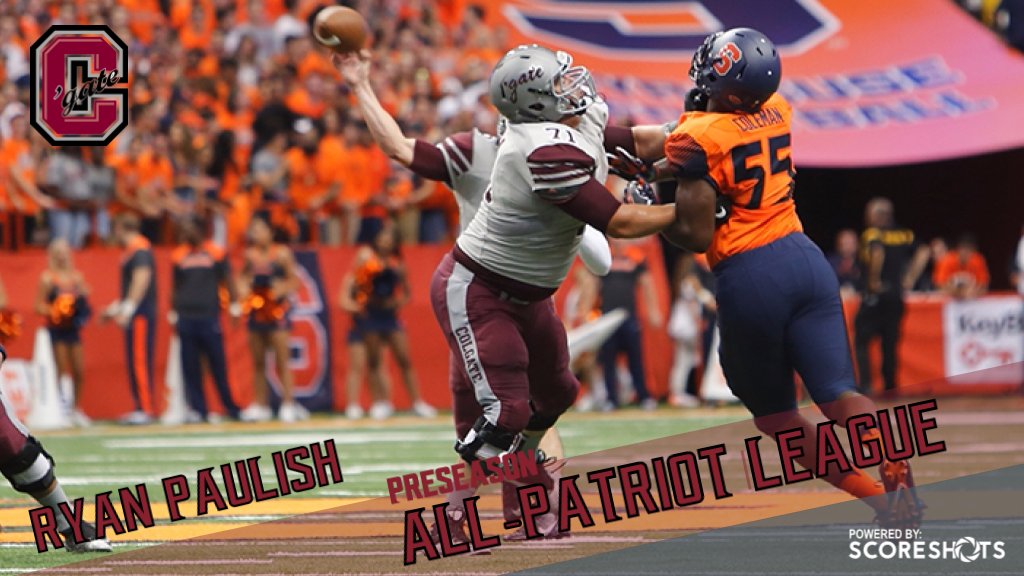 OL Ryan Paulish
One thing that has held back the Colgate offense somewhat has been the fact that no one player has emerged as a go-to threat through the air. The closest to that role has been
junior WR Owen Rockett
(17 catches, 199 yards, 2 TDs) but Colgate's passing attack has been a receiver-by-committee approach this season, alternatively leaning on
senior WR Alex Greenawalt
(87 yards, 1 TD),
junior TE Nick Martinsen
(101 yards) and
sophomore TE Nick Diaco
(59 yards), who are also very strong downfield blockers for the running game.
The foundation of a great Colgate offense has always been a great offensive line. Guys like
senior OL Ryan Paulish
is a prototypical Colgate's "O" lineman that is big and physical, and they'll try to out-physical you to the victory. Great offensive line play is the key to every Colgate victory.
Defense
Colgate plays a base 3-4 that has an all-Patriot League level defensive front that is both talented and deep. In the Raiders' two wins this year vs. Cal Poly and Cornell, the defense has had a field day, last week registering nine sacks against the hapless Big Red.
DE Pat Afriyie
Last week, one of the best bull rushers in all of FCS,
senior DE Pat Afriyie,
returned to action after getting injured in the waning minutes of the Cal Poly game. It's no coincidence that the Raiders have won both games where he's appeared - he's a major disruptor in all aspects - speed to the quarterback, and also getting his hands up to knock down passes over the middle.
Even worse for Lehigh, he's the type of player whose mere presence opens up the possibility for other to play loose and aggressive. Though he only had 2 tackles and 1 sack against Cornell,
sophomore DE Nick Wheeler
(3 sacks) was a huge beneficiary to Afriyie's extra attention on the offensive line. Rounding out the line, 315 lb
sophomore NG Cam Rohr
is an effective run-stuffer - Colgate averages yielding only a little over 150 rushing yards per game.
LB Trent Williams (center)
At linebacker.
senior LB Trent Williams
is the anchor of the linebacking unit on the inside, who had been hurt but returned last week vs. Cornell to register 9 tackles.
Junior LB John Steffen
and
sophomore LB Nick Ioanilli
round out the unit, while
junior LB Dillon Deluliis
got a start last week for the injured
junior LB T.J. Holl
. Whether Holl is in there or not, this is a solid tackling defense that forced a bunch of sacks and turnovers vs. Cornell last week.
In general, Colgate's secondary has always been an aggressive bunch that does have a tendency to be boom-or-bust. When they boom, like last week, they force interceptions, which they did three times last week. When they bust, like they did to some degree vs. Furman, they give up scores and yardage through the air.
In Colgate's wins, the secondary has really stepped up, most notably
sophomore CB Abu Daramy-Swaray
, who came up big in the 4th quarter against Cal Poly in terms of pass break-ups, and
junior SS Alec Wisniewski
, who has an interception in three separate games this year. Rounding out the unit is
junior FS Ben Hunt
(1 INT) and
sophomore CB Jordan Jefferson
(1 INT, 3 pass break-ups).
Special Teams
Sophomore PK Chris Puzzi
has been 4-for-5 on field goal tries this season, but in general, Hunt, like Biddle before him, will only settle for the short stuff on field goals and will largely go for it in on 4th down if the alternative is a 40 yard field goal. Puzzi's longest this season is 35 yards.
Junior P Josh Cerra
continues to be a solid Patriot League punter, averaging a shade under 40 yards per boot.
Sophomore DB Abu Daramy-Swaray
continues to be the primary punt and kickoff returner, a job he did very well last season as well. Daraby-Swaray has 296 return yards on the season.
LFN's Keys to the Game
1. Positive turnover ratio.
In order for Lehigh to win a football game, winning the turnover ratio is always a desirable outcome, but it is especially critical against Colgate where their entire gameplan is geared towards making fewer mistakes than you. That means overall taking care of the ball and forcing turnovers, wherever they may happen. Positive - or even - turnover ratio will go a long way towards Lehigh winning a football game.
2. Small plays
. In order for Lehigh to win a football game, they have to prevent the Raiders from achieving big plays - big yardage plays, big kick returns, big turnover returns. I'd rather Colgate make twenty runs resulting in a field goal than one run resulting in a 50+ yard touchdown. Limiting them to making small plays vs. big plays will go a long way towards Lehigh winning a football game.
3. Zen And The Art of Football.
Head coach
Ron Rivera
of the Carolina Panthers has a sort-of mantra for his players: "be where your feet are." It's another word for "mindfulness": staying present and having awareness in the moment, staying present without allowing internal or external elements to alter focus. Too often this season, these coaches and players have seemed influenced by "internal or external elements." I don't know what these are, but I do know that in order for Lehigh to win a football game, they need to "be where their feet are." If they are - and they've done this last season - they can win this game.
Fearless Prediction
You know the game has ramifications - it always does. You know the game will be close - it always is. When Lehigh plays Colgate, it's a rivalry, and it sets the stage for a potentially great game this weekend - regardless of the fact that it's a 0-5 team facing off against a 2-3 team. Letdown, on both sides, isn't an option.
For yet another week, it's an opportunity for Lehigh to "get to where their feet are" and keep their goal of winning a football game alive. For five weeks, the Mountain Hawks' haven't gotten to where their feet are, and they've lost every time. This is the midway point of the season, and Lehigh is running out of chances to win a football game.
If you are going by past performance, why would you pick Lehigh to win? You wouldn't. You'd scan the entirety of Lehigh's losses, and without much thought you'd pick Colgate to win.
But
if
ignition happens,
if
Lehigh gets to where their feet are,
if
the Mountain Hawks play up to their considerable potential, they certainly have a chance to turn this whole thing around. The time is now. There is no more runway. Potential is disappearing, and it's becoming the won/loss record.
I choose optimism. I choose ignition. I choose the turnaround. I just hope I'm making the right choice.
Lehigh 34, Colgate 26