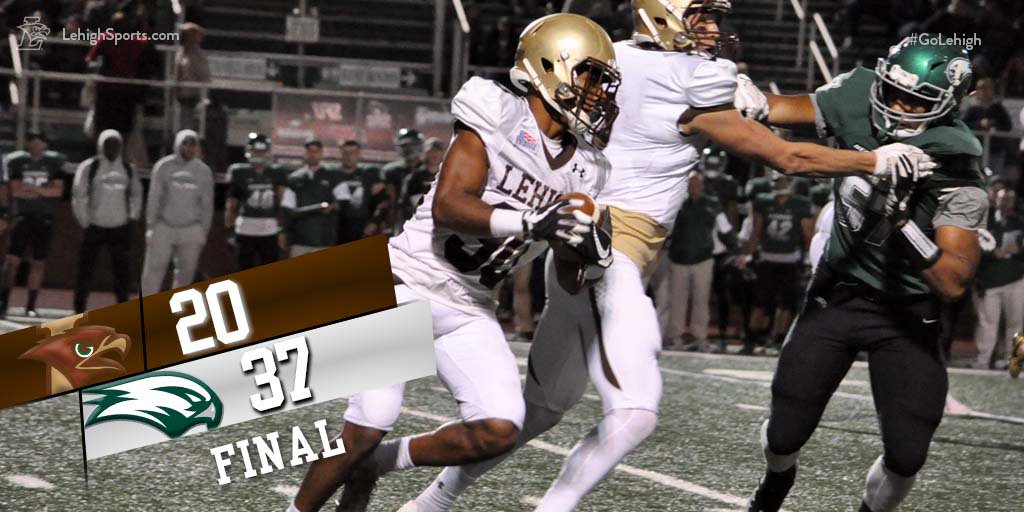 In their last 3 football games against Division I competition, Wagner scored a grand total of 34 points in three losses.
Tonight on a cold, windy evening in Staten Island, the Seahawk offense came to life against Lehigh.
The Seahawks scored on their first offensive drives of the first half and second half on big plays, a 50 yard run by
RB Ryan Fulse
and a 30 yard pass from
QB Ryan Massei
to
WR William Dale
. Fulse would add a touchdown and
RB Denzel Knight
would add touchdown runs of 24 and 60 yards to put up five touchdowns on the Mountain Hawk defense.
Unlike prior weeks, Lehigh maintained a lead against Wagner during stretches of the first half.
Junior RB Dominick Bragalone
got a 26 yard run to give Lehigh and early lead, and
junior QB Brad Mayes
would take it in on a read option to go up 14-7.
But then the Seahawks would go on a 30-6 run after that aided by five Mayes interceptions.
"We're tired of talking every week about winning a game," a downcast
Andy Coen
said afterwards. "We have to go out and do it."
After Lehigh jumped to a 14-7 lead, Wagner went on a 12 play, 95 yard drive to tie the game with the longest play being a 12 yard run by Fulse.
But after Fulse's surge through the line tied the game, a short, wind-blown kickoff landed in between a bunch of Lehigh defenders, and Wagner
LB Allaah Sessions
alertly fell on the ball.
It led to a 26 yard field goal by
PK James Cooper,
and Lehigh never fully recovered, especially after Wagner would receive the second-half kickoff and and drive the length of the field, leading to Dale's touchdown.
WR Gatlin Casey
was held without a reception for the first time in a long time, but he drew several penalties before going out with a lower body injury at halftime. And
freshman WR Jorge Portorreal
filled in very well, getting his first 100 yard receiving day with 8 catches for 132 yards.
Senior WR Troy Pelletier
also had a good statistical day with 6 catches for 143 yards.
And the defense played better in spots, led by the inspired play of
senior SS Quentin Jones
, who had 8 tackles, 7 unassisted with 5 pass break-ups, each one seemingly stopping Wagner drives in their tracks.
But Mayes, who was evading pressure all evening, was sacked 4 times and went 18 for 45 passing, was picked five times, the first time Lehigh had that many interceptions in a game since 2014.
And the defense still game up big plays in key spots, including two touchdown runs of 60 and 50 yards that accounted for 110 of Wagner's 249 yards rushing.
"We came close to getting back in the game, but it was just a bad day," Andy continued. "We've had a lot of bad days and we need to figure out how to get rid of those bad days."
Conference play begins next week, and there is no more room for bad days.