Long-time Patriot League fans might remember Wagner as legendary Lafayette head coach
Bill Russo
's coaching stint before he came to Easton to coach the Leopards for an 18 year stretch from 1981 to 1999.
Back in those days, Wagner was a Division III school, playing local schools like Iona, Pace, Seton Hall and Fordham, during a time when it was OK to field a Division III football program and a Division I athletics program (this is something that is no longer allowed today).
Since then, though, many Lehigh fans may not know that much about Wagner College, the Seahawk football program, and their ascent to becoming, eventually, and FCS playoff team.
Wagner College was founded in 1883, nearly twenty years after
Asa Packer
founded Lehigh University in South Bethlehem.
The Lusatania
Oddly, the college started out in Rochester, New York, on the opposite end of the state, as a seminary to teach Lutheran ministers, but when
John G. Wagner
gave $12,000 to the school so that it could purchase a new campus, the grateful board of trustees renamed the school in memory of their benefactor's son, George Wagner, who had died before realizing his own ambition to become a minister.
The colleges' ambition to find a permanent home came true in 1918, eventually moving to the former estate of
Samuel Cunard
, the shipping magnate who was a Canadian-born officer for the British in 1812 and was an English Baronet. His shipping line, the Cunard line, was a national powerhouse, their most famous ship probably being the Lusatania, which was sunk by the Germans and was a critical factor of getting the Americans involved in World War I.
When Cunard and his New York-based wife died, the property passed hands until it, oddly enough, was willed to Oberlin College, who sold the property to the college for their permanent campus. Soon afterward the college would purchase the nearby Vanderbilt estate to expand, and would expand further with the W. G. Ward estate, which is the site of the current football stadium.
The Mountain Hawks are probably hoping that there are no ghosts or bodies haunting the football grounds after seemingly being so cursed last weekend against Penn.
It wasn't all bad luck and bad bounces, but there was definitely a need to check ancient maps to figure out whether Murray Goodman Stadium was on the site of an ancient native American burial ground.
Probably the most snake-bitten moment of the entire Penn game came with the score tied 14-14, and Penn
QB Will Fisher-Colbrie
underthrew a pass to
WR Christian Pearson
- a ball that looked like a certain interception.
Freshman CB Jaylen Floyd
had the perfect break on the ball, put his hands up to catch it... and it bounced out of his hands into Pearson's who ran in untouched for a touchdown.
If that play against the Mountain Hawks was caused by a ghost - and I'm not totally unconvinced - Lehigh had better hope that the spirits of the underworld aren't as mad lately at Lehigh as they appear to be at Wagner.
Wagner has had some tremendous highs as a football program, almost all of them coming during the tenure of long-time football coach and current athletic director
Walt Hameline
- a Division III championship in 1987 (beating Dayton 19-3) and winning 2 NEC championships, one in 2012 and another in 2014.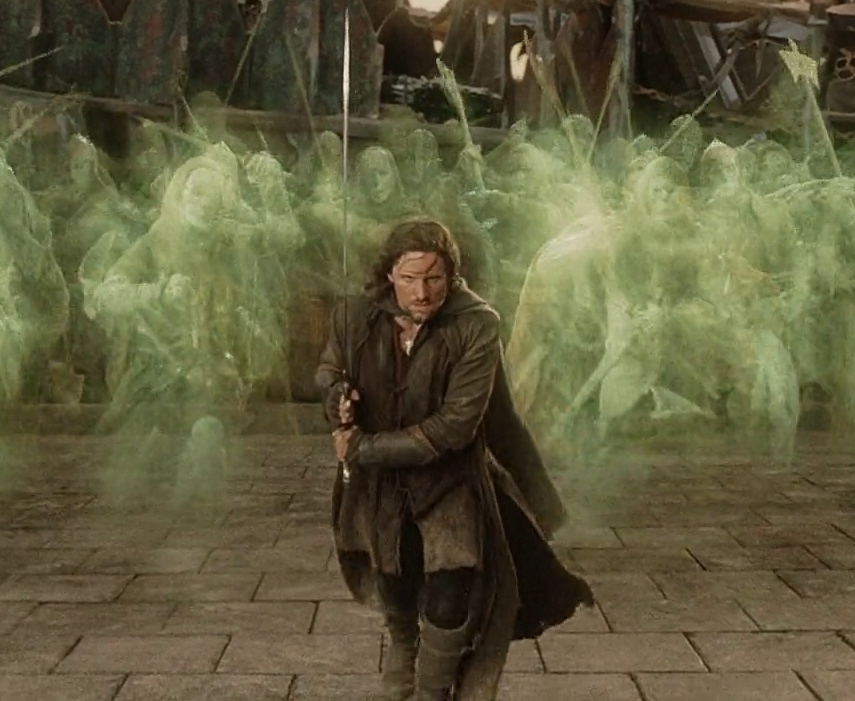 Wagner Beating Colgate in 2014?
The 2014 NEC championship had an additional prize - Wagner's first-ever trip to the FCS playoffs, where the Seahawks needed no ghosts to crush the winners of the Patriot League that year, Colgate, by a score of 31-20. It was a humbling defeat for the entire Patriot League - on the road at an NEC venue, to boot - even if Wagner's team that year would also travel to Cheney, Washington the following week and put the fear of the underworld into Eastern Washington, grounding the Eagles' powerful offense for the most part in a thrilling 29-19 defeat.
But the 2017 version of the Seahawks seems more like the haunted variety of team rather than one helped by the King of the Dead and his army.
During Wagner's season-opening pounding of Division II St. Anselm, 37-7, arguably the Seahawks' best player,
QB Alex Thomson
, suffered a season-ending injury in the 4th quarter of that game, when Wagner was up comfortably 30-7.
Since that freakish injury, the Seahawks have averaged under two touchdowns a game, something that may give Lehigh's embattled defense some momentum in their final out-of-conference game of the season.
Before the season, both Wagner and Lehigh probably saw this game as an offensive showcase between a really good Seahawk QB and a Top 25 school. But now the game seems to be an important one for both teams in that they both need to shake off the curses of long losing streaks before competing for their respective conference championships.
Game Notes And Injuries
This week's
game notes
showed a shuffling of players, especially on defense.
On offense,
sophomore OL Nick Rosen
gets his first start at guard, the third player to start at guard this season (
freshman OL Jackson Evans
, second on the depth chart, and
junior OL Erik Hawkinson
have also started). In the other guard spot,
junior OL Liborio Ricottilli
is questionable to go this week - if he doesn't start, it will break a streak of 16 consecutive starts for the Poland, Ohio, native. If he's unable to go,
sophomore OL Ryan Oneidas
would get the start instead.
One late-breaking injury is that
senior TE Drew Paulsen
won't make the trip to Staten Island, so
senior TE Mike Baur
will slide into the starting spot instead, with
junior TE Jake Buskirk, sophomore TE Stephen Puhl
and
junior TE Jimmy Schulz
all possibilities to get reps this week as well.
On defense, there are a lot of changes and shuffling.
Freshman ROV Divine Buckrham
will get his first start at rover, with
junior ROV Nick Thevaganayam
undoubtedly getting some rotation in as well in that spot.
At corner,
freshman CB Jaylen Floyd
gets his second start at that position, filling in for the injured junior CB Donavon Harris, who is still recovering from the head injury he sustained at Yale.
Senior CB Quentin Jones
moves from rover to corner, and
junior SS Kareem Montgomery
moves from corner to safety.
Weather Report
This will be Lehigh's first night game of the year, which means that the game will start with
temperatures in the mid-60s and end somewhere in the 50s
. There is a chance a passing shower might hit your tailgate.
Getting to Wagner
A trip to Wagner from the Lehigh Valley or New Jersey is incredibly easy - getting to the Goethals Bring and 278/the Staten Island Expressway, and then take Exit 13 to get to the Wagner Campus. It's only an hour and a half away from campus, which makes it the more head-scratching as to why the Seahawks and Mountain Hawks haven't ever faced off before.
Hameline Field at Wagner College Stadium is a tiny stadium that holds 3,300 fans and was recently renovated. For comparison, last weekend's Lehigh game had an announced attendance of over 5,000, so it's not inconceivable that the game could sell out. I'd suggest getting tickets in advance.
If you're tailgating, best to brush up on their
tailgating rules
since, IMO, a bit strict (no ball playing on the pavement?) Keep the beer pong tables at home.
The Wagner-Lehigh game is "Salute to Service Night," where Wagner Athletics honors those who have served in the New York City area and those who have defended our nation, past and present. All veterans are provided complimentary tickets to the game and will be recognized at halftime.
Additionally, this weekend is going to be a Coach To Cure MD game. It is a partnership between the American Football Coaches Association (AFCA) and Parent Project Muscular Dystrophy (PPMD) charity. One football Saturday of each season AFCA coaches nationwide TO promote Coach To Cure MD. The Goals of Coach to Cure MD are simple – to raise national awareness of the disorder and to raise money to fund research for a cure.
LFN's Burger of the Week (#BOTW)
One of the really neat features of this year's new addition to my game previews is the addition of Burgers of the Week. What I'm learning is that burgers are truly unique in that they are present everywhere in the country, and every city, state, and region customizes it a little differently.
Staten Island is no exception, as
Standard Burger
shows us. The top burger restaurant on Staten Island customized their signature
OMG Burger
, giving us a great choice for Burger of the Week.
It's messy, but that's part of the appeal, with American Cheese, grilled plantains, Jalapenos, and Peppadew peppers, with some spicy mayo and straw onions sprinkled on top. It looks like a delight.
LFN's Drink of the Week (#DOTW)
This week's "Drink of the Week" couldn't be easier to pick, or make.
This mixed drink is called, alternatively, the
Staten Island
or the
Staten Island Ferry
, and it's allegedly a bit of an in-joke - a sort-of make-believe "exotic: island-inspired mixed cocktail for an island that, frankly, is know for its lack of exoticness.
The recipe calls for 1 1/2 parts coconut rum and 4 parts pineapple juice
, but personally, that's way too sweet for my tastes, so I would sub out 1 part pineapple juice with one part seltzer, over ice. I'm thinking the fact that the seltzer adds carbonation actually adds the right amount of cheese to the proceedings, and topping it off with a gaudy orange slice (perhaps with a wedge of lime, too) would also be helpful.
As always, Drinks of the Week have a place in responsible tailgates, but only if you behave yourself, don't get behind the wheel while impaired (or worse), and are over 21. Please do that. And leave plenty of time to sober up.