(Photo Credit: Chris Shipley/The Morning Call)
In the post game press conference,
junior QB Brad Mayes
was asked about how he felt about his performance in the 38-35 loss - a game where he had a stellar statistical game, with over 400 yards passing, 4 touchdowns and 0 interceptions, but the Mountain Hawks as a team came up short.
The Tampa, Florida native definitely had a fresher memory of what he considered mistakes.
"There were some throws out there that I wish I had back," he said. "I should have thrown for more than whatever I threw. Whether it's putting the ball on the outside shoulder, not throwing it low, or whatever - there were some throws I left out there today. I'm going to have to sleep on it, come back next week, and try to make those throws."
Season openers like this, where your team loses, are rarely deal-breakers when it comes to a football season. Assuming Villanova continues to surge forward and have a good year, it's likely that Mountain Hawks fans will look back at this game as a close, hard-fought loss against a tremendous team.
But critical in that assumption is how the team reacts after a loss like this - how a team rebounds the following week, and how they work. In that sense, it should be an interesting week in the run-up to the road game at Monmouth next weekend.
I'm sure most of this football team are going to be reminded of two games of the 2016 championship season, in one way or another - the 2016 loss against Monmouth, and the 2016 loss against Villanova.
In a strange sort of way, this weekend's contest showcased some of the same pitfalls of those two games that ended in losses.
Like the Monmouth game last year, which ended in a 23-20 loss, Lehigh came out to a somewhat slow start, giving up a quick touchdown and coming up empty on their first three cracks at scoring.
After falling behind by a couple of scores, the offense jarred itself into life, but it wasn't enough to come all the way back to get a victory. And when the defense needed to force one three-and-out to get the ball back, they were unsuccessful.
And in the 2016 game against the Wildcats,
which Lehigh lost 26-21
, some of the same echoes there seemed to repeated at this Saturday's game as well.
The powerful Wildcat running game, behind a bruising, physical Villanova offensive line. A great offensive effort, going right at the strength of the Wildcat defense, and scoring some points. The fact that the defense would rally at times to stop Villanova, but in the most critical spot, not doing so.
"It was a top 25 team here, nationally-ranked team," head coach
Andy Coen
said after last years' loss, but also could have been a quote from this Saturday's loss as well. "That's where we want this program to be. In order for us to do that, we need to not only schedule these guys, but we also need to beat these guys. We had a real good chance to beat this team and we didn't finish that job. I'm not taking anything away from Villanova. I always credit the other team. We had our chances, but we didn't finish the job."
(Unofficial word is that Lehigh and Villanova may be in the works to schedule each other again in football in future years, something that seems to be a good thing for both programs.)
For Lehigh fans, the happy part of those two losses last season is that they know how the story ended of the 2016 season. The Mountain Hawks had a short memory about those losses, learned from their mistakes, and then won nine straight games and won a Patriot League Championship.
And there are signs that the loss this weekend might be seen as a similar sort of bump in the road - as long as the the Mountain Hawks get stronger from their mistakes.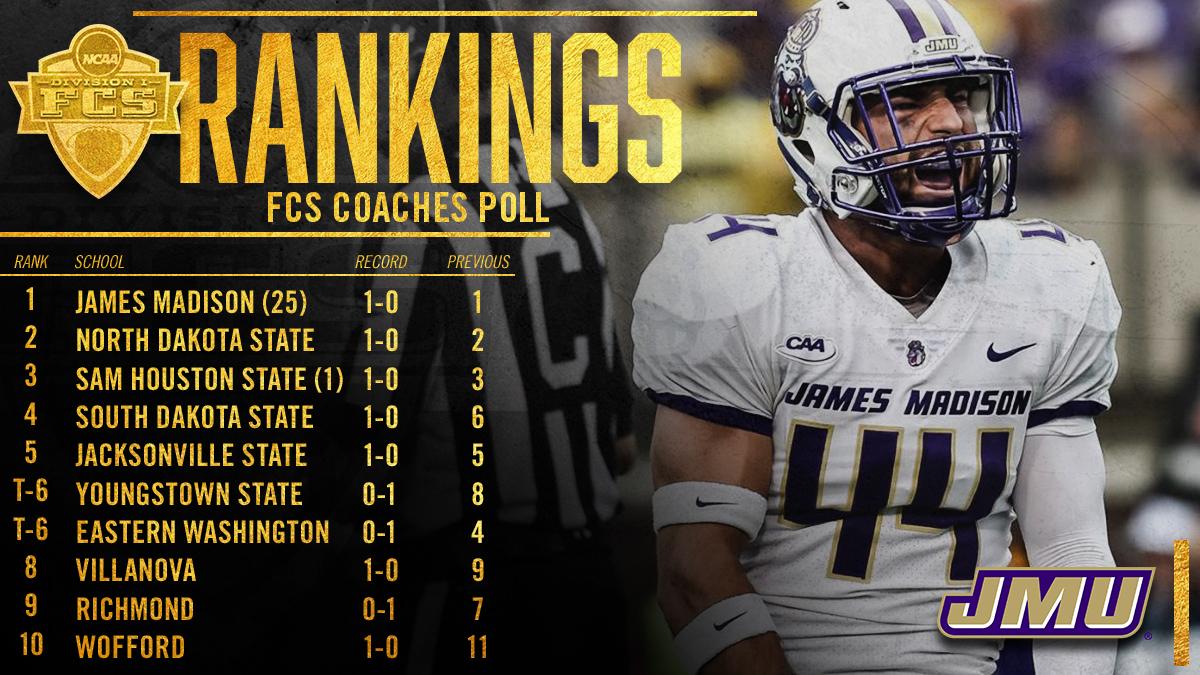 One very encouraging sign is that Lehigh
remained in the national FCS coaches poll in the Top 20
, only falling a couple of spots after the loss at home to the Wildcats.
It shows that the Mountain Hawks have definitely earned some respect from around the country, even in defeat.
There are also signs that this Lehigh team might also take the right things from this loss this season as well.
"During the game, I forget about mistakes I make," Brad said, "and you just go on the next play. But watching film is tough sometimes, when you see some of those throws you had that could have been 20 yard gains, 30 yard gains. But once the film cuts off, and we start scheming a new team - those throws go away. Obviously, you have that memory from Week One to Week Eleven, but those are good memories, you learn from your mistakes. Moving forward, making some of those extra throws will help us win football games."
The other guys in the post game press conference agreed.
"It's not about my stats, or anyone else's stats,"
junior WR Luke Christiano
said as well. "We just need to get out there next week and do better."
"When the bullets are flying, we've got to slow it down and read our keys and follow a couple of things you have to do on any given play,"
junior LB Matt Butler
said. "We're just going to continue to get better, and down the road, I think we are going to be an elite defense in out league. We've got to clean up the little things, and can't make as many mistakes.
So far, the Mountain Hawk players and coaches said all the right things, and for the moment, at least, it seems like the loss hasn't hurt Lehigh on a national stage. Expectations remain high, and a lot of work remains to be done, however, and it will remain to be seen how Lehigh bounces back this week as they will travel to a familiar opponent in Monmouth, a team on which they will undoubtedly want to enact some revenge.
"Get some sleep in," coach Coen told his players as they left the room.
MOUNTAIN HAWK NOTEBOOK:
Coach Coen talked about the defensive effort against Villanova, and after crediting Villanova's tough offense, was upfront.
"I think we need to look at everything we're doing on defense," he said, "and we did make a significant change during the game that helped us. We did make some critical stops that gave us an opportunity to get back into the game."
Andy also talked about meeting Villanova head coach
Andy Talley
before the game on Saturday. The future hall-of-fame coach came down on the field with an umbrella before kickoff to shake Coen's hand.
"I was talking to one of the Villanova coaches to ask them how the transition's been [from Talley to new head coach Mark Ferrante]," he said. "And he said to me is that Andy's in the office more now than he was when he was head coach."