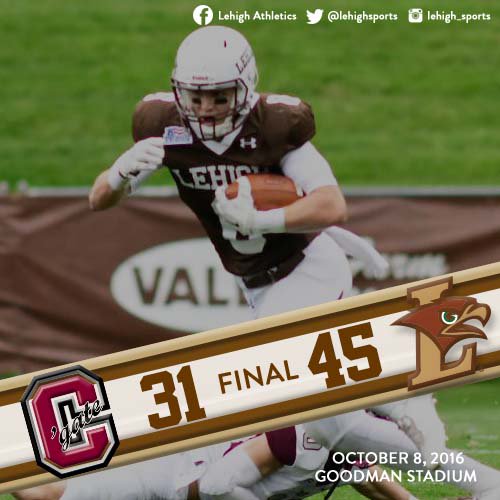 In all the pregame talk about an offensive showcase, we all forgot about how defense might be critical for the winning team in this important Patriot League Lehigh and Colgate clash.
Many saw the previous box scores and just assumed that Colgate's powerful offense, who put up more than 50 on Yale, would do something similar to the Mountain Hawks defense.
Not so.
After a 75 yard touchdown run by Colgate
QB Jake Melville
to start the game, the Lehigh defense forced two enormous turnovers, including a forced fumble by
sophomore SS Sam McCloskey
that was recovered by
freshman FS Riley O'Neil
on Colgate's first drive of the second half.
The play would allow Lehigh to tie it up with a 25 yard FG by
sophomore PK Ed Mish
, and it would fire off a string of 17 unanswered points that would give Lehigh a 31-17 lead that they would never relinquish.
After cutting the deficit to 31-24,
junior WR Gatlin Casey
, who had a day of days on offense, took the ensuing kickoff 93 yards to to end zone, making it 38-24.
Casey who racked up 196 yards receiving and 3 touchdowns from
senior QB Nick Shafnisky
, also added 195 yards in returns, giving the Florida native 389 all-purpose yards on the day and 4 scores.
Shafnisky, who went all the way this week after sitting out last week due to injury, went 27 for 40 passing for 394 yards and a career-high 5 touchdowns on the afternoon in front of 9,255 fans.
In addition, a sliding grab in the second half by
junior WR Troy Pelletier
gave him 102 yards on the afternoon and a critical touchdown.
But as powerful as Lehigh's offense was, it was the defense that held the Raiders scoreless through a large chunk of the second half. The Mountain Hawks held the Raiders' powerful running attack to 252 total yards, and only gave up a late touchdown to make the score look closer than the game really was.
Key stops by
senior LB Colton Caslow
,
senior LB Pierce Ripanti
, and
senior DB Laquan Lambert
on 3rd down exemplified the second half effort, giving Colgate no answer to Lehigh's big-play touchdowns.
Check in later for the full LFN recap.