The word cloud around the Lehigh Colgate game the last decade has almost always involved the words "tundra", "cold", and "November".
So when the 2016 schedule was released, and Lehigh fans read "October 8th: Colgate", many were disappointed, even as they still circled the game on their calendar with a maroon Sharpie.
They were probably thinking back to last season, when, in the second weekend in November on a prototypical Lehigh/Colgate chilly afternoon with a chance of snow showers, the Mountain Hawks and Raiders were battling, essentially, for a Patriot League championship, ending up five yards short of a game-tying touchdown.
But now, in what seems like a better move by the minute, the moving up of a critical conference game that has very often determined the eventual winner of the League seems terrific for not only both schools, but the entire Patriot League.
That's because, in a week that doesn't feature many great FCS this week, the rivalry (with a little r) with Colgate will be the most entertaining, emotionally-fought game on the entire FCS slate. If there is one FCS game that will deliver some of the same emotions that Texas/Oklahoma will in the midwest this weekend, Colgate/Lehigh is that game.
If you're coming into the Colgate/Lehigh rivalry (with a little r) for the first time, here's a primer to get you up to speed as to what Colgate/Lehigh means for both programs.
Lehigh and Colgate first met back in 1922, in a world where Lehigh was searching for its identity as a college football program and Colgate had already begun to establish itself as a national championship-caliber program.
The Brown and White
said in their recap of that 1922 contest.
"The game was played in the First Ward Stadium, Binghamton, New York before a crowd of about ten thousand. There were about three hundred Lehigh students there, a great many of whom 'bummed' their way to the stadium. It was an enthusiastic crowd, they cheered their loudest even when the team seemed hopelessly overwhelmed."
This was still the case in 1960, when Colgate and Lehigh started an arrangement where the somewhat nearby schools would play each other yearly in home-and-home series, a situation that continued all the way until 1975.
For Colgate, the home-and-home series made a boatload of sense. Not only were both Lehigh and Colgate strong academic schools - like-minded institutions - it wasn't a difficult road trip to and from the Lehigh Valley to the Chenango Valley.
Along with "semi-rival Cornell" (the words of Colgate's 1960 head football coach,
Alva Kelly
), Lehigh provided critical home games every other year when Colgate had reputations as road warriors. In the years Colgate played Lehigh at home, they would have three home games a year in their nine game schedule; in the games where Colgate played at Bethlehem, they'd only have two.
In that fifteen year stretch, there were some hard fought games between the two schools. Legendary Lehigh head football coach
Bill Leckonby
coached two teams that beat Colgate.
Lehigh and Colgate head coach Fred Dunlap
By 1973 and 1974, after a long winning drought against Colgate, Lehigh started to win football games again against their Chenango Valley neighbors once again with another great Lehigh head football coach,
Fred Dunlap
.
Dunlap. whose athletic career started at Colgate as a letterwinner in both football and wrestling, built and recruiting much of the talent that would beat those Colgate teams and set the foundation for Lehigh's eventual 1977 Division II National Championship run.
Colgate thought so much of Dunlap that they hired him away from Lehigh at the conclusion of the 1974 season.
"One of the reasons I came to Colgate was that we lost so many recruits to Colgate,"
Dunlap remembered years later.
"Back then, Colgate was Division I and Lehigh was Division II, but we were competitive in those days."
Well before Colgate and Lehigh would become co-founders of what would become the Patriot League, it was very clear that the two schools were rivals in recruiting student-athletes, and - after 1975 - head football coaches.
It's not clear whether Colgate disappeared from Lehigh's 1976 schedule because of the Dunlap hire, but it seems likely. What's also true is whatever the reason, Colgate and Lehigh buried the hatchet soon thereafter, bcause they became regular names on each others' schedules again in 1978, where they've played every season since.
Once Lehigh and Colgate became members of the same football conference, a few years after the Raiders finally decided to establish themselves in the newly-formed I-AA subdivision, Colgate rapidly became a second football rival for the Brown and White as conference rivals (with a little r) in the newly-formed Patriot League.
One of the more remarkable aspects of the Colgate/Lehigh series is that, since becoming members of the league in 1986, no team has won more than three games in a row. Every four-year member of the Lehigh and Colgate football teams have enjoyed victory over the other since 1990.
There's also the critical element that in many years, the Colgate/Lehigh winner has gone on to win at least a share of the Patriot League title, and qualified for the FCS playoff autobid that the Patriot League provides.
Last season, after making it to the FCS playoffs, Colgate upset two CAA teams, New Hampshire and James Madison, after ultimately falling to Sam Houston State.
Though there have been big wins in this rivalry for the Mountain Hawks, two defeats in particular that stand out.
One Of Dick Biddle's Biggest Wins
Going into the 2012 game 9-0, the Mountain Hawks, behind
QB Michael Colvin
, had a date at home for the Patriot League title against the Raiders, who, with
QB Gavin McCarney
at the helm, had a "win-to-get-in" scenario of their own.
Dick Biddle
, the Raiders' head coach since 1996, engineered a masterful game, never deviating from his read-option gameplan and keeping his troops motivated to go the whole distance. Down at half, Colgate wore down the Mountain Hawks, 35-24, and gave Lehigh their only loss of the season.
I think it was a great win for Colgate, and a great win for our players, coaches, and athletic director," Biddle
said in the post-game press conference,
a tiny smile escaping his normally stoic game face as he went to sit down. "This senior group hadn't won a championship, and it would have been the first group that didn't get a ring while they were at Colgate. This is probably the best win I've had in my career under the circumstances."
Then there was last season, a barn-burner of a game that featured six ties, as every time Colgate would score a touchdown, Lehigh would respond and tie the game - until their seventh try.
So Close
"The game was a thriller,"
I wrote.
"A classic. Both Colgate, who would clinch a share of the Patriot League championship today, and Lehigh, who wouldn't, were incredibly evenly matched. Every time Colgate scored, Lehigh responded with a touchdown of their own, never trailing by more than a score, but never leading, either. It was a street fight down to the last minute. And Colgate won that street fight."
With a minute left, Lehigh had driven down to the Colgate 5 with a minute to play, needing 5 yards to be an extra point away from tying the game for the seventh time. But with four shots at the 5, Lehigh wouldn't get in the end zone, meaning the Mountain Hawks would fall 49-42.
That loss would especially sting for Lehigh because it would break a run of graduating classes that had all enjoyed some form of Patriot League championship ring, a streak that led all the way back to 1986.
Members of this Lehigh team have been thinking all offseason about how that could have been them thumping the Wildcats and Dukes instead of the Raiders, how it could have been them with championship rings instead of the Raiders.
Sometimes it's a bit overwraught to bring up the history of two programs when previewing a football game. But it's not in Lehigh's and Colgate's case.
Everything about this rivalry (with a little r) - the similarity of Colgate and Lehigh as institutions, the battles in recruiting that still happen today between the schools for the same type of student-athletes, the same yearly goals of Patriot League football championships - seems to lead to an emotional battle on the field.
And moving this to early October doesn't dampen the rivalry in any way. All it does is brings a beautiful jolt of excitement to an otherwise dull FCS weekend.
There are other games on the FCS schedule this week. There are a handful of games pitting ranked teams. Some of them will be good games, surprising games, even possible bad weather games down in the wake of the potential devastation of Hurricane Matthew.
But I guarantee none of the other FCS games this weekend will come close to the emotions that will be poured out onto the grass at Murray Goodman stadium this weekend. There's simply no way that can be possible. I know.
Game Notes and Injuries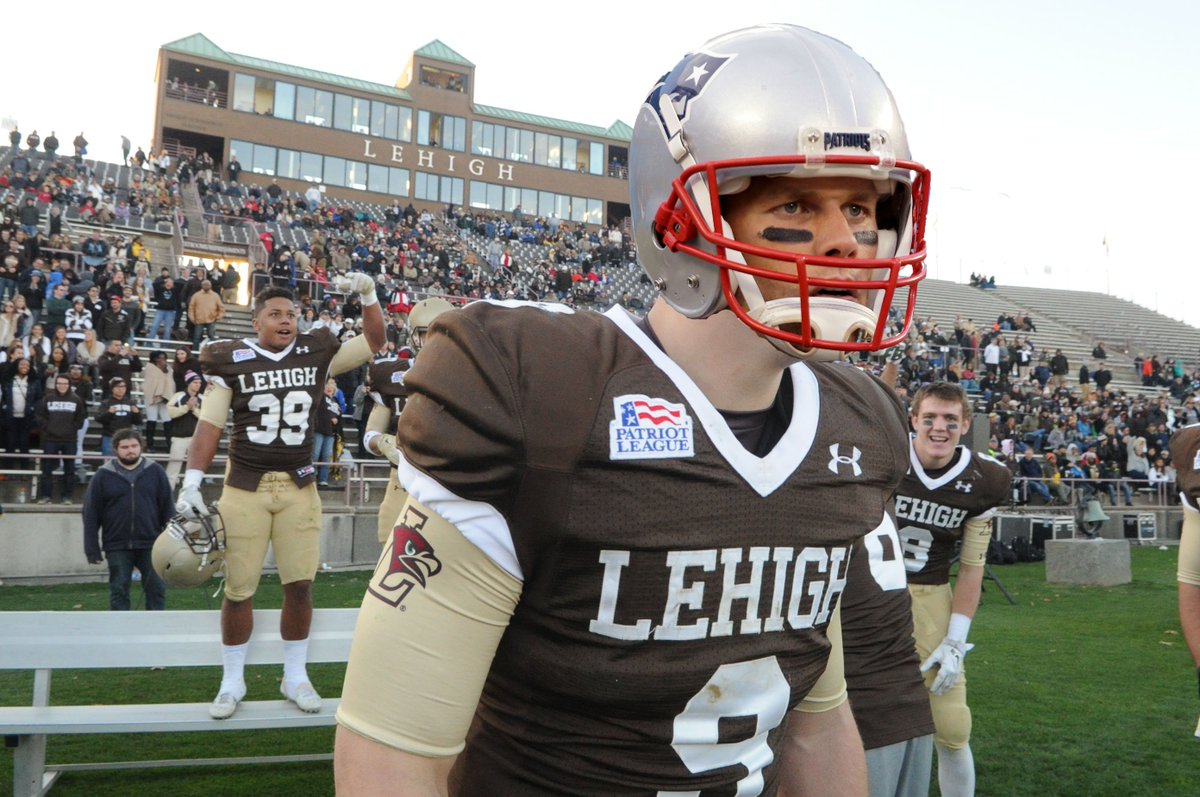 Lehigh's Starting QB?
It's a natural question to ask, of course. Going into the Colgate game, head coach
Andy Coen
, who do you start at QB -
senior QB Nick Shafnisky
, who set a career high in passing yards and national offensive honors two weeks ago vs. Princeton? Or
sophomore QB Brad Mayes
, who got national offensive player of the week honors last week in a record-smashing game at the Yale Bowl?
When asked who the starter would be, he deadpanned, "
QB Tom Brady
."
— Greg Joyce (@GJoyce9) October 5, 2016
While the
official depth chart for Lehigh
lists Shafnisky as the top QB instead of Brady, it also mentions that Shafnisky is "expected to start", and it's worthy of note that Shafnisky was listed atop the depth chart vs. Yale as well, and it was Mayes that ended up starting the game. So whether it's Shafnisky, Mayes or Brady, we likely won't know until that first offensive drive who will be in the huddle.
There's some other important injury information too to pass on.
Senior OL Zach Duffy
, who sat out the Yale game due to injury, was a full practice participant on Tuesday and should be a full go on Saturday. Also ready to go is
senior WR Jarrod Howard
, Lehigh's special-teams maven who was missing for a game and a half due to an injury as well, and
sophomore S Sam McCloskey
.
Junior CB Quentin Jones
, who suffered a scary helmet-to-helmet hit in the Yale game, will not be playing this weekend, though that seems like an incidental thing to report after watching the Yale Bowl fall silent as he was carted off the field last weekend. The fantastic news is that he's back on campus expected to recover after what was called a "severe concussion" last week.
Sophomore CB Donavon Harris
steps in as the starter, with
freshman CB Marquis Wilson
backing him up. Expect both of them to be tested this Saturday.
Finally,
junior DE Harrison Johnson
, ejected for a questionable targeting call last weekend vs. Yale, will have to sit out the first half, as per NCAA rules. Expect
sophomore DE Harrison Kauffman
to play extensively in the first half in his place.
Weather Report
At time of writing, this is not in the forecast
The one certain thing about the weather report this weekend is that it won't be a typical Lehigh/Colgate game with frozen tundra. Though the path of Hurricane Matthew is still unclear, what is clear is that it shouldn't affect proceedings at Murray Goodman. Currently the weather calls for a
modest 20% chance of showers at gametime
and a mostly cloudy afternoon, but we'll check in as we get closer to the game to make sure it's really not going to be 30 degrees with a 15 degree wind chill. (Old habits die hard.)
Special Stuff Happening
Family Weekend at Lehigh
, so along with the regular cast of characters on campus should be a decent number of Lehigh parents who often will find themselves tailgating and enjoying a Lehigh football game this weekend. It's also a time when the 1961 and 2011 Lambert Cup champions will be recognized on the football field as well.
It was with this in mind that I launched the hashtag #Project10K this weekend. As much as any of the special events this weekend, with the families on campus and by any definition an enormous football game for the Mountain Hawks on Saturday, I set as a realistic goal the attendance number of that 1922 Lehigh/Colgate game up in Binghamton, New York. I think it can be done, and with a roaring home crowd on Saturday, it could be the emotional boost that puts the Mountain Hawks over the top this weekend.
You can
buy tickets for this game online
, either just for this one game or as a part of the "Brown Mini Plan", which allows you to buy tickets for multiple games, including the Lafayette game at Easton.
Famous Colgate People You've Never Heard Of
Hoping This Will Be Colgate Fan Reaction This Weekend
In this election season, there are two political pundits on polar opposite sides of the political spectrum,
Howard Finenman
and
Monica Crowley
, who both count Colgate as their alma mater.
We can probably assume that they are both united, however, in their hatred of Lehigh (and especially the LFN twitter account) this weekend.
LFN's Drink of the Week (#DOTW)
Where does all of this stuff come from - Drinks of the week, the crazy nicknames, all this LFN stuff? I honestly have no real good idea. Somewhere in my brain it's all bubbling around like on enormous thought stew, ready to be thrown out there. There's little rhyme or reason to it all, but hopefully it's fun and people are reasonably entertained by it all.
In that vein I made up - don't laugh - a Drink of the Week this week based on stuff I had around my house.
It's a simple drink, and let's call it something simple, too - a
Hard Root Barrel
.
My wife tested it out, and gave her thumbs-up of approval. I wouldn't, dear Reader, hoist anything on you that hasn't been adequately poll-tested in our house first. She liked it, so here it is, our #DOTW.
If you're stuck, there's also a lot of commerical hard root beer varieties, too. But it doesn't compare, IMO, to ours.
As always, Drinks of the Week have a place in responsible tailgates, but only if you behave yourself, don't get behind the wheel while impaired (or worse), and are over 21. Please do that. And leave plenty of time to sober up.