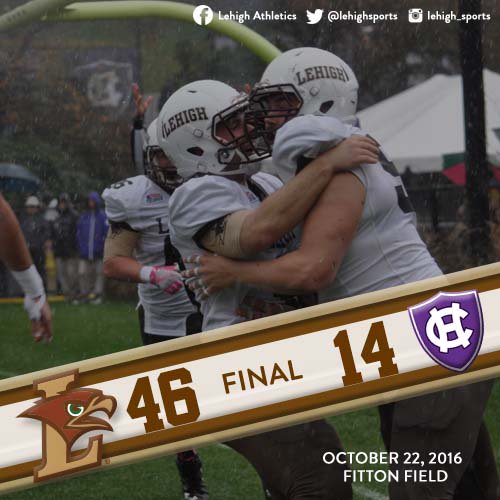 On the first drive of the game, surprise Holy Cross starting
QB Blaise Bell
connected on a long pass to WR Jake Wieczorek, setting up a big touchdown run by
WR Brendan Flaherty
.
On the last drive of the game,
freshman RB Domenic Cozier
ran up the middle to score his first collegiate touchdown for the Crusaders.
In between those two touchdowns, it was for the most part all Lehigh.
Lehigh's defense held Holy Cross to 281 yards of total offense and forced five turnovers - most of it coming on a couple of pass plays - and allowed the offense to to pummel Holy Cross' defense with a balanced attack. With three passing touchdowns from
sophomore QB Brad Mayes
and three rushing touchdowns, two of them by
sophomore RB Dominick Bragalone
, Lehigh would score 46 unanswered points to win resoundingly, 46-14, at Fitton Field.
Bragalone got 182 yards rushing on only 17 rushes, getting two touchdowns, none more spectacular than a 66 yard run up the middle that was his longest run from scrimmage as a Mountain Hawk.
Bragalone would win the
Eddie Anderson
award after the game as the most valuable player of the Holy Cross family day game.
His performance was only one of a slew of great performance by the Mountain Hawks today.
Mayes ended his day early in the 4th quarter 20 of 30 passing for 287 yards and 3 TDs. Two of those touchdowns went to
junior WR Troy Pelletier
, who had 9 catches for 70 yards.
Senior WR Derek Knott
also notched his first 100 yard reception day of the season with 5 catches for 123 yards as well.
But it was the defense that may have really been the bigger story with a tremendous game with 5 sacks and 5 turnovers. No player had more than one turnover or one sack, but the entire defense as a unit kept Blaise Bell and the Holy Cross offense on their back foot all afternoon.
Check in later with a full recap.
— Keith Groller (@KeithGroller) October 22, 2016
— Keith Groller (@KeithGroller) October 22, 2016
— American Sports Net (@LiveOnASN) October 22, 2016
— American Sports Net (@LiveOnASN) October 22, 2016
— LehighFootballNation (@LFN) October 22, 2016
— LehighFootballNation (@LFN) October 22, 2016