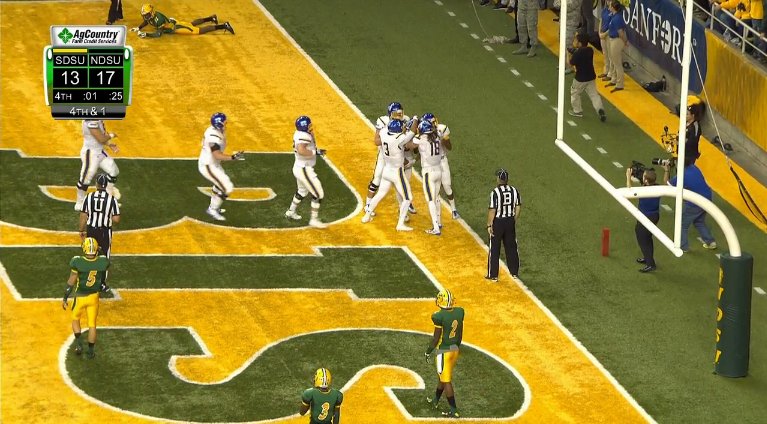 You didn't ask for them, but here's my pick for this week's FCS Top 25.
So this is the week that
North Dakota State
falls.
They fell in a thrilling defensive battle at home to
South Dakota State
in the game for the "Dakota Marker".
It was a great game, filled with drama and showed that the Jackrabbits are worthy of everyone's attention this week. In fact, South Dakota State's effective, time-consuming drive was in many ways pulling from North Dakota State's own trademark last-second comebacks, pulling together a drive for the ages, daring them to stop them yet consistently converting 3rd and 4th downs to set up the chance to win.
But then, therein lies the tricky part. Where to rank the Bison, and where to rank the Jackrabbits?
Here's what I ended up with:
1. Eastern Washington
2. Sam Houston State
3. Jacksonville State
4. The Citadel
5. James Madison
6. Richmond
7. North Dakota State
8. Chattanooga
9. Charleston Southern
10. Montana
11. South Dakota State
12. Villanova
13. Western Illinois
14. North Carolina A&T
15. Cal Poly
16. Samford
17. Central Arkanasas
18. Youngstown State
19. Eastern Illinois
20. Tennessee State
21. Lehigh
22. Wofford
23. Albany
24. Stony Brook
25. North Dakota
* First though, you've got to see this. It's long, but it's worth it.
— SDSU Football (@GoJacksFB) October 18, 2016
* So now, why
South Dakota State
at No. 11 in my poll, and
North Dakota State
at No. 7? The answer on my side is one of "body of work" - even with the loss to South Dakota State, the Bison's overall body of work drops them six places (which is more spots than many polls had them drop, frankly). Similarly, on the South Dakota State side their win brought them up from my (admittedly somewhat underrated) position in my poll up to No. 11 - a step behind
Montana
and
Charleston Southern
.
* While we're on the subject of the Missouri Valley, finally I need to give some props to
Youngstown State
for winning the sort of "show-me" game that had them advance into my Top 20 - oddly enough in a similar, nail-biting fashion as the Jackrabbits.
— Valley Football (@ValleyFootball) October 17, 2016
* Each week is sort-of a tough time for me to figure out which Missouri Valley teams to put in my Top 25. I really hate putting more than four teams from any conference in my Top 25 if I can help it - if there's a fifth team, the resume has to really "wow" me and most likely no more than one "oopsie" game. 2-4
Northern Iowa
has a great win (Iowa State), and way too many losses (granted, they are to Eastern Washington, Montana, and Youngstown, but the South Dakota loss really stands out). They'll need to run the table to get back in, probably, for me.
*
Eastern Washington
, my new No. 1, squeaked it out over
Sam Houston State
for me in large part due to their win over Washington State to start the year. Though undefeated, the Bearkats have played a feather-light schedule (Oklahoma Panhandle State, anyone?) and doesn't do much to challenge themselves this weekend either when they host Texas Southern of the SWAC. But it's worth mentioning that compared to, say, Northern Iowa's schedule, both teame have lighter schedules.
* Finally, I had a blasted time picking the No. 25 team in my poll. Normally I like to pick an Ivy team for this spot, but
Harvard
's awful loss to Holy Cross (where they started their backup QB, backup RB, and backup WR1), and
Princeton
's feather-light schedule... I just couldn't do it. The NEC also didn't seem to have any teams worthy of the mantle... so I finally decided on a team that most have already anointed in their Top 25s,
North Dakota
.
* My biggest beef with the Fightin' Hawks was their loss to
Stony Brook
to start the year, and then a series of Big Sky wins that didn't impress me. But as the season has rolled on, North Dakota is on a five game winning streak with wins over some pretty good Big Sky teams in
Cal Poly
and
Southern Utah
. Maybe I'm a late adopter, but I think they were much more worthy than any of the Ivy, SWAC or NEC teams I was looking at.
— UND Insider (@undinsider) October 15, 2016