(Photo Credit: Chris Barry/
The Brown and White
File Photo)
In terms of national recognition, life in the Patriot League isn't always easy.
Certainly Patriot League players and fans read the preseason magazines about FCS. And last I checked, the youth of America still watch ESPN, and they see some FCS darlings in the FCS Kickoff Classic, like North Dakota State.
They tune into the college football landscape, and they see Eastern Washington upsetting Washington State,
Bo Pelini
coaching Youngstown State, Albany upsetting Buffalo.
Yes, the national FCS scene has their darlings, and frequently it feels like the Patriot League and their opponents are mere afterthoughts in the world where Big Sky teams are putting up big scores, Sam Houston State is beating all comers, The Citadel is dominating in the South, and the Missouri Valley Football Conference sees almost half its members in the Top 25.
And despite having
junior WR Troy Pelletier
and
junior WR Gatlin Casey
sitting at No. 1 and No. 2 in the FCS in receiving,respectively, despite a five game winning streak, and despite their emergence as a top contender for the Patriot League title past the halfway point of the season, Lehigh sits just outside the national Top 25 polls.
Respect in the Patriot League is easy to lose, and hard to earn back - and this Lehigh team seems to know how fragile that is.
As the 2013 regular season concluded, Lehigh ended it nationally-ranked, despite a 50-28 loss to Lafayette to finish the season. There was talk of that 2013 team possibly getting the final spot in the FCS playoffs that year, despite the loss, but at 8-3 and ended the season with such a resounding defeat, it wasn't meant to be.
Nobody left that locker room that night hoping to make the playoffs, or thinking that they had a place on the national stage. They were crushed.
The seniors on this team probably remember that time, and they saw what happened next.
At the conclusion of the FCS playoffs that year - unsurprisingly won by the FCS team that everyone seems to know off the top of their heads these days, the North Dakota State Bison - Lehigh fell out of the Top 25.
When 2014 started, Lehigh wasn't on anyone's radar in terms of Top 25 rankings. They then proceeded to struggle all year to a 3-8 season, thus disappearing off the face of the earth as it regards to the national FCS picture.
For a Patriot League team, that's all it takes from going from national attention to an afterthought.
The FCS at times appears to have their own ACC (the SoCon), their SEC (the Missouri Valley), their Pac 12 (the Big Sky). They also have their Big XII (the Southland) and their Big Ten (the CAA), comprising a type of "FCS Power Five" all of their own.
For the "FCS Power Five," the benefits aren't really material in nature in the form of huge TV contracts or anything like that. It does mean, though, that their conference champions always get seeded in the FCS playoffs, frequently getting a precious bye week between their first playoff game and the end of the regular season. It also means that the runners-up in these conferences are also shoo-ins for at-large spots to the playoffs as well.
That leaves the rest of FCS in the spot of needing to be twice as good in order to get half the recognition - and even then, like in 2012 when a 10-1 Lehigh team inexplicably was left out of the playoffs in favor of a Wofford team with 7 D-I wins - that may not even be enough.
Certainly there are the equivalents of a Boise State in the FCS, such as Jacksonville State. But there are also schools like TCU, teams that do well in the playoffs but don't stick around in their conferences and decide to join a conference in an attempt to get more money - like Coastal Carolina.
This is the reality where this Lehigh team finds itself halfway through this season.
They sit at 5-2, in a very good position in the Patriot League at the moment.
CB Brandon Leaks Tackling All The Ivies In Their Way
They've swept though the Ivy League, which, although FCS in name, increasingly doesn't really feel like they fit into the subdivision at all.
To national voters, wins over Princeton, Yale and Penn may as well be against West Chester, California (PA) and Moravian - three schools that FCS nation doesn't follow, or care to follow. The Ivy League chooses not to participate in the playoffs, and the don't particularly seem to care about competing in them, so the rest of FCS Nation chooses not to care about them either.
(Harvard's curious decision to bench their starting quarterback, running back, and wide receiver versus Holy Cross last week certainly gives fodder to those who believe that the teams of the Ivy League don't even care to compete against the rest of the FCS.)
The Mountain Hawks also hold two wins in Patriot League play, including one against a team that made a run through the FCS playoffs last season, Colgate. (In fact, the two teams Colgate beat in the FCS playoffs last season, James Madison and New Hampshire, were in the Top 25 last week.)
But nationally, that appears to mean nothing.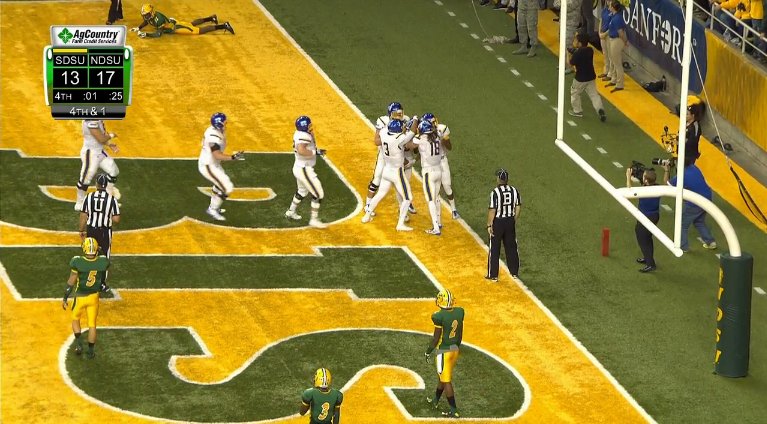 Much of FCS Nation Was Watching This Instead of Lehigh
They're too busy oohing and ahhing about Montana's 62-7 win over Sacramento State, or South Dakota State's upset win over North Dakota State, to tune into the Mountain Hawks' surge.
They see Colgate as a 2-4 team, nothing special, much as Patriot League fans look at 1-6 Sacramento State and wonder how a win by any margin over them could be considered good by anybody.
If Lehigh wants that national recognition - to finally reclaim what they lost by the end of the 2013 football season - they need to continue fighting.
Like it or not, Lehigh is not a part of FCS royalty, and the only way to become a member of that royalty is to keep winning.
Teams like North Dakota State, they can afford a bad day, or two, or three, and still probably get home field in the FCS playoffs. Lehigh has no such luxury. They need to win every game, and prove themselves every single week.
WR Gatlin Casey (Photo Credit: The Morning Call)
If Youngstown State slips and falls against Pitt, they're essentially given a do-over, Lehigh doesn't. Their slip-up against Monmouth is held against them, and their wins over Ivy League competition seen as invisible.
Fortunately, as seen this weekend at Georgetown, this team doesn't seem complacent.
If they've shown disappointment at not showing up in offensive player of the year awards, they don't show it.
If they have been saddened by not being in the STATS or Coaches Top 25 this season, I haven't seen it.
The reason might be that this Lehigh team hasn't been given anything, and they're not expecting anything to be given to them either.
This is true of all Patriot League teams to some degree, but to a school like Lehigh that has tasted conference success and playoff success, it's frustrating.
QB Nick Shafnisky (Photo Credit: Chris Knight/The Morning Call)
Lehigh fans are notorious for having high expectations. They're sometimes ridiculous expectations, but one thing is for certain: they care a lot. And I think that's why football recruits want to come to Lehigh - they
want
people to care.
And at the same time, they seem driven by having a chip on their shoulders.
That's what made the 35-3 win over Georgetown so satisfying: the way that the defense went from being seen as a possible liability during the preseason into a squad that has been showing the ability to come very close to shutting out opponents.
Senior CB Brandon Leaks
sometimes doesn't get the postseason recognition, but that's in large part because teams don't usually test him again after he makes a big play or a big pass break-up. Teams don't generally test his area, thus cutting down the real estate teams have to work with.
LB Colton Caslow (Brown and White)
Senior LB Colton Caslow
hasn't been boasting before games, coming out and talking trash about the upcoming opponents. But he's been front and center after wins where the defense has definitively proven that they did the job. That's kind of how he seems to be, and that's also how this team seems to be.
And
senior LB Evan Harvey
, who seems to be also be an emotional pillar on this defense, also does the same thing. He doesn't badmouth the opposition. But he gets the whole team emotionally ready to play before each game. In many ways, his emergence as a star on defense has been critical to the Mountain Hawks' success.
Lehigh LB Evan Harvey (Brown and White)
After slipping up against Monmouth, you got the impression that this Lehigh football team was eager to prove itself the following weeks against Villanova and Penn. And after fans started worrying about a defense that was giving up a lot of yards, it felt like the defense wanted to prove itself the following week to shut out somebody. Georgetown was simply the victim.
Special teams also seem to be a part of this trend, too. After giving up a punt return for touchdown to keep Yale hanging around, against Colgate the special teams unit finally allowed
junior WR Gatlin Casey
to bust free and get a critical touchdown.
The fact that this Lehigh football team keeps stepping up to the challenges before them that is making this team feel like one that is on the brink of something special.
Yet there's still a lot of work to do, and goals to achieve. There should still chips on their shoulders, and I believe there are.
QB Brad Mayes (Morning Call Photo)
There's that very large unfinished business of a Patriot League championship, first and foremost. It's the only guaranteed way that the Mountain Hawks can play in the postseason this year, to go undefeated in Patriot League play. Anything else requires putting their faith in a bunch of people that may or may not have caught the attention of FCS Nation. Better to not leave things in their hands.
There's that national ranking - to get Lehigh back in the Top 25, back where they were when these seniors were freshmen playing in their first Rivalry game. It would be a fitting prize for these seniors to make it there, after being the ones that saw it slip away three years ago.
And there's those national awards - recognition that
junior WR Troy Pelletier, junior WR Gatlin Casey
, and whichever quarterback starts for the Mountain Hawks,
senior QB Nick Shafnisky
or
sophomore QB Brad Mayes
, are among the best in the country.
In the "FCS Power Five" conferences, preseason expectations seem to be enough to carry players to postseason recognition, but for Lehigh, they need to be No. 1, No. 2 in the national rankings every week in order to prove their way into consideration. It's a lot slower than Lehigh Nation would like, but it's getting there.
It's an exciting time to be a Mountain Hawks fan - to see this squad prove everyone wrong. To prove that this defense is a championship defense. To prove the preseason Patriot League voters that they aren't simply the fourth-best team in the league this year. To prove that
Fordham RB Chase Edmonds
isn't the only Patriot League offensive player that FCS Nation should know about.
To prove that they should be a Top 25 team. That seems to be the next thing for them to prove.