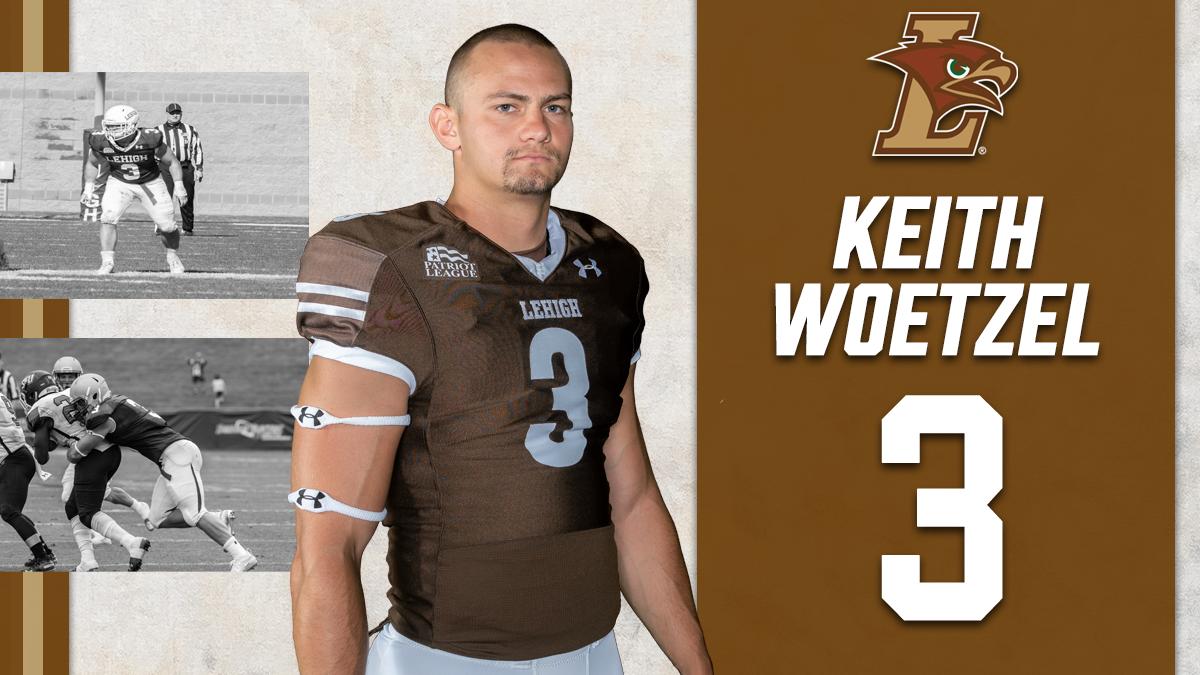 What a win!
Really, it still feels pretty darned good a few days later -
a 30-27 overtime win over Fordham
that was a tremendous matchup between two very evenly-matched teams. It was a win that resulted in a bunch of Patriot League Players of the Week awards (
WR Dev Bibbens, RB Zaythan Hill
, and
LB Keith Woetze
l), and only Bucknell super-punter
Alex Pechin
prevented a clean sweep of the awards.
Additionally, for his great statistical performance, Woetzel won national honors with STATS as defensive player of the week. His 15 tackle, 13 solo stop, 4 sack performance was the first national award for a Lehigh player since
RB Dom Bragalone
earned one of those honors in 2017. Woetzel is also the first Lehigh defensive player to win a major national award since STATS took over the award from the Sports Network.
Here are three additional takeaways from the game.
1. This team out-battled Fordham.
Going into this game, I was really worried about how the matchups might work out between some of Fordham's really good skill players and the Mountain Hawks, who have always seemed like a work in progress this season so far. In retrospect, it ended up being a battle where Lehigh really showed their determination to just find a way to win the game. In a lot of ways, it seems like the late Oakland Raiders' owner Al Davis would love this team. "Just win, baby."
"As tough as it seemed at times, I always thought we were going to pull it out," head coach
Tom Gilmore
told me. "While I was disappointed in the last Fordham touchdown run in regulation, I had a sense that we would find a way."
On the other side,
Fordham truly felt like it was a game that slipped away
.
"A heartbreaking loss," head coach
Joe Conlin
said. "I thought the kids played their hearts out. We just didn't play smart football, and obviously, that comes on the coaching staff… We gotta put our kids in a better position to be successful."
In many ways, this team has spent all season finding its way - at first finding an identity, a chemistry, and a balance between the many underclassmen and the seniors who have truly stepped up. It's been exciting to see this team really go from the relative inexperience vs. St. Francis (PA) to the mentally tough fighters that took the field in the Bronx this weekend. This team is very easy to like.
2. Austin Henning's Play Was Huge on Saturday.
I realize this place is called "Lehigh Football Nation", but I did honestly think there was a very good chance Lehigh would sweep the Patriot League awards this week. A lot has been said about Bibbens' game-winner, Woetzel's incredible day on defense, and Hill's electrifying 94 yard touchdown run. But something that shouldn't be lost in the shuffle is PK Austin Henning's big plays on special teams.
Start with the fact that without his career-long 45 yard FG, Lehigh might not have gotten the game to overtime and won it. A challenging kick, into the wind, barely clearing the crossbar might not have made for a pretty highlight, but it was a very, very clutch kick that changed the course of the game.
Then there's the significant amount of time he spent in what was in large part a field position game in a somewhat windy game - 9 punts, 3 of them downed inside the 20, and a roller that went 47 yards. Fordham's punter, Andrew Mevis, is only about a half-step behind Alex Pechin in the Patriot League - that Henning matched him in the punting game was a really underappreciated part of the game.
There have been a lot of great stories coming out of this game, but this is one that shouldn't be overlooked.
3. Getting Better, But Getting Better Enough?
There is lots to love so far this season for Lehigh football. There are two huge games coming up at home, vs. Georgetown and vs. Holy Cross. Wins in both would put Lehigh in a tremendous position to possibly win the Patriot League.
Yet with the great work ethic, with all the "just win, baby", will that be enough?
It's hard to look at the rest of this schedule and see a game where the Mountain Hawks are more than a touchdown better than their opponents. Gone are the days when an opposing team comes to Murray Goodman and plays dead. And it's awfully hard to win a league title without a blowout win like that somewhere on the schedule.
I don't see Georgetown, Holy Cross, Bucknell or Sacred Heart being easy marks at all. The Hoyas bring with them a potential NFL-caliber defensive end into Murray Goodman next weekend, and the Hoyas came within a play of beating Fordham two weeks ago and shut down Lafayette last week. They will not be easy.
"[Lehigh head coach Tom Gilmore] is a really good coach and his teams always play very well on defense. For us, it's about just continuing to get better," Georgetown head coach
Rob Sgarlata
said after beating Lafayette.
"We have to take care of the football and consistently run the ball on offense. For defense, we need to work on eliminating big plays."
As such, this stretch of games comes at a critical time for this Lehigh football team. They have been very good. They have been great to watch. But it won't be easy to continue on the line of improvement to achieve the goal of a Patriot League title. I can't wait to see how this goes. But it's not going to be easy.