(Photo Credit: Philadelphia Inquirer)
It's time to go full nerd and do a full-blown breakdown of the Penn Quakers.
Penn's
game notes
were out in good time, and
The Philadelphia Inquirer
, thankfully, still does a pretty good job in covering the Quakers in an independent way. Both were invaluable for my analysis.
Unusually, Lehigh faces Penn this time around in a game that is not the Quakers' season opener. In prior years that made it tricky for the Mountain Hawks to sometimes get a full sense of what head coach Ray Priore might be doing, because there would be no true game film to study, only practice film and, if they're lucky, an accurate two-deep.
This year, though, Penn has already had their first game, playing Bucknell
in a game which they won 34-17
. It was a strange contest, basically won in the first five minutes thanks to 17 points donated to the Quakers via two Bison turnovers and a blocked punt. Both teams would only put up 17 points the rest of the way each.
The last-minute injury information I've been able to find out on Lehigh is that senior
RB Dominick Bragalone
will be playing this weekend. He has been cleared to play after suffering a head injury two weeks ago against Villanova. It must be very tempting for head coach Andy Coen to line up both Bragalone and last weeks freshman Patriot League player of the week
RB Rashawn Allen
in the backfield at the same time. That's going to be one of the interesting storylines entering this weekend's contest.
One other significant injury is
LB Keith Woetzel
, who suffered a hand injury last week against Navy and is officially out this week. It is hoped he'll be back in time for Princeton, and in the meantime sophomore
LB Pete Haffner
is in line for his first-ever start at linebacker in his place, with junior
LB Jon Seighman
also getting time backing him up.
Folks might want to be looking over the lineups on the field this weekend for
OL Jackson Evans
and
DB Kareem Montgomery
, both of whom are questionable to play as of the current time. If Evans can't play,
C Tim Wagner
will continue to line up at center, while we could see more of
DB Tre Neal
if Montgomery can't go.
QB Ryan Glover (Philly Inquirer)
Breaking Down Penn
Offense
Penn will be lining up with the same type of base three wideout set as years past, with a single setback, and tight end in a standard spread set. They are a sort-of hybrid offense with some spread elements but in the past has mixed in with that run focus a deadly passing game, most recently involving
WR Justin Watson
, who is currently on the 53 man roster of the NFL's Tampa Bay Buccaneers.
However the deadly passing combination of last season has graduated, so head coach Ray Priore has had to break in a new athletic dual-threat quarterback this season, sophomore
QB Ryan Glover
.
As might be befitting the first-ever start, Glover's report card against Bucknell was mixed,
according to The Philadelphia Inquirer
. He converted 2 TD passes and ran for 48 yards, but also lobbed two interceptions and fumbled the ball once as well.
"The two balls he threw for touchdowns were outstanding throws," Priore said said. "What I liked was that, on the day, he made no poor decisions with the ball. We always talk about making the right decisions, and sometimes the right decision is to throw the ball into the stands. The loose ball [on the fumble] is the thing I'd probably critique the hardest. It was a lot of those first-game situations, where a kid learns a lot by playing those live scenarios. [But] Glover showed poise under fire, he scrambled, not throwing the ball and trying to force things. That was a great first step in his development."
The early lead allowed Priore to let Glover get his feet wet, and as a result Penn didn't really need to lean to heavily on
RB Karekin Brooks
for a ton of production, who had a grand total of 81 all-purpose yards on the afternoon.
Alert Lehigh fans who haven't
blacked out the memory of last season's game against Penn
will remember all too well that Brooks absolutely torched Lehigh in the game of his career, who had 268 all-purpose yards against the Mountain Hawks and 3 touchdown runs in Penn's cringe-inducing 65-47 win at Murray Goodman last year. He almost totalled over 300 yards from scrimmage, but a 68 yard run was called back due to a penalty.
Any questions about the skill level of this offense should begin and end there.
Glover spread the ball around to five different receivers with his twelve completed passes. Notably, most went to backup
RB Abe Willows
and one to Brooks. When he did look towards the wideouts, he found the starters, junior
WR Tyler Herrick
, junior
WR Kolton Huber
and senior
WR Steve Farrell
with his targets. 6'3 senior
TE Logan Sharp
wasn't a target in the passing game last week. At 6'4, Farrell is probably the biggest potential matchup problem in the passing game.
300 lb senior
LT Tommy Dennis
anchored an offensive line that yielded 0 sacks against their your quarterback. Other than Dennis and junior C Dennis Gibbs the Penn O line is young and inexperienced. It will be the least experienced O line Lehigh has faced this season.
Defense
Head coach Ray Priore has for years overseen Penn's multiple 3-4 defense, and once again will be bringing out a multiple 3-4 defense that frankly is LFN's favorite style of defense. I love the flexibility the linebacker gives you, the multiple looks, and what it opens up - I fell in love with it with the Saints' Dome Patrol, and still love it. It should be similar to what Lehigh's offense faced against Navy last week, which was also a base 3-4 defense.
Though Penn has lost some starters from last year's defense they do return a bunch of lettermen, and the front seven on Penn had a field day against Bucknell, notching (and this is not a typo) ten sacks against the Bison. 270 lb senior
NG Cooper Gardner
alone had three sacks, which illustrates perfectly the challenge Lehigh's offensive line faces this week. Against most teams, nose guard equals run stuffer, but if last week were any indications, Lehigh needs to worry about blitzing up the middle, too.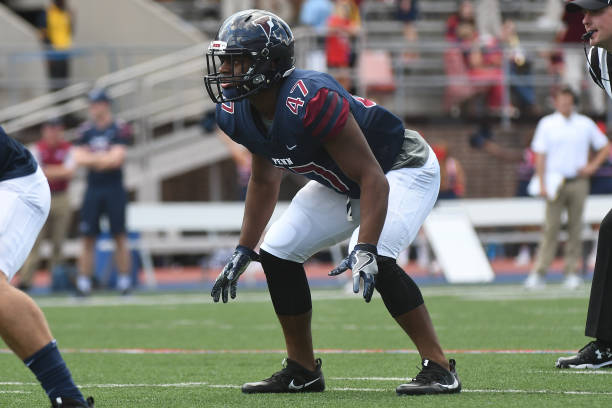 LB Nick Miller (Getty Images)
The linebacking duo of sophomore
LB Brian O'Neill
(11 tackles) and senior
LB Nick Miller
(10 tackles) were very effective as well last week, continuing their tremendous play from last season where they both worked together very effectively.
It's difficult to say how effective Penn's pass defense really is against Bucknell's dink-and-dunk offense, but they did hold them to 158 yards and also nabbed one interception. All-Ivy
SS Sam Phillipi
, who played against Lehigh last week, is out and in the hospital, though, so junior
SS Tayte Doddy
is starting in his place. Senior
CB Jyron Walker
is the most experienced hand in the secondary with Phillipi's absence.
Special Teams
Senior
PK Jack Soslow
is probably a kicker that is as reliable as they come at the FCS level. Last week he nailed a 49 yard FG and has made 37 straight PATs.
P Drew Brennan
was a below-average punter last week, getting 36.8 yards per punt and 6 punts.
5'5 sophomore
RS Isaiah Malcolme
might be small, but don't you dare overlook this speedy returner, who got 40 yards in punt returns against Bucknell last week. He has already proven that he is dangerous in the return game.
LFN's Keys to the Game
1. Crank up the Pass Machine.
Everything points to passing. Penn's secondary, with the loss of Phillipi, has questions that need answering. Senior
QB Brad Mayes
we all know has the skill set to pick apart a young secondary - if he has time to throw. It is going to be critical that the offensive line provide consistent protection to let Mayes get some rhythm and weave some magic.
2. Pro Set?
Unveiling a pro set with two running backs at Lehigh is kind of like dusting off an old John Whitehead Wing-T playbook, but with two tremendous running backs senior
RB Dominick Bragalone
and freshman
RB Rashawn Allen
, it's tempting. Is there a way to cook something up, even if it's just for a couple plays? If something works off of this, it could knock Penn's defense out of their comfort zone and set up a big offensive day.
3. No gifts.
Andy Coen
said during the postgame last week, if you turn over the ball five times, you won't beat anybody. Penn has shown that they have the capability of converting gifts into points, which is how they beat Bucknell last week. Ball protection - and ball stripping on defense - might be the big difference.
Fearless Prediction
Lehigh has had an unusual out-of-conference schedule this season, with an FBS game and a game against a Top 25 team back-to-back. Will the challenge of playing those two teams in that way prepare the Mountain Hawks to bust their two-game losing streak and get back on the right track? With Princeton in two weeks, then the Patriot League slate ahead, this game feels especially important in terms of the direction of Lehigh's season.
I think the experience of the last two weeks will pay dividends for the Mountain Hawks this week. I can see the game slowing down for Lehigh, and while Penn has a mountain of talent and should improve a lot from Week 1 to Week 2, I still think they could be a step behind Lehigh, and that might be the difference. Expect a close game, but with the Mountain Hawks just pulling out the win.
Lehigh 34, Penn 27