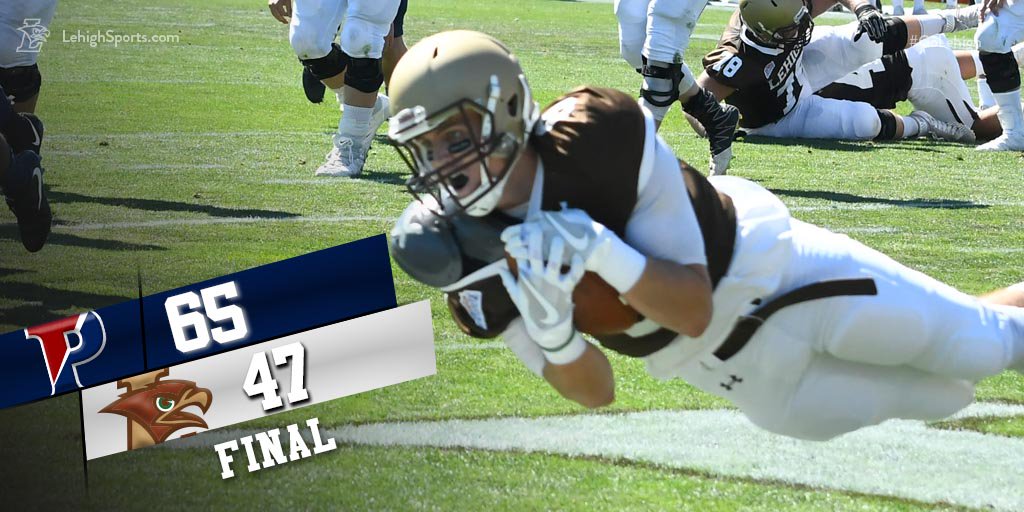 Villanova, 38.
Monmouth, 46.
Yale, 56.
Now Penn, 65.
Lehigh's defense has given up 203 points in 4 games, and has given up more than 200 yards rushing to four straight teams.
This week's Ivy League player of the week will undoubtedly be Penn
RB Karekin Brooks
, who ran for 268 net yards, and scored 3 touchdowns, two on the ground, and one through, of all things, a pass. It will be the second straight week that an offensive opponent will become a first-time Ivy League Offensive player of the week, the honor last week going to Yale
QB Kurt Rawlings
.
The Mountain Hawks' opponents have scored in all 16 quarters this year, and they've allowed at least 13 points in every quarter.
The defense hasn't forced a turnover all season, while the offense turned over the ball four different times today, and after each turnover, the defense would yield a score each time, including a brutal one to start the game when Lehigh desperately needed to jump out to a quick start.
For the second straight week, missed extra points have made it just a tiny bit harder to come back, something Lehigh has found itself doing almost the entire season.
And anyone who witnessed this debacle would have also been treated to all sorts of things, like a Penn running back executing a jump pass for a touchdown; a certain interception bouncing out of the hands of the defender and into the hands of a Penn receiver and a Lehigh 2-point conversion resulting in an interception return by Penn going the other direction.
Someone happier than me right now might bring up
junior QB Brad Mayes
' 400 yards passing,
senior WR Gatlin Casey
's 3 touchdowns, and
junior RB Dominick Bragalone
's strong offensive days today, and indeed, the numbers were impressive. But Lehigh fans reading this should not be fooled by the pretty numbers - Lehigh never was ahead in this game, and in a tiring refrain, killed themselves multiple times with untimely turnovers and couldn't reverse momentum when the offense turned the ball over.
And it could have easily been worse. Yes, Virginia, in a game where Lehigh gave up 65 points, it could have indeed been worse, with a Penn TD overturned by a penalty near the end of this game, making the officials the only thing stopping Penn from putting up 70 on Lehigh this afternoon.
If you're looking for a positive for this 0-4 game, here it is: Lehigh may have hit rock bottom. I mean, how could it get worse than this?
Tune in later for more thoughts, at least the ones I can deliver and still keep this blog PG.