QUICK RECAP: Mountain Hawks Keep Championship And Playoff Hopes Alive With 34-21 Victory Over Holy Cross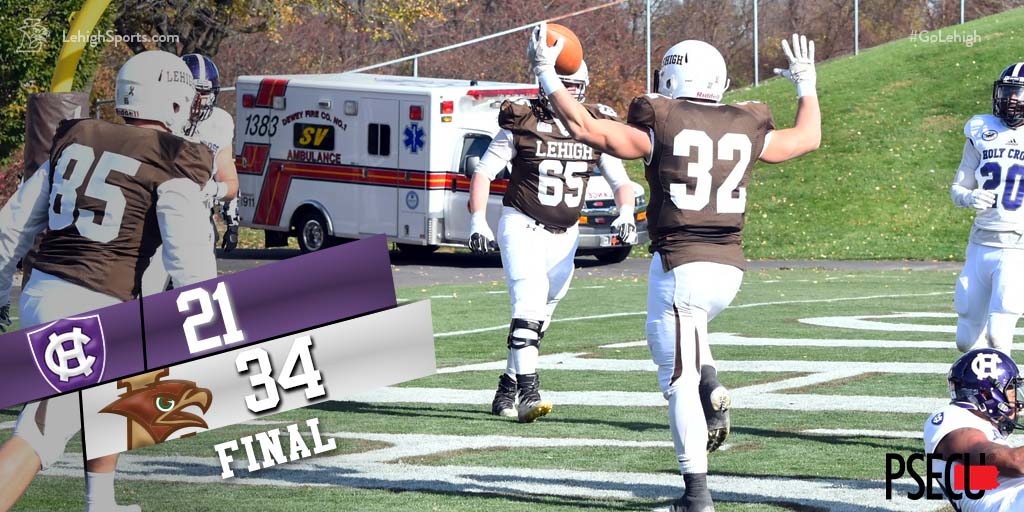 The term "control of your playoff destiny" is thrown around a lot.
The 3-6 Mountain Hawks were in control of their destiny this weekend. Win against Holy Cross, and Lehigh will stay alive for no worse than a co-Patriot League Championship and possibly a ticket to the FCS Playoffs.
By the time the clock hit triple zero's, the Mountain Hawks did what they had to do, beating the Crusaders 34-21, and keeping destiny in their own hands with one more regular season game to go - the 153rd meeting of The Rivalry next weekend vs. Lafayette.
Junior RB Dominick Bragalone
carried the offense on his back with 30 carries for 205 yards and 4 touchdowns, but he and the offense fed off the energy of some big Lehigh defensive and special teams plays. Once Lehigh went up 14-0, Holy Cross would never get any closer than a touchdown.
Lehigh's defense forced a 3-and-out early in the game, and then, after a bad snap, senior DE Tyler Cavenas blocked a punt of a scramble and set up the Lehigh offense on the 6 yard line. It took all of one play after that for Bragalone to bowl his way into the end zone for the Mountain Hawks' first score.
On Holy Cross' next drive, Cavenas would sack Pujals on a critical 3rd down, and Lehigh offense would score on their very next drive, methodically driving 8 plays and 81 yards for the Mountain Hawks' next score a 7 yard touchdown run.
In the 3rd quarter, up 14-7, Lehigh would convert two huge FGs sandwiched around a big 33 yard run by Bragalone. After a 13 play, 57 yard drive that chewed 5 minutes off the clock, junior PK Ed Mish nailed a 23 yard attempt to give Lehigh a two score lead that would hold up the rest of the way.
As Lehigh was racking up points, the defense was setting the table for the offense to keep pouring on the scoring. Bragalone's 3rd touchdown was set up on a turnover on downs made possible by a sack by junior LB Mark Walker, and a forced fumble by senior DE Harrison Johnson and recovered by junior DE Julian Lynn set up Mish's second FG, a 41 yarder that just cleared the uprights and put Lehigh up by 20.
QB Pete Pujals did have some great individual plays, and did everything he could in his final collegiate game to deliver the Crusaders the win, but Lehigh's defense was up to the challenge of containing him, limiting him to 66 net yards rushing, 18-36 passing, and 276 yards through the air. He would connect on two touchdown passes to WR Blaise Bell, and take one in himself late for a third score, but it wasn't nearly enough.
"Coming into this game, we knew this would be a really big challenge," head coach Andy Coen said afterwards. "Pujals is a dynamic player, but I really think the best thing today was our defense. They put together a tremendous plan, and they took away a lot of what Holy Cross wanted to do defensively."
With the win and Colgate's 27-0 win over Lafayette, Lehigh's path to no worse than a co-championship is clear: beat Lafayette in the 153rd meeting of The Rivalry this week, and the Mountain Hawks will be back-to-back Patriot League champions and will be practicing on Thanksgiving getting ready for the FCS playoffs.
All that stands in the way is Lafayette.
Tune in later tonight for more on today's big win.