We break down the Holy Cross game - and we give our fearless prediction below the flip.
The old Forrest Gump saying that seems particularly apt about this matchup this weekend is: "Life is like a box of chocolates. You don't know what you're going to get."
So as it goes with Holy Cross, whose offensive outputs in every game this year have been: 20, 20, 51, 26, 7, 36, 0, 7, 24, and 42.
Three games scoring less than 10 points; three games scoring more than 30 points, and four games scoring between 20 and 29 points - that defines inconsistency.
In their high-scoring games, the ingredient that has seemed to help Holy Cross score points in bunches are the same thing that helped Lehigh so much this week: turnovers.
In Holy Cross' two most impressive wins - against New Hampshire and against Fordham - in both games, the sequence "Holy Cross touchdown, get ball back after a turnover, Holy Cross touchdown" played a huge part in their wins. Once they got up by two scores, it was a hill that neither opponent could climb.
It is that sequence, in my opinion, that needs to be avoided at all costs.
Breaking Down Holy Cross
Offense
Before head coach
Tom Gilmore
was relieved of his duties mid-season, I would have told you that Holy Cross' offensive philosophy hasn't changed a lot over the three years: pass-intensive, spreading around the ball on offense to every available wideout, back, running back and tight end, use the pass to set up the run. For every five plays the Crusaders call, three of them were passes.
But the offensive philosophy appears to have shifted somewhat, even though the team's offensive coordinator,
Brian Rock
, is now the head coach.
Last week against Fordham, Holy Cross ran the ball 46 times and only put it in the air 25 times. Though there have been other games where the Crusaders have had a similar ratio of run to pass, what is markedly different is the success they're having in that area: against Fordham, Holy Cross ran for 354 yards, averaging 7.7 yards a clip.
QB Peter Pujals (Worcester T&G)
A big part of this last week was the unleashing of
senior QB Peter Pujals
as a rushing threat. On the season, he has a net of 85 yards rushing. 82 of those net yards came last week vs. Fordham.
"Petey Pigskin", who has had his football exploits mythologized almost as soon as he set foot on Holy Cross' campus, is everything the Holy Cross offense requires to be successful. He's always been athletic and evasive, opening up the types of plays that the Crusaders can run, including option plays.
If you neutralize Holy Cross' running game, like Georgetown did, Pujals has the ability to pick apart a defense as well.
And in the past he has been great getting the ball to his receivers. If nothing develops, he can take off with the ball - something he's done extremely effectively over the years.
What has been lacking from Holy Cross' arsenal is a true go-to receiver, and something that's been underappreciated this season is that Pujals lost almost everyone from the receiving corps from last season. Of the wideouts and tight ends from last season who caught a pass from Pujals, only
junior WR Jordan Montgomery
(180 yards, 1 TD) is still on the roster.
6'3
senior WR Blaise Bell
(546 yards, 5 TDs) is the closest thing Holy Cross has to a go-to guy, a tall, athletic receiver that can cause matchup problems. He had 6 catches for 66 yards last week, while
senior WR Andre Harton
(321 yards, 1 TD) and
junior WR Martin Dorsey
(496 yards, 2 TDs) are the other starters, along with 6'4
senior TE Jake Simsheuser
(91 yards, 1 TD). If the past is any guide, the targets will be spread around based on matchup.
Last year against Holy Cross, Lehigh faced off against backups at RB, with Blaise Bell ending up running the ball on end-around.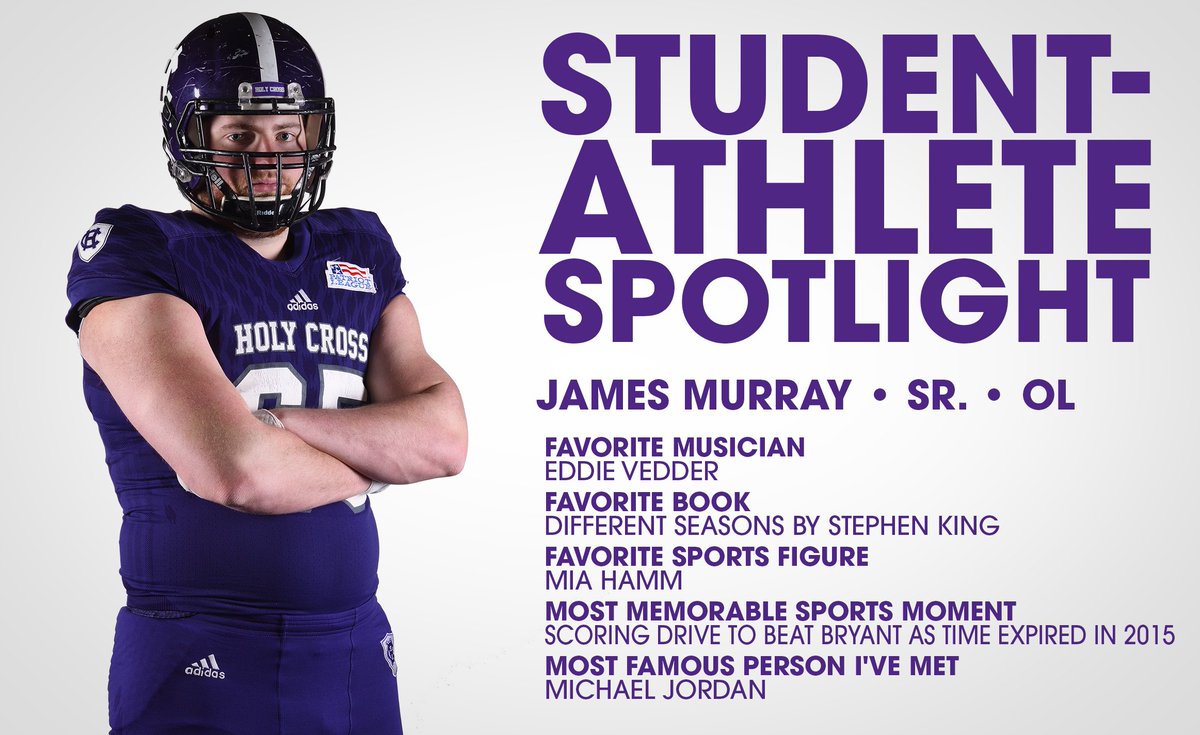 This year, Holy Cross is completely healthy at RB, with a four-headed running back rotation with
senior RB Gabe Guild
(440 yards, 2 TDs),
senior RB Diquan Walker
(351 yards, 5 TDs),
sophomore RB Domenic Cozier
(202 yards), and in recent weeks,
sophomore RB Miles Alexander
(332 yards, 3 TDs) being thrown in the mix as well.
All four bring something different to the table. Cozier is purest speed back, Walker is the tough yardage runner, and Guild and Alexander are good catching the ball out of the backfield. All are built for speed, however.
Holy Cross' O line has struggled for consistency this year - though they haven't given up a ton of sacks, at least a part of that is due to the fact that Pujals can take off with the ball so easily to escape pressure. Like Lehigh, they have had injuries on their line, but one constant has been Pujals' blind side protection, with 6'5, 304 lb
senior OL James Murray
in protection. How Lehigh puts pressure on the quarterback and running game is likely to be a critical component to the outcome.
Defense
Holy Cross runs a 4-3 defense that has, as in years past, done a very good job in getting pressure on the quarterback. Like Lehigh, when their defense gets turnovers, it seems to make them an entirely different team. But they also have had moments this year where they've given up points in bunches, most notably against Monmouth earlier in the season.
The D line boasts a lot of multi-year experience with
senior DT Jack Kutschke
and
junior DE Teddy Capsis,
and
junior DT Neil Vorster
and
senior DE Phil Zobrest
combine with them to make a big, physical line that has gotten a lot of tackles for loss this year. Between the four of them, they've combined for 25 tackles for loss, with Kutscke and Capsis getting the lions' share. They've also been pretty strong in regards to stuffing the run: on the season, opponents have only averaged 3.7 yards per carry against them.
LB Nick McBeath
As good as the defensive line is for Holy Cross, the star on defense is
senior LB Nick McBeath
.
McBeath is a great tackler, probably the best tackler in the Patriot League, and is another blitzing headache for offensive linemen to worry about - he has 11 tackles for loss and leads the team in tackles with 105. He seems to be always around the ball and needs to be picked up on passing downs - though he also frequently drops back, as he leads the defense with 2 interceptions - and he works really well with
junior LB Ryan Brady
(97 tackles, 9 tackles for loss) on the inside next to him. On the other side,
junior LB Corey Stefanik
(23 tackles, 2 tackles for loss) is the starter.
With a front seven like this, the secondary's role is to sit back a little and get turnovers, and cause some havok on the occasional blitz, and so far this year Holy Cross has done this very well for the most part. The strong secondary consists of
senior FS Brett Lauri
e (25 tackles, 1 INT),
senior CB Damion Baker
(4 pass break-ups), junior SS Akeem Wolcott (38 tackles, 5 pass break-ups) and
senior CB Alim Muhammad
(39 tackles, 1 INT).
Special Teams
Senior P Will McGrail
is a very good punter (41.7 yards per punt) with a very good portion of his kicks getting fair caught and landing inside the 15 yard line. He probably won't make 1st team all-Patriot thanks to Bucknell's and Lafayette's exceptional punters, but he's right up there.
Freshman Jackson McClarty
took over the full-time kicking duties and has been great on extra points (10/10) and been quite accurate inside the 30 yard line on FGs (3/4).
Holy Cross' return units have been average all year, with no returns (yet) for touchdowns.
Senior RB Gabe Guild, senior WR Andre Harton
and
sophomore WR Jon Jon Roberts
top the depth chart at KR1, KR2, and PR respectively.
LFN's Keys to the Game
1. Lehigh O Line vs. Cross Front Seven.
Like last year, all signs point to a physical battle of strength in the trench. If
senior OL Zach Duffy
and
senior OL Brandon Short
and the rest of the O line can physically wear down the Holy Cross defense, and protect
junior QB Brad Mayes
from harm - and I think they can - I love Lehigh's chances.
2. Contain Big Running Plays Up The Middle.
It seems like every game this year a Lehigh opponent has gotten off a 50+ yard touchdown run by blocking the front six and then getting into a footrace to the end zone. If I'm Holy Cross' offensive coordinator, I'm finding a way to execute that play at least ten times in what may be the Crusaders' season finale. It is up to Lehigh's defensive coordinators to scheme and stop this play. If Lehigh can keep Holy Cross' maximum rushing gain to, say, 30 yards, I love Lehigh's chances.
3. Cold-Weather Football.
When the weather gets cold, football changes. It becomes less about finesse and precision and more about pounding and smashing. Lehigh needs to embrace the change to the cold and pound the ball early and often, primarily with
junior RB Dominick Bragalone
but also, importantly, with
junior RB Micco Brisker
and also
senior RB Nana Amankwah-Ayeh
, in my opinion. This is just a feeling, but I think getting sure-handed, physical running Amankwah-Ayeh involved a significant amount early might pay great dividends later in the game.
Fearless Prediction
I'm pretty sure it's become sort-of a thing that every week I just always pick Lehigh to win every single time. Granted, this is called "Lehigh Football Nation" and not "Holy Cross Football Nation", so by my nature I tend to assume the best about the Mountain Hawks.
And
that's
the issue, isn't it? Like Holy Cross, Lehigh has been racked with inconsistency this year. Had the team that took the field vs. Bucknell came out all season for the Mountain Hawks, certainly it's not out of the realm of imagination to think that the Mountain Hawks could have flipped the birds against Wagner and Fordham, thus having a 5-4 record instead of a 3-6 record.
Picking this game is in reality very, very difficult. There is no way to figure out which Holy Cross team and which Lehigh team emerges from the locker room on Saturday. The battle of the best versions of both teams could end up with a great football game. The battle between the worst versions of both teams could be one of the ugliest Lehigh football games in recent memory - with the winner very much in doubt. Both outcomes, and everything in between, is truly in play.
It's hard to escape the thought that this game will come down to turnovers. Both teams are driven by momentum fueled by turnovers to some degree, and it's hard to imagine the team turning over the ball more winning. It feels like it might come down to the wire - and hopefully, Lehigh will come away with this. But my confidence level is not high.
Lehigh 38, Holy Cross 35