That's a fairly normal type of depth chart for a largely veteran team that was ranked in the FCS Top 25.
Only two freshmen,
OG Jackson Evans
and
LS Jack Dean
, were expected to contribute right away, while
sophomore FS Riley O'Neil
had already started nearly every single game he'd played since his freshman season - already a veteran.
Entering the ninth game of the season, the depth chart that head coach Andy Coen will present to the officials on Saturday will look very different.
The two defensive captains on opening day,
senior DT Jim Mitchell
and
junior SS Sam McCloskey
, won't be anywhere to be found - both injured, out for the year.
Junior CB Donavon Harris
- still out with a head injury. J
unior LB Mark Walker
- out.
Junior ROV Nick Thevaganayam
- out.
Senior TE Drew Paulsen
- out.
Senior WR Gatlin Casey
- most likely out.
In fact, Lehigh's depth chart will have on it eight freshmen, including four (
WR Jorge Portorreal, OL Jackson Evans, C Chris Fournier
, and
ROV Divine Buckrham
) who are starting. Additionally, five sophomores will be starting, including one,
sophomore CB Marquis Wilson,
who has only started one other football game.
The 2017 season will be remembered not-so-fondly for the number of terrible, season-ending injuries that have freakishly occurred. And to close out the regular season, it is the next men up, a huge number of them underclassmen, that will determine the ultimate fate of this football team.
The 2017 Lehigh Mountain Hawks are in the strangest position in all of FCS football right now.
At 2-6, Lehigh is guaranteed a losing regular-season record.
Most 2-6 teams at this point might be starting a bunch of underclassmen in order to give them valuable playing time to set up success for the following year. Winning and losing? For almost all 2-6 teams, the won/loss aspect is more academic than anything else.
But the Mountain Hawks are in the Patriot League, a conference where there is one team (Colgate) with a winning record, another (Bucknell) sitting at .500, and the rest of the league guaranteed with losing records - everyone else, including Lehigh, has six losses.
If Lehigh can beat 4-4 Bucknell, 3-6 Holy Cross, and 2-6 Lafayette - incredibly - they will be no worse than Patriot League co-champions with Colgate, and would win the conference's automatic bid to the FCS playoffs, thanks to their head-to-head win against the Raiders in Hamilton.
To say that the Mountain Hawks winning three straight football games is a huge "if" is the understatement of the year. For a team that hasn't won three games all year, it's a pretty big ask to have them suddenly fix all of the team's problems and win three straight and win the conference.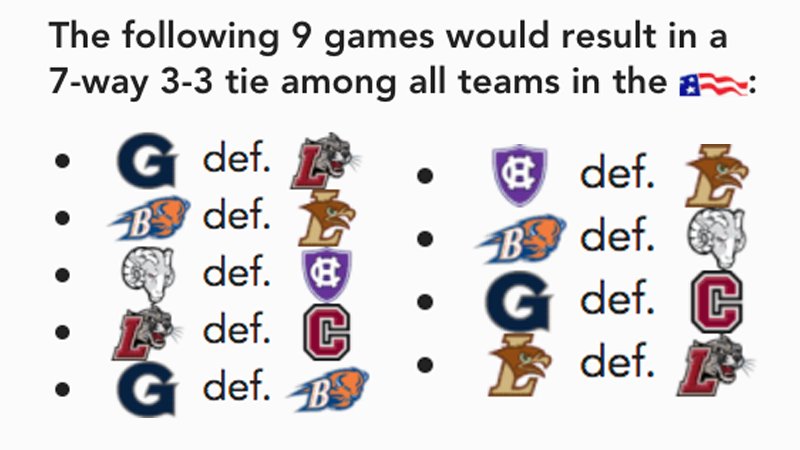 (Graphic Credit: Reddit CFB)
I mean, it's almost as likely a scenario than the one posted on Reddit's College Football page, which details a possible outcome where every team in the conference finishes at 3-3.
But if the Mountain Hawks finish with those three wins, what would that mean, aside from more football games?
For seasoned watchers of Patriot League football, it would invoke echoes of 2013.
That was the year where Lafayette, under head coach
Frank Tavani
, took the Leopards to a 5-6 overall record, but with a 5-1 conference record, won the Patriot League and their autobid to the FCS playoffs.
That 2013 season was one of the weirder ones in Patriot League memory, with some similarities to this season.
WR Lee Kurfis
That year,
WR Lee Kurfis
was breaking receiving records, and the Mountain Hawks were breaking school passing and receiving records. But a terrible 45-10 loss to Bucknell, capped by the career-ending injury to
QB Brandon Bialkowski
, caused Lehigh, with one conference loss, to need to regroup and somehow find a way to win football games with three games left in the season.
And against Colgate and Holy Cross, the Mountain Hawks did find a way to win, splitting time with a true freshman quarterback,
QB Nick Shafnisky
, and a senior,
QB Matt McHale
, and relying on the emergence of
RB Keith Sherman
as a bellcow running back, almost singlehandedly willing the Mountain Hawks to two straight wins.
All that stood in the way of a title for 8-2 Lehigh that year was 4-6 Lafayette - a game that would end up being for the Patriot League Championship.
It was an amazing game, that 149th meeting of The Rivalry, one of abject agony that I refer to time and again as the
"It's supposed to suck, and it's supposed to hurt"
game, lost by Lehigh 50-28 in a contest that should have never had the stakes that it did but did anyway, amplifying the agony and making the superhuman effort of
RB Keith Sherman
in that game even more tragic, in a football sense.
For Lafayette, though, it was the ultimate underdog story, written off after a 1-5 start and once again after a 28-24 conference loss to Colgate, guaranteeing themselves a losing record for the year. The Leopards had the unlikeliest of paths to the Patriot League championship and the FCS Playoff autobid - beat undefeated, nationally-ranked Fordham at home, coached by current Penn State offensive coordinator
Joe Moorhead
, and then beat your historic Rivals at their place, reversing a five-game losing streak to their Rivals, all with unheralded freshman
QB Drew Reed
.
It's not known if Tavani saved his job that year with that win. Even with the 2013 Patriot League Championship, Tavani would endure his fourth straight season under .500, and Lafayette would endure four more under .500 years after the unlikeliest of championships.
But if Lehigh were to pull a Tavani this year, that doesn't necessarily mean that the future of Lehigh football will follow the thread of Tavani's Lafayette teams. In fact, there was a lot of promise in the preseason for that 2014 Leopard team as well, as they would start 3-3, winning all of those games at home, and winning The Rivalry Which Shall Not Be Named, 27-7, at Yankee Stadium in the Bronx. (Since that game, Lehigh has not won a single football games within the confines of the five boroughs of New York.)
A key difference with this year's team and that 2013 Lafayette team was one of preseason expectations. The 2013 Leopards were at best expected to be a middle-of-the-pack team; the 2017 Mountain Hawks were preseason favorites to be competing for the Patriot League Championship and return to the playoffs. Lafayette in 2013 was massively exceeding expectations; if Lehigh does manage to pull this rabbit out of a hat, they will have passed the course, in effect, by acing the final exam - squeaking out the most unlikely of C minuses to barely keep the GPA above a failing grade.
The way I see it - there's an entire offseason to talk about how to make this team better, but only one chance this season to win back-to-back championships. If this Lehigh team does it, they don't send the rings back because they're 5-6. They still will read "Back-to-back Patriot League Champions" on it. The seniors will be two-time champions the rest of their lives, never to be taken away. All that needs to be done is to find out what needs to be done to make that happen.
Game Notes and Injury Report
As mentioned in the lede, Lehigh is dealing with a ton of injuries this season.
The
game notes
came out before we learned
senior DT Jim Mitchell
is gone for the year with a torn ACL, a bitter blow for the senior team captain. To replace him, it looks like the defensive line is going to be shuffled around, and it's not entirely clear who will be the player that is starting in his place.
The offensive line, too, has been in a state of flux. Lingering injuries at guard have meant that the offense has basically had a different combination from week to week for eight straight weeks. This week, the front five combination reverts to
senior OL Tim O'Hara, freshman OL Jackson Evans, freshman C Chris Fournier, senior OL Brandon Short,
and
senior OL Zach Duffy.
Adding to the problem is the severe concussion sustained on the onsides kick last week from
senior TE Drew Paulsen
. Though thankfully he didn't break any bones in his head or neck, he will not play this week, as he's in concussion protocol.
Senior TE Mike Baur
steps into the starting position, with
junior TE Dan Scaserra
or
junior TE Jimmy Schulz
, a converted defensive lineman, backing him up.
As if that weren't enough to worry about, there's the worry about
senior WR Gatlin Casey
and
freshman WR Jorge Portorreal
, who were knocked out of last week's game versus Fordham. Per Steve Lomangino of Lehigh athletics, they will both be gametime decisions as to whether they'll play. If Casey cannot go,
sophomore WR Dev Bibbens
, who had his first career touchdown grab last week, will go in his place, and
senior WR Sasha Kelsey
would start in place of Portorreal.
Weather Report
Saturday's weather in Lewisburg is looking promising
, with a high of 56 under partly cloudy skies. There is a slight chance of showers, but any precipitation is scheduled to occur well after the game has concluded. Kickoff is set for noon.
Getting To Bucknell
From where I live, Lower Bucks, getting to Bucknell is tough, but from the Lehigh Valley, it couldn't be easier - route 476 to route 80, a straight shot all the way to cow country.
Tailgating at Bucknell couldn't be more convenient for the visiting fan. See 9) in the picture to the right? That's right across from some parking to the stadium and a stone's throw from Christy Mathewson stadium.
The lots open three hours prior to kickoff and it's a critical game for Lehigh - a pretty good case for heading to Lewisburg.
LFN's Burger of the Week #BOTW
So this week is the first week where I've had an issue with my Burgers of the Week. Most weeks, I've been able to find a local eatery which has burgers as the specialty. In the Bronx or Staten Island - or even Hamilton, NY - finding great, unique burgers was easy. Not so in Lewisburg, when a search for Lewisburg, PA Burgers yields the address to an Applebee's.
Fortunately, dear Reader, the Bucknell Bison offer us an opportunity to add - yes! -
Bison Burgers
to the menu. And
adding Wisconsin Cheddar and carmelized onions with Cabernet Sauvignon wine
- I'm in.
Bison-Crushing Drink
LFN's Drink of the Week #DOTW
I know it hasn't been working very well in terms of contributing to Lehigh football wins, but since it worked so well last year, I'm doing this one again.
The
Orange Crush
, aside from being perfect in terms of the Bucknell-crushing theme, is also very appropriate for another reason, too. "Popular though it may be, the Orange Crush is not hip. It's not slick,"
Punch Drink tells us.
"It demands no bottled-in-bond spirits or artisanal bitters; it requires no pre-Prohibition coupes, shoegaze-inspired nicknames or maraca-esque overhead shaking. It's a drink created in Maryland, by Marylanders, and by all accounts that's good enough for them."
It's also good enough for Lehigh fans this weekend, as I ask Marylanders politely whether this weekend, just for a weekend, we can borrow your crushing of Oranges for our Bucknell party.
As its inventors say, it can't be easier to make. 2 juiced oranges, 2 parts orange-flavored Vodka, 1 part triple sec, ice, and an orange slice, with an optional splash of either seltzer or Sprite (depending on whether you like sweet or more tangy). Just pour the vodka, followed by the triple sec, followed by the orange juice over the ice, and end with the splash.
As always, Drinks of the Week have a place in responsible tailgates, but only if you behave yourself, don't get behind the wheel while impaired (or worse), and are over 21. Please do that. And leave plenty of time to sober up.