In Must-Win Game, Lehigh Defense Forces Four Turnovers And Lehigh Offense Makes Bison Pay, Win 42-21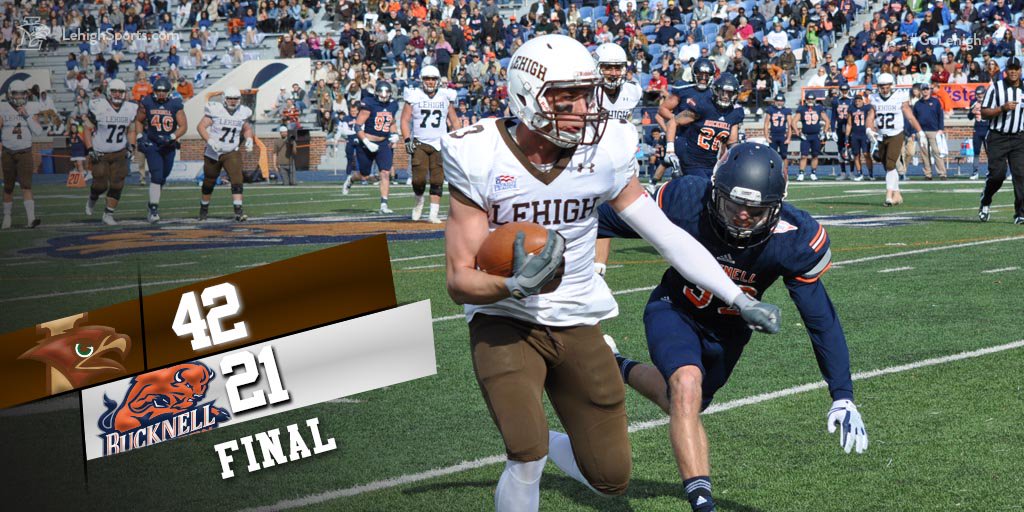 (Photo Credits: Mike Geer/Lehigh Athletics)
"We went right at 'em."
That was head coach
Andy Coen
talking to Lehigh Sports'
Steve Lomangino
after the Mountain Hawks' 42-21 win over Bucknell.
With their Patriot League title hopes on the line, and the No. 1 defense in the Patriot League the opposition, it seemed like the Mountain Hawks might enter into the type of defensive struggle that defined last year's game against Bucknell.
But after
junior LB Mark Walker
forced and and grabbed a Bison fumble and returned it to the Bucknell 9 yard line,
junior QB Brad Mayes
didn't mess around.
After one play, Mayes found
senior WR Gatlin Casey
in a place that was familiar to him - the end zone, that is - and Lehigh leapt to a 7-0 lead.
After a big touchdown run by Bucknell
RB Joey Freshnock
to tie the game at 7, Coen and the Lehigh offense would fire up the bus.
Junior RB Dominick Bragalone
, that is.
Resembling
RB Jerome Bettis
, he would burst through the line, evade a tackler, and kicked in his second gear to give Lehigh a 14-7 lead, his first of three touchdown runs on the afternoon.
RB Dom Bragalone TD Run
"It's great to see all my friends and family," a happy Dom Bragalone told Steve Lomangino afterwards. "Just people from our town coming out, and all the support that they show for all local athletes is amazing. It's always fun coming back home and putting on a show for them."
Both Bragalone and Coen praised the hard work of Lehigh's offensive line in setting up the great offensive day for Lehigh.
"The offensive line has been doing a great job all year," Bragalone said. "It shows what a great coach
Andy Merino
is, and the schemes and the playcalls we have. It's nice to know that we have guys who can back people up if something happens, too."
After a fumble on the ensuing kickoff by the Bison recovered by
junior LB Brian Olshanski
, Lehigh again would run right at the Bucknell defense again, capping off a short, 33 yard drive with Bragalone's second TD on the day to give Lehigh a two touchdown lead.
Junior RB Micco Brisker
couldn't help but get in on the fun, either - with Mayes reading the Bucknell blitz perfectly, he handed the ball off to Micco and Brisker went right through the hole on the blitz, getting a beautiful 22 yard rushing touchdown.
Lehigh would have only 190 yards on the ground, but it felt like a lot more as four of Lehigh's six touchdowns came on the ground, with the other two going to Gatlin Casey, who ended the day with 5 catches and 88 yards. It felt like every catch he made was either a score or a critical first down.
On offense, Mayes also relied on a lot of big grabs by
senior WR Troy Pelletier,
who had 9 catches and 97 yards, setting a Patriot League receptions record in the process in his record-breaking Patriot League farewell tour.
Gatlin's last TD was set up by Walker's second forced turnover of the day, an interception to midfield that set up Mayes' 47 yard strike to Casey.
LB Mark Walker Fumble Return
"It was a great team win," Walker said. "Our coaches focused on us being consistent, and that's what we did. I'm definitely getting more comfortable out there, getting looser, just trying to be more disciplined and make less mistakes."
"Mark's doing a great job," Coen said. "He's the spark we didn't have earlier in the season. He's kind of a lightning rod on defense."
Lehigh would have four turnovers forced on the afternoon, including an interception at the end of the first half by senior DB Quentin Jones to thrwart a key Bison drive.
"Where have they been all year?" Coen joked afterwards. "That was great, though. Offense, defense, special teams, they were all a part of this win. The kids really took to the plan we had on offense and defense. And I'm pleased with how our defense is growing."
With the victory, Lehigh faces a Holy Cross team that went to the Bronx and pulverized Fordham, 42-20, during their homecoming.
Swarming Lehigh Defense
"I'm very excited," Walker said. "We're still in this thing. As bad as we've played on defense all year, we still have a chance to turn things around and make this into a good story."
"We're all in this together," Bragalone said. "It's do-or-die at this point. That was our motto going into this week, and it's going to be that the rest of the year."
"We'll take them one at a time," Andy said. "It should be a lot of fun."