Lehigh at Bucknell Game Breakdown and Fearless Prediction: Will Homecoming Spell Doom Again For Lehigh?
We break down the Bucknell game - and we give our fearless prediction, below the flip.
In my preview, I spent a lot of time talking about Lehigh, but let's take a minute to try to get inside the heads of this Bucknell team this weekend.
The Bison, along with every other team in the Patriot League, are still mathematically alive for at least a share of the Patriot League title. But considering that mathematical window closes the second Colgate beats Georgetown (or, barring that, Lafayette), it's more realistic to say that the Bison are playing for pride, and the future, this Saturday.
Not that that's going to make things any easier this weekend - Fordham, in similar circumstances, beat Lehigh 45-35 last weekend.
And something that has to be remembered is that for every team on the schedule, beating Lehigh is a huge goal. Along with Colgate, Lehigh's perennial success makes opponents just that much more focused during Lehigh week to take them down, and all the better if the Mountain Hawks are 2-6.
Even worse for Lehigh, this game comes on Bucknell's homecoming, which will add some extra juice to the Bison for this matchup. In 2013 on homecoming, it was Bucknell that beat Lehigh 45-23 that really started to change expectations for the Bison football program.
Last year Bucknell fought a tremendous fight at Murray Goodman Stadium in an effort to prevent the Mountain Hawks from clinching the Patriot League Championship.
Joe Susan
's team did so by focusing on what Bucknell does best; control the ball; shut down the opponent's offense; and minimize turnovers.
The Bison held Lehigh to their lowest scoring total all season - 20 points - and very nearly rallied for the game-winning score, until
LB Pierce Ripanti
got past a future NFL lineman to sack Bison
QB R.J. Nitti
, and in effect making the Mountain Hawks Patriot League Champions
after a hard-fought war, 20-13
.
— Keith Groller (@KeithGroller) November 5, 2016
It wasn't the sort of game easily forgotten on either side, and you can bet there are a bunch of Bison players that would love nothing better to get the victory here for pride and to give this Bucknell team the memory of one more satisfying win over the Mountain Hawks.
(As an aside -
OL Julie'n Davenport
, the offensive lineman that Pierce got past, is scheduled to get his first start for the NFL's Houston Texans this weekend. "He's got the IQ, maturity and demeanor to be successful,"
Susan said.
"His demeanor is outstanding for the position that he will be playing, and if he maintains that, he'll be employed a while (in the NFL).")
Let's tackle this weekend's huge game in Lewisburg.
Breaking Down Bucknell
Offense
The Bison's main game when it comes to offense is ball control. In their most effective games (think vs. Sacred Heart), Joe Susan's team will hold onto the ball more than ten minutes than their opponents. Against the Pioneers, they won the time of possession game 38 minutes to 22.
Bucknell's largely runs a two-back set out of the shotgun, meaning that the quarterback frequently has a running back and fullback flanking him at all times (or sometimes a TE). The offense uses a bunch of shifts based on the flow of the play, to open up holes for the runners and the quarterback to run the football, while using play-action to set up big plays in the passing game.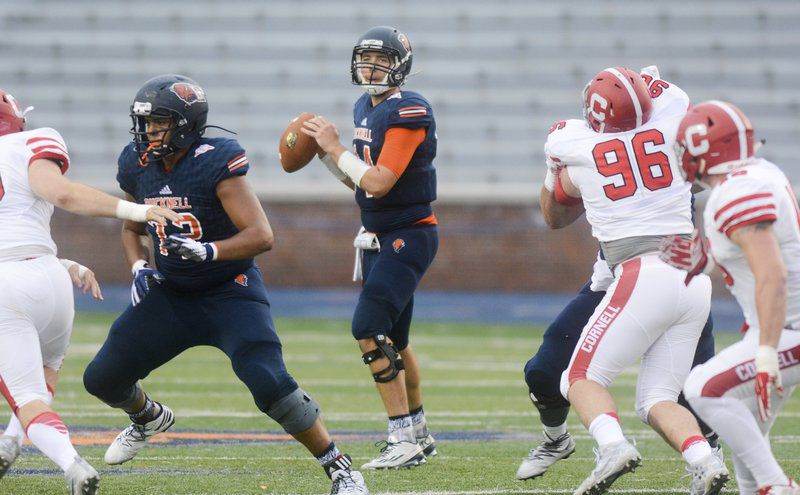 QB Matt Muh (Daily Item)
Last week against Colgate, Bucknell struggled mightily against Colgate's defense, scoring only 3 points.
Senior QB Matt Muh
came in during the second half, already down 33-3, and didn't score a touchdown against the Raiders, though that was a bit misleading since Bucknell did manage to get several prolonged drives that didn't result in points.
Muh is listed as the starter this week, and thus far this year has been the more steady hand at QB with fewer turnovers. However it wouldn't be a shock to see
sophomore QB John Chiarolanzio
come into the game at some point, perhaps in the two-minute drill, since he's delivered more big plays in the passing game. Chiarolanzio started last week, though, and really struggled, forcing Susan to go with Muh in the second half.
RB Chad Freshnock
Bucknell's offense suffered a huge blow when they lost
senior RB Joey DeFloria
after the Cornell game. A huge part of their offense along with
sophomore RB Chad Freshnock,
Susan has had to rotate in
freshman RB Marquis Carter
and
junior RB Omar Garcia
to shoulder the rushing load, but tellingly, the Bison's yards per carry for the season has been an anemic 2.1 yards per carry.
Freshnock has really impressed during his short Patriot League career, a 6'0, 220 lb physical back that is hard to take down. Carter will take over when Freshnock needs to take a breather, while Garcia is the smaller, speed back who, along with Freshnock, will provide a useful target for Muh out of the backfield.
Senior TE/FB Andrew Pobielski
, too, doubles up as an effective lineman out of the backfield and an outlet target in the passing game.
Senior WR Jack Horan
has been Bucknell's leading receiver, a 6'3, 210 lb target that has gotten 377 yards receiving on the year and has been the closest thing to a go-to guy the Bison have, while 6'1
junior WR Alan Butler
(189 yards, 1 TD) has been a more possession, move-the-sticks type of receiver. Last week's top receiver was
sophomore WR Justin Bethea
, with 3 catches for 48 yards, while
freshman TE Alex Twiford
has mostly been kept in to block.
Bucknell's offensive line has struggled to get holes opened consistently for their running game to take hold, especially last week vs. Colgate. The Bison had 30 rushing attempts for 62 yards, while Lehigh had 212 yards against the same group in the same stadium. The O line is a very young unit, with the exception of 6'4, 280 lb
senior OL Chase Watkins
.
DT Abdullah Anderson
Defense
Lehigh's defensive players might want to bring a notebook and pencil to the game on Saturday to take notes on how a really good multiple 4-2-5 defense is run. It's the same defense Bucknell has run in years past, and once again it is a tremendous group. When Bucknell has been successful, their defense has been stopping drives consistently and forcing turnovers. That's what Lehigh's going to have to worry about on Saturday
The biggest (and I mean biggest) standout in their front four is 6'4, 295 lb
senior DT Abdullah Anderson (5 TFL, 1 INT),
a guy who NFL scouts have been looking at all season. Don't be fooled by the 5 tackles for loss - he's a force in the middle and an overall disruptive force in both stopping the run and tipping passes at the line of scrimmage.
Joining Abdullah on this daunting defensive line are a pair of freshmen,
freshman DE Simeon Page
(5 1/2 TFL), and
freshman DE Roger Mellado
. The Bison have had injury problems on the defensive line outside of Page and Anderson, and
senior DE Trevor Fennimore
is listed at starting defensive tackle this week as a part of that shuffle.
LB Ben Richard
That group is paired with Bucknell's tackle leader in
senior LB Ben Richard
(63) and a proven all-around contributor in the run and pass game with
senior LB Mark Pyles
(4 1/2 TFL). In the Bison's aggressive 4-2-5, both linebackers have thrived as tacklers and in the blitz.
With the guys up front getting so much pressure on the quarterback, perhaps it's not surprising that Bucknell's has eight interceptions on the season.
Bucknell's secondary features
freshman ROV Brandon Benson
(25 tackles,
sophomore SS Aaron Brown
(23 tackles, 2 INTs),
junior SS Joe Lauro
(49 tackles, 1 INT),
junior CB Bryan Marine
(43 tackles, 1 INT) and
senior CB Colin Jonov
whom you may remember from his amazing pick six to beat Lafayette in OT.
— Bucknell Football (@Bucknell_FB) October 23, 2017
Special Teams
Bucknell's return games are always some of the better units in the Patriot League and again they deserve Lehigh's respect this week.
Sophomore RB Stefone Moore-Green
(21.6 yards per kickoff) and
junior CB Bryan Marine
has also historically been a solid return man, while
junior WR Alan Butler
will be returning punts.
Junior P Alex Pechin
(44 yards per punt) has been a tremendouns Patriot League punter, and may be first-team all Patriot League by the end of the season. Susan is an aggressive coach and has been known to frequently go for it on 4th downs with makeable FGs, though
junior PK John Burdick
has been 9 of 12 on FGs this season, including a 41 yarder.
LFN's Keys to the Game
1. Run Away!
No, that does NOT mean run away scared from Lewisburg - it means, check where
DT Abdullah Anderson
is, and run somewhere else. A running game going in a bunch of different directions away from Anderson with
junior RB Dom Bragalone
and friends could set up some nice play-action opportunities for big plays.
2. Stretch the Defense.
Lehigh is blessed with such a dynamic offense, but what I would do to combat Bucknell's aggressiveness is to run and pass to the outside to work that aggressiveness against them.
Junior QB Brad Mayes
will hopefully stretch that front six with screen passes, and catching them in the blitz once could yield great dividends.
3. Turnovers.
Nothing doomed Lehigh last week more than four horrible turnovers, two in Fordham's red zone, and two inside their own 20, complete momentum-crushers. That cannot happen again if Lehigh is to hope to win this football game. The Mountain Hawks need to protect the ball more and hold onto the ball, even in the middle of a big pass rush. It could be the most important part of this Saturday's game.
Fearless Prediction
Lehigh is in control of their own destiny in November for the Patriot League Championship. If they win today, they will have a chance to have a meaningful game next week vs. Holy Cross. The dream of rings with "Back To Back Champions" on it is still alive. But in order for it to remain alive, this Lehigh team will have to play at a higher level, a higher intensity, and a higher level of pride than they did last week vs. Fordham.
In Lehigh's favor, Bucknell is unlikely to do this week that, say, Yale did in Week 3 and unveil an entirely new offense. They will certainly throw in some wrinkles and will play with pride and passion, because to Bucknell, this is their big moment on Homecoming to beat the team they hate more than anyone on their schedule. But we know how Bucknell will basically come at this team. The question is whether Lehigh will be able to stop it or slow it down.
Lehigh is lucky. They have a chance in November to make a run at the title, even though they've showed themselves to have a lot of flaws. Most 2-6 teams at this point of the season are starting the youngsters and playing for the seniors, but this Lehigh team still can possibly win the League and get as a reward more football games to play. It's something to treasure - if they can fix or minimize these flaws by the end of the season.
Lehigh 35, Bucknell 17