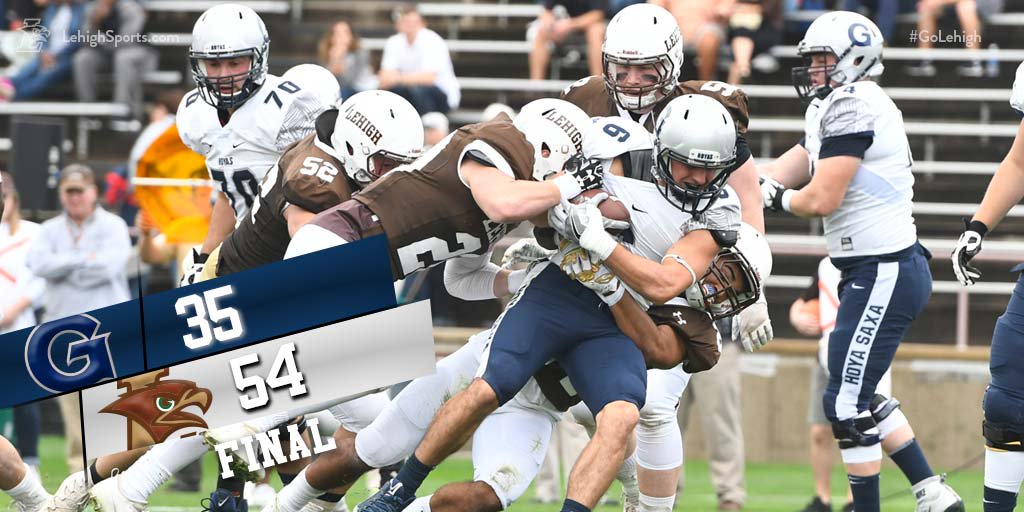 Before the game, the Lehigh sports social media team had some graphics ready for a record that
senior WR Troy Pelletier
had a high probability of breaking today.
Troy, or "The Doctor", as I call him, had to get 60 yards receiving to beat the Patriot League record for receiving yardage.
After he skied past that record, the social media folks had to keep assembling a lot more graphics.
By the end of the game, more records would be falling left and right. The career Patriot League touchdown record - the first time since 2001 since a Lehigh player nabbed 4 touchdown receptions in a game. Somewhere in the fourth quarter, he'd grab his 16th reception, breaking his own record for receptions in a game.
In the end, Lehigh cruised, never trailing in a 54-28 win over the Hoyas, but the story was Pelletier, whose amazing 16 catch, 197 yard, 4 TD game was the talk afterwards.
From the get-go,
junior QB Brad Mayes
found Troy early and often, finding Troy in the end zone for his first touchdown early in the second quarter to take an early 14-0 lead.
After Georgetown
QB Gunther Johnson
found
WR Michael Dereus
for an 80 yard strike, Mayes went to the well again, embarking on a 6 play, 65 yard drive ending with a beautiful touchdown pass to Troy where he reached around the pylon for his second score.
It was that play that had Pelletier beating another one of
WR Rennie Benn
's receiving records, this time the Lehigh receiving yardage record. At Monmouth, Troy eclipsed Benn's receptions record.
Soon thereafter, Georgetown would score again, and again it was Mayes to Pelletier, capping off a 10 play, 75 yard drive with a 7 yard grab near the end of the first half to keep the double-digit lead in place.
At halftime, Pelletier already had 3 touchdowns, 10 catches, and 115 yards receiving, and he would simply add to that total in the second, capped off by his record-tying 4th touchdown, a 48 yard strike where he beat his man on the left side and out-sprinted the competition to help Lehigh go up 44-21.
Overall, it would be a great day for the Lehigh offense once again, as Mayes would go 31-40 passing with 384 yards,
junior RB Dominick Bragalaone
would add 122 yards and 2 rushing TDs, and senior RB Nana Amankwah-Ayeh would put the final exclamation point on the win with a 5 yard TD run.