Lehigh's Bye Week: Former Teammates of Lehigh Players Shine; Army Surges; Columbia Shines; Bucknell Stuns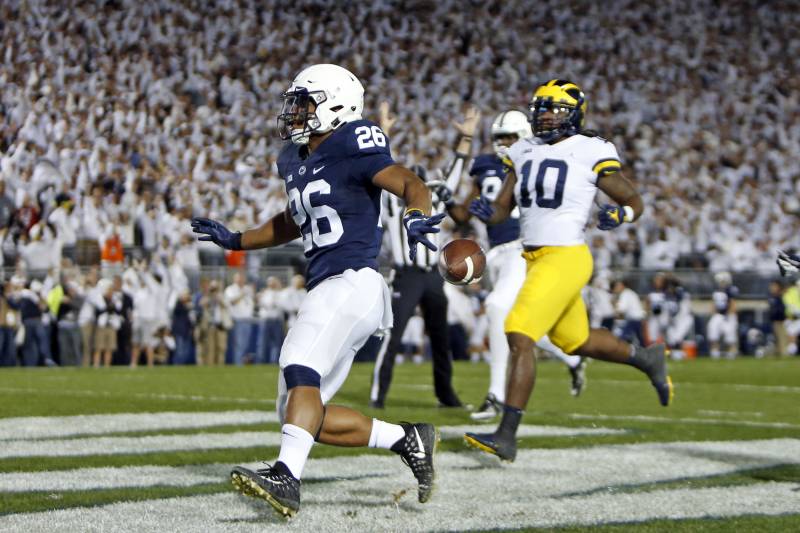 I know, I know, it's strange when there's no Lehigh football game result to pick apart. That doesn't mean that the rest of college football stood still during the Mountain Hawks' bye week.
Lehigh's bye week came during a time when Penn State football, already rabid at the best of times, was at peak foaming-at-the-mouth after Happy Valley hosted ESPN College Gameday on Saturday morning and Michigan on Saturday night.
In case you've been living under a rock, Penn State
RB Saquon Barkley
has a local connection: he went to Whitehall at the same time a guy called
QB Nick Shafnisky
was under center. Now, Barkley is the odds-on favorite to win the Heisman with the Nittany Lions after a 263 yard, 3 TD effort against the Wolverines as Penn State coasted to a 42-13 win.
Completing the return to 1986, Notre Dame also went to 6-1 after their own resounding 49-13 win over USC Saturday night as well, surprising in the ease in the way
RB Josh Adams
carved through the Trojan defense for 194 yards and 3 touchdowns. Oh yeah, Josh Adams' high school isn't too far from Barkley's - he came from Central Bucks South in Warrington, the same high school where Lehigh
freshman LB Nate Norris
played.
Seeing the success of Barkley and Adams on college football's biggest Saturday showcase serve as a fresh reminder that Lehigh's football players frequently come from the same schools that produce some of these massive football talents.
RB Saquon Barkley (Morning Call)
Barkley and Adams wasn't the only big news in Eastern football this week.
Remaining at the FBS level for the moment, Army continued their climb to a successful season after their thrilling overtime win against Temple 31-28 up at Michie Stadium this weekend.
Trailing by seven with 1:31 left, the Army West Point football team drove 79 yards, using - of all things, considering their triple-option offense - five passes. Entering the game with 1:31 to play,
QB Kelvin Hopkins Jr.
completed five passes and drove the Black Knights down the field before finding Adams in the end zone for the game-tying score with one second remaining to
WR Jermaine Adams
.
RB Josh Adams (Bucks County Intelligencier)
After winning the game with a field goal in overtime, Army moved to 6-2 with the win and officially accepted a bid into the Lockheed Martin Armed Forces Bowl, which is slated for Dec. 23. Next week, at 3:30 Eastern, Army plays in a bowl-like game at Air Force in Colorado - Army, Navy and Air Force compete yearly for the Commander in Chief Trophy, a prize the Knights haven't had in their possession since 1996.
In the FCS world, pundits can't get enough of the story of Columbia, who could be one of the most unlikely 6-0 football teams in the country. Led by head coach
Al Bagnoli
, who signed his contract to coach the Lions while the folks at Penn were cleaning up the confetti from his retirement party, Columbia was coming off a 3-7 season last year, seen as a success precisely because they improved from their 2-8 season in 2015 and actually bagged a couple of wins in Ivy League Play.
"Are the Lions finally on the cusp of something again under head coach Al Bagnoli?" I wrote in the preseason, after
picking them to finish seventh in CSJ's Ivy League Preview
and suggesting that a .500 record would be a worthy goal for the Lions. Instead, Columbia has skied past that milestone by beats two teams that beat Lehigh in their 0-5 start: Wagner (17-14) and Penn (34-31). Even more interestingly, there's no one aspect of the team that is any more developed or populated with stars: one week, the offense piles up 34 points against Penn, the other they eke out 22 points against Dartmouth and manage to figure out how to beat Dartmouth. The key thing Bagnoli seems to have instilled is confidence.
Bucknell also made big headlines by beating Lafayette in probably the most unusual way I've ever seen: on two interceptions returned for touchdowns. On the first Leopard drive of the game,
S Drew Newcomb
stepped in front of a pass in the flat and took it to the house, the only points the Bison would score in regulation.
Lafayette would squeeze out a rushing touchdown to make it 7-7, which held all the way to overtime. On the very first play, a looping pass was alertly tracked down by
CB Colin Jonov
, who took it 95 yards for the unlikeliest of overtime winning scores - a score that made sure Bucknell's offense didn't even take the field.
"It's an indescribable feeling," Jonov said. "Initially, I saw a cutback, and I took it. And then, after I saw and took the cutback, I saw nothing but green. I was just thinking, 'Do not go down no matter what. Just stay on your feet and score.' And that's what happened."
— Bucknell Football (@Bucknell_FB) October 21, 2017