Lehigh at Fordham Media Pack (w/ Video): Mountain Hawks Try To Maintain League Momentum in the Bronx
One aspect of the Lehigh game at Fordham that doesn't get a lot of attention is that
the last time the Mountain Hawks went to the Bronx and came away with a win was in 2011.
Even before
RB Chase Edmonds
then broke a Patriot League single-game rushing record against Lehigh in their 59-42 win in 2015 - a record he later broke against Lafayette - Lehigh lost a 52-34 shootout in the Bronx in 2013 as well. In the last two games in the Bronx against Fordham, Lehigh has allowed a 50-burger, as they say, two straight games.
"Fordham racked up 630 yards of offense on the Mountain Hawk defense and cracked 50 points on Lehigh's D, the first time that happened since 2007,"
I wrote about that 2013 game.
"It wasn't only Fordham's third-ever win against the Mountain Hawks - it was also Lehigh's first regular season road loss since 2010, when Lehigh traveled to New Hampshire and lost 31-10."
That was only marginally as painful as the 2015 game, which also happened to be the debut of
junior QB Brad Mayes
after
QB Nick Shafnisky
came out of the game after a late hit during a 2 point conversion.
Mayes very nearly rallied the Mountain Hawks to make it a one-score game, but a missed FG try ended the dream, cemented be a 75 yard touchdown run by - who else? - Chase Edmonds.
Weekly Game Previews
WFMZ Preview
— WFMZ-TV 69 Sports (@69Sports) October 25, 2017
The experts pick who they think will be winning this weekend:
Lehigh 52, Fordham 45:
LFN's Game Breakdown and Fearless Prediction
Lehigh 49, Fordham 42
Keith Groller,
The Morning Call
Lehigh 57, Fordham 31:
The FCS Wedge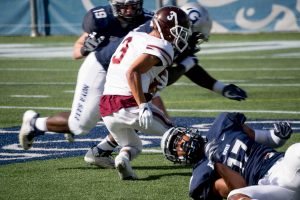 LFN Lehigh at Fordham Game Preview: Unmet Expectations - And Hope - Will Clash In The Bronx
This was not how it was supposed to be.
Back in March, looking at the schedule, plenty of Lehigh and Fordham fans looked at the schedule and circled October 28th, 2017 as a must-see game.
WR Troy Pelletier? RB Chase Edmonds? Are you kidding me? It might be a battle of nationally-ranked teams! There's an outside chance ESPN College Football Gameday might show up in New York City! Imagine that!
College Football Gameday did indeed come to New York City this season. But it wasn't for the matchup on October 28th, 2017.
Now that the date is very close to being upon us, a very different College Football Gameday-free matchup awaits.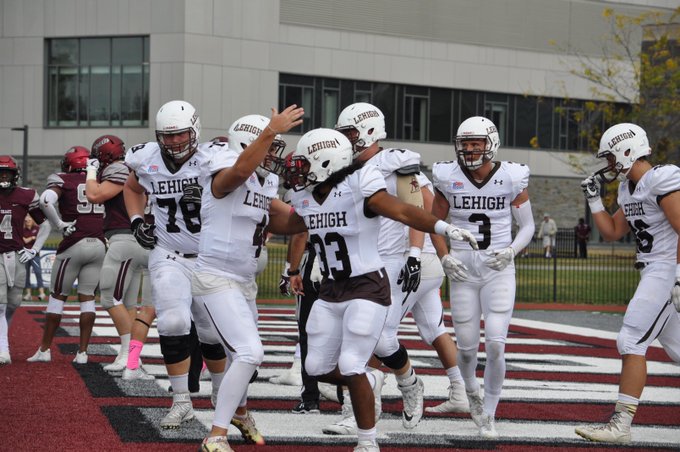 The Morning Call: Mountain Hawks Want To Soar Into Bye With Another Win
Coen remains optimistic that his defense can continue its upward trend.
"I saw life in our defense in the Wagner game and we played very well against Georgetown," Coen said. "We also had some good moments against Colgate. The kids are feeling more positive about what they're doing. Confidence is a big thing."
Coen said the defensive staff has tried various things in terms of scheme and getting players in the right spots.
Sophomore CB Marquis Wilson
said: "We've been improving. We've been stopping the run and getting teams to put it up in the air. We feel like if we can put the game in the defensive backs' hands, we can win."
Brown and White: Lehigh D-line prepares for matchup with one of country's top running backs
"Going against (Edmonds) is always interesting, and I've been doing it for a couple of years now," fifth-year defensive lineman Jimmy Mitchell said. "Last year it felt like we shut him down, but he still managed to get 180 yards — which isn't really shutting him out at all, but he didn't score, so that's always good."
Mitchell said in order to control Edmonds, the defensive line needs to make sure it stops Edmonds within the first three yards to make sure he doesn't get that momentum. Mitchell said Edmonds has the ability to balance himself well and take multiple hits before going down. If he is not stopped early, he will continue to move forward.
"Not one man's going to tackle him," Mitchell said. "We got to get all 11 hands to the ball to tackle him."
Lehigh (2-5, 2-0 PL) remains optimistic and believes with practice, the team can claim a victory to move to 3-0 in Patriot League play.
"Edmonds is a great player, but honestly, if we just play our game plan, do what we do and tackle — I think that as a team, we're going to do really well," senior defensive lineman Harrison Johnson said.
Weekly Player Highlights
LehighSports.Com: Inside the Defense with Jimmy Mitchell