(Photo Credit: Pat Goodridge/Daily Pennsylvanian)
"[We're] trying not to over-plan for Lehigh," Penn head coach
Ray Priore
said in his first Penn coaches' teleconference of the year. "And the kids are very focused. We got off to last years' start 1-3, our first loss was to Lehigh, and they tattooed us pretty good up there,
so our kids remember that...
"
If there was any doubt that the Penn players had somehow forgotten the way they kicked off the Ray Priore era - that they had forgotten that humbling beginning to their Ivy League championship season from last year - any doubt of that was easily erased by the easy way that "
so our kids remember that
" uttered from Priore's lips at the press conference.
College football head coaches generally don't like their opponents lying in wait for them for months upon months upon months. They prefer to sneak into town competing as lightly-regarded underdogs, preferably playing a "scrappy, fundamental game" (whatever that means), and escaping town with a character-building win and then heading home on the bus.
Head coach
Andy Coen
and the rest of the Mountain Hawks will definitely not have that luxury heading down to Franklin field this weekend. They're going to have a riled-up, laying-in-wait Quaker team that are favored to repeat as Ivy League champions.
"Our kids remember that."
The Penn players, as they
remember the 42-21 win by Lehigh last year
, probably have a lot of visions of
senior QB Nick Shafnisky
completing passes to
junior WR Troy Pelletier
.
Penn Remembers
The duo had one of their best outings of the year last season against the Quakers, with two of Shaf's three touchdown passes being connections to Pelletier.
Shaf went 24 of 34 passing for 250 yards, with 10 of those passes finding Troy for 104 receiving yards.
It would be Lehigh's first game in 2015 where the Mountain Hawks crossed the 40 point barrier, the first of five games where they would score that many points.
"I just want to show our fan base that this team is a lot different than last year, offensively, defensively, and collectively," Shafnisky said after that game. "Just keep going at it, keep working."
Maybe from Penn's perspective, the Quakers were a team filled with doe-eyed youngsters that hadn't gotten everything all together yet.
Maybe by the time they had figured out how a Ray Priore-coached game was going to go, they were down 21-7 at half, thanks to Shaf's and Pelletier's touchdowns, and were too far behind to craft a convincing comeback.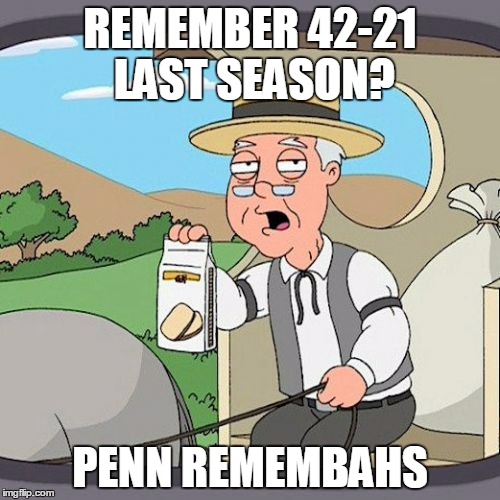 ("Penn remembahs,"
you picture the Quakers saying in their best Pepperidge Farm voices.)
"That was a mark of a lot of firsts," Priore said of the loss at Lehigh. "My first year, making calls, making sure I didn't screw up the coin flip, that sort of stuff.
"And I know [current Penn defensive coordinator and former Georgetown head coach]
Bob Benson
, he's a little focused on this one," Priore said later. "That was his first demonstration, and they hung over 40 on us, and as a coach, you take it personal."
"Our kids remember that...."
In 2015, the Quakers turned things around in a big way after they got beat by Lehigh.
They started things off by notching their first win over Villanova in 104 years, stunning the Wildcats 24-13 to give coach Priore his first-ever head coaching victory.
And the party wouldn't stop there.
Despite setbacks to Dartmouth and Fordham, Penn would win their final six conference games to become co-champions in the Ivy League, and in the process upending Harvard 35-25 to bust up the Crimson's 22 consecutive game winning streak.
The 2015 season was a greatly satisfying year for the 7-3 Quakers, except for a few blemishes to their record.
"Our kids remember that...."
Going into the 2016 season, the Quakers have the wind at their backs compared to last year's newness.
"This year, we have a second-year offense, a second-year defense, all the way around we look to have a better start, a faster start, than we we were a year ago," Priore said. "With out offensive guys in sync, and out staff in sync, we have a real good chemistry between the kids and coaches."
It's clear that the Penn team that Lehigh will play this season will have the same faces, but with a very different level of confidence.
"I think they're confident in what they're doing," Coen
said in the media session today to Keith Groller of The Morning Call.
"But there could be a couple of wrinkles that will throw you off because you haven't seen any film at all. They did graduate quite a few guys so there will be some new bodies for them. You don't know what they look like or how they're going to play."
Probably the biggest loss to graduation of all for the Quakers comes from
LB Tyler Drake
, who led the Quaker defense in tackles (80), tackles for loss (12 1/2) and sacks (8 1/2), which is a lot of production to lose on that unit. Also,
TE Ryan O'Malley
, who made it to the Oakland Raiders' practice squad, was an all-around solid blocker and tackler for Penn last year too and won't be easy to replace either.
But Priore said, with a limited preseason and essentially a "bye week" for his students before the game, the Quakers won't be any fresher than they will be going into Saturday.
Nothing Hazy Here to Penn
Penn is also quite aware of
senior QB Nick Shafnisky
's abilities, too.
"They are a very talented team," Priore said. "They have a really really talented quarterback that can move with his feet, and if you go back and watch all of our tape last year, the QBs that can move are the ones we had the biggest challenge with on the season."
Andy Coen, who is good friends with Priore once served with him on Penn's staff under Al Bagnoli, also understands completely the challenges of Penn.
"We haven't been tested in the passing game by the first two teams we've played," Coen said. "Penn will spread the ball and will throw it. They'll be balanced because they have a good tailback, but they're going to throw the ball more than the first two teams. We've just got play well defensively. Whether it's offense or defense, we're going to have to finish."
Lehigh will have to finish in order to win on Saturday, because there's a Penn coaching staff and a bunch of Penn players who remember.
Game Notes And Injuries
One of the great discoveries about this week's game notes is that Lehigh enters this week relatively unscathed from an injury standpoint. The entire two-deep
is unchanged from last week's game
.
Weather Report
Great Venue. Easy Parking? Um...
Though there was at one time a worry about showers and bad weather raining on Franklin field this weekend, it is looking like the (somewhat odd, admittedly) 5:00 PM kickoff Saturday
will have picture-perfect weather
. If the weather holds, with a high of 80 during the day and dipping to a seasonable 70 at night, it's going to be perfect weather to go to watch a game.
Special Stuff Happening
The Lehigh Football partnership
has a terrific deal for this weekend's tailgate at Franklin Field.
For $15 for parking and $15 for food, the visiting tailgate is really close to the stadium, which, as people who have been around Center City might know, is really difficult around Franklin Field.
If you have easy access to public transport, taking SEPTA is a real option for getting to the game. From 34th street station, Franklin Field is a seven minute walk, and will also mean you don't have to pay that parking fee.
Yuge Penn Person You Better Have Heard Of
Two Penn Graduates: Donald Trump and Tiffany Trump
You might be aware that a Penn alumnus, the son of a New York real estate magnate,
Donald Trump
, is running as a Republican for the Presidency of the United States. I won't go into all that politics stuff here. But one thing that fascinates me about him, as you might expect, is his time at college.
One of the funny stories about Donald Trump is how he went to Fordham for a year before transferring to Penn. "I decided that as long as I had to be in college, I might as well test myself against the best," he wrote in his biography, which to me is a stunning rebuke of the time he spent there
and a big slap in the face of Fordham
.
The New York Daily News
gives a great idea of how Donald Trump the undergrad, who went to Fordham for two years, sweet-talked the girls and participated on their squash team,
Members of the squash team were in awe of Trump's extravagance when he took out his golf clubs and started carelessly hitting balls into the river on one of their trips, according to [biographer Gwenda Blair].
Despite finding his place athletically, Trump by no means thrived academically in his two years on Rose Hill. He went through the motions, content with the convenience of a school close to home and not at all proud to be there — ironic because Fordham was the only school to accept him.
"My impression from talking to other (Fordham) students was he was really kind of making time until he figured out his next step," Blair said. "It seemed like he figured out enough to get along, but he never seemed to be set on being a Fordham graduate. That wasn't what he was headed for."
The Republican nominee is almost as dismissive of his time at Penn's Wharton Business school as he is about his years at Fordham.
Reports of Trump's grades at Wharton vary. The New York Times reported in 1973 and 1976 that he graduated first in his class. But in a 1985 biography of Trump, Jerome Tuccille wrote that he was not an honor student and "spent a lot of time on outside business activities."
Another biographer, Gwenda Blair, wrote in 2001 that Trump was admitted to Wharton on a special favor from a "friendly" admissions officer. The officer had known Trump's older brother, Freddy.
Trump's classmates doubt that the real estate mogul was an academic powerhouse.
"He was not in any kind of leadership. I certainly doubt he was the smartest guy in the class," said Steve Perelman, a 1968 Wharton classmate and a former Daily Pennsylvanian news editor.
The
excellent Daily Pennsylvanian article that talks of Donald Trump's time at UPenn
also adds some other interesting details about the man who, on the campaign trail, has made much of his Wharton degree and how it makes him "like, a really smart person," he's been quoted as saying.
"In a manner hardly consistent with his outsized personality," it reads, "college-aged Donald Trump was barely seen around campus on weekends, remained uninvolved in most campus activities and his picture was even absent from the yearbook. While there's no lack of Trump hotels, casinos and golf courses, no building on Penn's campus bears his name."
Trump had made a big deal about the amount of money that he has given to charity, but the fact that there is no Trump building at either Fordham or UPenn means that whatever the story of Donald Trump's largesse in other aspects of charitable giving, donating back to either of the universities where he spent his time in college is something he doesn't appear to have done.
LFN's Drink of the Week (#DOTW)
The Pennsylvania (#DOTW)
My loyal readers that if I find a Drink of the Week that delivers a good win, I'm very reluctant to change it up - "change the drink, change the result," is the fear, so why not go with what we know worked last time?.
Last year's #DOTW was
The Pennsylvania
, a drink that is extremely easy to make, with four parts rum (the recipe calls for Cuban rum; I am not that picky;) 1 part pineapple juice, and 1 part grenadine. Personally I liked removing 1 part rum and adding another part of something less sweet, for example, lemon juice, because that's how my palate works. (Also, as I mentioned before, it delivered a win.)
Last year, I mentioned that it's very easy to see this martini glass as a type of trophy for the winner of the Penn/Lehigh game every time it's contested, perhaps even with a slice of toast along the rim. My photoshop skills are not up to the challenge, but if you have the skills - email the author.
As always, Drinks of the Week have a place in responsible tailgates, but only if you behave yourself, don't get behind the wheel while impaired (or worse), and are over 21. Please do that. And leave plenty of time to sober up.