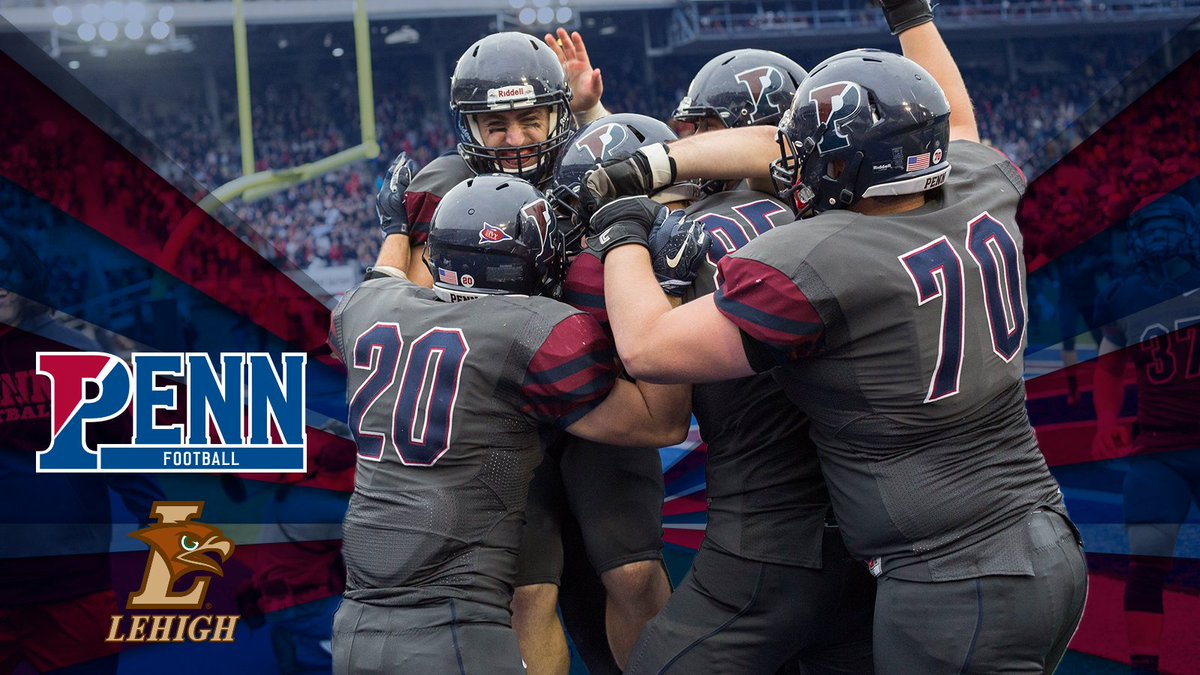 We break down the Penn game - and we give our fearless prediction, below the flip.
It sometimes is tough for coaches and media types alike to preview teams that haven't played a single down, and with the volume of Ivy League opponents Lehigh and other members of the Patriot League face, the Mountain Hawks get more than their fair share.
Last season, much was made of the fact that head coach
Ray Priore
and a huge hunk of brand-new staff were competing together in their very first college football game together, a fact that unquestionably helped Lehigh out
in a 42-21 win over the Quakers
.
This year, though, to some degree the tables are turned.
With a full year under their belts - and an Ivy League championship year, at that - the Quakers will be not at all like the inexperienced bunch that Lehigh played last year. They've had one year in the system, one year knowing the expectations, one year going through the drills.
Breaking Down Penn
Offense
So, having said that, exactly how do you break down a team that hasn't played a down? The answer is: you
pore over Penn's game notes
, you look around
at all the external press
,
examine the preseason media hoopla on the Quakers
, study the record and roster from last season, and see what you can find out.
There's also the fresh memory of last year's game - all of which can help paint a good picture of what to expect this Saturday.
Offensive coordinator
John Reagan
came to Penn from Kansas, bringing with him his somewhat conventional spread-run offense. At Kansas, Reagan was definitely old-school in terms of his type of offense, emphasizing time of possession and sustained drives, kind of an anti-
Chip Kelly
approach. However, time-of-possession wise, Penn wasn't a real clock-grinder, averaging close to 30 minutes per game. In that spirit of 50/50, that's also how Penn's offense works best: 50% run, 50% pass.
Like last season, according to the depth chart Penn should be lining up in a similar formation to Lehigh, with a base three wideout set, single back, and tight end in a standard spread set.
Penn QB Alek Torgerson
At quarterback,
senior QB Alek Torgersen
returns after an amazing title season for the Quakers.
All the lumps the talented QB out of Huntington Beach, CA suffered in the Quakers' 2-8 season paid off handsomely last season, where he completed almost 70% of his passes and connected for 19 touchdowns and nearly 2,000 yards passing.
Torgersen is definitely a better passer than a runner, though when the occasion has presented itself he's shown himself more than capable of taking off with the ball. A popular time for him to do so is in 1st-and-goal situations, where he has 10 TDs.
Though Ivy League football players almost always get tagged with the "smart football player" label because they're Ivy League QBs, Torgerson's "smart" change in football focus from a gunslinger to more of a game manager was a huge component of Penn's title last season.
He'll be looking to build his resume this season for the NFL, and with a successful senior season it's not unreasonable to think that the 6'3, 220 lb QB might find himself on an NFL roster next year.
Interestingly, listed behind Torgerson on the quarterback are two freshmen,
freshman QB Michael Collins
and
freshman QB Tyler Herrick
, ahead of a transfer from Colorado of the FBS,
junior QB Will Fisher-Colbrie
. Collins and Herrick are relative unknowns.
To go from a 2-8 starting QB to a 7-3 starting QB requires the emergence of other players, and a good portion of Torgerson's production came thanks to a star wideout exploding onto the national scene.
WR Justin Watson
Junior WR Justin Watson
went from secondary receiver in 2014 to unstoppable force in 2015 (1,082 yards receiving, 154 yards rushing, 10 TDs). How dominant was Watson in the passing game? The Bridgeville, PA native accounted for more than fifty percent of Torgerson's passing yardage last season, including 10 catches for 143 yards vs. Lehigh.
At 6'3 and 210 lbs, Watson makes for a tall target with impressive speed, and he can kill you from different spots on the field.
The other receiving options for the Quakers are team captain
senior WR Cameron Countryman
(367 all-purpose yards, 1 TD),
sophomore WR Christian Pearson
(29 catches, 404 yards, 4 TDs), and a couple of players who largely played on special teams last season,
senior WR Adam Strouss
and s
enior TE Erik Bokun
.
"I know [Bokun] is going to come out and give 100 percent, catch every ball and make some great blocks,"
Watson told The Daily Pennsylvanian
.
An underrated cause for Penn's resurgence last season was a mini-resurgence in the Quaker rushing attack, thanks to an effective run-by-committee approach
Senior RB Brian Schoenauer
(652 net rushing yards, 6 TDs) and
junior RB Tre Solomon
(453 yards, 7 TDs) were the 1-2 punch. Oddly, neither was a big threat catching the ball out of the backfield, though Reagan used Watson a fair amount in designed run situations as well.
Last season, running backs and wideouts often were "dual use", meaning wideouts would generally get rushing yards in certain situations and running backs would sometimes line up as receivers. It seems likely that this will continue this season as well.
OL Nick Demes
Penn's offensive line is bigger than both Villanova's and Monmouth's lines the first two weekends, notably with 300 lb
junior C Nate Kirchmier
. But the story in terms of Lehigh comes from
senior LT Nick Demes
, who was a teammate of Lehigh
senior NG Jimmy Mitchell
and considers him a "best friend".
"We decided on where we were going to college at about the same time," Demes said. "When we saw the schedule come out before junior year, it was pretty exciting. It's going to be nice to get a [second] chance to play against him. We trained together and we've generally been supportive of each other, but when we get out on the field we're definitely going to be competitors."
Defense
Head coach
Ray Priore
has for years overseen Penn's multiple 3-4 defense, and
Bob Benson
, a one-time head coach at Georgetown, returns as defensive coordinator. Priore mentioned in his pregame press conference that Benson "took personal" the 42 points the Quakers gave up last year to Lehigh, and will certainly have his team focused on avoiding a repeat of that this year.
The Quakers will try to do that with a decent number of graduating seniors, though
junior DE Tayler Hendricksen
(20 tackles, 5 tackles for loss) returns. Interestingly, inexperienced sophomore NG Brody Graham, at 255 lbs, is smaller than the ends Hendricksen and
junior DE Louis Vechio
, who only played in two games last season.
..
At linebacker Penn loses the heart and soul of their defense,
LB Tyler Drake
, but
junior LB Brandon Mills
(57 tackles, 2 forced fumbles, 2 INTs) returns from a unit that was truly a second-half team last year.
FS Sam Phillipi
On the outside, two relatively new starters at outside linebacker,
junior LB Ephraim Lee
and
junior LB Lukas Sonich
will be the starters, joining more experienced
junior LB Colton Moskal
(44 tackles, one pass break-up) on the inside. Still, though, on balance, this group is a lot less experienced than last year.
In the secondary, the Quakers do return a lot more experience, most notably budding star
sophomore FS Sam Phillipi
(46 tackles, 4 interceptions),
sophomore CB Mason Williams
(43 tackles, 4 pass break-ups), and
sophomore CB Jyron Walker
(20 tackles), three players who saw extensive time playing as freshmen.
Senior SS Alex Moore
, oddly has a lot less experience than the three underclassmen, only playing in six games last season.
Special Teams
Senior PK Jimmy Gammill
in the past has shown a good leg, connecting on a 42 yard FG last season, but didn't have a lot of opportunities for field goals, Priore often choosing to go for it rather than the long FG. He was strong on extra points, going 39/40 last year.
Junior P Hunter Kelley
improved on last year with a 40.9 average, including one 73 (!) yard punt last season. It's fair to say he's become a weapon in the kicking game.
LFN's Keys to the Game
1. Pouncing on Penn Early.
Like last year, the best way to combat the emotion of a team on opening day is to play disciplined ball and to jump to an early lead. A couple big plays on offense leading to touchdowns, dousing the Quakers early, might make things a much tougher go for Penn once again. A couple sustained drives led by
senior QB Nick Shafnisky
and
sophomore RB Dominick Bragalone
ending in the end zone would be the beginning of the recipe for winning.
2. Upsetting the Balance.
What made Penn's offense work so well last season was that "balance" between running and passing. It's tempting to try to double down on containing Watson, but I think forgetting about Penn's running back by committee might be a mistake. If Lehigh can meet the challenge of containing Penn's run game and force 3rd-and-longs, that could be surprisingly even more effective - and could be a real shot in the arm for the Lehigh defense, who gave up an awful lot of running yards the past two games.
3. Forcing Turnovers.
Lehigh's offense, for the most part, hasn't been turning over the ball, but the flipside of that, in terms of the Brown and White, is that they haven't been forcing many turnovers, either. Lehigh's defense has seen improvement the first two games of the year, but as an extra challenge for both squads, a goal of +2 in turnover ratio I think is very reasonable. If Lehigh can get +2, I really like their chances this weekend.
Fearless Prediction
It's not much more than a feeling: but I still have a feeling that Lehigh is better than last year. Unfortunately, there's not much concrete proof of that in the only statistic that counts: won/loss record. Lehigh is 0-2.
Penn features some very good players: some of them that could find themselves playing on Sundays, as many Ivy League teams do. And Penn has the ingredient that Lehigh has lacked in the first two games of the season: they know how to win close games. In Penn's remarkable six-game winning streak to close the season, five of them were of the come-from-behind variety.
Flipping this script for Lehigh won't be easy, especially at Franklin Field, a place that hasn't been easy for Lehigh over the years. It won't be easy, against an offense with one of the best QB-to-WR combinations in all of FCS. Can Lehigh get that desperately-needed win down in Philadelphia?
Lehigh 30, Penn 27