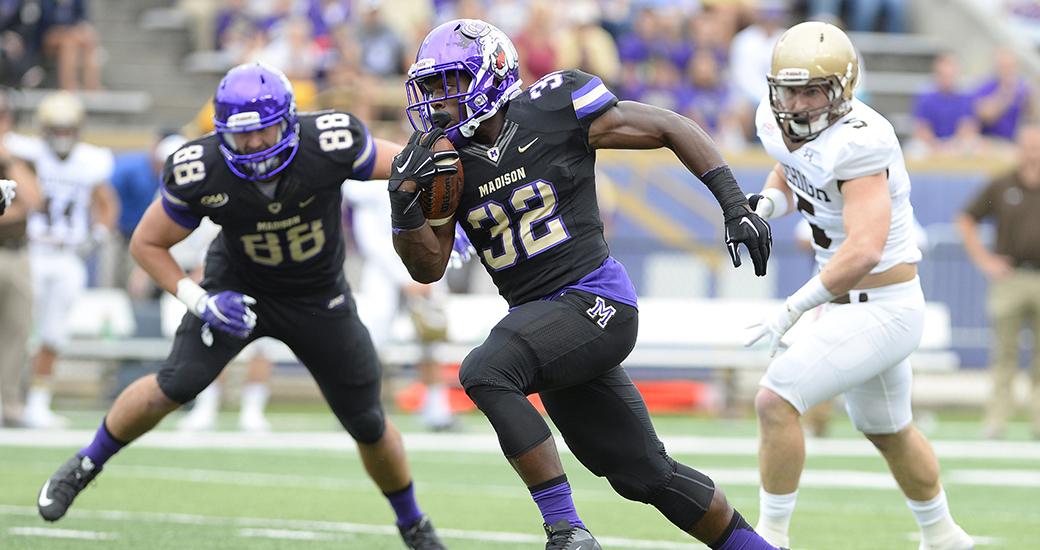 If you'd like, you can check out my FCS Top 25 vote below.
People around the country are starting to understand that
James Madison
is a pretty damn good FCS football team.
At 6-0, they bear little resemblance to the team that squeaked by 3-8 Lehigh last season. The lowest offensive point total they put together in a game was 38 - versus
Stony Brook
, who could be a playoff team.
QB Vad Lee
is firing on all cylinders, just showed up in
Sports Illustrated's
Faces in the Crowd, and the Dukes faithful may be getting a look from College Football Gameday in a few weeks.
After they made mincemeat of Lehigh in Week 2, I knew they were good. But I didn't really know how good until they got into the league portion of the schedule. They pounded
Towson
51-30 last weekend, and they will in all likelihood go 7-0 after their trip to 2-4
Elon
this weekend. I've had them at No. 1 the past three weeks or so, and they've amply justified my pick.
1: James Madison Dukes
2: Jacksonville State Gamecocks
3: Illinois State Redbirds
4: North Dakota State Bison
5: Coastal Carolina Chanticleers
6: Chattanooga Mocs
7: Harvard Crimson
8: Eastern Washington Eagles
9: South Dakota State Jackrabbits
10: Northern Iowa Panthers
11: Dartmouth Big Green
12: Fordham Rams
13: Richmond Spiders
14: McNeese State Cowboys
15: Portland State Vikings
16: Sam Houston State Bearkats
17: Southern Utah Thunderbirds
18: Indiana State Sycamores
19: William & Mary Tribe
20: Eastern Kentucky Colonels
21: Southeastern Louisiana Lions
22: New Hampshire Wildcats
23: Liberty Flames
24: Bethune-Cookman Wildcats
25: Jacksonville Dolphins
MEAC sighting. Ever since the MEAC effectively opted out of the FCS playoffs by sending its champion to the Celebration Bowl, voters now more than ever have a tendency to ignore teams from that conference. But 5-1 Bethune-Cookman has done everything right, including beating South Carolina State last weekend 17-14, to be on the radar. Only a loss to FBS Miami (FL) blemishes their record, but when looking at teams to enter my Top 25, their record stood out.
Doused Flames? Can you figure out Liberty? I can't. One week they're beating up on an FBS team, even if it is one of the worst FBS has to offer in Georgia State. Then they turn around and get thumped by Gardner-Webb 34-20, a team who hasn't scored more than 30 points in a game since the middle of last season. They're up and down, and impossible to predict. Top 20? Out of the countdown? They're in my Top 25 by a thread, and I might even take them out completely even if they win unimpressively this week. We'll see.
Viking Mania..? Portland State didn't expect to be 4-1 at this point of the season, surely. But their resume is on the strange side, with two FBS wins (Washington State, North Texas) and a loss against a conference foe (North Dakota). The Vikings, who just took the interim label of their head coach Bruce Barnum this week after the 66-7 evisceration of North Texas, have a brutal second half schedule where they play Montana State, Montana, and Eastern Washington, with a trip to Cal Poly sandwiched in the middle as well, every game big, none of them easy. Amazingly, I'm still not totally on board for them being a Top Ten team. That could change with a good run through the league, and they have, obviously, momentum. But it's not out of the realm of possibility that Viking Mania experiences a 1-4 conference record through league play, either. It's amazing to think a team could go 6-5 with two FBS wins and not make the playoffs, but it could happen.