"The past is the past and we aren't concerned with it. We have learned from our mistakes, and we are ready to move on."
That was
freshman RB Micco Brisker
, who told
this to The Brown and White this week
in regards to last week's game versus Princeton.
It's a good attitude to have going into this weekend's game versus Yale.
It would be easy to complain about injuries, or the officials, or unlucky bounces of the football last week. But to this team's credit, that wasn't what the discussion points were about in the weekday media sessions. It was about owning those mistakes, and moving on.
"We need to cut out mental mistakes like penalties and missed assignments on the field, as well as win the turnover margin by forcing more turnovers defensively and preventing them from happening offensively," said
junior LB Colton Caslow
this week.
This weekend Lehigh will be looking to move on, actually, from two different games, one from last weekend, where it felt like the Mountain Hawks'
own mistakes cost them the game
, and a game a year ago, in which Lehigh lost two 21 point leads and lost
a marathon of a game, 54-43
, to the same opponents they face at homecoming this year, Yale.
Homecoming is always a big weekend for Lehigh football, but a win for Lehigh this weekend would likely mean a lot more than just making the alumni happy. It would mean "moving on" to league play with the slate finally cleaned - officially, this time.
"On a day when Lehigh saw eight players go down to injury, including
junior LB Colton Caslow
, Yale ultimately out-physicaled and out-scored Lehigh -- not only rallying from two 21 point deficits twice, but shutting the Mountain Hawks out in the final quarter to seal the win," I frustratingly wrote last year.
Everything you need to know about that football game is present in two lines in the box score: Yale's final scoring tally (52), and their red zone conversion rate (1-1).
Yes, Virginia - even though the Bulldogs dropped 52 points on the Mountain Hawks defense, they only had
one
trip to the red zone. One score from inside the 20 yard line.
On drive after drive, it was big plays that were the killer blow - a 20 yard TD pass to
WR Deon Randle
here, a 51 yard wun by
QB Candler Rich
there - and next thing you know, a 21 point lead became a deficit.
Worse, Lehigh seemed to get out-physicaled by the end of the game. While the offense was able to keep putting points on the board for three quarters, injuries and fatigue contributed to a fourth quarter where the Mountain Hawks were shut out.
"That was definitely a tough one and that game reminded me of this last one against Princeton where we were fighting with them and then just kind of lost it," Caslow
told Keith Groller of The Morning Call this week
. "I don't like to think about last year because this is a whole new team. We're very confident in what we're capable of doing. I'm excited to see how good we can be."
One of the interesting quirks of this rivalry, of sorts, is that it's actually a trophy game.
Back When Lehigh Won This Trophy
In 2006, the Lehigh/Yale series got a trophy. Called the "
Yank Townsend Trophy
", it was named after the only Yankee (i.e., student from Connecticut) who was in the Lehigh class of 1895.
Ironically, during the period of time when Yank Townsend was at Lehigh, the football team struggled with a multitude of different teams not named Lafayette.
The one year Lehigh played Yale during "Yank's" student days was 1894, where they played twice and lost 34-0 and 50-0, both times, oddly enough, after rainy conditions.
"The rain last Saturday was a great drawback, as the grounds were so slippery that the men could not get a firm enough foothold to withstand the heavy weight of their opponents,"
The Brown and White
said of the first game. The second game, played at the old Polo grounds, saw "one end of the field entirely submerged,"
The Brown and White
reported, made "somewhat improved by the sprinkling of sawdust." (Though no level of field maintenance would allow Lehigh to be at all competitive with Yale in that time, where Lehigh's students would largely going against grown men and some of the best football players of their generation.)
After graduating, "Yank" would relocate to New Haven to be close to the rest of his family, where he would design many buildings and residences and cement his legacy for generations.
It was Yank's descendants who sponsored the trophy to be presented to the winner of this game.
The trophy is a cool way to link these two historic schools, linked by academics and tradititon, a constant reminder to the history and football traditions of both schools. So far, Yale has won the trophy three times, and Lehigh once, back in 2011.
But any chance of Lehigh lifting the trophy again this season on homecoming will involve reversing a lot more than ancient history.
Ho-hum, Another Second Half Comeback
Yale, through two games, seems to be the exact same type of fourth-quarter team that they were last season.
Yale trailed Cornell by 19 this past Saturday, but the Eli came back to tie the game with a little more than a minute to go, and then, unbelievably, won it on a touchdown 40 seconds later.
"It's not the way we draw it up, but I think what doesn't get old is when you see a team that can play through things, that can play through adversity and keep playing," Yale head coach
Tony Reno
told WTNH-8 New Haven. "You know, we finish strong, which is great, but now we have to start fast. But the finish strong piece is the hardest one to teach."
In fact there were a bunch of eerie similarities to last year's game, including the fact that Yale held Cornell scoreless through the final quarter as they chipped away at the 19 point deficit to win it in the final minute.
"There wasn't a doubt in my mind that we were going to find a way [to win]," Reno
said after the game.
"I didn't quite know what it was going to be, but I knew that some way, at the end of the game when the clock was at zero, we'd find a way to be on the left side of the newspaper."
While Yale's come-from-behind win was another thriller, and the Lehigh players know exactly how good the Eli are, who are predicted to give Harvard a run for the Ivy League title this season, for the Mountain Hawks it's a chance to kill two zombies at once.
So much of the talk this week on the Lehigh side involved "focus", "momentum" and "finishing", three concepts that all work together in becoming a winning team. Last week versus Princeton, the young Mountain Hawks saw breakdowns in all three area. A year ago versus Yale they did, too.
The Yale game this weekend offers the ultimate chance to demonstrate to Lehigh Nation that this team has indeed learned this important lesson, in front of a large homecoming crowd. It's a lesson that needed to be learned before the Mountain Hawks can be considered any sort of serious contender for the Patriot League championship.
This game offers a terrific opportunity for this group of Mountain Hawks, and this weekend we'll see how they seize it.
"They're going to challenge us," coach Coen said. "If the guys are half as excited as I am to face off against Yale again, they're really excited."
Game Notes & Injury Report
More bad news from
Greg Joyce
of
The Express-Times,
as
senior DE D.J. Bourgeois
has been officially
diagnosed with an ACL injury
that will sideline him for the rest of the year. That, coupled with an injury to
senior DE T.J. Stubbs
, means that Lehigh will only have nine defensive linemen dressed for the game on Saturday.
"I think he's a guy that can help us," Coen said of
freshman DE Julian Lynn
, who wasn't
listed on the two deep
but seems primed for a lot more action on Saturday. "He missed a lot of time during training camp with some injuries. Last week he played about 15 snaps or so. We need to keep revving him up and I think he can certainly give us some more depth. He's a pretty dynamic guy. I think he can be a guy that can get to the quarterback for us."
Speedy
sophomore DE Harrison Johnson
is another underclassman who will be pressed into more minutes on the defensive line behind
senior DE Matt Laub
and
sophomore DE Tyler Cavenas
. Lehigh can ill afford another game like last season's vs. Yale where the Mountain Hawks lost eight players to injury, including more than three guys in the trenches.
Roving linebacker has been pummeled with injuries this year, and
senior LB Randall Lawson
is listed atop the depth chart at that position this week, with
senior LB Stephen Wilmington
backing him up.
On offense,
senior WR Stefan Sansone
is another player that will be sorely missed on Saturday, seen on crutches after the Princeton game with a leg injury. While he will be out this week (and his future status in question),
junior WR Jarrod Howard
steps in his place at wide receiver. He saw extended time at Princeton after Sansone's injury and will be full go on Saturday.
Freshman RB Micco Brisker
is still out with a broken hand, which means
junior RB Kenny Crawford
will be in the running back rotation in his place with
freshman RB Dom Bragalone
.
Weather Report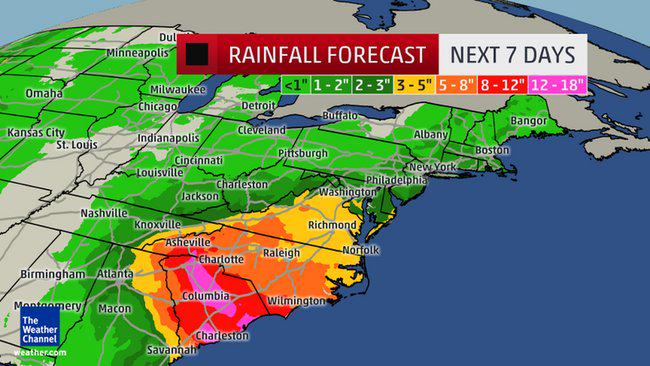 All things considered... Not Too Bad (Potentially)
Depending on the weather report that you read, either the biggest showers and rainfall from the oute edges of Hurricane Joaquin will
be finished by Saturday morning
, or the epicenter of the storm will ram right into New Jersey, or the storm won't even
reach land at all
, veering out towards the eastern Atlantic Ocean.
Ironically, if the storm does take that Eastern track, the Lehigh Valley would be more likely to get torrential rain from the western flank of the storm; if it causes devastation in South Carolina, which is the direction of another track, the Valley might actually not get a lot of rain at all.
Right now the weekend hourly forecast has an hourly forecast of heavy rainfall (90% chance) starting at 9PM, with the chance of rain dipping to 50% by 10:00 AM on Saturday. The best we can hope for is a gradual weakening of the storm edging out Eastward - way, way Eastward - opening a sunshine-y afternoon for football by 12:30 PM.
Steve Lomangino
told me that the field is already prepped for Saturday's game, and, barring a major shift in the weather, will be contested at 12:30 on Saturday as planned. "Saturday's weather actually should be the best weather day of the next five days," he told me, with a possible chance of sun. It's unclear whether the field might be covered with a tarp on Friday to protect it from the rains.
Famous Yale Alumna You Didn't Know About
Pretty Sure She Didn't Thank Walter Matthau
You might think about, oh, I don't know, presidents or secretaries of state when you think of Yale graduates. The list of notable Yale alumni are massive, and many are in positions of power and success. This year, though, Yale now can count an academy award winner as one of their own members that have power and success.
Lupita Nyong'o
did not study as an undergraduate at Yale, but did finish her masters degree at the Yale School of Drama (yes, they have one). Her
wikipedia page
says she identifies ad Mexican-Kenyan, and her early life is shared as a middle-class existence in both Africa and, for a time, Mexico. Her film career, after her acadeny award-winning turn in
12 Years a Slave
, has exploded, with her latest upcoming film involving a tiny, independent-budget film you may have heard of: it's called
Star Wars: The Force Awakens.
Lupita's films are known for their gritty intensity, an intensity I hope doesn't extend to Yale's football team this weekend.
LFN's Drink of the Week (#DOTW)
With a storm brewing, there can really be only one Drink of the Week, right?
I like Hurricanes alright - the drink, that is. In the past, heading down to a New Orleans Saints home game, I, like many other tourists, enjoyed the signature drink at Pat O'Brien's. This season down in New Orleans, with the Saints 0-3, the Hurricane feels more like the drink of choice for Saints fans to drown their sorrows.
But for the #DOTW for you, dear Reader, I was looking for more of a Hurricane variation, something with a bit more of a Northeast flavor to it.
I found multiple variations that, frankly, I hated. First of all, any recipe that says "
we make our own grenadine
" fails my "you may be a hipster" test right off the bat, and another which calls for eleven (!) ingredients - please. I am not
buying eleven ingredients
for anything that takes less than eight hours to slow-cook over hot coals.
Serve Joaquin's Revenge over ice
In the end I decided to come up with my own recipe, a variant
on this one
- because everyone else seems to be, anyway. We may as well call this one
Joaquin's Revenge
, neatly tying in the possible hurricane coming through the Lehigh Valley (hopefully before gametime), and 1/3 part revenge for last year's loss to Yale. It's seven ingredients, which is a little much, but OK, I think.
2 parts Dark Rum
2 parts Light Rum
1 part Orange Juice
1 part Lime Juice
1/2 part POM pomegrate juice (the non-sweetened version is the key)
1/2 part grenadine
Lime wedge+Lemon Wedge (optional)
To me this balances out the sweetness of the juices with the sour of the lime and the intensity of the POM juice. POM is becoming one of my favorite mixers in general, mostly because the pomegranate martini is rapidly becoming my wife's favorite drink.
Just put the whole think in a shaker, shake well, and pour over ice and enjoy.
As always, Drinks of the Week have a place in responsible tailgates, but only if you behave yourself, don't get behind the wheel while impaired (or worse), and are over 21. Please do that. And leave plenty of time to sober up.