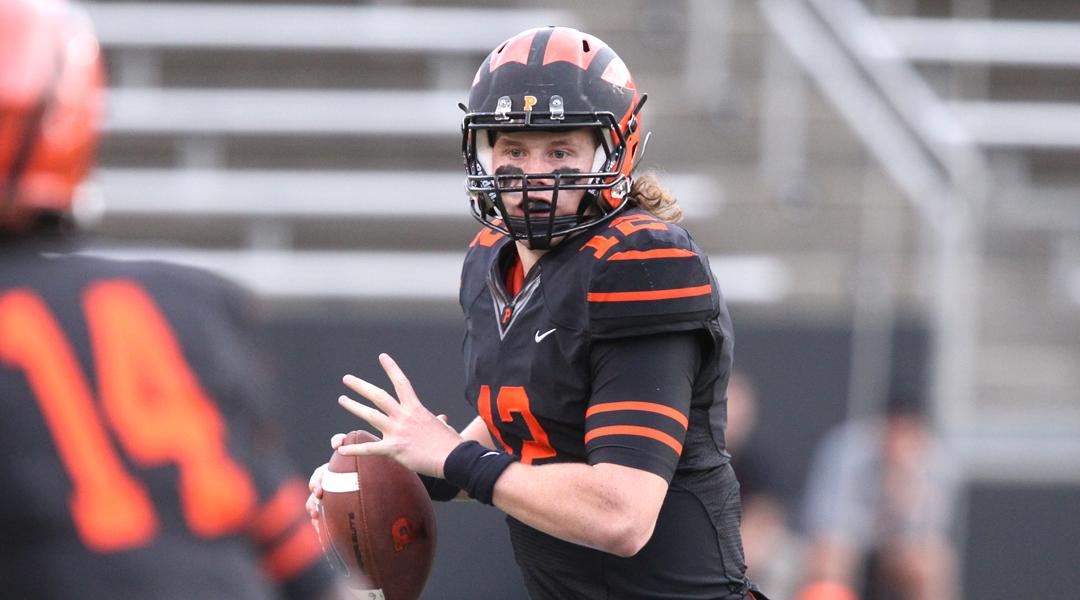 Head coach
Andy Coen
stood outside the locker room, obviously agitated at the result of the game. Outside, beautiful fireworks were exploding over Princeton Stadium on a beautiful night.
In front of the locker room, the fire was coming from Lehigh head coach, verbalizing what all the players, and fans, saw on the evening.
"The turnovers, the penalties, the blocked extra point, losing momentum there, that was all stuff we had control over," Coen said, seemingly wanting to get back onto the field right then and there, with the fireworks going off, and play the game all over again. "They had no control over that. It was
our
problem jumping offsides, it was
our
problem dropping balls,
our
problem not being focused enough. And if you are not focused enough, then someone else will play."
It was so frustrating because the Mountain Hawks had some real pretty looking numbers on the stat sheet. They outgained Princeton 561 yards to 497.
Junior QB Nick Shafnisky
had 348 yards passing, many of them to
sophomore WR Troy Pelletier
, who broke a school record for completions in a game with 15.
Freshman RB Dom Bragalone
played an outstanding game, becoming the second freshman running back in as many weeks to rush for over 100 yards in a game.
Yet Lehigh didn't win in the only statistic that really matters - points. Last week, Lehigh doubled up Penn. This week, Princeton would double up Lehigh, 52-26.
Princeton started the game out with an impressive drive to start out the scoring, including some big gains involving the trickery for which head coach
Bob Surace
is becoming known.
With
senior RB DiAndre Atwater
the workhorse on the ground, Surace came up with a formation that had two quarterbacks lined up in two different areas on the line od scrimmage, and the starter,
QB Chad Kanoff
, would find
QB John Lovett
for a 33 yard gain - a play that would get the announced crowd of over 15,000 people into the game and create some positive momentum for the Tigers.
After the touchdown run by
RB Joe Rhattigan
to make the game 7-0, Lehigh responded with some momentum of their own, with Shafnisky finding
sophomore WR Sasha Kelsey
for a 64 yard strike, a play which led to a Bragalone touchdown run off of right tackle.
"Dom did a really great job," Andy said, breaking the mood for a moment, "in pass protections, running the football, he's really stepping it up. He's a competitor."
Yet Lehigh would get into the red zone twice after that touchdown, down only 10-7, and come away with two field goals from
freshman PK Ed Mish
. Though the Mountain Hawks got the lead back, it could have been more, and Andy knew it.
"We didn't finish," he said. "Last week we had success because we finished drives. We had to settle for the two field goals down there, and, that's lost momentum. You can't do that. We have to find a way to finish."
After Lehigh briefly took the lead, Princeton snapped back and, in the span of six plays, again using their sophomore quarterback Lovett liberally, scored two touchdowns in less than two minutes of game clock to go up 24-13.
Lovett completed a pass, received a pass, and ran the ball one three of the six plays, which were finished by a run by Rhattigan where he broke three tackles and a 28 yard pass from Kanoff to
WR Seth DeValve
.
Lehigh never really recovered after those six plays, and in the third quarter turnovers were the story.
After the half, the Lehigh offense went on a drive and seemed to be on the verge of getting back in the game, but after successfully running the ball on 4th down conversion in the red zone, Shaf fumbled the ball, which was recovered by
CB John Hill
and advanced well into Lehigh territory.
Princeton wouldn't score on that drive, but on the next one Shafnisky tried to find
senior WR Derek Knott
with a pass over the middle, but it went through his hands and into those of
Princeton LB R.J. Paige
, who brought the ball into the end zone for the pick six.
"With four turnovers in a game, you're never really going to win a game," Shanfisky said afterwards. "Three are my fault. I felt we moved the ball real well at times, but really shot ourselves in the foot in others."
Lehigh would have a chance to get back into the game later when senior
CB Olivier Rigaud
would strip Kanoff and recover the ball, advancing the fumble 79 yards and give Lehigh a breath of hope. But the Mountain Hawks would have the extra point blocked, and soon thereafter they'd score the additional touchdowns that would put the game out of reach.
"I got the ball a lot today on a lot of screens because they gave us a lot of good looks we like," Pelletier said afterwards. "But I'm not feeling good because this was a bad loss. I feel like we could have done a lot better for ourselves out there."
He also showed frustration that he had the ball stripped by Princeton
FS Dorian Williams
, who used two hands and simply pulled the ball out of Pelletier's grasp, negating a big pass play.
"There were just so many of them [mistakes]," Andy said. "I'm tired of telling people it's a young team. We have freshman that are out there playing - they've got to play. The expectations for a junior or senior who's been playing, the expectations are greater, obviously. We have some of those guys stepping up, and some of those guys haven't yet."
The long, glum faces of all the athletes leaving the locker room showed to me that coach Coen's message had sunk in to some degree.