"We are still our own worst enemy," head coach
Andy Coen
said
after last weekend's tough loss to Fordham, 59-42
. "Whether it's penalties, turnovers, if you turn over the ball more than the other team, it's going to be hard to win games. And this is a league where things are very, very competitive."
He's right.
After a week where a scary car accident made everyone involved with Lehigh Athletics pause, and after a week where the availability of arguably the Mountain Hawks' most important player,
junior QB Nick Shafnisky
, is in doubt, the Hoyas (4-4, 2-1) come to town right in the thick of the Patriot League championship race. Every team above Lafayette and below Fordham have an overall record of either 3-4 or 4-4, and that includes the Hoyas.
The road to getting into the conversation starts this weekend versus Georgetown, against a team that would like nothing better than to get their first win against Lehigh in the modern era.
I thoroughly enjoy reading about Lehigh football teams through history.
In my research for my book
The Rivalry,
I looked at Lehigh's 1925 season, which coincided with the rise of Georgetown as a national power under a young head football coach named
Lou Little
.
1925 happens to be the last time a Georgetown football team beat a Lehigh football team.
As amazing as Georgetown's 1925 campaign was, a season where the Hoyas went 9-1 and only experienced defeat to Bucknell by a 3-2 score (
yes, really!
), Lehigh's 1925 season was awful.
That's because a Lehigh football player died from injuries sustained playing football.
QB Charles Malcolm Prior
QB Charlie Prior
, in a game versus West Virginia Wesleyan, "crushed" the sixth cervical vertebra of his spinal column when he was tackled returning back a punt,
The Brown and White
disclosed. "His limbs and the lower part of his body are paralyzed," they said, "but he is conscious."
Initially given five days to live, Prior hung on for two weeks before finally succumbing to his injuries, which had resulted in the flattening of his spinal cord. The cause of death, noted in a lengthy obituary in the paper, was a "pulmonary edema" which filled his lungs, and pneumonia.
Perhaps the most saddening aspect of Prior's death was that two years before, he "decided to abandon the gridiron sport so as to avoid possible injury which might interfere with his baseball career," the paper noted. (Prior was a star catcher.) "But when the need for more backfield material was felt by his Alma Mater, Prior cast aside personal ambitions and resumed his gridiron activities."
Prior was pressed into service in large part to the incredible number of injuries sustained by the Brown and White football team. Athletic director
Walter Okeson
noted in his 1925 season review in the
Lehigh Alumni Bulletin
, "We reached the point along about the middle of the season where, instead of asking, 'Who won?', the first question was, 'Who was hurt?'"
Okeson noted that there was an article that year in
The New York Times
devoting a list of deaths and injuries in college and school football, and five paragraphs were devoted to Lehigh injuries. "But they did not tell half the story," he continued. "Many others did not find their way into the papers as Lehigh did not want to advertise their hard luck."
The week of Prior's death coincidentally fell upon the week of the Georgetown game.
His service and last rites were performed on a Tuesday, and many members of the football team attended the funeral. "There were also present members of the football teams of Muhlenberg, Rutgers, and Lafayette Colleges including the captains and managers of these teams,"
The Brown and White
reported. A blanket of roses inscribed "The Team" was a part of Prior's tribute, as well as "bouquets and wreaths from nearly all of Lehigh's football rivals."
As the team was devastated and in mourning, the Brown and White squad did not practice, but also in accordance with the times, Lehigh still played the Georgetown game down at Griffith Stadium in DC, which could house more than 35,000 fans. Today such a game would never be played, but back then those considerations were not a part of the game of football.
"Although the tragedy has stifled the enthusiasm of the players," the student paper said, "they have resolved to carry on the balance of the schedule out of consideration for their opponents. Captain Merrill decided that a change of scenery would improve the mental condition of his men, and it was therefore decided that the squad would start for Washington, DC on Thursday."
As one might imagine, the "Hilltoppers", as Georgetown was then known, stomped all over Lehigh 40-0.
Georgetown RB Jack Hagerty
"Fighting unavailingly, upon a field of treacherous ooze and under a drenching, chilling rain, Lehigh's crippled and disheartened elevel was beaten Saturday afternoon by the powerful Georgetown team of Washington, DC,"
The Brown and White
reported.
The Hoya
noted some of the details of the game
, including eight fumbles. Lehigh only was able to gain 54 yards of total offense - and one first down.
"
RB Jack Hagerty
, the Hoyas' star and captain,"
The Hoya
said, "completed a stellar run across the field in which he twice reversed direction to avoid Lehigh tackles. Though no player could stop him, nature could: He downed himself near the end zone as he slipped and fell onto the muddy field."
The outcome of game, one of Lehigh's worst-ever defeats at the time, was so disheartening Walter Okeson couldn't bring himself to recap the game in that year's
Alumni Bulletin
.
"Why write the details?" he said. "We were licked and there is no use making excuses."
(I've been where Walt Okeson has been, by the way.)
Despite the setbacks of the season, and despite the immense challenges of the Georgetown game and others, Okeson took an immense amount of pride in how the Engineers battled against Lafayette in that 1925 season/ The Leopards, essentially a Top 25 team of its day, won 14-0, but Lehigh battled hard even with such a depleted roster..
"The team staged a comeback and gave a remarkable display of hardihood and gameness," Okeson wrote. "In my thirty-five years of football I have never seen a team whose every member gave of himself so unreservedly as did the Lehigh players in that game. To me it was the finest exhibition I have ever seen and that day on which my pride in being a Lehigh man reached its highest point."
Lehigh's football team would survive beyond that awful 1925 season, based on the togetherness and virtue of Lehigh's football family of that time. It got them through to 1929, when the Brown and White would finally erase a decade's worth of frustration against Lafayette and, in effect, save The Rivalry from extinction and maintain the football program at Lehigh.
*****
It seems appropriate to bring up this history after a close brush with disaster involving the Lehigh men's and women's crew team this week.
On Tuesday, on their way to a practice, Lehigh's men's and women's rowing teams were in a scary accident involving a Lehigh University bus and another driver, who was killed in the accident. The bus overturned, leading to a very scary evening when people learned whether the students in the bus were OK.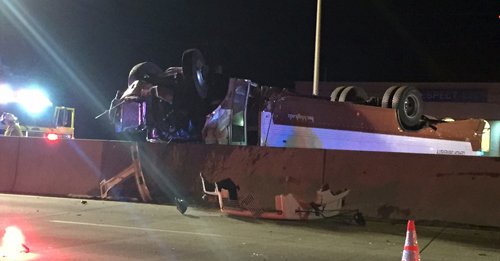 "When we started seeing the pictures online, it looked really horrific," Coen
said after practice this week
. "I talked the dean of students [Tuesday] night and it was amazing that there was just the one fatality. There are lot of our kids who are banged up and have broken bones and things like that, but thankfully, nothing too serious."
Coen had a moment of silence before practice, to honor the one fatality and to hope for good news for the rest of both teams. Eventually, the news
did
end up being good, to the relief of Lehigh Nation everywhere.
Sophomore DE Tyler Cavenas
said, "I know some of them and immediately texted them. I was shaken up and then I was happy when I found out that no one on the team suffered major injuries. I feel like we really came together as a university, especially as athletes. We have that connection. Everybody was concerned and it was nice to see that unity. Something like that really puts things in perspective. We talk all the time about every play being your last play, but you really don't know what's going to happen. I am sure that that accident will stay with the rowing team for awhile, but as a community we're there for them and will help those in need."
This Saturday, an important game against Georgetown will take place at Murray Goodman stadium. Lehigh's hopes for any sort of Patriot League championship are on the line.
But this week, as we look both at the history of the Lehigh/Georgetown matchup and the accident on Tuesday, it feels like there have been bigger things on the minds of the athletes. The Lehigh Athletics family, then and now, will help get through it.
Game Notes and Injury Report
As you might imagine, this week's
game notes
focus on the health of
junior QB Nick Shafnisky
.
Shaf exited last week's game with what is called a "hip pointer". Another name for this is bruised muscles inside the hip, which limits the motion that someone can do in terms of, say, running or passing motion.
After the Fordham game, Shaf was listed as "day-to-day", a designation that
did not change by mid-week
.
Freshman QB Brad Mayes
"He was out there [in Tuesday's practice]," Coen said, "he could hand off, that type of stuff, but not much more than that. I think it'll be a day-to-day process. We probably really won't have much more direction until later in the week... We're hoping. We're hoping. Fordham did not have an answer to stop him last week. I don't think they would have (if he kept playing)."
The decision will not be made until later, but should Shaf be unable to go,
freshman QB Brad Mayes
, who came in last week versus Fordham, would start in his place.
Mayes, who has appeared in four games so far this year, overcame some early jitters last week and brought the Mountain Hawks to the brink of a great comeback, though it fell short in the end.
"You hate to see one of your best friends [Shaf] go down," he said in the Fordham press conference. "But once I got over the jitters, I felt like I was able to get in to the offense, just shake off and just play football. It doesn't matter if it's at the high school level or the collegiate level, I was still just able to get out there, get into a rhythm and make plays."
Mayes got most of the reps with the first-team offense this week in practice, though this still could be largely a precautionary measure as Shafnisky already knows the playbook very well. Still, Lehigh Nation will probably be sitting on their hands wondering who the starter will end up being.
The only other significant injury from last week is
senior OL Stephen Camasta
, who had a leg injury and did not return. Camasta was not on the two deep this week, which means senior OL Matthew Cohen will get a larger workload as a result.
Freshman OL Eric Hawkinson
- that's right, another true freshman - backs Cohen up.
Weather Report
It's beginning to look a lot like fall. The
weather on tap for this weekend
is currently planned to be clear - and cold, with a high of 54.
News flash: I won't be wearing shorts for this contest. Neither should you.
Famous Georgetown Person You've Not Heard Of
You may not have heard of
Peter Cooper
, chairman of Cooper and Company, a real estate and private equity firm. He's not even a Georgetown alum, as far as I can tell, though many of his kids have attended Georgetown, and some have played football there.
Peter and Susan Cooper
As a fan of Patriot League football, though, you probably should be thanking him.
Cooper and his wife recently
made a $50 million donation to Georgetown athletics
, which will "underwrite a pioneering, academically based program that develops leadership skills and opportunities for students involved in one or more of Georgetown's 29 Division I sports and teams," a Hoya release says.
While the gift in and of itself is massive for Georgetown athletics, what really made Patriot League football people ecstatic is their completion of what is unceremoniously called "Multi-Sport Field", Georgetown's 2,000 seat, not-really-complete, multi-purpose field in the heart of campus that is in desperate need of being finished.
For years, Georgetown's facilities have been a bone of contention not only for visiting teams but, undoubtedly, for Georgetown football recruits. With modernization finally underway at Georgetown's field, the Hoyas' football future looks a lot brighter.
Georgetown isn't all about basketball anymore, and the Hoya faithful have the Coopers to thank.
LFN's Drink of the Week (#DOTW)
Supposedly a "Hoya"
As I'm fond of saying for these "Drinks of the Week", I usually like to go with what got me here. So far, despite some close calls,
The Hoya
has got me here. It's done a great job delivering wins in the past, and I'm hoping it's got another win in it this week.
The
Hoya
is one part orange juice, 2 parts gin, and 3 parts ginger ale. Whether it's because I'm getting older, or I don't have that much of a sweet tooth, I like to dial down the sweetness a bit. I think a splash of lime juice might do the trick, or a splash of lime juice and maybe subbing out 1 part of the ginger ale with club soda.
This is actually a nice drink because it's not too overloaded with alcohol, either, making it a nice pre-tailgate drink. Tequila sunrises in the morning can be rough. The Hoyas is mellower. Some might
even call it Casual
.
As always, Drinks of the Week have a place in responsible tailgates, but only if you behave yourself, don't get behind the wheel while impaired (or worse), and are over 21. Please do that.