You can read
College Sports Journal's preview of the game here
, and
my mostly-football-free "Tailgate Report" here
.
Below, we're going to do a quick once-over of Lehigh's game notes and possible injuries, then we'll dive right into 5 things to look for with Sacred Heart, my Keys to the game, and the cherry on top will be my Fearless Prediction.
Keith Groller of The Morning Call headlined his piece "
Lehigh football tries to regroup at Sacred Heart with season slipping away
". Part of the article talked about the frustration of
last week's 20-10 loss to Bucknell
.
"We didn't handle our business, but all you can do is learn from it and plan to fix it for the future," senior
WR Dev Bibbens
said. "We need to win this game and get things turned around against a quality opponent. There's always a lot to play for. Any time you have an opportunity to play a game on a Saturday, that's a lot. We don't take that opportunity lightly. We're going to fight."
Game Notes
An already rocky week was made rockier by the fact that two Lehigh players,
DB Brandon Spencer
and
RB Nate Hope II
, announced that they were on the NCAA's transfer portal. This had a direct impact
on the starting two-deep on Lehigh's game notes
.
With Spencer gone,
DB Tre Neal
jumps back into the depth chart backing up junior
CB Jaylen Floyd,
. and sophomore
RB Peter Lucas
goes right behind
RB Rashawn Allen
on the running back depth chart.

This is on top of the fact that it is already confirmed that senior QB Tyler Monaco will not be suiting up this week after being injured last week vs. Bucknell. It's not certain at the time of this writing whether QB Alec Beesmer or QB Addison Shoup will be starting this Saturday.
Five Things to Watch With Sacred Heart
1. The Pioneer O line has been stellar.
Sacred Heart has an offense that has exploded at times this year, and their O line has been a huge part of that, giving up on average less than a sack a game and carving out big lanes for their running game. As a Lehigh fan, I could be most worried about how the Lehigh defense will handle this unit.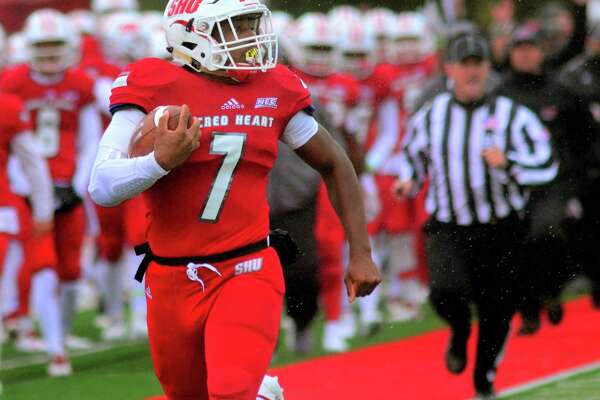 2. RB Julius Chestnut is one of the top runners in all of FCS.
Any recipe for a Lehigh victory involves the Mountain Hawks keeping the super sophomore from getting off any big plays. He has 1,224 yards rushing already on the year, is leading the FCS in rushing, and he has two games to go.
3. Second Half Team.
Sacred Heart won 41-7 last week, but when you look closer at the box score you see that they were losing 7-0 at halftime and forced an amazing right turnovers in the second half. It's not the first time the Pioneers have won trailing at halftime; in their 58-40 win over Lafayette, they trailed at halftime as well and exploded for 37 points.
4. Ball Control.
Though the turnover ratio is skewed somewhat by last week's game, Sacred Heart has done a great job not turning over the ball. They're only lost the ball twice all year from fumbles and while they've thrown nine interceptions, last week's starter, redshirt sophomore
QB Marquez McCray
, didn't turn over the ball once in an efficient performance. Assuming their game notes are correct, he will be the starter again this week.
5. Good pass rush.
Led by
DE Chris Agyemang
, the Sacred Heart defensive front has shown a worrying tendency to put good pressure in the quarterback. He leads the team with 3 1/2 sacks, and the tram has 19 on the year.

LFN's Keys to the Game
1. Offensive line needs a show-me game. Last week's stinker vs. Bucknell was an abject lesson in how lack of protection can ground and offense to a halt. The Lehigh offensive line has to demonstrate that they can be cohesive enough to give the rest of the offense a chance to cook. Yes, there have been a lot of injuries and upheaval. But this group simply needs to find some way to get things done.

2. Make Chestnut earn his yards. Lehigh cannot afford to have Chestnut break loose for big plays. He'll get his yards, but it's critical that he is made to earn every yard. This will give Lehigh the best possible chance to win.

3. Rally from adversity. If I were coach Gilmore, I would tell this team that when the story of the 2019 team is written, the narrative that will be associated with this team is "adversity". Normally I hate to use that word, but in this case it is true, with injuries, the transition in head coaches, and other issues. If Lehigh wins their last two games, they will have earned the right to put the word "overcame" in front of it. Only, however, if they win.


Fearless Prediction
If you are doing an analysis, there is plenty about this Sacred Heart team that can keep you up at night. The Pioneers have a lot of things going for them - srnior day, the momentum of a winning streak, a great offensive line. They've beaten Bucknell and Lafayette; they are likely to go into this game with a lot of confidence.

On paper, this isn't a huge game in terms of a championship. Technically, even if Lehigh loses they could still be in the hunt for the autobid and Patriot League title. That situation is out of their hands. They will have to see what happens.

But in terms of overcoming adversity, this is the game where Lehigh needs to do just that. They need to earn that redemption before the most important game of the year. Kids leave. Kids get hurt. Things happen. But what defines these kids and defines this team is how they bounce back from it. Will they overcome, or not?




Lehigh 27, Sacred Heart 20