QUICK RECAP: Lehigh Rallies from 24-14 Deficit, Ends Up Patriot League Co-Champs With Thrilling 38-31 Win over Rivals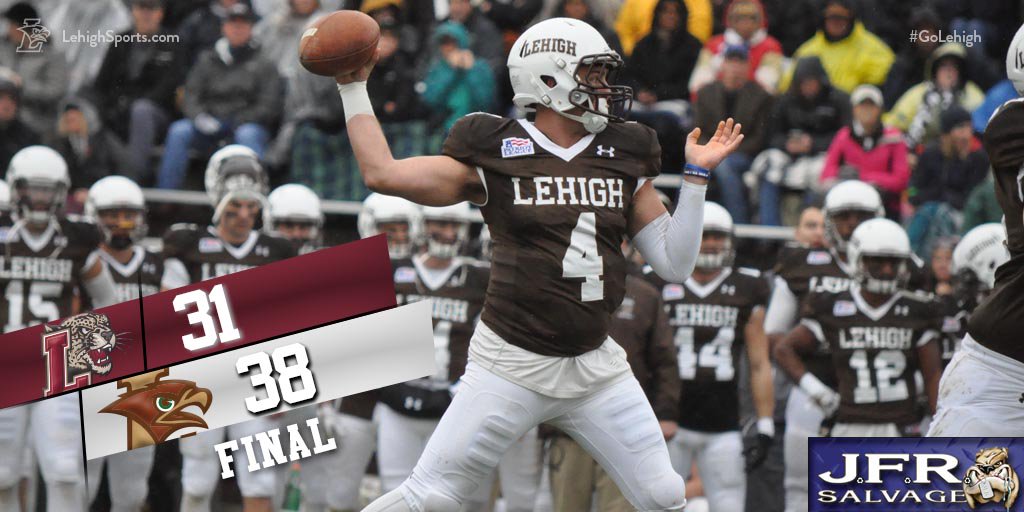 As in most meetings of The Rivalry, there were a lot of ill Lehigh fans wandering around the stands at halftime.
Not all of that illness is football-related, but the folks who live and die by this team were as well.
Down 24-14, victims of three first half fumbles, two of which were converted into Lafayette touchdowns, it almost fell like the wheels were coming off the Lehigh bus. The energy in the stands was lacking.
The narratives were writing themselves - a young Lehigh team that made too many mistakes to win a big football game. A team that more often than not couldn't get out of their own way enough to win a big game. Only the win against Colgate, with all of those overturned touchdowns for the Raiders, would Lehigh have come from behind to win.
But in the second half, something happened.
Despite a Lafayette kickoff return for touchdown, the Mountain Hawks exploded for 344 yards of offense and scored 24 points on offense in a variety of ways, none more spectacular than junior QB Brad Mayes' 41 yard bomb to senior WR Gatlin Casey to give Lehigh the lead with 7:49 to play.
In addition, Lehigh's defense emerged to put the hammer down on the Lafayette offense as well, with sophomore FS Riley O'Neil leading the charge with some big hits and senior DE Tyler Cavenas forcing Lafayette's young signalcaller, QB Sean O'Malley, into some missed throws. Lafayette's offensive output was only 24 yards the entire second half.
Slowly, the momentum that was all Lafayette's started to turn. By the end, no Lehigh fan felt ill anymore.
On a cold, wet, rainy Rivalry Saturday, a slick football no impediment, Lehigh came together just in time to rally to take the lead on Lafayette and ultimately win, 38-31. In a way it's the perfect microcosm of their season in one game: start sloppy, and it seemed like, maybe, this thing was going to go off the tracks.
But just in time, everything came together, and as a result, Lehigh are Patriot League Champions and will be practicing on Thanksgiving.
The MVP of the Lehigh/Lafayette game was QB Brad Mayes, whose second half in the driving rain was tremendous, with 275 of his 379 passing happening in the second stanza as well as 2 of his 3 touchdown passes, including the 41 yard bomb.
He did a great job distributing the ball the senior WR Troy Pelletier, who ended with 9 catches, 107 yards and 2 TDs as well, including one in the flat after the Lafayette defense double-teamed Gatlin on the line of scrimmage and Mayes found Troy for a 6 yard touchdown strike.
And his performance was also set up by the running of junior RB Dominick Bragalone, rushing for 113 yards and two touchdowns as well on 29 carries, including gutting out the final yards on the critical first downs to seal the victory.
Lehigh had only come from behind once this season in a victory. Against Colgate, the Mountain Hawks fell behind 28-14 to the Raiders but rallied in the 4th quarter to win 41-38. And today, Lehigh rallied from deficits of 24-14 and 31-21 before coming away with the win.
Tune in later today as I talk a whole lot more about this epic #Rivalry153 win.