Dominating the narratives in the run-up to the Penn game was a particularly insightful preview article from The Morning Call's Keith Groller, on how the need for changes is urgent amongst everyone in the program.
It's a theme throughout all the preview pieces, but Keith's key excerpt appears below.
"Head coach
Andy Coen
said that Sunday wasn't a pleasant day for anyone around the football offices or practice complex as the team tried to regroup from one of its worst losses in recent seasons.
"This was the first game where we couldn't draw any positives from it," Coen said. "It was just a bad performance … soup to nuts.
"No surprise, we jumped on them [the players] pretty good. But the kids understand it. They're not crying about it. They understand why."
"On Sunday, I got the staff together and just told the guys that we have to make changes whether it's personnel, whether it's scheme … we just can't keep doing what we're doing," Coen said.
Below is the full video of coach Coen's appearance on Lehigh Sports Central, where he summarizes the Yale game, talks about the injury to
junior CB Donavon Harris
, and previews the Penn matchup, and talks about some of the changes he's made.
The experts pick who they think will be winning this weekend:
Lehigh 42, Penn 34
: LFN's Game Breakdown and Fearless Prediction
Penn 38, Lehigh 34
:
Keith Groller
,
Morning Call
Lehigh 49, Penn 48:
Brad Wilson
's "Wild Guess",
Lehigh Valley Live
Penn 48, Lehigh 37
: The FCS Wedge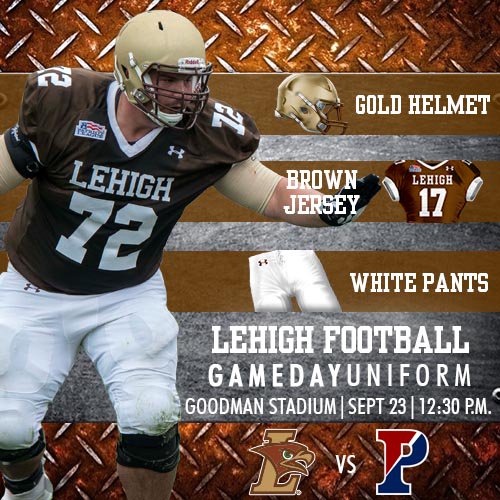 Lehigh Uniform Watch for this weekend:
Gold Helmet, Brown Jersey, White Pants - a slight change from last week's gold pants.
LFN Game Preview: A Potential Big-Time Receiving Show Might Feature Watson vs. Pelletier
"Both Penn head coach
Ray Priore
and Lehigh head coach
Andy Coen
aren't necessarily focused on the numbers and the exploits of individual members of their offense.
"But this weekend's affair at Murray Goodman, if the past is any guide, could have the potential of a highlight reel of treme"ndous catches by some receivers that are getting looks by NFL teams.
"Twice before Penn
WR Justin Watson
and Lehigh
WR Troy Pelletier
have played against each other, and both times Watson and Pelletier have lit up the opposing secondaries for some tremendous catches and some amazing numbers.
"For fans, there's definitely the potential of an offensive circus this weekend that could be immensely entertaining.
Morning Call: Lehigh football team still searching for answers and a first win
"The one thing we all talked about is how we practice. And it makes perfect sense and it's probably my fault."
"But we've just been working against the scout team guys and they really don't give the kids much of a look, and so everything looks good," Coen said. "I've been trying to keep the guys healthy and we haven't done a lot of physical stuff. Most of the time when I see a play is starting to stop, I blow the whistle.
"So after a good conversation with the players and the whole coaching staff, we decided we're going back to what we did in training camp and we have to be more physical with the guys and get them to work harder and compete harder. That's really the No. 1 thing we need to do now, because we haven't been doing it."
— WFMZ-TV 69 Sports (@69Sports) September 21, 2017
[Ed. note:
Dave Lesko
with the quote, "Yale beat Lehigh like they stole something."]
Lehigh Valley Live: Five Quick Lookaheads
One reason the Mountain Hawks' defense has been struggling -- allowing 46.7 points per game and 532 total yards - has been the lack of defensive turnovers. "We haven't had a defensive turnover in three weeks," said
junior DB Kareem Montgomery
. "We have to get pressure on the Penn quarterbacks and get some turnovers." The lack of turnovers may be directly related to the lack of a pass rush as well: Lehigh has 1 sack in 3 games.
Expect Penn's standout 6-3, 220-pound senior wide receiver Justin Watson to be heavily involved; he had 8 catches for 134 yards and 2 touchdowns in the opener. "We're definitely paying attention to him," Montgomery said. "He has a great hands and he's really physically and they look to him. We want to take him away and force the other guys to beat us."
Daily Pennsylvanian: Penn football looks to build off win in opener with matchup at Lehigh
In both 2015 and 2016, the Quakers opened their season against Lehigh, and both times they were overmatched by the Mountain Hawks' high-powered offense.
Those uncharacteristic letdowns by the Penn defense could have been attributed to Lehigh having two games under their belts whereas Penn was just beginning its campaign.
"It's better that we've got a game under our belt now,"
junior DB Sam Philippi
noted. "They've still played more games than us but that's not an excuse for us, we're just trying to focus what we do."
This season, with a win over Ohio Dominican already in hand, the Quakers hope to come roaring out of the gate in Bethlehem on Saturday.
"It gives us that little sense of maturity," coach
Ray Priore
explained. "We got all that rust off [by] playing the game: situations, timing in the pocket, things that you can't simulate during a practice scenario."
LehighSports.Com Video Spotlight:
Senior OL Tim O'Hara
:
Brown and White: Spotlight On: Freshman WR Jorge Portorreal
"There was definitely a lot of challenges, I started off a little slow," Portorreal said. "I played at a really high level in high school — St. Peter's Prep (in Jersey City, NJ) — so a lot of the stuff was similar, but the game speed was so much faster."
In his third game, Portorreal reeled in five catches for 99 yards and a touchdown last week against Yale University. Despite the team's loss, he earned Patriot League Freshman of the Week honors for his performance.
"I think we are going to pick the intensity up a lot this week," Portorreal said. "We just got to go out there and perform on Saturday. I don't think Patriot League and out-of-conference games are any different in terms of me. I'm a competitor. I want to win every game whether it's in or out of conference."
Brown and White: Football players' families affected by Hurricane Irma
Although the Northeast escaped Hurricane Irma's tear through the South, for Lehigh
senior TE Drew Paulsen, senior DL Harrison Johnson
and
sophomore QB Tyler Monaco,
Irma's path hit a little too close to home.
The football players' families didn't evacuate their homes but still felt the storm's wrath.
"While there was not as much damage as we expected, we still saw a lot of the after-effects of the storm," Tampa Bay native Paulsen said.
LehighSports.Com: Senior QB Quentin Jones' Journey Back
Jones' impact has been felt due to not only his on-field play, but also the overall presence he brings.
"It's great to have my boy back on the field," said
junior CB Donavon Harris
. "We were a close-knit group last year, so we've gotten even closer now that Q is back. He's always laughing and has positive energy, but he always makes sure we're focused. He's one of our leaders in the secondary, a role he's really embraced. Guys listen to him and respect him."
Jones is taking things one day at a time, looking to get better every opportunity he gets.
"The only specific goal I have is to go out there, play to the best of my abilities and perform to the level I know I'm capable of," he said. "If I can do that, the results will come."