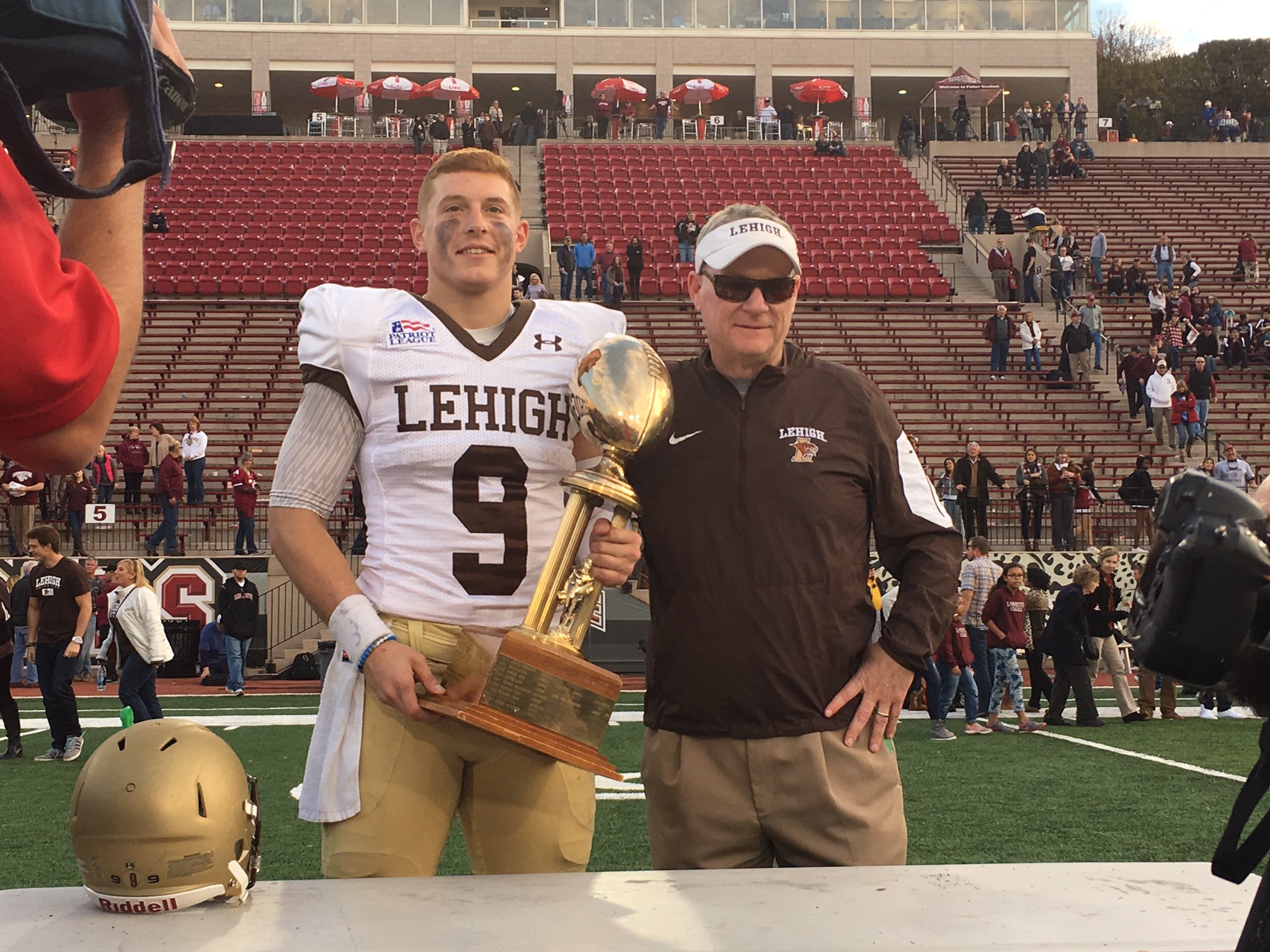 In the most-played college football Rivalry, there was a mild concern of complacency on the Lehigh side.
Would they be able to manage the emotions of the Rivalry after a bye week? Would they come out flat, and let 2-8 Lafayette take away their chance at an outright Patriot League championship, an undefeated Patriot League record, and a 9-2 regular season mark?
The Mountain Hawks proved resoundingly that fans needn't have worried.
Lehigh rolled to a 17-0 lead before Lafayette connected on a big pass play, then kept the foot on the gas to get to a 45-7 lead before starting to put in the second stringers.
It was pretty telling that the biggest outpouring of emotion during the game happened when Lehigh's marching band, the Marching 97, marched off Lafayette's pep band after they went over on their time to play. It was that sort of day for a joyous Lehigh victory.
Senior QB Nick Shafnisky
came away with the MVP trophy for the second straight Rivalry. After coming out near the end of the 3rd quarter, Shaf ended his final regular season game for the Brown and White 19 for 29 passing for 268 yards and 3 TDs. Two of his touchdown passes went to
junior WR Troy Pelletier
(93 yards), and the third went to
junior WR Gatlin Casey
(79 yards), while he added 13 yards on the ground as well.
The touchdown of the day might have been Shaf's running touchdown, where, at the goal line, Shaf faked right, evaded a couple of tackles, and then surged forward in the end zone to put Lehigh up 24-7.
Lafayette's hope at a comeback came to a grinding halt at the end of the first half, when, with 3rd and goal at the 2,
senior ROV Laquan Lambert
and
senior LB Pierce Ripanti
collapsed on Lafayette QB Drew Reed, sacking him and causing the first half to expire holding the Leopards to a 31-7 deficit.
Coming out of the second half, the Lehigh offense mounted an 8 play, 67 yard drive that would end with a Shaf-to-Pelletier touchdown connection to go up 38-7 and cause many Lafayette fans to head to their tailgates early.
Lambert would lead the defense in tackles with 8, including 1 1/2 tackles for loss, but it felt like he was attacking and agonizing Reed all afternoon, along with Ripanti, with 6 tackles and 2 tackles for loss.
Check in later for more on this game, and about Lehigh's chances at hosting a playoff game, later tonight.