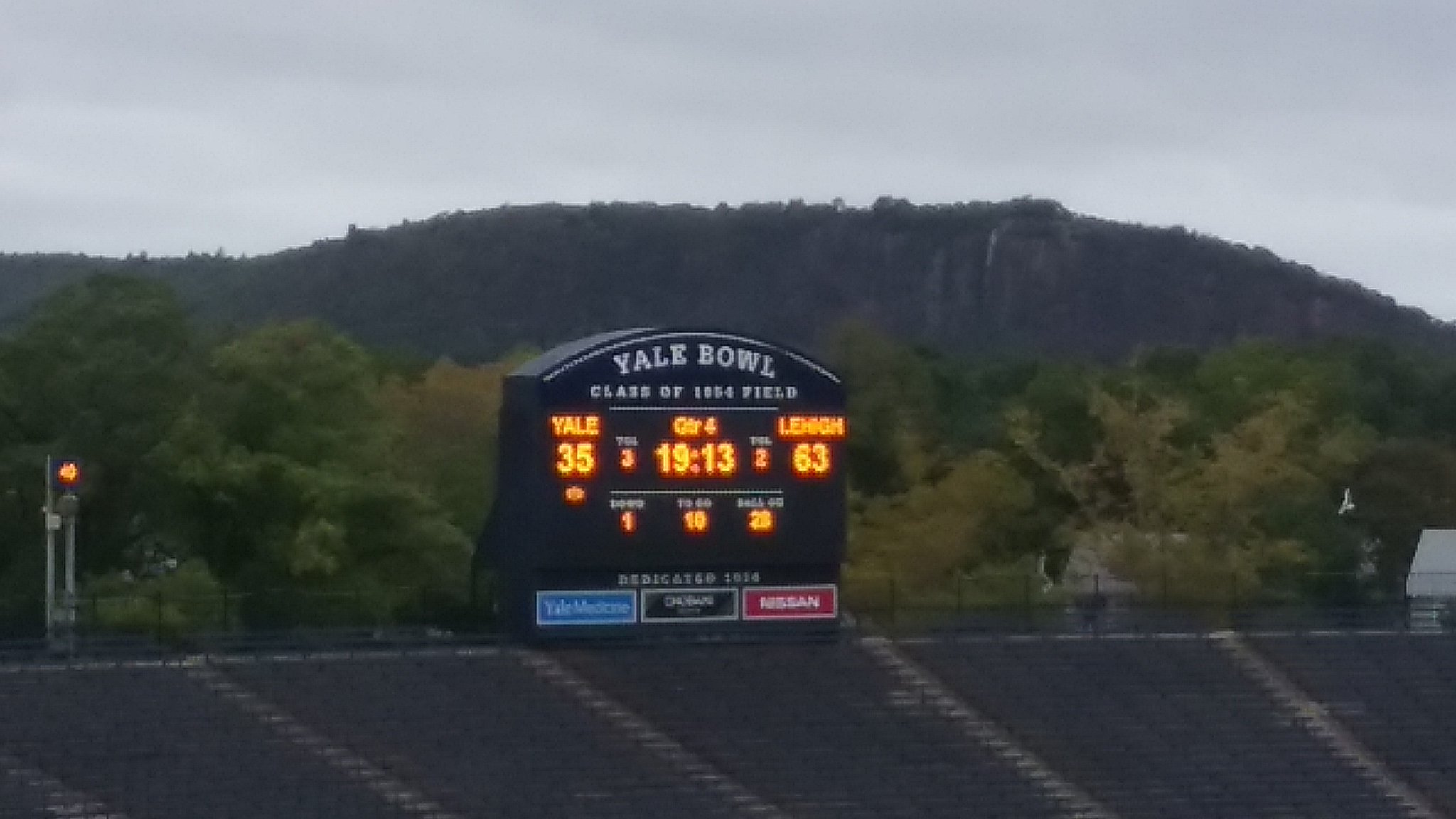 It came as a big surprise to the press box, the fact that s
enior QB Nick Shafnisky
would not be starting versus Yale.
Sophomore QB Brad Mayes
, who had seen time on the field as a freshman, trotted onto the Yale Bowl's grass field to start the game instead.
By the time he'd left the Yale Bowl's playing field, he and the Mountain Hawks would have put their marks on a whole lot of Lehigh and Yale Bowl records.
Combined, Lehigh's and Yale's 70 points would be the most ever recorded in a half of football at the Yale Bowl. Lehigh
QB Bob Aylsworth
's record 454 passing yards in the Yale Bowl, broken. The all-time team and individual Lehigh records for passing yards in a game, broken. All-time touchdown pass record, tied. Most points scored by an
Andy Coen
-coached team, broken.
Number of extra points in a game? Tied. Number of passing touchdowns in a game? Tied. Most points allowed by Yale at the Yale Bowl? Tied.
It was a 63-35 win that, incredibly, was still in doubt at halftime when a second half 21-7 surge would allow Lehigh to pull away and the records started to pile up, one after the other.
"It was a late decision for us to play Brad today," coach Coen said at the post-game press conference. "We had all the confidence in the world in Brad, and made that decision early in the game, and he obviously stepped up and did a tremendous job."
There was an inkling that a big day might have been coming up when Mayes found
junior WR Troy Pelletier
for a 50 yard strike, streaking across the middle of the field and then seeing a wide-open field in front of him as he accelerated in for the score.
Pelletier was Mayes' favorite target, finding him 13 times for 213 yards and an amazing 3 touchdowns.
But Pelletier wasn't Mayes' only big target, as the Tampa, Florida native would also hit
junior WR Gatlin Casey
for 6 catches for 169 yards and 2 touchdowns, including one where Casey had one tackler bounce off of him and he surged to get to the end zone, a 54 yard score.
Overall, Mayes ended the day 33-of-46 passing for 524 yards and 6 touchdowns. The 524 yards were a Yale Bowl record and an individual Lehigh passing yard record as well.
Andy Coen was happy to see Mayes break Aylsworth's record, as he was an offensive line coach for Lehigh when Bob set that Yale Bowl record back in 1994.
"Lehigh is No. 1 and No. 2 in passing yards at the Yale Bowl," he said.
"Throughout the week the coaches did a good job preparing both me and Nick to play this week," Brad said. "It's a football game, I've been playing it my entire life, so once I got the call to start, it was just another game to me."
Check in later for a more extensive recap of the game.