The 2016 Mountain Hawks will be leaning on their offense to carry them in the early going on the season.
That's because they return eight starters from last year's squad, which was one of the more prolific offenses in all of FCS.
Looking over the stat sheet from 2015, there's plenty of athletes carrying over that makes Lehigh Nation drool. The return of a sophomore that was a 1,000 yard rusher as a freshman. The return of an experienced quarterback that has started games each of the last three years. The return of a deep threat receivers that invokes fear in opposing defensive coordinators.
There's not a lot of drama on the offensive side of the 2016 Lehigh football depth chart. But there's a lot that has Lehigh Nation extremely excited about the potential for this year.
Quarterback
Last week, LehighSports.com announced their team captains for the 2016 season.
To nobody's surprise,
senior QB Nick Shafnisky
was one of the captains.
It's a bit incredible to think that the Whitehall, PA native has been at South Mountain and making big contributions to the Lehigh football team, on and off the field.
It's equally as incredible to realize that he hasn't played a complete injury-free season yet, either.
Never Forget
Last we saw Shaf, he was
throwing Lafayette defenders out of his way
on his way to an MVP performance in the 151st meeting of "The Rivalry", cementing his place in Rivalry lore in a satisfying 49-35 win over Lafayette.
But Shaf wasn't healthy the entire season. After getting injured right before halftime at Fordham, Shaf had to heal a couple of weeks before becoming a run-first goal-line specialist QB at some points of the season.
He seemed miles away from the red-haired freshman who stepped in his freshman year who led with his throwing shoulder, trying to get that extra yard.
"Everybody goes through growing pains and learn that they can't get away with the same things they got away with in high school when they were the best player on the field," offensive coordinator
Drew Folmar
told Keith Groller of The Morning Call.
"But Nick is one of the most special guys I've worked with. I worked with a lot of good, and even, great, quarterbacks who were throwers. That's what made them great. Nick can both affect and change the game running and throwing the football. It's been fun for me to coach and develop him. We do different things with him than we did with anyone I've coached. It has been a learning experience for both of us and it's worked out well."
If Shaf has had a weak point, it's been avoiding getting hurt. In each of his sophomore and junior years, he's had nagging injuries that have kept him out in stretches during the season. Perhaps it's his nature not to shy away completely from contact, or it's just the wear and tear of being a rushing quarterback that puts himself out there for contact fairly often.
But going into this season, he's very confident in his Shaf-like way, as he told Keith Groller.
"Right now is the best I've felt in my four years here," Shafnisky said. "It's the best my shoulder has felt; it's the strongest I've been; it's the fastest I've been and the most I've weighed. Personally, I love where I am."
He feels even better about the Lehigh offense.
"I don't think we've ever been this consistent or this productive this deep into camp," Shafnisky said. "That's not blowing smoke or being biased. What I am seeing offensively and defensively, we're doing pretty great things. We're seeing some great glimpses on both sides of the ball. Now it's just a matter of staying consistent and for us on offense that means limiting turnovers and finishing drives in the red zone."
If Shaf can finally pull together a season where he's completely injury-free, it could be the makings of something special.
(Damn right.)
However, should Shaf go down for any length of time,
sophomore QB Brad Mayes
has shown himself to be more than able to step right in and win football games for the Brown and White.
Like Shaf, the Tampa, Florida native came in off the bench in the second half of the Fordham game and played in a large a part of Lehigh's offense for the next five games, including a
3 TD performance against Holy Cross
where he "looked more like a senior than an underclassman," I wrote.
Mayes gives a lot of comfort to Lehigh Nation that should Shaf get hurt, the QB position is in excellent hands.
Running Back
Over the years, Lehigh fans have enjoyed the performance of some great running backs.
RB Rabih Abdullah, RB Jack Rizzo, RB Rod Gardner, RB Keith Sherman
... the list goes on.
RB Dominck Bragalone (Express-Times)
Last season,
sophomore RB Dominick Bragalone
took the biggest question mark going into the season and made it into a position of strength, becoming the first 1,000 yard rushing freshman in program history, and only the Lehigh 11th running back to have a 1,000 yard rushing season.
In the second game of the season against an FCS Top 25 team, Shaf found Bragalone over the middle with a short pass and dazzled the huge crowd at Bridgeforth stadium with an electrifying 72 yard catch-and-run, zipping past some all-CAA defenders along the way.
The Williamsport, PA native is a dynamic back that can hurt opposing defenses in a variety of ways, from pure strength over the middle to a second gear of speed to the outside. Seeing the second act of the Dominick Bragalone show is something every Lehigh fan is eager to experience.
The Lehigh rushing attack isn't just Dominick Bragalone, either, which is even more exciting.
Four different backs,
sophomore RB Micco Brisker, junior RB Nana Amankwah-Ayeh
,
senior RB Kenny Crawford
and
sophomore RB Nick Thevaganayam
all promise to be a part of a swarm of running backs that all bring something different to the table.
It's hard to remember a time where the Mountain Hawks not only had a budding Patriot League star at running back, but also this much depth at the position.
Wide Receiver
Like running back, there is an eye-popping amount of depth returning at this position for the Mountain Hawks. All six receivers on the depth chart caught passes for Lehigh last season, and the list includes three seniors.
WR Troy Pelletier (Morning Call)
At the top of the list is Deerfield, New Hampshire native
junior WR Troy Pelletier
(78 receptions, 831 yards receiving, 8 TDs). The 6'3, 195 lb receiver has been the go-to pass option and has repeated show the ability to make big plays, whether goal-line touchdown conversions or a
47 yard burst against Penn, leaving his man in the dust
.
The key to Pelletier's season will be his ability, again, to expand on what he's already accomplished at receiver - to keep those big plays coming and to perhaps work on some more elusiveness.
Joining him are speedy fifth-year
senior WR Derek Knott
(395 yards, 2 TDs),
senior WR Trevor Socarras
(459 yards, 2 TDs),
senior WR Jarrod Howard
(7 catches, 74 yards),
junior WR Sasha Kelsey
(364 yards, 3 TDs) and
junior WR Gatlin Casey
(488 yards, 4 TDs).
All bring a different flavor to the table - Knott's raw speed, Socarras' hands, Casey's ability to take over on a Pelletier double-team, and Kelsey's big-play ability. 6'2, 195 lb Jarrod Howard, too, a special-teams standout, also gets possession receptions in key spots.
On paper, this looks like this could be a special wide receiver corps.
Tight End
TE Drew Paulsen
It must get boring to constantly read "There's talent and depth at this position" constantly, but yes, at tight end this appears to apply too.
Though
TE Chris Ruhl
graduated, last year's starter, three guys with game experience return.
Penciled in at starter is
junior TE Drew Paulsen
, who worked his way into the lineup last season and caught four passes for 80 yards and 1 TD last year, while
senior TE Zach Bucklin
should be able to continue to excel as a blocker and a goal line specialist, and
junior TE Michael Baur
, who has increasingly seen his playing time increase in 3 TE sets.
Paulsen has shown a very good set of hands when the ball has been thrown his way and shown the ability to make defenses pay for leaving the middle of the field open. It's a good bet that he'll be able to continue to exploit the middle in that case again.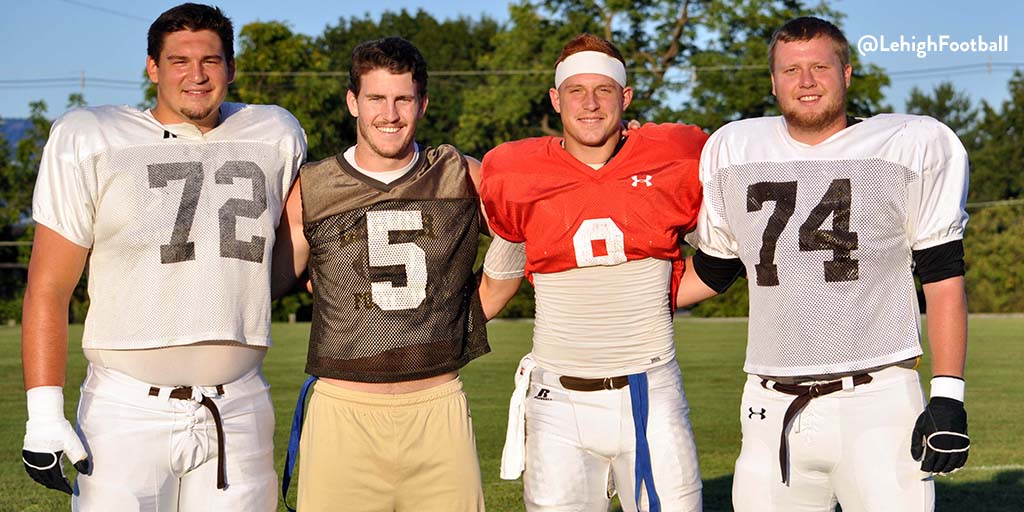 OT Zach Duffy (far left), C Brandon Short (far right)
Offensive Line
Three of the five starting linemen return from last season, including two of the players that the Lehigh offense count as co-team captains:
senior C Brandon Short
and
senior OT Zach Duffy
.
Junior OT Tim O'Hara
also returns, meaning both bookend tackles bring their experience back to the field.
Duffy and O'Hara were both all-Patriot League second team selections at the conclusion of last year, while Short and the rest of the offensive line made all the success of the Lehigh running and passing game possible last year.
Duffy was also at Patriot League media day and spoke like a player who was very aware of the importance of continuity on the team.
"It's very important for me, Brandon, Tim, and the other seniors to guide the [new offensive linemen]," he said. "The transition coming here to college, and especially playing football, is not easy by any means. Camp especially is very strenuous, and it's really important for us to show them that we're all brothers here, and we're here to guide them through the process. I was very fortunate to have a bunch of great guys here before me,
OL Matt Lippincott, OL Ned Daryoush, OL Wenner Nunes
... they were able to show us what it's supposed to be like and how it's done."
Easing into the starting guard positions will be 285 lb
senior OL Micah Tennant
and 290 lb
sophomore OL Liborio Ricottilli
, and with the leadership of Zach and Brandon, things look very positive for another great year in 2016.
Special teams
Ed "The Toe" Mish
One big question mark going into the preseason was who might be starting at punter for the Mountain Hawks this fall, and, at least initially
sophomore P/K Ed Mish
appears to be the guy who will be taking on those duties for Lehigh, at least until
freshman P/K Oliver Clowes
can get a handle on the job.
Mish, an Old Bridge, New Jersey native, had an outstanding freshman season as Lehigh's kicker, converting 40 of 43 extra points and 9 of 12 field goals, including a 43 yarder. He also booted 10 touchbacks on 67 kickoffs, including some important ones vs. Penn to negate a key part of Penn's strength on special teams.
Mish will be looking to expand his game into punting and to possibly working on adding more range to his field goals as well, but Mish took a big question mark going into last year's season and turned it into a strength.
Returning kickoffs will be
junior WR Gatlin Casey
, allowing him to display some of his shiftiness and speed to that unit, while speedy
junior DB Marc Raye-Redmond
will join him on the other side.
Junior CB Quentin Jones
will return punts, with
junior WR Sasha Kelsey
backing him on the depth chart.