For the second year in a row, ESPN will be ushering in the first FCS football game of the year on the flagship station.
And for the second year in a row, the matchup will be worth your time.
It's hard to picture two more iconic FCS programs in the last ten years than the North Dakota State Bison, winner of four straight FCS National Championships, and the Montana Grizzlies, who have made the playoffs eight of the last ten years and also made it all the way to two national championship games in the last decade.
It might not be easy to see Mount Sentinel in the distance with possible smoke from the huge wildfires in Eastern Washington, but what is certain is that these two perennial Top 25 teams seem likely to usher in the FCS football season with style.
The game needs a better name.
A Little More Like It
I'm sorry, "
FCS Kickoff
" is so... boring. It needs a name as big as the game as it's covering - and in the world of FCS, it doesn't get much bigger than North Dakota State at Montana.
Maybe
Brent Musberger
, who will be heading to his home state to cover the Griz for ESPN, can come up with something worthy of the matchup.
"You are looking live at Washington-Grizzly Stadium in smoky Missoula Montana, where you folks will be watching a FCS Royal Rumble between two of the best Championship Subdivision teams in the nation!"
North Dakota State enters the season at No. 1 in the FCS coaches' poll, while Montana comes in at No. 12.
Interestingly, the game will also be a clash of two polar opposite styles of offensive play.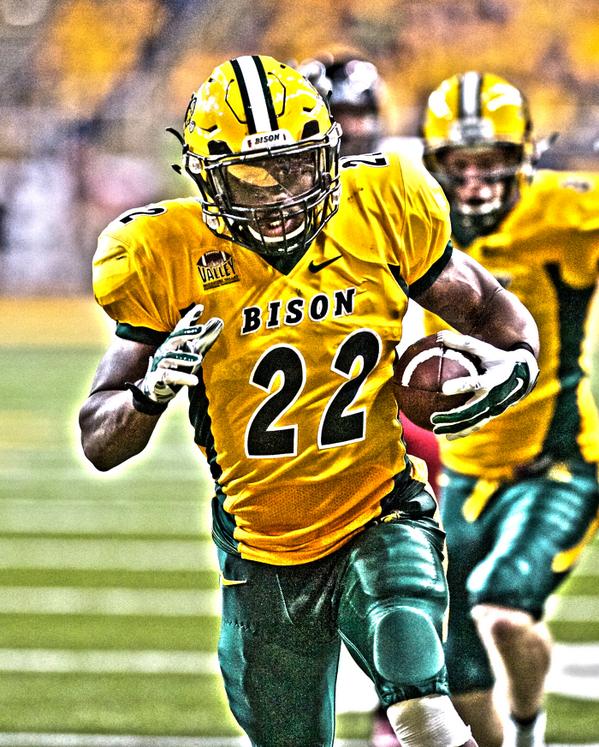 King Needs To Show Up for FCS Royal Rumble
The Bison, behind lofty 6'6
senior QB Carson Wentz,
have made their name with a grinding, ball-control offense with a combination of rush and pass that keeps defenses guessing. They'll be looking to see who the replacement for
RB John Crockett
will be, however, whose 21 TDs and 2,000 yards rushing were often the knockout punch against Bison opponents last season.
A likely candidate is a Nebraska transfer that saw time behind Crockett last season,
junior RB King Frazier
. His bruising style looks perfect for a ball-control game versus the Griz.
WR Zach Vraa
, one of Wentz' favorite targets, returns as well. In his career he's hauled in 2,447 yards receiving and 21 touchdowns, and had 637 yards and 4 TDs under head coach
Chris Kleiman
's system, which was largely unchanged from the system
Craig Bohl
put in place.
They'll be going against a Griz defense that are filling a bunch of spots but feature returning
senior LB Kendrick Van Ackeren
(122 tackles, 5 tackles for loss). With a core like that and a sold-out Griz crowd at their backs, the Bison will have a challenge on their hands.
In contrast, the Griz have recently made a pretty big shift in offensive philosophy.
Under brand-new head coach
Bob Stitt
, Montana will be playing an up-tempo offensive game. As he did in his last job, head coach of D-II Colorado School of Mines, he'll be trying to bury the other team in offensive plays and points.
Expect To See A Lot Of This From Montana on Saturday
To that end 6'7
junior QB Brady Gustafson
will be driving the Grizzly bus.
"Brady's doing such a good job controlling the offense, making checks and putting everybody where they need to be,"
sophomore WR Josh Janssen
said a
bout his mastery of the new offense this preseason.
"We have so much talent on this team, we just need to put it in the right direction."
Like Wentz, Gustafson has his leading receiver coming back, too,
senior WR Jamaal Jones
(1,044 yards, 8 TDs) who will be going against a surprisingly inexperienced Bison defense.
Junior LB Nick DeLuca
started at middle linebacker in all of the Bison's playoff games last season and seems like he will step in to lead this inexperienced group.
These teams are two of the best teams in all of FCS - a yardstick to which every team can measure themselves. For that reason alone the FCS Kickoff - or, as I prefer, the FCS Royal Rumble - should be on your viewing list this weekend.
All this, and you get Brent Musberger too!
ABC FOX Montana Local News, Weather, Sports KTMF | KWYB
The long wait will finally be over.
My Fearless Prediction:
The Bison defense is a lot less inexperienced than they look on paper, and even though it looks like this will be an even match most of the way, ultimately that big-game experience - and winning experience - will shine through.
North Dakota State 31, Montana 14