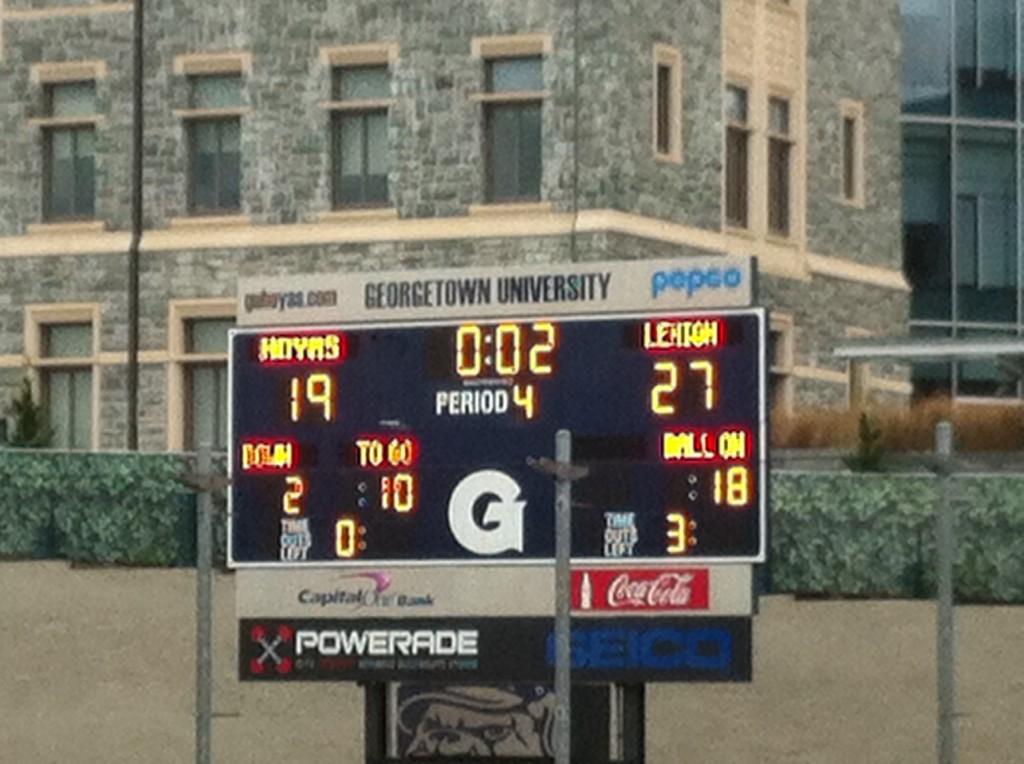 It was a point when the Lehigh football team could have packed it in, or simply decided that they wanted to just play out the string.
Instead Lehigh went down to Washington, DC and got their second win of the season, as well as their first Patriot League win of the season, with a 27-19 victory over the Hoyas.
It wasn't always pretty. Just like against Cornell, the mixture of young and veteran Mountain Hawks made some big errors to keep Georgetown in the ball game.
But despite the goofs, for Lehigh there was a lot more good than bad.
For the first time since a few weeks, hope and optimism, for the rest of this year up to the 150th meeting of Lehigh and Lafayette - and beyond - made an appearance.
Lehigh's defense set the tone on the very first play when
senior DT Tim Newton
and
junior LB Matt Laub
combined to tackle Hoya
RB Jo'el Kimpela
for a 1 yard gain. After a 3-and-out, the Lehigh offense then drove the length of the field, setting up a 23 yard field goal by
sophomore PK Ryan Pandy
.
"It was great to see the offense and defense help each other out," a relieved head coach
Andy Coen
said, with s
ophomore LB Colton Caslow
also mentioning how good it was that everyone was "working together, and the defense was flying around out there."
On the ensuing kickoff after Lehigh's initial score,
freshman RB Chris Leigh
stripped the ball from the Hoya return man, where
sophomore LB Pierce Ripanti
fell on the ball, giving
senior RB Rich Sodeke
and the offense a nice, short field to work with.
Efficiently, Sodeke would spearhead a drive into the red zone, where
sophomore QB Nick Shafnisky
would throw a laser to
freshman WR Troy Pelletier
for a 16 yard touchdown strike and a 10-0 lead.
"Freshmen [and underclassmen] are playing now and making big contributions," head coach
Andy Coen
remarked after the game to
Steve Lomangino
on ESPN Radio, noting two big momentum-shifting blocked kicks, a field goal block by
freshman CB Quentin Jones
and a blocked extra point by
freshman DT Tyler Cavenas
.
"He stepped up," Coen said of Cavenas, who did so when
sophomore DE T.J. Stubbs
was helped off the field, not putting any pressure on his right leg, "got a couple of tackles and the big PAT. I thought Jones' block was one of the bigger plays of the game, because it gave us the momentum going into the half."
On this day after Halloween, it was eerie that it started in almost the exact same way as the Cornell game did, with a field goal, followed by a big special teams play on a kickoff that led to a touchdown and a two-score lead.
Unfortunately just like the Cornell game, what happened was Lehigh made some mistakes to give the Hoyas a window to get back into the game.
Against Cornell, it was a bad punt snap that caused a big loss that set up a score to close it to a one-score game.
This week, up 20-3 after a touchdown catch from Shaf to Sodeke, on their ensuing possession, a high snap deep in their territory went through the hands of Shafnisky, fell out of the end zone, and resulted in a safety, making a three possession game into a two-possession game.
Then, after Hoya
RB Justin Hill
broke a big gainer into Lehigh territory, the Hoyas set up a 1 yard plunge by Kimpela - but Cavenas' blocked extra point, crucially, kept it a 2-score game.
Shaf found Pelletier on a screen play that went 65 yards, Troy's biggest gainer on the afternoon in a game where he caught 7 passes for 187 yards and 1 touchdown.
His surgical way of taking apart the Georgetown pass defense, one of the best in the Patriot League, represented the biggest chunk of Shaf's best day passing ever as a Mountain Hawk, where he tossed for 345 yards and 2 TD.
"I'm just trying to step up," Pelletier said after the game. "No matter your age, you have to play and just give it all you have."
That 65 yard pass play would set up Sodeke's weaving 6 yard touchdown run to make it the very odd score of 27-11, but the Hoyas would get a later touchdown run by
QB Kyle Nolan
and a 2-point conversion to make it an interesting end to the game.
After Lehigh's final offensive drive stalled and the Mountain Hawks had to punt, it was Caslow and Newton who made key tackles on the Hoyas' final drive. Caslow would end the afternoon with 12 tackles, while Newton would have 5 tackles, but none bigger that the one on 4th-and-1 that would seal the victory for Lehigh this afternoon.
"I'm really happy for the kids and our coaches," \Coen said on the ESPN Radio postgame show. "We tried to hurt ourselves again as much as we could. I think we out-played them, but at the end of the game they were right with us. Georgetown's a gutty team. That's the way they've played all year. We didn't think any of it would be easy but I'm proud of our guys.