It was a surprise. Well, to me, anyway.
Most people assumed that Lafayette head coach John Garrett was safe as the Leopards' head coach. Though his five year record wasn't great, he had beaten bitter Rival Lehigh in two out of the last three Rivalry games, despite a tough 17-10 loss to Lehigh the final week of the year.
Listening to the post-game press conference, I also didn't pick up on some of the signs that his job security might be in jeopardy. Garrett was a bit prickly, but it was understandable - he had just lost a game to Lafayette's Rivals. "The future is bright for Lafayette football," he said, not letting on that he might not be a part of that future.
But by Monday, the announcement was made - after five years leading the Leopard football team, "Lafayette College will not renew the contract of head football coach John Garrett," a short press release stated. "A national search for his replacement will begin immediately. Defensive coordinator Doug McFadden, who just finished his 12th season with the program, will serve as its interim head coach."
This winter's Lafayette offseason took a decidedly interesting turn as a result.
One name that will not be on this list was Notre Dame coordinator Brian Polian, who somewhat inexplicably showed up in the rumor mill when some "insider tweets" linked him as "being close" to signing as Lafayette's new head coach. May Lafayette fans and I were deeply skeptical, and today that skepticism was justified, as he announced that he's joining his former boss Brian Kelly at LSU.
Polian, a former head coach at Nevada, never made an ounce of sense as Lafayette's head coach - he had no ties to the area, had already been a head coach at a Group of Five school, and it seemed clear to me that he was going to command an astoundingly high salary.
I don't have any super-insider viewpoint as to whom Lafayette will be hiring to lead the Leopards next year. But I do have a list of ten candidates that I think could be in the running, in alphabetical order.


Vincent Brown

Current Position: Associate Head Coach/Defensive Coordinator/LB coach, William and Mary (2019-present)

Resume: Brown, a three-time All-Pro linebacker for the New England Patriots, has been a trusted right-hand man for William and Mary head football coach Mike London in all his stops in Division I football (Richmond, Virginia, Howard, William and Mary). Brown was a standout player at Mississippi Valley State, and there isn't much that he hasn't seen already in his coaching career.


Area Connection: Clark was a key coach for standout DT Bill Murray at William and Mary, where he had 143 tackles, 32.0 TFL, 19.0 sacks 10 blocks, six PBU, four forced fumbles and two fumble recoveries.

How he fits: Brown could be one of the best-qualified African-American candidates in the FCS coaching landscape today. His knowledge base is unique and could truly bring a great new perspective to the Patriot League head coaching ranks, all based in successful scholarship FCS recruiting and high academics.

Analysis: He doesn't have any obvious previous ties to Lafayette - and it's not clear whether William and Mary would let him go easily, nor if he's interested - but his resume is outstanding, and he is way overdue for a shot at head coaching.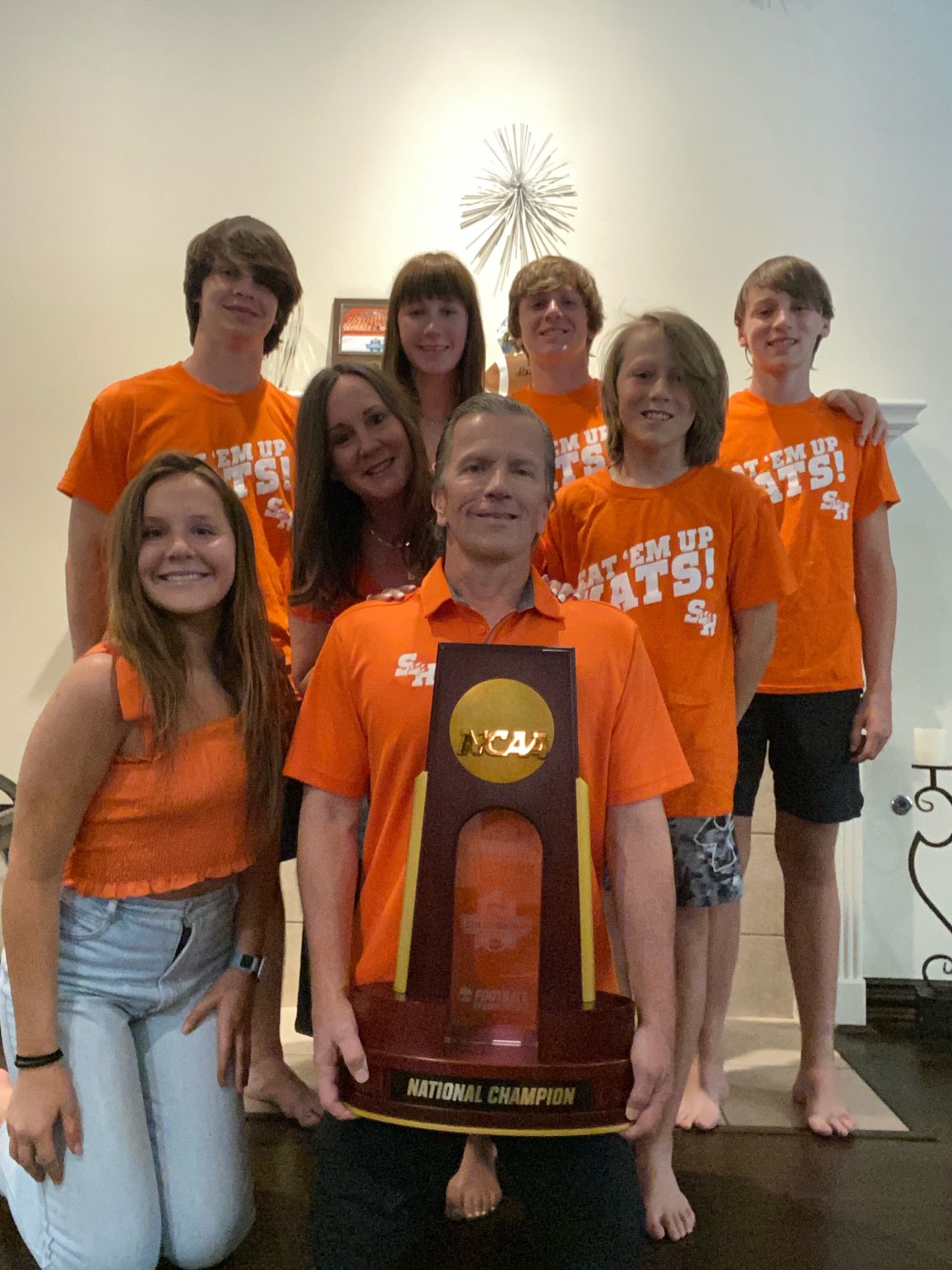 Clayton Carlin

Current Position: Defensive Coordinator/Safeties, Sam Houston (2016-present)

Resume: Carlin has had a long and storied career at the FCS level in assistant coaching, with a multitude of stops including Nebraska, Cornell, Villanova, and Bucknell of the Patriot League. Most recently he helped build Sam Houston's defense into one of the best in the nation - a FCS National Championship-caliber defense.

Area Connection:
His father, Leo Carlin, worked with the Philadelphia Eagles for 55 years as their ticket director.
How he fits:
Carlin ticks a lot of boxes in terms of fitting at Lafayette - knowledge of the Patriot League and Ivy League, area ties, not to mention a tremendous defense. His path to Lafayette would be truly national, and it would be a hire that would be bound to make some news.
Analysis:
There are signs that the gang that has guided Sam Houston to FBS football are starting to break away from the Bearkats - offensive coordinator Ryan Carty is hotly rumored to be Delaware's next head football coach. Could this confluence of events allow Lafayette to recruit the coordinator of one of the top defenses in FCS?
Keith Clark
Current Position: Assistant Coach - Offensive Line, Dartmouth (2009-present)

Resume: When Buddy Teevens returned to Dartmouth for his second tour, he didn't hesitate to call upon Clark in 2009, where he has excelled ever since. Clark has consistently churned out first-team all-Ivy offensive linemen, including two in 2021 (OL Evan Hecimovich and OL Jake Guidone). There are a number of offensive linemen on Dartmouth's roster from the heart of Lafayette's recruiting territory - which happens to be Clark's.
Area Connection:
Clark was a three-year starter for Lafayette ('85) on the offensive line, and during his four year career under Bill Russo, he beat Lehigh three of four possible times. He also actively recruits the area with Dartmouth.
How he fits:
Clark would bring someone back to Lafayette who knows The Rivalry and might also be a huge help in building an offensive line that could allow for the Leopards to get back near the top of the Patriot League.
On his Twitter Profile
, he proudly states, "100% Graduation", which shows he "gets" Ivy League and Patriot League football.
Analysis:
Clark isn't a young guy, but he's an interesting mix of what Lafayette appears to need in terms of offensive line strength as well as someone who is part of the Lafayette playing and coaching tree.
Jim Clements
Current Position: Head Coach, Kutztown (59-22, 7 seasons)
Resume: Former head coach at Del Val (D-III). He is the winningest coach in Delaware Valley history with an overall record of 66-24 from 2006-13, including a perfect 10-0 regular season in 2011. He also guided Kutztown to the D-II Playoffs multiple seasons, including this season (11-2).

Area Connection: Has extensive ties to the area as former Del Val head coach and is a PA resident. He followed Drew Folmar as Kutztown head coach after Folmar left to become Lehigh's offensive coordinator.

How he fits: Clements has made his name at Kutztown with defense. His defense held opponents to 19.5 points per game in 2017, the best mark for the program since 1996, and less than 200 passing yards per game for the first time in 10 years. He's instilled a winning culture at Kutztown and has had amazing success there.

Analysis: Clements is an interesting combination of experience and success at the sub-D-I level, and is a coach on the rise basically right in Lafayette's backyard.
Mark Fabish

Current Position: Offensive Coordinator/TE Coach, Columbia (24 seasons overall coaching)
Resume:
Fabish has been Columbia head coach Al Bagnoli's right-hand man for years, when the one-time Penn TE joined Bagnoli's coaching staff at Penn in 2008 and rose through the ranks from there. He recruits arguably Columbia's three most crucial recruiting areas: north Jersey, Texas, and Florida.
Area Connection:
Fabish is a former Bergen Catholic player and lives in northern New Jersey. He's been a fixture in the New Jersey/Pennsylvania region for a very long time. TE Luke Painton, a 6'6 junior out of Berks Catholic and Columbia's starting TE1, was almost certainly recruited by him.
How he fits:
Fabish fits the profile of "it's his time to become a head football coach" and he knows the area well, though he doesn't have current ties to the Lafayette program. Bagnoli and, by extension, Fabish have done a tremendous job keeping Columbia within striking distance of the top Ivy League programs.
Analysis:
Fabish seems to be a pretty good match for Lafayette in a multitude of ways - but the question is whether he'd want to leave his gig at Columbia to do it.
Mickey Fein
Current Position:
Offensive Coordinator/WR coach, Harvard (5 seasons)
Resume:
Fein spent nine seasons at Lafayette from 2008-16, including eight as offensive coordinator for the Leopards and has also worked at Murray State, Tennessee-Martin and Maine. When Frank Tavani retired and Garrett took over, he was snatched up by Tim Murphy up at Harvard and has rose through the ranks there, including WR Justice Shelton-Mosley. Just this past season he took over as offensive coordinator at Harvard.

Area Connection: He was a longtime offensive coach at Lafayette, and knows the Leopards very well.

How he fits: It would be a juicy homecoming for Fein to come back.

Analysis: The stars could align here if Sherryta Freeman wants someone to come back to Lafayette who already knows where all the offices are - and to boot has been a success at Harvard.
Jim Knowles
UPDATE: Jim Knowles was recently announced as the new defensive coordinator at Ohio State.

Current Position:
Defensive Coordinator, Oklahoma Sate (34 seasons at a variety of stops)
Resume:
A former head coach at Cornell, Knowles was tasked with rebuilding the Oklahoma State defense and has been a big success. In 2018, the Cowboys allowed an average of 32.5 points and 452.5 yards per game, but in 2019, those numbers improved to 26.8 points per game and 412.3 yards per game. Then in 2020, those numbers improved again to 23.5 points per game and 379.0 yards per game, which are the best numbers at Oklahoma State since 2009.

Area Connection: Though a Cornell graduate, he's still a Philadelphia resident.

How he fits: Knowles knows both high-academic football (Cornell), Power Five football (Oklahoma State), has been a head coach before (Cornell) and is from the Philadelphia area. A head coaching gig in Easton, PA would be a lot closer to home.

Analysis: Outside the box? Certainly. But hiring Oklahoma State's defensive coordinator would send a big message that Lafayette's ambitions for football are to be back on top. [UPDATE: I didn't know the half of it!]

Current Position:
Assistant Head Coach/LB Coach, Army-West Point, 15 overall seasons
Resume:
The vast majority of John Loose's career has been spent at two institutions: Army-West Point and Lafayette. Everywhere he's been he's presided over tremendous defenses. Most recently, Loose spearheaded a defense in 2019 that was fifth nationally in passing defense (178.9) and 30th in total defense (342.3). Defensive back Elijah Riley and linebacker Cole Christiansen each earned spots in collegiate all-star games, as Riley participated in the East-West Shrine Bowl, while Christiansen took part in the NFLPA Collegiate Bowl.
Area Connection:
Even while still at West Point, his ties to the Lehigh Valley have persisted. Loose and his wife, Marianne, started Lauren's First and Goal Foundation. The organization was founded in 2004 and raises money for pediatric brain tumor research. The Foundation has generated more than $2 million and blossomed into the largest one-day football clinic in the country, which takes place through Lafayette College and involves a nationwide network of head coaches and assistant coaches.
How he fits:
Loose has embodied the positive spirit of Lafayette athletics for decades.
Analysis:
In almost every way he seems like a natural, but is Loose willing to give up a lucrative position up the Hudson river to come back to Lafayette?
Doug McFadden
Current Position:
Defensive Coordinator/Interim Head Football coach, Lafayette (12 overall seasons)
Resume:
Coming from Fort Hays State in 2010, McFadden went from secondary coach and rose slowly but surely through the ranks, taking over special teams at one point and finally taking over the defense this past fall. He's done all sorts of internships (Cleveland Browns) and has a huge wealth of experience, which is why he was immediately tagged as the interim head coach when Garrett was dismissed. (This also technically makes him the first African-American head football coach in Patriot League history.)
Area Connection:
He's on the current staff and he recruits the Lehigh Valley and the ensuing area, so he knows the place backwards and forwards..
How he fits:
As the coach that provides continuity during a head coaching search, he embodies what the program is now and is currently shaping what the next Lafayette recruiting class will look like. Recruiting is clearly his passion.
Analysis:
Is it a stretch for Sherryta Freeman to simply remove the "interim" tag from McFadden down the line? I don't think so. A "Lafayette man" through and through, no candidate has put more into the program in recent years than McFadden.
Nate Milne
Current Position:
Head Coach, Muhlenberg, (26-5, 3 seasons)
Resume:
Milne was the Mules' offensive coordinator for three years before getting promoted to head football coach in 2017. From there he guided the Mules to their first Centennial crown since 2010 and their best season in program history, which ended in the D-III quarterfinals against perennial powerhouse Mount Union (NJ). In 2019, Milne was named Division III National Coach of the Year by the American Football Coaches Association and Andy Talley Regional Coach of the Year by the Maxwell Football Club.

Area Connection:
Probably wouldn't even have to sell his house.
How he fits:
He set up a prolific offense in a very short period of time at Muhlenberg, and you can't get more local than here. He's also built an impressive culture at Muhlenberg that has resulted in three straight deep runs in the Division III playoffs.
Analysis:
He's never held a Division I job, nor recruited for scholarship football, but his record basically down the street from Easton is hard to ignore. He's maybe an "outside the box" hire in a way, but his success has been tremendous and undeniable. A Division I coaching job seems like the next logical step for him.
John Troxell

Current Position: Head Coach, Franklin & Marshall, (92-67, 16 seasons)

Resume: Troxell is synonymous to the Franklin & Marshall football program for the last decade and a half. He's guided the Diplomats to two Centennial Conference championships and has guided F&M to nine postseason D-III opportunities.

Area Connection: A former Lafayette football player, Troxell has persistently been a presence around the Lafayette football program for more than a decade.

How he fits: Aside from the "Lafayette DNA", his Diplomat teams have been known for their offense. Several Centennial Conference (CC) marks have fallen from quarterbacks John Harrison (first in completed passes with 856, touchdown passes with 87 and most games gaining 400+ yards with three) and E.J. Schneider (first in most games gaining 300+ yards with 14 and most yards in a season with 3,379).

Analysis: Like Milne, he's never held a Division I job, nor recruited for scholarship football, but he knows the Valley like the back of his hand and to me there's no question he could make the jump easily. Is that what he wants, though?

Mike Willis

Current Position:
Assistant Head Coach/Offensive Coordinator/TE Coach, Princeton (2016-present)
Resume
: Willis has had a meteoric coaching rise at Princeton. A former Tiger offensive lineman, in the span of five seasons he went from the youngest position coach in the Ivy League to Assistant Head Coach and offensive coordinatior of this year's Ivy League co-champions.
Area Connection:
Princeton is by definition a "local tie", but also very encouraging is that he is one of Bob Surace's key recruiters in New Jersey, i.e. Princeton's (and Lafayette's and Lehigh's) backyard. He's originally from Rutherford, New Jersey.
How he fits:
You can't argue Willis' outstanding success at Princeton. Not only would he bring his recruiting savvy, he may also bring some of Princeton's dynamic offensive style to Lafayette as well.
Analysis:
He's a very young guy in terms of head coaching candidates, but he's risen to every challenge given to him at Princeton. Is he ready for a head coaching position at an institution that is not Princeton?