Every head football coach hates to use the word "rebuild" when it comes to their football team, but going into the 2019 Mountain Hawk football season, it was hard to avoid it.
From the preseason conference call where Lehigh was picked to finish 5th in the league - a reflection on last season's 3-8 record and the 5-6 record that preceded it - the word "rebuild" seemed to hang over this team.
"Over 40% of our team are first-year players," Lehigh head
Tom Gilmore
said on that call. "And we're excited to see what some of these freshman can do to enhance our roster and push the upperclassmen to be the best version of themselves on the field."
To a fan base that had grown accustomed to the way freshly retired head coach
Andy Coen
handled preseasons, already there was a sense that under coach Gilmore, things were different.
But there was also the sense that perhaps it would take a bit of time to get things to where the Mountain Hawks would be every year competing for the Patriot League Championships.
Indeed, under Tom Gilmore things have been different. Lehigh has been going through the adjustment of new ways of doing things, and evolving as true freshmen and players getting their first significant game action adjust to the speed and rigor of Division I football.
But a funny thing has happened on the way to "rebuilding", or at least what passes as rebuilding in a league that has struggled to find its place recently in the world of FCS.
Colgate, who started the season ranked in all the major Top 25s and were the prohibitive favorites to win the conference title, discovered that they forgot how to win football games. After Lehigh held them a half yard short of the goal line last week to hold on for a 21-14 win, the Riaders were then stunned last week at home by winless Bucknell, dropping them to 0-7 and almost certainly eliminated from the Patriot League title race.
With the stunning fall of Colgate, just like that, it looks like the balance of power in the Patriot League is, for better or worse, wide open - and "rebuilding" Lehigh appears to have as good a chance as anybody to come away with this thing.
Defensive Resurgence
Tom Gilmore at one time was Lehigh's defensive coordinator. Gilmore was known as one of the more fiery, passionate and unrestrained competitors on
Pete Lembo
's coaching staff.
Back in 2001, he presided over a defense that held opponents under 20 points on five separate occasions during the regular season. Led by Sports Network all-American
DB Abdul Byron
, the 2001 Mountain Hawk team went 11-0 during the regular season and earned a home game against Hofstra in the I-AA Playoffs, winning 27-24.
Looking at the ugly defensive number of the last few seasons, many thought that it might take some time to have Gilmore re-set the defense in his own image.
But he, and the defense, have changed.
Led by
LB Keith Woetzel
and
DE Erik Slater
, Lehigh's run defense has gone from one of the worst in all of FCS last season to the 4th-toughest in all of FCS.
They have only yielded on average 74 yards per game and opposing ballcarriers are only averaging 2.43 yards per rush against them.
In the last two weeks, the Lehigh defensive front has combined for 13 sacks and held both Merrimack and Colgate to a combined -14 yards rushing.
"I think our coaching staff did a great job all week of putting in packages where we could get some pressure on the quarterback," Slater said after the Merrimack game,
a 10-3 win that was Gilmore's first as Lehigh head football coach
. "It wasn't just me, it was the whole D line getting there, and a lot of guys had opportunities and a lot of guys had sacks."
Slater and Woetzel have led the charge, but it's been a team effort. Junior
LB Pete Haffner
(4 1/2), freshman
DL Mikhari Sibblis
(3), senior
LB Riley O'Neil
(3), 5th year
DL Juwon Morrow
(3), senior
DE Davis Maxie
(2) and freshman
DL
Jackson Michaels
(2) have all gotten in on the fun of wrecking opposing rushing plans all season by getting important tackles for loss.
"We got it done," Woetzel said after Lehigh stopped Colgate at the one yard line
to ensure a 21-14 victory up in Hamilton
. "I'm happy even though we won by one yard or by thirty points, we got the 'W' today with the game on our shoulders. It's fun to have that last drive and experience that adrenaline , and nothing's better. That's why you play football. We'll rise to the occasion every time."
In both wins, what has really stood out is the endurance of this Lehigh defense as well. Twice, Lehigh's defense had the game in their hands, and twice they came up with the stops at the end to seal the victories. Against Merrimack, the defense was on the field 36 minutes yet held the Warriors to negating yards rushing and kept them out of the end zone.
"Especially being on the defensive side of ball, it's awesome that you know you can control the game from your side and from your play," Woetzel said after the Colgate game. "In years past, things got away from us, but I'm really happy how we turned it around. Now our defense is stacked up. I think we can beat anyone out there."
"It came to the very last play, and it would have been a shame if we couldn't have got it done, because I think our defense played a tremendous game," Gilmore said after the Colgate game. "They're very competitive, and they're very gritty."
Youth Growing Up Fast
Some of Lehigh's inconsistency of the first few weeks could at least somewhat be attributed to the fact that most of the roster consisted of underclassmen and players who hadn't played a lot in critical situations. Though a senior,
QB Tyler Monaco
had only lined up on the offense in a couple of games over the last few years.
Even as the Mountain Hawks struggled a little in an 0-3 start, there were signs behind the scenes that there was some positive steps being made.
"It's a baptism by fire," Gilmore said after the Colgate game. "I mean, we've thrown them in there. The fortunate thing is we're midseason now, and they have a lot of game experience. So they're not playing like freshmen anymore. And that's really good to see, and we expect big things of them in the second half of the season."
Fourteen freshmen found themselves on the two-deep for Colgate, including two starters on the offensive line,
OL Brendan Passarelli
and
OL Damon Stewart.
Two freshmen in particular emerged with some big offensive plays against the Raiders.
RB Nate Hope
was Patriot League Freshman of the Week with 112 all-purpose yards, including a beautiful catch from Monaco that went 60 yards.
And
RB Zaythan Hill
scored the go-ahead touchdown with 33 seconds to play in the game, showing that the Mountain Hawks have surprising depth at running back.
They weren't household names when the season started, but they are working their way into the conversation by getting their names called week to week.
"We'll sometimes make mistakes," Gilmore said. "I think everyone makes mistakes, but they don't let it get them down. They come back and compete and that's really encouraging. It's really it's really encouraging where we can go."
Stupendous Special Teams Coverage
On some young teams, a lack of discipline shows up in the form of special teams play. Overagressive, dumb penalties and big punt and kick returns can show up, and going into the season it's something I was looking at closely.
Instead, not only has special teams been a positive, it's been a net strength that has directly contributed to the win against Merrimack.
You probably saw the highlight-reel tackle of Davis Maxie on St. Francis (PA)'s punter, which led to
S Sam McCloskey
's scoop and score in the first week of the season.
There was also
DB TyGee Leach
's blocked punt against Merrimack that set up a game-tying field goal.
"We try [to punt block] out of the same look, so they never know if you're really coming or not,"Gilmore said after the Merrimack game. "We got the one, we came really close to another, and they also shanked one. I think all game we put them on notice and forced them to have great operation time. W e saw that in week one as well. But I thought our guys did a really good job, they really executed well. The block came on this second time that we called that particular block arrangement, and it was good to see it work."
Lehigh's block units are definitely another area that has blossomed into a strength on this Mountain Hawk team.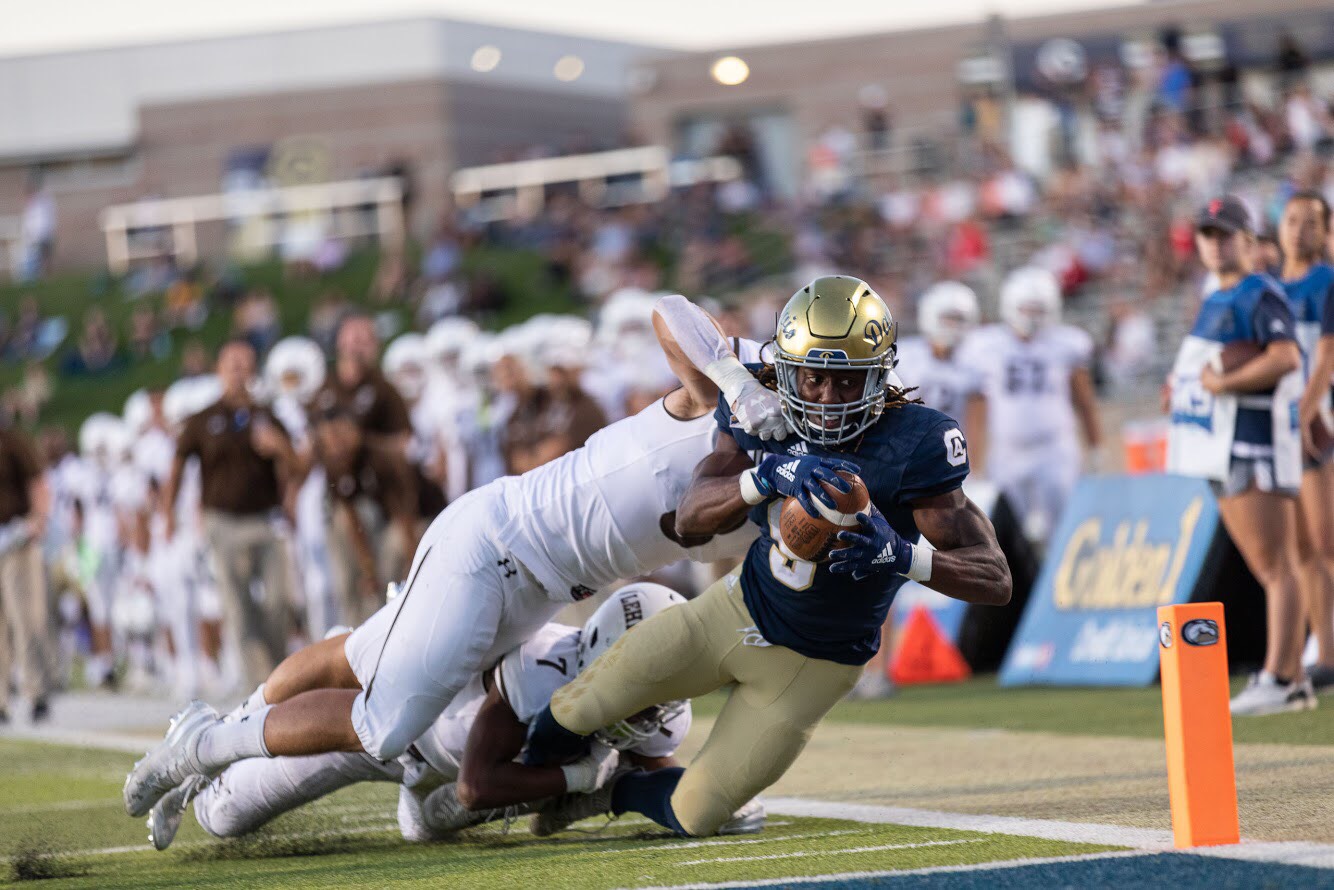 Second Half
The second half of the season gets underway next weekend in the Bronx against a 3-4 Fordham team that has a couple of impressive recent wins. Three weeks ago, they stunned Richmond of the CAA 23-16, and last week they completed a game-winning touchdown on 4th down to stun Georgetown in the final minute 30-27.
The real season gets kicked off for Lehigh, who, like the rest of the Patriot League, have no room for error if they want to be carrying the Patriot League Championship hardware at the end of the season.
The good news is that each week, Lehigh has been improving by leaps and bounds from the young team that was finding its way in Week One. If they can keep up the same level of improvement week to week, there's no reason to believe that this team can't be in the conversation for the Patriot League championship by the time they welcome Lafayette to Murray Goodman Stadium in the 155th meeting between the two Rivals.
Lehigh (2-3, 1-0) Remaining Regular Season Schedule
Sat, Oct. 19th at Fordham* (1:00 PM)
Sat, Oct. 26th GEORGETOWN* (12:30 PM)
Sat, Nov. 2nd HOLY CROSS* (12:30 PM)
Sat, Nov. 9th at Bucknell* (1:00 PM)
Sat, Nov. 16th at Sacred Heart (12:00 PM)
Sat, Nov. 23rd LAFAYETTE (12:30 PM), 155th meeting of "The Rivalry"