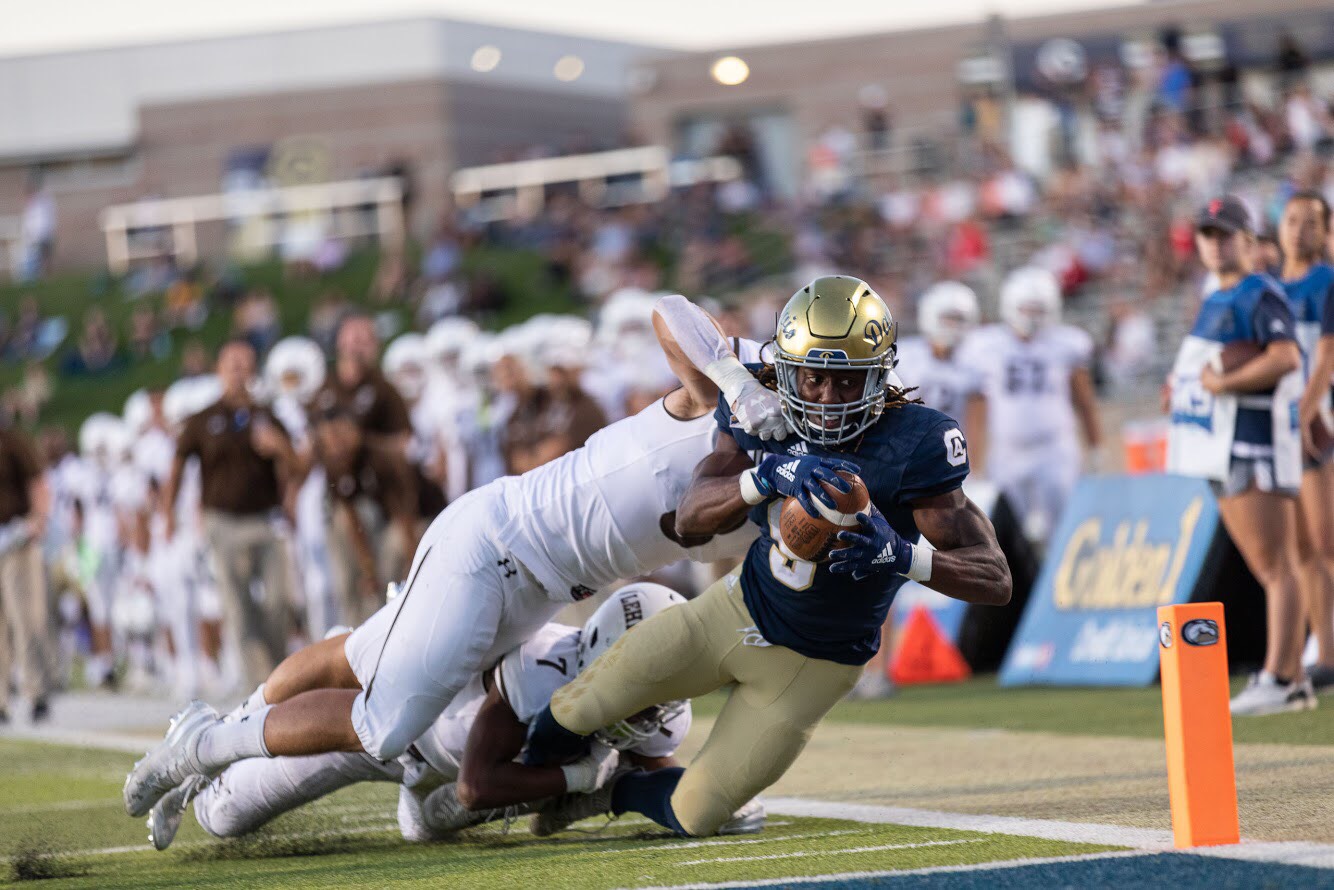 This weekend, late into the wee hours on the East Coast, Lehigh faced a huge challenge in playing No. 4 ranked UC Davis in their home opener this weekend.
The Aggies, looking every bit the No. 4 team in the nation,
executed on offense at a very high level as they beat the Mountain Hawks 41-14
.
We've all had a few days to catch up on our rest, get back on East Coast time, and think about where Lehigh is after their adventure out West. So, where are we?
1. There's a lot more season to go, and some real positives will result from this 0-3 stretch.
Lehigh fans are sometimes seen as a miserable bunch. They are somewhat rightly seen as a team that, over the course of decades, won an amazing number of games.
With that success comes complacency. At its peak it manifested itself as public comments along the lines of
"well, we still won the game, but we didn't score the 30 points we're used to seeing on offense, so the outcome was a failure."
At least some of this was a result of scheduling. For a long time, the term "stretch game" for Lehigh people consisted of a game at Delaware and/or Villanova.
Most Ivy League games were seen as tune-ups, because as a whole the Ivy League seemed to not care about their football product. This was mostly an illusion, of course, because the Ivy League occasionally produced some unbelievably strong teams. But that was the expectation.
Finally, games with NEC teama and other teams were seen as cupcakes on the way to the more challenging games. Before they went to the CAA and Big South and fielded teams with a full load of scholarships, Albany, Stony Brook and Monmouth were invited to Lehigh to be
our
home opener.
Bottom line, in other years, Lehigh had scheduled some easier teams to start the year.
The way Lehigh has scheduled this season is differenr. This season, Lehigh has scheduled what we could call the "Colgate Way".
For whatever reason, Colgate for many years running now have fielded what many would consider a masochist's schedule. This season, the Raiders have faced two CAA teams (Villanova and William and Mary) and for good measure played an FBS Service Academy (Air Force) as well.
The rest of their out-of-conference schedule this season is so hard, it's actually silly. Try an FCS quarterfinalist out of the CAA (Maine) and a powerhouse team out of the Ivy League (Dartmouth) that some have picked to win the Ancient Eight this season. Last season, the Big Green were 9-1, with only a loss to 10-0 Princeton their only blemish.
Why purposely schedule in a way where an 0-5 start is a distinct possibility? At 0-3, Colgate won't finish their out-of-conference schedule with a winning record, and Dartmouth and Maine will be favored in their games, so 0-5 is a real possibility.
The theory has always been that playing such challenging games to start the season pay dividends when teams get to Patriot League play. After all, Colgate reckons, no Patriot League team will be as good defensively as Maine or Dartmouth, or as relentless as Villanova on offense. When the speed goes down a half a step, the Raiders, they figure, will thrive.
This season, Lehigh has scheduled more like Colgate has. They've frontloaded their schedule with extremely challenging games that were longshots at wins. Like Colgate, the idea is that putting themselves in hugely challenging games will put them in a good spot to win the league.
It's not what Lehigh fans generally expect in September, but that 0-3 record can be a great benefit down the road, if the right lessons are learned and the fan base stays patient.
Most years, Colgate has started with losses on their schedule, and have recovered in plenty of time to compete for the Patriot League title and win. Lehigh very much has that as a possibility here this season, too.
"We obviously weren't ready for this level of play at this point in time,"
Lehigh head coach Tom Gilmore said.
"Hopefully we learned a lot from it. We'll watch the film and look for ways we can improve. We obviously need to improve a lot. We'll keep working at it."
2. Run, Forrest, Run!
UC Davis in many ways is a more complete team than Lehigh faced closer to home in Villanova. On offense, the Aggies have a Walter Payton-award level signalcaller in
QB Jake Maier
. On defense, too, UC Davis seemed to be a better team than advertised in terms of what they were able to bring in terms of pressure on the QB.
I found myself several times talking to the TV, asking
QB Tyler Monaco
to just tuck the ball and run with it instead of forcing a zinger of a pass to a perfect place.
Though he's a senior, Monaco is still very raw in ways, having sat behind
QB Nick Shafnisky
and
QB Brad Mayes
in prior years. That rawness stood out against Davis with their near-constant blitzing.
In that sense, the UC Davis game was a great teaching moment for this offense in the sense that sometimes, during blitzing, the defense will give the QB running lanes. I feel like if Monaco takes those rushing lanes a bit more often, it will help keep drives alive a bit more often.
Monaco has a cannon for an arm. I'm looking forward to how he develops in the next few weeks. And the more in-game decisions he gets, the better I think he'll be.
3. The run defense played extremely well.
Sometimes people obsess about the final score and don't dig too far into the numbers. That's a mistake if you're a Lehigh fan, because the box score reveals that the Lehigh defense only yielded 91 total yards of rushing to the Aggies for an average of 2.8 yards per carry.
It gets better the more you dig into the numbers as well. The Mountain Hawks only allowed four rushing plays of more than 10 yards, most of which came at the end of the game when the outcome wasn't in doubt. The longest run was 19 yards. Included in this total was a goal-line stand, when
DE Erik Slater
tacked
RB Ulonzo Gilliam, Jr.
for a 1 yard loss on 4th down.
It's important to not underestimate the fact that this defense overall has improved by a huge amount from the last two seasons. Though it's very early, Lehigh is sitting at 26th nationally in terms of overall rushing defense. That's incredible, especially when you consider 1) Lehigh was near the bottom of the FCS in rushing defense the past few seasons, and 2) the Lehigh defense has these numbers after playing two Top 25 teams.
There's still a lot of improvement to go - after all, Lehigh is still 0-3. But the picture that is emerging here is one of a team that could have a great Patriot League defense. Time will tell, but the front seven is emerging as a real impact part of the 2019 Mountain Hawks.
4. Again, getting those late scores may pay dividends later in the season.
It's easy to see when teams truly and honestly give up. Last season, I saw a Lehigh team give up vs. Fordham, and it was a brutal thing to watch. I was infuriated as a fan, watching that game.
But without trying to sound corny, I really liked how this Lehigh team worked hard all the way to the end of the game, and especially how the Mountain Hawks scored two late touchdowns to give the offense a boost going into the bye week.
You know UC Davis' defense really wanted to pitch a shutout, but in the 4th quarter Monaco found
WR Dev Bibbens
for a pretty 67 yard TD strike to finally break the stalemate, showcasing at once Monaco's strong arm and Bibbens' second gear. On the final play of the game, too, backup
QB Addison Shoup
found Bibbens for a 3 yard score as well, showing again that this team has some fight in it.
People that follow North Dakota State or UC Davis might not have noticed this, but these two drives definitely adds more confidence in this team going into the bye week.
"This team is not going to give up," Gilmore said. "They're going to fight until the end. We just have to execute a lot better when the game is on the line."
Courtesy Davis Enterprise
5. Lehigh's O Line has some work to do. College football teams are rarely fully-formed units early in the season, and in the case of Lehigh's offensive line that is definitely the case.
Lehigh's offensive line, depleted somewhat by injury, has had a real tough go the last few weeks. Part of that is that the Mountain Hawks have faced off against three aggressive, tough defenses in St. Francis (PA), UC Davis, and Villanova. Again, the way to look at this is that the O line has gotten a real lesson in what the best teams in FCS do in order to attack offenses.
With the promise that Lehigh might get some injured offensive linemen back after the bye week, the upcoming weeks depend on what lessons and improvements are made on the O line when the pass rushes aren't quite as fearsome as UC Davis'.
OL Brendon Passarelli
has been pressed into service as a true freshman and has truly experienced a baptism of fire, with his first start vs. Villanova. He's a kid with loads of potential, and as he improves week to week, Lehigh fans should see the benefits going forward. Similarly,
OL Alex Motley
, who has been rotating at RT, has been slow to getting back to full speed. A fully healthy right side of the line with Motley and
OL Jack Fris
could be really good for Patriot League play.
We'll see in two weeks how this unit will shake out.
"Offensively, we need to move the ball more consistently," Gilmore said. "It starts with our run game, which we got going a little bit more in the second half. I'm optimistic that we can keep improving in that area."