Remembering Andy Coen's Time As Head Coach As He Steps Down as Lehigh Football Head Coach To Address Health Issue
I read the announcement that head coach
Andy Coen
was stepping down as head football coach late Friday evening.
It was an announcement that I was expecting, to some degree.
Those of use who have been following the program closely knew that something was amiss with Andy.
And yet, the reason for him needing to step down was devastating.
"Life has thrown me a curveball," Coen said in the press release on Friday, December 7th, 2018. "I am in the early stages [of early onset Alzheimer's disease] and it is best for me to eliminate stress and concentrate on my health and well-being. My wife, Laura, and my children, Molly, Nolan and Finn have supported me throughout my career and are my biggest fans. This is a very difficult decision for all of us, but it is what is best at this time."
It was the gutting, pit-in-the-stomach diagnosis nobody wanted to be true. Just like that, a bigger challenge than simply winning football games faces the man who has been heading the program for the last thirteen years.
As the reality of the diagnosis sunk in over the weekend, the players who played for him and the people he touched poured out their gratitude on Twitter and Facebook. I did too, feeling a jumble of emotions and memories that have been difficult to process.
I sometimes sit back and think about how different my life would be if
Andy Coen
, back in 2006 and freshly hired as Lehigh's head football coach, decided that he had no time to field the questions of some Lehigh football fan that had a keyboard and a rudimentary knowledge about how online publishing worked.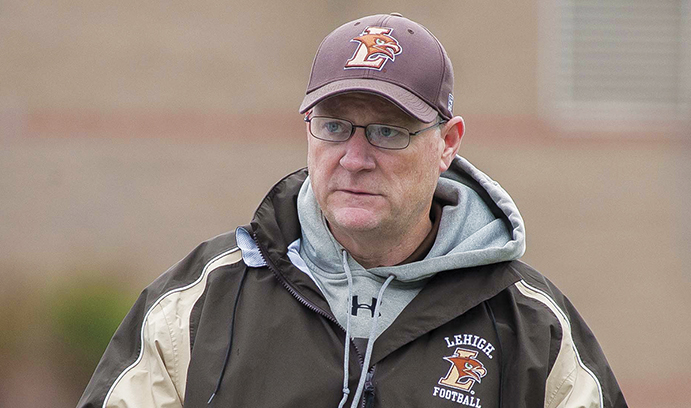 Having now known Andy for just about 13 years, it now seems ridiculous to think that he would be impatient with me or wouldn't value my contributions as an alumnus, but I do know that he made a decision in 2006 that he was going to listen to my questions and put up with whatever I was doing.
Back then, I hadn't talked to a bunch of college football coaches or even met a lot of media people. I thought somewhat naively that every college football coach was like Andy - warm, familial, and possessing an uncanny ability to have you root for him, to want to run through a brick wall for him.
I now know that there are no guarantees. Coaches can be the opposite of Andy - they can, for example, throw their athletes under the bus to save their own skin. They can decide to pull access from writers because they don't like them, they're "only" guys who are self-publishers, or that they looked at them funny at the local Wawa, or at least they thought they did, once.
Andy didn't have a particularly good reason for granting me access to his program, his coaches and his players, other than the reason that I was some part of the Lehigh "family" and I created a lot of copy about the Lehigh football program - some of it good, some of it critical, some of it tough, and some of it extremely poorly written.
One of my first interactions with Andy was when I gave some bad information on my blog about spring practice being open. Apparently, some potential member of the future class had read what I wrote and thought that meant he could practice with the team that day. I got an email, written in all caps, telling me someone had gotten the wrong impression. Mortified, I posted a correction immediately, wondering whether I would ever be invited to another game.
But he still let me hang around, ask stupid questions, and ultimately cover his entire tenure as head coach at Lehigh.
"It will truly be our program," Andy told the media in his first press conference as head coach on January 3rd, 2006, "It's not going to be Andy Coen's program, it's going to be the program of the players... and together, we will work to accomplish great things at Lehigh. I want our program to be something that the entire Lehigh community will take pride in, both in the academic community, [and] certainly our student body, but also, very importantly, I want our alumni to have a real sense of connection with our football program."
"Tradition never graduates," he also said. "The great tradition of Lehigh will go on and on forever and ever... the faces will change, the guys wearing the uniforms will change, but the tradition... will continue. It's critical that our alumni realize that, and I want them to get involved with this program. I will reach out to them, [and] I certainly want them to have the sense that we want them around... [and] we want them involved.... Once you're Lehigh, you're always Lehigh."
Over Andy's thirteen year run at Lehigh, one thing that really stood out was his deep-seated loyalty to his players and coaches. Always a bit of a CEO of a coach, he would delegate a lot of responsibility to his staff and his players and stick with them even when things were not going well.
In a way, that meant he sometimes didn't seem to get the credit he fully deserved for his six Patriot League championships, four FCS Playoff appearances, and most of all his 85 overall wins as Lehigh head football coach, tying the record set by the record held by
Bill Leckonby
in Andy's final game as head coach.
In fact, Leckonby's record was on the mind of everyone around the program for more than a year. Everybody wanted Andy to break the record, and when it became clear that he wasn't going to have the opportunity to break the record, at least tie it.
That's because whenever you hung around Andy long enough, you wanted to run through a brick wall for him. That went for sportswriters and sports information people and coaches and players, and I suspect, in a way, athletic director
Joe Sterrett
, too.
"More than his success on the field, Andy has always recognized the importance of his role as an educator and developer of young men," Sterrett
said in the release
. "He is deeply respected by the men who played for him and those who worked with or for him, and by his many colleagues in the Lehigh Athletics Department. He will always have our gratitude, friendship and support."
The Lehigh athletics community isn't built or maintained by one person, but to me it has always been clear that the feelings of family that coarses through the veins of the athletic department came in good part from Andy, who several times during his post game press conferences over the years had his kids in there, too.
So maybe it's not odd that it was how he treated people, more than the wins and losses, how people seem to remember him first and foremost. How he'd get emotional for his players when he couldn't give them the titles or trophies that they were working for. He was like the ultimate Dad - never mad at his players, just sometimes disappointed, but when everything came together, he'd be the first to say how awesome his players were.
It was after wins and losses, however, where I saw him the most. I'd see him experience the raw emotions of wanting to snap my neck after a loss to Princeton or frustrated after a gutting loss at Wagner, but I'd also see him beam with pride for his players after a gutsy win at Liberty or an iconic FCS playoff win at Towson.
Good luck fighting that curveball, Andy. I'm ready to run through another brick wall for you anytime.