Lehigh and Colgate is always a big game, whether both teams are going in undefeated or, as in this case, an 2-7 team is squaring off against a 8-0 team.
In a testimony to how evenly matched both of these teams have been over the years, no team has won more than 3 straight against the other since the inception of the Patriot League.
Colgate and Lehigh have faced off 55 times, and the overall record has been, fittingly, close, with Colgate holding a slender 29-24-2 advantage. The last tie came in 1980, a 17-17 tie at Taylor Stadium in which Lehigh's
John Whitehead
and Colgate's
Fred Dunlap
faced off as head coach. In a way, that hotly-contested tie sort-of epitomizes the competitiveness of this rivalry today.
Breaking Down Colgate
Offense
Writing a Colgate game breakdown and fearless prediction is personally my absolute favorite to write. Why? Because their offensive strategy hasn't changed that much over the last decade, from former head coach
Dick Biddle
to head coach
Dan Hunt
.
Having said that, although they execute the read option often, frequently with a tight end wide and a blocking fullback to lead the charge, and extremely athletic quarterbacks and running backs to gain yardage, they have also gained an impressive precision passing attack that means opposing defenses can't simply put nine in the box in order to give their running backs nowhere to run.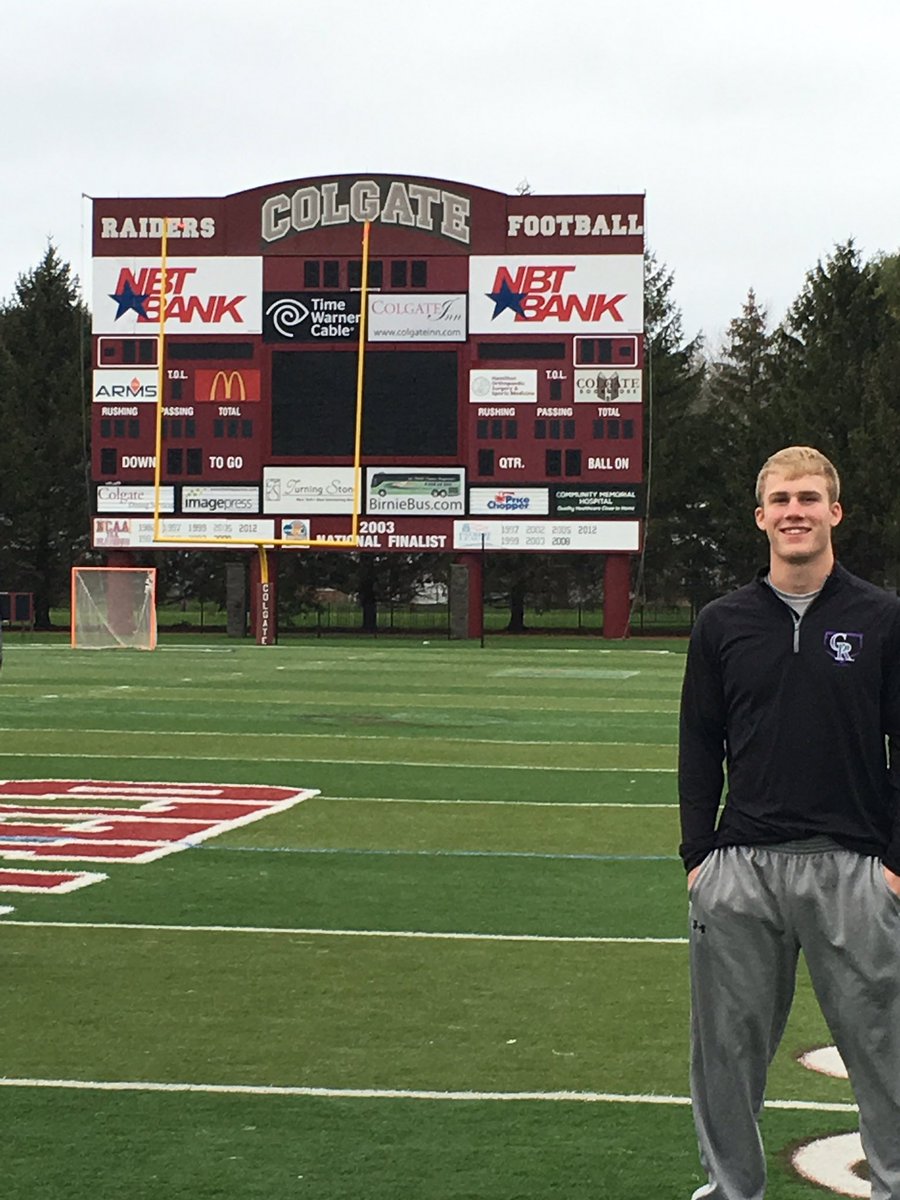 QB Grant Breneman
6'1 200 lb sophomore
QB Grant Breneman
is the prototypical athletic, bruising, mistake-minimizing game manager who bears an uncanny resemblance to former Lehigh
PF Tim Kempton
. He's scored a grand total of 11 touchdowns, 6 on the ground, 5 through the air.
The Raiders rotate through a stable of running backs, and last week, senior
RB James Holland
, junior
RB Alex Matthews
and sophomore
RB Malik Twyman.
Last week this trio combined for over 250 yards rushing and 4 touchdowns, showing how they've been improving week to week and gaining more and more confidence.
It's fair to say that with Holland in there, Colgate is a different team when it comes to getting physical, grind-it-out yards to keep the sticks moving, but that doesn't mean that Lehigh should ignore the other backs, especially the big-play ability of Matthews.
One aspect of the Colgate offense that might be something to exploit is the chance of getting the ball via turnovers. The Raiders have lost 10 fumbles on the season and turned it over a grand total of 13 times. If the Big Red Blanket does get a rip, there's a chance that turnovers could be a factor against Colgate.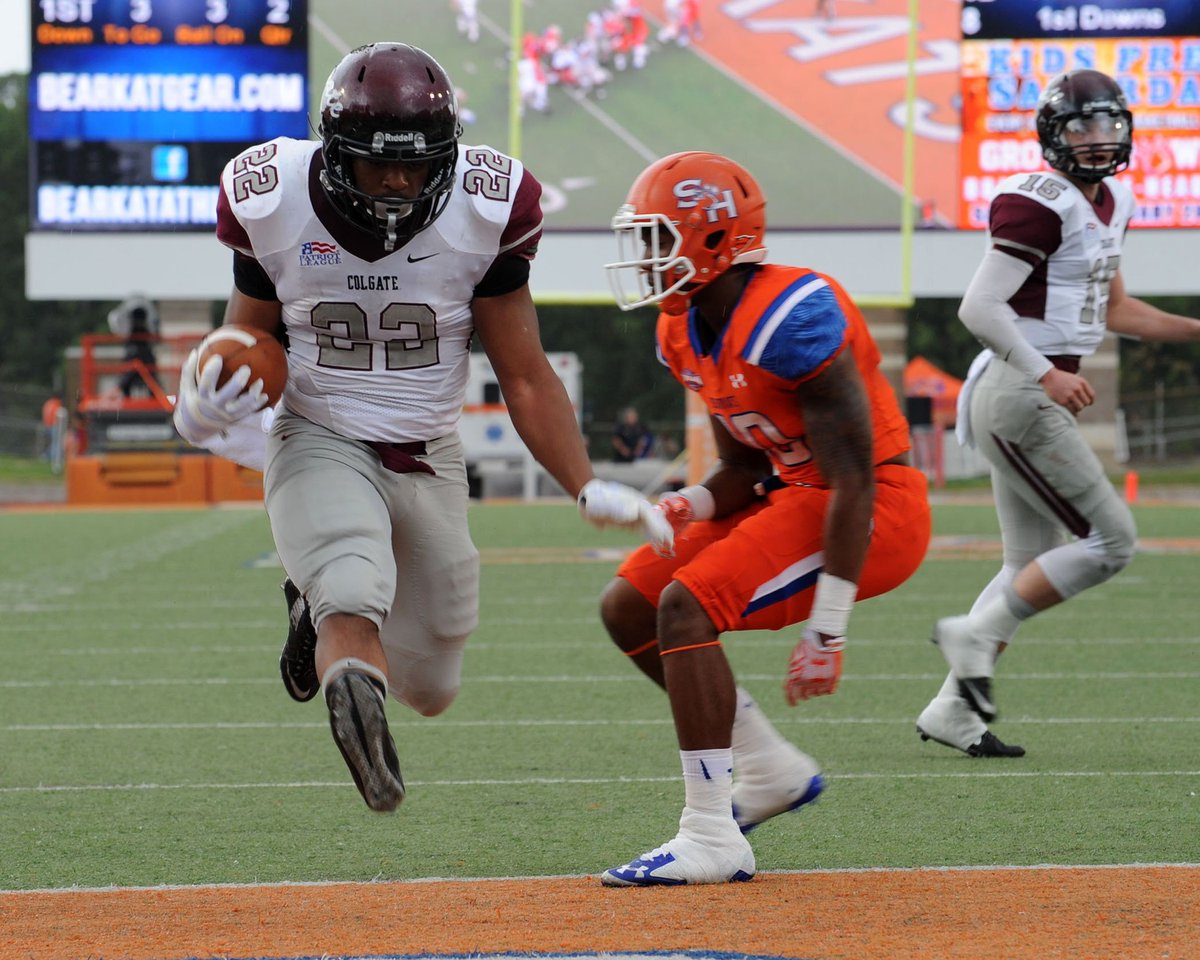 Colgate RB James Holland
It's fair to say that with Holland in there, Colgate is a different team when it comes to getting physical, grind-it-out yards to keep the sticks moving.
Colgate's receiving corps clearly isn't the first option on offense, but they have been effective when teams overcommit to the run and all are excellent blockers downfield. Colgate's ace in the receiving corps is senior
WR Owen Rockett
(26 catches, 533 yards, 2 TDs). Colgate's senior-laden receiving corps includes 6'2, 230 lb
TE Nick Martinsen
and
WR Thomas Ives
.
The foundation of a great Colgate offense has always been a great offensive line, but it's 6'5, 300 lb freshman
OL Javion Queen
who might be the best of them all. He features on this unit who just crushed Fordham's defensive front last week.
Defense
Colgate plays a base 3-4 that has always had an all-Patriot League level defensive front that is both talented and deep. But this year, the juniors on last year's talented unit have blossomed into one of the best-ever defensive units in Patriot League history. This week, head coach
Andy Coen
said that when you look at them on film, it sometimes looks like "there are thirty guys on the field."
For a team ranked 8th in the country, the Colgate Raiders (8-0, 5-0) don't really have a face, a singular person on which they rely every single week to win football games.
What they do have is a defense that has smothered opposing offenses like a big red blanket all season.
Sure, Colgate has
LB T.J. Holl
, who leads the Raiders in tackles with 68. There's also
DE Nick Wheeler
, who leads the Raiders in both tackles for loss (13) and sacks (7) and didn't miss a beat when
DE Pat Afriye
graduated last season. Another senior,
LB Dillon Deluliis
, has 50 tackles and 9 1/2 tackles for loss.
But the numbers you hear the most out of Hamilton, New York these days are very small-sounding ones that involve the entire team.
Like "Eight", the number of wins. "Zero", the number of losses. "Five", the number of shutouts pitched by the defense. "Two", the total number of touchdowns conceded by this defense (both coming in the season opener). And "twenty-three", the total number of points scored against Colgate all season.
Though Colgate's defensive front has always been fearsome, it's their veteran secondary, completely healthy, that is the final piece in the Big Red Blanket that makes the Raiders so tough to permeate. Junior
CB Abu Daramy-Swaray
, senior
SS Alec Wisniewski
, senior
FS Ben Hunt
and
senior
CB Tyler Castillo
have combined for 8 interceptions, with Castillo leading the way with 4.
Special Teams
Even the kicking game for Colgate has been exceptional. Junior
PK Chris Puzzi
has been 12-for-14 on field goal tries this season, including a 47 yards. Gone are the days when Hunt will only settle for the short stuff on field goals and will largely go for it in on 4th down if the alternative is a 40 yard field goal. Puzzi has the leg and accuracy, if necessary, to go after those long field goals.
Junior P Josh Cerra
has only averaged 35 yards per punt, but it's not as if Colgate has been in a lot of close games that have required field position to win.
DB Abu Daramy-Swaray
continues to be the primary punt and kickoff returner, a job he has held for three years running now. Worryingly, he has a 77 yard punt return for a touchdown this season already.
LFN's Keys to the Game
1. Positive turnover ratio.
In order for Lehigh to win a football game, winning the turnover ratio is always a desirable outcome, but it is especially critical against Colgate where their entire gameplan is geared towards making fewer mistakes than you. That means overall taking care of the ball and forcing turnovers, wherever they may happen. Positive - or even - turnover ratio will go a long way towards Lehigh winning a football game.
2. Small plays
. In order for Lehigh to win a football game, they have to prevent the Raiders from achieving big plays - big yardage plays, big kick returns, big turnover returns. I'd rather Colgate make twenty runs resulting in a field goal than one run resulting in a 50+ yard touchdown. Limiting them to making small plays vs. big plays will go a long way towards Lehigh winning a football game.
3. Zen And The Art of Football.
Head coach
Ron Rivera
of the Carolina Panthers has a sort-of mantra for his players: "be where your feet are." It's another word for "mindfulness": staying present and having awareness in the moment, staying present without allowing internal or external elements to alter focus. Too often this season, these coaches and players have seemed influenced by "internal or external elements." I don't know what these are, but I do know that in order for Lehigh to win a football game, they need to "be where their feet are." If they are - and they've done this last season - they can win this game.
Fearless Prediction
If you are going by past performance, why would you pick Lehigh to win? You wouldn't. You'd scan the entirety of Lehigh's losses, and without much thought you'd pick Colgate to win.
Last year, the Mountain Hawks went to Hamilton in a very similar situation, and gave the Raiders a game and actually came away with the win. The momentum from that victory seemed to carry them just enough through the rest of the season to win the Patriot League.
This season it's too late for a Patriot League title for Lehigh, but at home, on Senior Day, you have to wonder if the Mountain Hawks might play out of their minds in order to put a stick in the eye of the Raiders. There is no love lost between these two programs right now - it's a rivalry with a little r. Every player and coach at Lehigh would love nothing better than to stop Colgate's undefeated season. It would be a the victory of the year, would allow head coach
Andy Coen
to tie
Bill Leckonby
for the most head coaching wins at Lehigh, and would give tremendous momentum in the 154th meeting against Lafayette.
I feel like the will is there. I think the effort will be there. I believe it will all be laid out there. But I'm not sure it will be enough against a Colgate team who has waited more than a year to extract their pound of flesh.
Lehigh 14, Colgate 21