There really aren't any other words to use. The season is currently
broken
.
Anyone who bravely worked their way to the game last weekend in rainy, windy Worcester, Mass had to have come to the same conclusion.
The only thing keeping 2-6 Holy Cross from breaking their previous high-water mark of 59 against the Mountain Hawks was mercy. In the red zone late in the game, the 2018 Holy Cross Crusaders would settle on their largest-ever margin of victory against Lehigh in program history, taking a knee to win the game 56-0 instead of probably winning the game 63-0.
Things... looked... broken.

"This is an embarrassment," head coach Andy Coen rightfully said on the radio after the game. "We didn't do anything right."
Every stat sheet passed out to the Lehigh players and coach staff ought to be put into a burn cage and set afire.

There should be a parental campus-wide internet filter preventing anyone associated with Lehigh from Googling the awful numbers from this game, which include 4 turnovers, a blocked chip-length field goal, and 203 total yards of offense.
Even P Ed Mish, with a net of 31 yards per punt, had an awful afternoon. This is how bad it was.
I am not a football coach, but the first thing you need to do to turn around any situation that is wrong is to speak the truth about it. The situation is broken. Things cannot continue in this way. I don't know what need to change, but it has to be something.
So we admit that it broken. We don't want it to remain broken. The only goal now is to pick up the pieces and make something of it.

How does Lehigh do that? To investigate, we can look at two prominent FCS football programs who are both going through their own turmoil right now.
Montana Mauled by UC Davis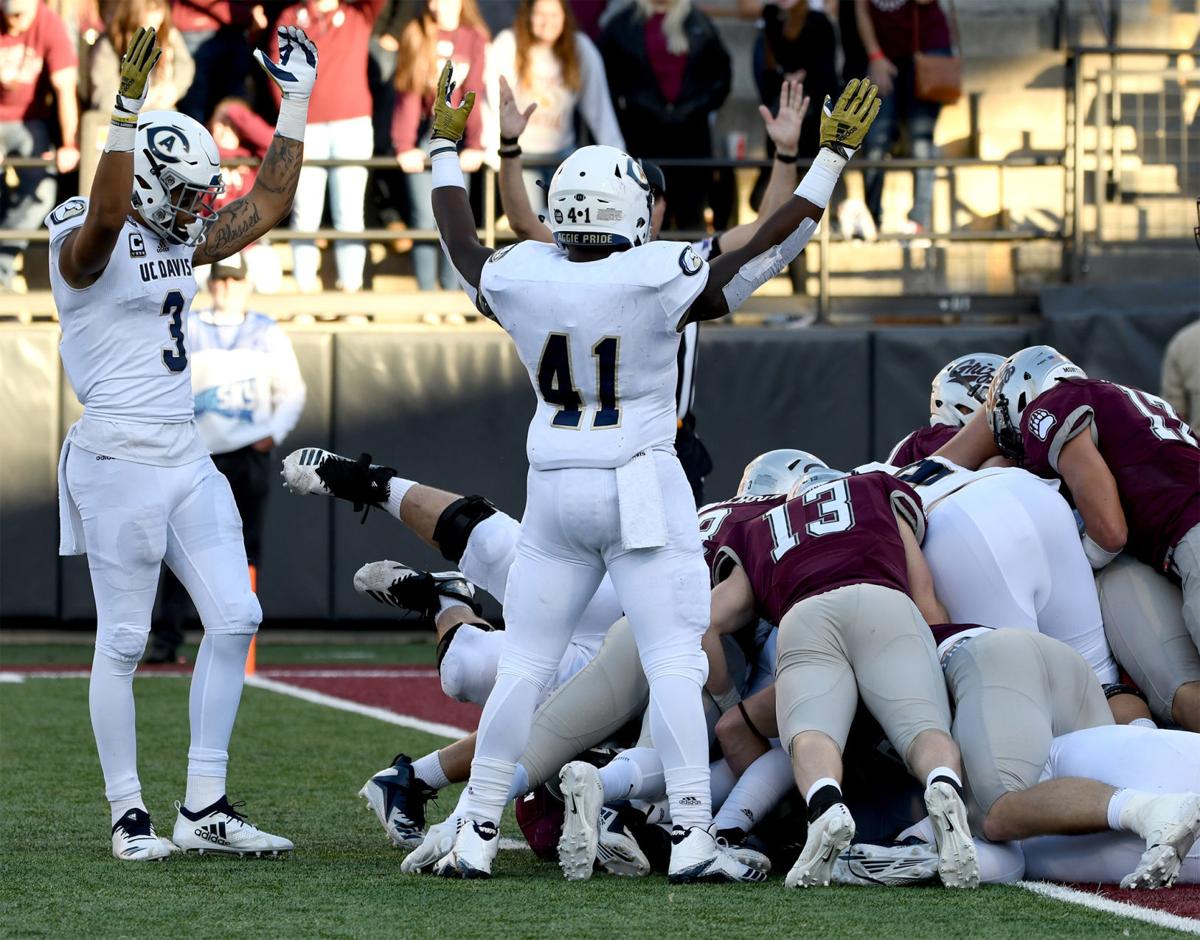 In Montana, things are falling apart with the Grizzlies fan base after a stunning loss to one of the top teams in the Big Sky, UC Davis.
Up 21-3 at half, the Grizzlies had a
second-half meltdown of the ages
, being outscored 46-0 in the second half at home and falling to the Aggies 46-21.
Four turnovers, three of which happened in the second half, loomed large.
It was, according to
The Missoulian
, the worst home loss since the opening of Washington-Grizzly Stadium, which opened in 1986.
"Our guys were very, very ready to play," Montana head coach Bobby Hauck said. "They came out and went after it, had a real zest for the game. I'm disappointed that we couldn't sustain that the second half. When it started to go the wrong direction, we didn't get it turned around, which was disappointing. Obviously, disappointed not to win it."
The people over at the
Montana message board egriz.com
were just a bit more than "disappointed", as this wasn't the first time Montana was undone by mistakes.
The Missoulian
gave out grades for the game
: they weren't pretty. Reports of rabid Griz fans streaming for the exits in the 4th quarter has a number of reporters and message board folks pretty upset.
Even though it's his first year back at Montana, Hauck's seat is getting warm, fast.
Athletic director
Kent Haslam
, who hired Hauck in 2017 for his second tour of duty at Montana after a successful, but controversial, stint in Missoula, basically has been pretty invisible this week. It seems like his Montana solution is to ignore the fans and pretty much do nothing.
To be fair it is Hauck's first season back, so few of the players are his - but doing nothing doesn't seem like the right course of action, either. Something is broken in Missoula. Something needs more than "disappointment" - it needs fixing.
We'll see how they handle it.
Bo Don't Know His Team Anymore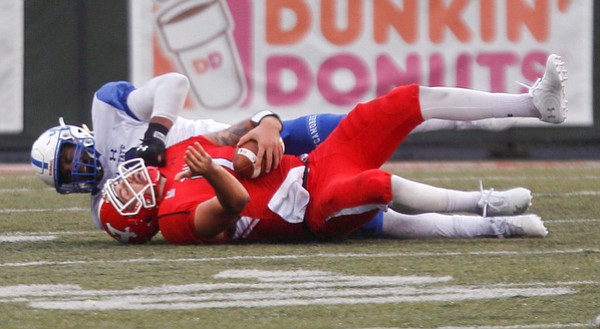 Courtesy Emily Matthews/Youngstown Vindicator
There's also
Bo Pelini
's Youngstown State Penguins, who sleepwalked to a 43-17 defeat to 4-4 Indiana State this weekend and fell to 3-5 on the season, effectively putting Youngstown State in the cellar of the Missouri Valley Conference.
Midway through the second quarter, the Penguins took a 10-7 lead, and then, suddenly, couldn't do anything right again in the entire game. The rest of the game Youngstown State was outscored 40-7, giving up 351 yards passing to the weakest passing attack in the conference.
In the post-game pressers,
a lot of frustration boiled over
that had been stewing, apparently, for quite some time.
"We're a bad football team," said Pelini as he opened up a press conference in which he ripped every area of the football team, including himself. "Anybody is a bad football team when you take the field like we did today. I'm trying to get our guys enthused and juiced up. We're coming out, and there wasn't an ounce of enthusiasm. I wish I had answers for you. Never in my life have I been this disgusted.
"I don't know how guys can take the field with no enthusiasm," he added. "And it's way too many guys. It's like they don't even like to play the sport."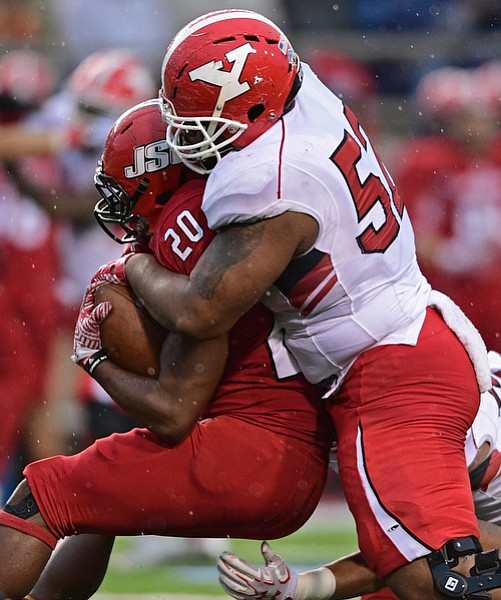 Senior
DT Savon Smith
agreed.
"It's want-to," he
said after the game
. "If you don't want to win the game, you're not going to do it. If you don't want to beat the guy that's lined up over you, you're not going to do it. It's want-to at this point. It's Week 8. We're tired. We had a long camp. We're practicing all week, for weeks on end, and guys don't want to do it. So, that's the result.
"What's even more frustrating is that, the leaders on this team, the seniors, we definitely try to get guys together and try to figure out what's going on. The most frustrating thing is that guys aren't doing their job. They're not taking it serious. It's even more frustrating having the coaches look at us and say, 'Why aren't you doing that?' That's the most frustrating part. We're really trying to get the team together and build a team, get the team to play together, and the coaches kind of look at you like, 'Why aren't you doing this? Why isn't the team doing this?' And it's kind of your fault, but that's the cause of being a leader. That's the price you pay. I'm OK with that."
Bo won't be canned this week, but it's clear from the excellent reporting by
The Tribune-Chronicle
that discord is mounting within the program, and if some sort of turnaround doesn't happen by the end of the season, he might not make it another season as Penguins head coach.
Something is broken in Youngstown. It needs more than just a public airing of grievances to fix. We'll see how they handle it.
****
What Montana, Youngstown State and Lehigh all have in common is one thing - a huge Rivalry game upcoming on which to focus. In that sense, all three programs are very fortunate.
The Penguins this week face off against the No. 1 team in the nation, North Dakota State. By definition a game like this is going to be a bowl-like atmosphere and a tremendous chance for Youngstown to really ruin the Bison season. It will be a chance for this Penguin team to shock the world, and will be a pretty good story if they can pull it off. It would be a tremendous story for their seniors if they can pull it off. Upsets in the Fargodome are as rare as the steak I like to eat.
Montana always has "Cat-Griz", the battle against Montana State for Treasure State Champions. As bad as they have played lately, Hauck can erase the disappointment of this whole season with one singular win. Unlike Pelini and Coen, he is in his first year back as head coach, so his leash is undoubtedly longer. But a win would turbo-charge the momentum into the offseason and would likely make recruiting - and building a national-championship team in the future - that much easier.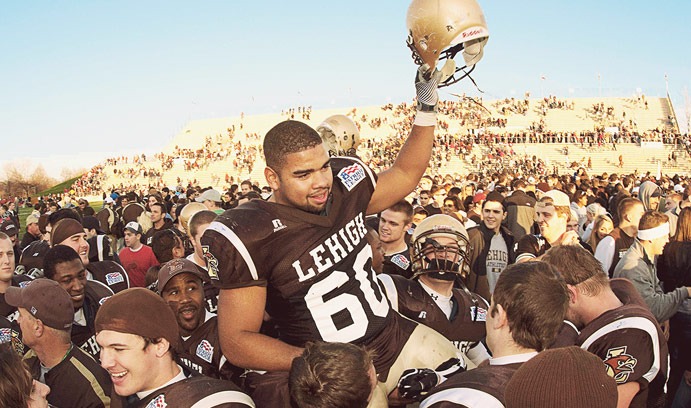 And Lehigh has college football's most-played Rivalry, the 154th meeting between Lehigh and Lafayette, played in a packed house during a crazy week at school and in front of a bowl-like atmosphere, this year in Easton.
Those who haven't experienced it yet are in for something unique and memorable. Participation in this Rivalry game is an honor and a privilege, and something Fordham and Colgate coaches and players don't get to experience. Many other football players wish they had it - these players and coaches get to make it happen. Being a part of it is being a part of history - it's a lot more than being immortalized in a flowery post by some blogger.
It is that, the big Rivalry game that still looms, that gives a potentially broken season form and purpose. It's what allows a 1-7 team to go out and keep grinding to try to find a way to figure things out. There is
value
at Lehigh in their football team figuring things out in November that many other FCS teams don't enjoy.
So to me, unbreaking this broken season can still be done.
That doesn't mean that fixing the rift between coaches and players is going to be easy, or that Andy's seat isn't hot, or that there's an easy way to get players to want to play who don't want to play. Fixing things like this isn't easy anywhere in the country.
What I can say is that it's going to require something different. Doing nothing is not an option.
If there is one, singular lesson that comes out of the last three train wreck games, it's that a team and a staff not all on the same page cannot win a football game against anybody. It's a lesson that has plenty of worth well beyond the game of football.
I don't have the magic wand to magically fix what is ailing the program right now, but I do know it requires everyone being on the same page, and working in tandem to achieve the goal of winning a football game. Somewhere on this team there must be a place of common motivation. It is up to this team to find that motivation and make it happen.
In order to beat Lafayette in a few weeks, a foundation needs to be set. It can be done in the next two games. But it requires unbreaking what's broken, and time is running out.
We'll see how this team handles it.