The rubber hits the road this weekend at Murray Goodman Stadium as the Mountain Hawks return home to start Patriot League play, and the stretch of games that will determine the course of the season.
Lehigh (1-4, 0-0 PL) takes on Fordham (0-5, 0-1 PL) in what is a do-or-die game for the Rams in many ways. A loss will put them at 0-6, guaranteeing Fordham first-year head coach
Joe Conlin
a losing season and will most likely also knock them out of a realistic chance at the Patriot League title.
If you can't make it to the game, you can catch the contest on TV in the Lehigh Valley on Service Electric 2, with
Steve Degler
,
Mike Yadush
and
Kristi Fulkerson
on the call. The same broadcast is also available
online via Patriot League TV
.
You can also catch the game on FOX AM 1230 and 1320, with
Matt Kerr, Tom Fallon, Matt Markus
and
Jim Guzzo
on the call, with the most excellent Lehigh pregame show starting at 11:30 AM. You can get it through your regular radio, listen to the broadcast
streamed through TuneIn
, or just simply going to the
LVFoxSports.com
webpage and listening that way.
Weather Report
For the first time this season, there is a (mild) concern about weather. Currently on Saturday the forecast there is
a 40% chance of early AM showers
, but the good news is that they may clear out by gametime. It is going to be our first taste of true fall weather, too, with a high of only 58 and evening temperatures actually dipping in the 40s.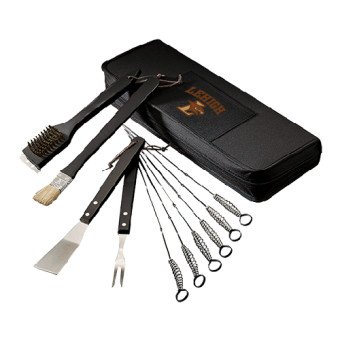 Tailgate Gear
Did you know that Lehigh sells a whole bunch of Lehigh-logoed tailgate stuff?
Available at LehighGear
, stuff like this can really dress up your tailgate and really celebrate your fandom, especially with the third weekend in November nearly upon us.
One of the things I like on this page especially are the coolers, specifically because they really aren't that much more expensive than the equivalent, boring blue soft coolers you could buy at Target or Walmart. For a few extra bucks, you can support Lehigh and "upgrade" the cooler. A pretty good deal.
Special Stuff Happening
On Saturday, Lehigh will honor two Patriot League Championship teams celebrating anniversaries this year. (Two teams I actually witnessed in person as a face in the crowd, too, making me feel, um, a bit old.)
The 1993 team won Lehigh's first Patriot League title, while the 1998 squad won its first 12 games including a first round playoff game at Richmond.
It is also "Women's Health Day" at the stadium. At the stadium, pink ribbons will be handed out pregame, and at halftime there will be a recognition ceremony for women's cancer survivors at halftime.
LFN's Burger of the Week
Even though the weather gets colder and there's sometimes a chance of rain, that doesn't mean you can't enjoy a Burrger of the Week, especially when it's a
Rainy Day Burger
.
The following recipe
comes from Sutter Home Vineyards and it's a good one - though we'll modify it a little.
First, make the Caramelized Onion and Basil Spread, which you make ahead of time:
1/3 cup Worcester sauce
3 tablespoons olive oil
4 medium cloves of fresh garlic chopped
1 tablespoon light brown sugar
1 large sweet onion, cut into 6 (1/4-inch) slices
1 cup fresh chopped basil leaves
Combine the Worchester, olive oil, garlic and light brown sugar in a nonstick pan. Cover with a lid and place on a stovetop. Once mixture has thickened and the brown sugar has completely dissolved, add 6 onion slices. Cook onion slices for 2 minutes on each side. During the final minute, top the onions with the cup of basil. Cover and remove pan from heat.
Also beforehand, make burger patties, mixing together ground meat, dried herbs (thyme and oregano, or Italian Seasoning), and a splash of Pinot Noir. Form into patties, an optionally put olive oil on your hands.
At your tailgate, take out your pre-formed patties, and throw them on the grill, cooking them medium well. Serve on a brioche bun, adding cheese and tomato if desired.
LFN's Drink of the Week
Sometimes, you need a change to get things in the right direction, and we're going to try to do that this week by selecting a brand-new beer: a
Victory Brewing Company Braumeister Harvest Pils
.
"Our latest single hop varietal pils features a fresh twist,"
their literature says
. "A very fresh twist as whole flower hops went from the vine to the kettle in a mere 10 hrs. giving the beer a snap of freshness that has to be tasted to be believed. In 'wet hopped' beers such as this, the hops are full of fresh oils that dissipate when the hops normally dried. These essential oils give Braumeister Harvest Pils the clean, spicy hop aromas you'd expect from a pristine pilsner, followed by the long, satisfying mouthfeel full of flavorful hop depth and substance. All this flavor yields to clean malt and a crisp finish."
VBC is a very popular brand of beer in Pennsylvania, and this is arguably their best beer that's great to enjoy at a tailgate. It's complex, but not
too
complex.
As always, Drinks of the Week have a place in responsible tailgates, but only if you behave yourself, don't get behind the wheel while impaired (or worse), and are over 21. Please do that.