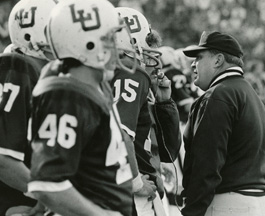 This week for Lehigh football included an
interesting announcement
about the particulars of the Mountain Hawks' 2019 football schedule.
Set aside for a moment the point that it will be the first time since the early 1980s that Lehigh won't have a single Ivy League team on the schedule (something I've been assured is an anomaly, not a trend).
What's most interesting is that the Mountain Hawks will be headed to the West Coast to face off against UC Davis, making their first trip to California since 1998, when Lehigh played St. Mary's (CA).
In recent years, Lehigh hasn't played a lot of games that require a flight - the last game that did was when the Mountain Hawks traveled to James Madison in 2015.
They also haven't played many games outside of the Eastern time zone - the last time they did that was in 2011, when Lehigh had to travel to North Dakota State in the FCS Playoffs after pulling off a shocker against Towson 40-38 in the first round.
The UC Davis game next year will be a welcome change of pace to get the Mountain Hawks on a flight out of region - and to play a long-awaited rematch of a Division II semifinal game.
Lehigh's game with UC Davis back in 1977 happened thanks to the magic of the playoff system.
After squeezing into the playoffs on the final day, thanks to their come-from-behind victory over Lafayette 35-17, head coach
John Whitehead
and his Engineers entered the Division II playoffs against the higher-ranked D-II team in the Eastern region, UMass. Travelling up to Shuart Stadium in Amherst, Lehigh upset the No. 2-ranked Minutemen 30-23, and as a result won the Lambert Cup as the best team in the East.
As a reward, they were sent on the road to face off against the best team in the West, UC Davis.
The Aggies were a Division II powerhouse under head coach
Jim Sochor
, who is enshrined in the College Football Hall of Fame. He had led the Aggies to an undefeated record of 11-0 that season, winning the 7th of his record-setting 18 consecutive Far Western Conference championships. They had also won 20 consecutive games at home, making the 3,000 mile flight and trip seem a little extra-daunting.
In the run-up to the game,
The Morning Call
saw the potential of a terrific game with two pass-happy teams, something that didn't happen very often in 1977. Head sports reporter
Terry Larimer
thought Lehigh
QB Mike Rieker
had a reputation as an excellent deep passer, throwing for 357 yards and 4 TDs against the Minutemen the prior week, three of them to his superstar wideout,
WR Steve Krieder
.
Meanwhile, Davis
QB Mike Moroski
was known for more of a short, precision passing game, ironically the type of short passing offense that eventually would take hold at Lehigh in the 1980s during
Hank Small
's time as head coach.
QB Mike Rieker and WR Steve Kreider
Scouting Davis on a week's notice was a real challenge for Whitehead's staff. The frantic search for specific information started as soon as the UMass game was over and for 72 hours Whitehead's staff was calling all over the country to get information, according to Larimer. Linebacker coach John Luckhardt knew two assistant coaches at Nevada and Sacramento State, so he was able to procure a quick scouting report.
The game was played at 10:00 AM Davis time to accommodate the east coast TV viewers for 1:00 PM kickoff, something that Larimer said might work to Lehigh's advantage, because Davis was used to playing night games. "Lehigh's coaches aren't doing anything to change things," Larimer reported. "Meals have been scheduled on Eastern time and the team hit the sack on its normal Eastern time."
It was shown on local TV on Service Electric 2 with
Ara Parseghian
and
Bill Fleming
on the call in an late-morning fog close to San Francisco. In fact, it was eventually revealed that coach Sochor's car ran out of gas on the way to the game, meaning Sochor had to walk 1/2 a mile in the thick rolling cloud in order to get to the game on time.
The game was telecast on network TV (ABC) on the west coast but Service Electric 2 found a way to carry the game live in the Lehigh Valley.
Right from the get-go Whitehead went to the ground and was looking to control the time of possession, with
RB Dave Aprill
and
RB Matt Rickerson
leading the charge early. With a 4 yard touchdown run by Aprill and a 81 yard Rieker-to-Kreider bomb on the following drive, Lehigh jumped out to a 13-0 lead, eventually made 16-0 after a 38 yard FG by
PK Kenny Wood
.
But Morowski and the Aggies answered by the end of the half, getting their passing game going and tying the Engineers by halfime with two TDs and two 2 point conversions.
"They got some big ones on us, but we knew they would," Whitehead said afterwards. "In the second quarter, we just couldn't put it together. They got us down there in the swamp and I didn't know if we'd ever get out."
FB Mike Ford
Lehigh's defense, who held the Aggies to 25 yards rushing, then continued to make play after play, with LB Bill Bradley grabbing a key interception to set up a score. Moroski and Davis kept responding, tying the game twice while the continuing punishing running of Lehigh's Wing-T rushing attack, with
FB Mike Ford
and
RB Lennie Daniels
making a huge impact. A 45 yard screen pass from Rieker to Ford gave Lehigh a 30-23 lead.
"Davis was playing us too much for the pass," Whitehead said afterwards. "That surprised us. They're an aggressive team, but we moved the ball well on them."
The game would remain close until the end, with Lehigh clinging to a 33-30 lead late in the game. But Whitehead's efforts to stick with the rushing game would pay off as Ford's 25 yard run would ice the game and the 39-30 semifinal win.
It was the first time Davis gave up more than 22 points in a game in the 1977 and the first time Davis had given up more than 30 points at home since 1973, when the Aggies fell 32-31 to Boise State. Despite the outcome, head coach Jim Sochor singled it out as
one of the great games of his time at UC Davis
.
"Our defense was just on the field too long today," Sochor said afterwards. 'Lehigh's a very explosive team, and we had to play catchup most of the time and it was just too much pressure for our defense. I still think our defense is excellent, but they just had too much work cut out for them."
Lehigh would go on to face Jacksonville State in the Division II National Championship and win the game 33-0, winning their first and only Division II Championship.
When Whitehead was asked what Davis needed to be a title contender, he said, "Nothing. They were nine points away today from being a finalist. I told our kids Davis was here because it deserved to be., but that I thought that we had a pretty good team, too. As it turned out, Davis is a darn good football team and very dangerous."