One of the quirks of being a Lehigh fan is that generally, the Mountain Hawks play an Ivy League team in their season opener. This year, that team is Yale.
This sets the Mountain Hawks up in an odd situation - Lehigh is in their third game, and Yale is an unknown quantity. It's something that all teams playing against Ivy League teams face, but at times it feels like something that the Patriot League has to deal with more.
Over the years, there's been a back-and-forth debate: who benefits more, the team that's had two weeks to work out the kinks, or the team that has the element of surprise?
"I'd like to believe we have the upper hand," head coach Andy Coen said this week, "because we have played two games and you'd hope that Yale will make some first-game mistakes and we'll be able to take advantage of them."
Yale's
sophomore QB Kurt Rawlings
had a different perspective.
"Being able to go in and have two weeks rather than [against] most teams [when] we only get to prepare for one week [has been a plus]," Rawlings said. "Having two weeks to be able to study up and almost know what they're going to be showing and doing, is certainly going to help us. … They beat us last season, but I'm really excited. I think we're going to do pretty good against them."
Below is the full video of coach Coen's appearance on Lehigh Sports Central, where he summarizes the Monmouth game, talks about the receiving record set last week by
senior WR Troy Pelletier
, and previews the Yale matchup.
The experts pick who they think will be winning this weekend:
Lehigh 26, Yale 20
: LFN's Game Breakdown and Fearless Prediction
Lehigh 28, Yale 24
:
Keith Groller
,
Morning Call
Lehigh 38, Yale 17:
Brad Wilson
's "Wild Guess",
Lehigh Valley Live
Lehigh 31, Yale 27
: The FCS Wedge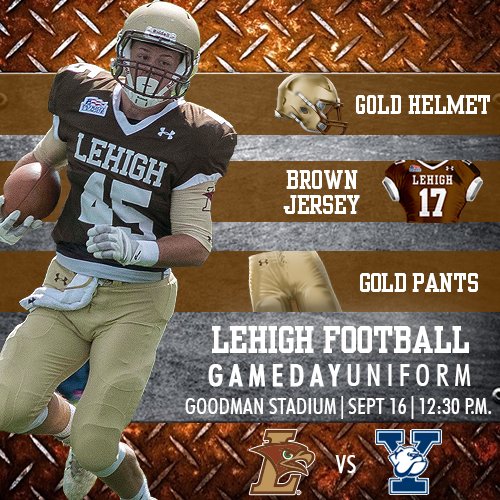 Lehigh Uniform Watch for this weekend:
Gold Helmet, Brown Jersey, Gold Pants.
LFN Game Preview: Reclaiming Swagger Requires Facing Uncomfortable History
Morning Call: Lehigh hoping to hit reset button after another 0-2 start
"You can always point to something internally after a game like we had at Monmouth,"
senior OL Tim O'Hara
said. "We seemed to lack mental toughness and had a lack of focus in key situations. We had a couple of tough third down situations and turned it over twice late in the game."
"That being said, we're a different team this year," he said. "We're still struggling to find our team identity for this season. I'm not too worried. I love the group that we have and I am confident we'll be able to bounce back and find that identity."
— WFMZ-TV 69 Sports (@69Sports) September 13, 2017
Lehigh Valley Live: Five Quick Lookaheads
Junior DL Julian Lynn
said personal responsibility will lead to better defense. "It's a matter of everyone doing their job and making sure they are where they are supposed to be. We made little mistakes that led to big plays, like having your head on the wrong side of the gap where the offensive lineman could get to you. We have to make sure we have our hats in the right gaps."
Junior K/P Ed Mish
will not play with
sophomore P/K Austin Henning
taking his place.
Brown and White: Lehigh football returns to Goodman to battle Ivy League opponent
"It's a whole new Yale team,"
freshman WR Jorge Portorreal
said. "We're not really looking at last year's game, we're just trying to approach every game looking for a win. It all comes down to who wants it more and who is tougher."
"It's a wake up call when we start the season zero and two, but we were in the same spot last year,"
junior QB Brad Mayes
said. "We've been making some minor mistakes here and there, and if we want to be at a level where our goals are, we got to clean up those minor mistakes. I had two turnovers last week, and I'm going to cut down on the turnovers. You really just got to focus on one play at a time."
Yale Daily News: Powerhouse Lehigh awaits Yale
"We are coming out of the preseason with a very formidable opponent," head coach
Tony Reno
said. "Lehigh is a national playoff team, a perennial Patriot League power … [and] their same offense that led them to the national playoffs last year is going to be lining up against us on Saturday. It's going to be a great challenge for us."
"We're definitely anxious to step out onto the field Week 1," Yale
CB Spencer Rymiszewski
said. "It's definitely tough to watch [Lehigh's] first couple games in those first two weeks [and not be able to play] … so we're just itching for Week 1."
LehighSports.Com Video Spotlight:
Junior DL Julian Lynn
:
Lehigh
freshman LB Pete Haffner
has been named one of 35 finalists for the 2017 National Football Foundation and College Hall of Fame Chapter Scholar-Athlete Awards, as announced by the NFF on Wednesday. The awards will honor one student-athlete from each of five regions based on their accomplishments as athletes, scholars and citizens at the high school level.
Full release: LehighSports.com